As the weather starts to change I love ending the day with a steaming bowl of hot comfort soup from this extensive list of soups. 
It's hard not to live in Colorado and have the cooler temps of fall and winter be a favorite.
I'm probably the oddball, but I LOVE cold weather.  I love all things cold weather!  The layers of clothes, fresh snow in a field shining like diamonds, snowmobiling and ending the day with a steaming bowl of comfort soup.
Love or hate the cold weather, the list of soups I'm going to share with you today is perfect on cool day to warm up.  It really is bliss for me to enjoy a steaming bowl of soup while watching the snowflakes fall.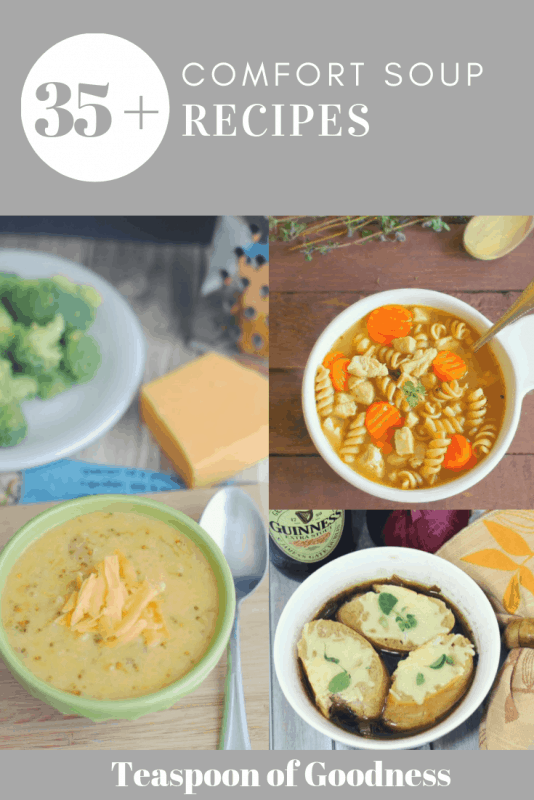 Types of Soups
---
Soup is primarily a liquid style food but there are many options of soups to enjoy throughout the cold weather season. Soup is an easy meal option for someone who has a busy schedule and prefers to just let something simmer in the slow cooker all day. This list of soups will surely help inspire you to make some delicious ideas to warm up your bones on a cold fall and winter day.
Vegetable Soups – A soup made from a mixed variety of vegetables.  These soups make it easy to get your vegetables in!  The vegetables can be whole, diced, shredded or pureed.  Most vegetables soups have a base of soup stock – chicken, beef or vegetables.
Soup Stock and/or Soup Broth – These are savory liquids that come from simmering together bones, chunks of meat and/or vegetables for long periods of time.  Stocks and broths have been strained.  Stocks and broths make great basis for many other soups dishes.
Consomme – A clear soup made from concentrated broth.  Consomme is created from clarifying broths or stocks.
Cream Soups – Any type of soup that is prepared with adding cream at the end.  Generally, these soups are pureed.  Cream soups are delicious on their own and often double as quick sauce for a variety of casseroles and other dinners.
Bisque – A creamy soup generally formed around a seafood and a broth flavor.  Bisque has a French origin.  Bisque is creamy while chowders are chunky.
Chowder soups – A soup generally made with seafood, milk, salt pork, onions and other vegetables.  Like a bisque, chowders have a French origin. While Bisque is smooth while chowders are often left chunky.
Grab This Extensive List of Soups For A Cold Night
---
Soup Recipes With Beef
Soup Recipes With Chicken
Soups That Can Be Made In The Slow Cooker
Cream Soups
Vegetable Soups
Soups Made In The Instant Pot
Low Carb Soups
Bean Soups
Other Soup Recipes
Common Questions Related To This Extensive List of Soups
---
What's the difference between a soup and a stew?
A general rule of thumb is that a soup contains more liquid than a stew. You'll often find that a delicious soup, when made properly, will have more of a liquidy broth base. A stew will have a thicker base and often will use flour to thicken the base.
What is the difference between a New England Clam Chowder and a Boston Clam Chowder?
Boston Clam Chowder is usually made with a tomato base whereas New England Clam Chowder is made with a milk and flour base in addition to clam and potatoes. Some people argue that there isn't a difference, but if you prefer New England or Boston Clam chowder, then you'll notice the difference immediately.
What is the difference between a soup and a chowder?
A soup is more liquidy in texture than a chowder would be. For anyone who's enjoyed a delicious dish of chowder, they'll know that chowder is usually a milk and flour base with a thicker texture than your average soup.
What is the most popular soup in America?
America's favorite top soups are chicken noodle soup, tomato soup, clam chowder and lastly, potato soup. These are the top four popular soups in America based on research from websites who asked their followers what is the most popular soup in America.
Serving Suggestions For Your Favorite Comfort Soups
---
Soups go well with anything, but also go well as a quick dinner idea when you've had a long day of snowmobiling.
Baked potatoes with sour cream on them
Side salad any time of the day
Pull apart cheesy bread
Buttered French bread
Carrot sticks
Warm rolls toasted in the oven
Parmesan roasted zucchini