There is nothing quite as delicious as a Homemade Tomato Soup Recipe on a cold fall or winter day. With the rich, warm flavors, you'll be reminded of your childhood when mom snuggled you up on the couch in blankets and served you soup when you didn't feel well.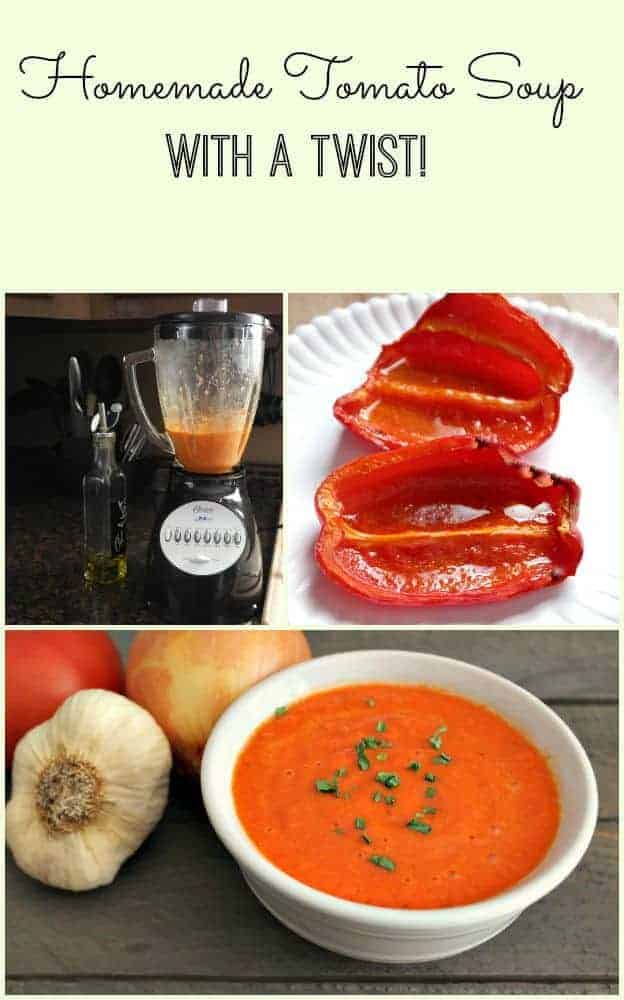 Pin
Homemade Tomato Soup is a great choice, but many hesitate because they don't know how to get that creamy flavor right. This recipe includes not just tomatoes, but the classic flavors of garlic, onion, and that secret ingredient of roasted red pepper. This combination will give you the deep layers of flavor you want without all of the high sodium of your favorite store-bought soups. That makes it a perfect healthy soup choice to make in batches and freeze for easy meals later.
It only takes a few minutes to prep the tomatoes, onion, and red pepper, and since these are items you may keep on hand regularly anyway, it is a great fast meal nearly any day of the week. Everything else comes together easily to give you just the soup you are wanting.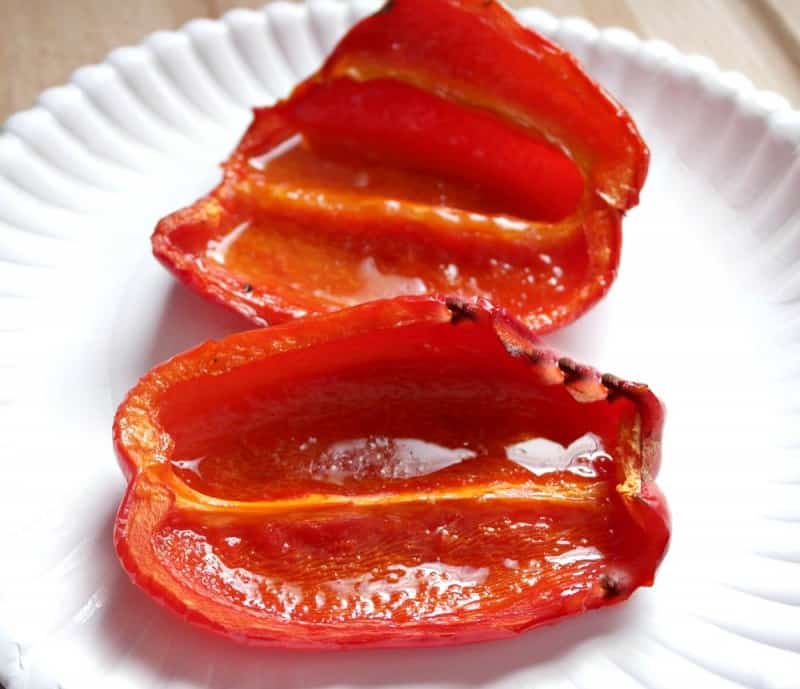 Pin
This soup is a great choice for anyone to make in just a few minutes. Unlike some soups, it is an easy option to have on hand with basic kitchen ingredients. Serve alongside a classic crusty grilled cheese sandwich or alone for a complete nutrient-dense soup. The addition of heavy cream gives you the rich flavor you want without being too heavy for a light and satisfying homemade tomato soup lunch.
Homemade Tomato Soup Recipe With Roasted Peppers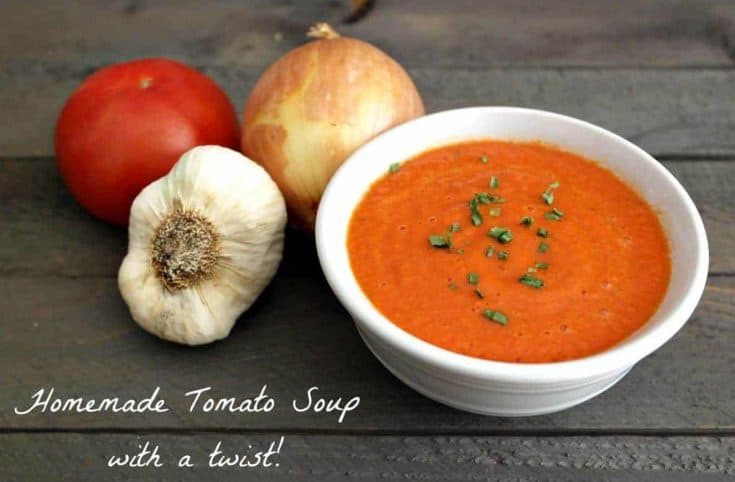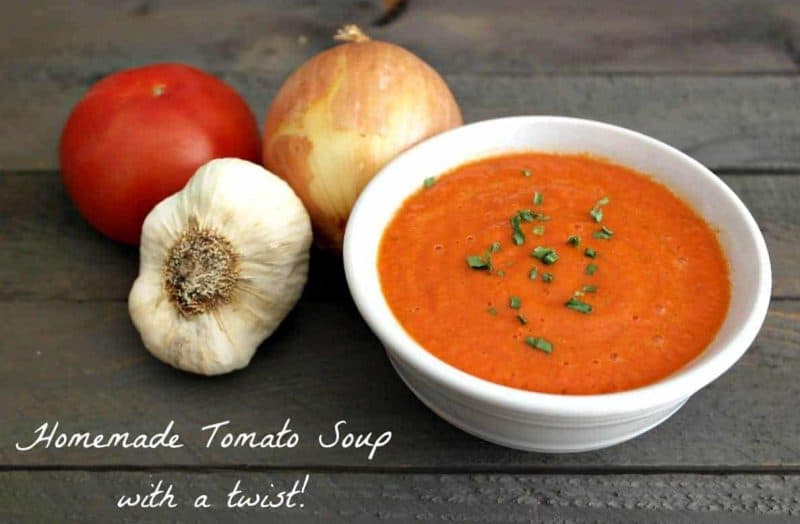 Homemade Tomato Soup Recipe With A Twist
Cook Time: 30 minutes

Total Time: 30 minutes
Ingredients
4 medium ripe tomatoes
1/4 small onion, chopped
1 clove of garlic, minced
1 small red pepper, cleaned & halved
1/2 cup of cream or milk
1/2 teaspoon of sugar
Dash of Salt & Pepper
1 tablespoon of olive oil
Instructions
Heat olive oil in a skillet over medium heat, add onion and garlic, saute until tender.
Add the halved pepper and brown on each side, until tender. The browning will mimic a roasting flavor.
Prepare tomatoes by removing the core and placing in boiling hot water to loosen the skins. Boil for about 1 minute, remove and add to an ice water bath. Skins should rub/peel right off by hand.
Add the tomatoes, onions, garlic and red peppers to a blender or food processor. Blend until smooth.
Pour puree into a pot, add sugar, salt, pepper and bring to a boil. Reduce to simmer
Mix in the cream and simmer for 1 minutes, stirring often.
Sprinkle chives, shredded cheese or serve with crackers, enjoy!
Notes
If tomatoes are overly ripe, they can be watery. Try to choose ripe, but firm tomatoes. If your soup is too loose, add a tablespoon of tomato paste!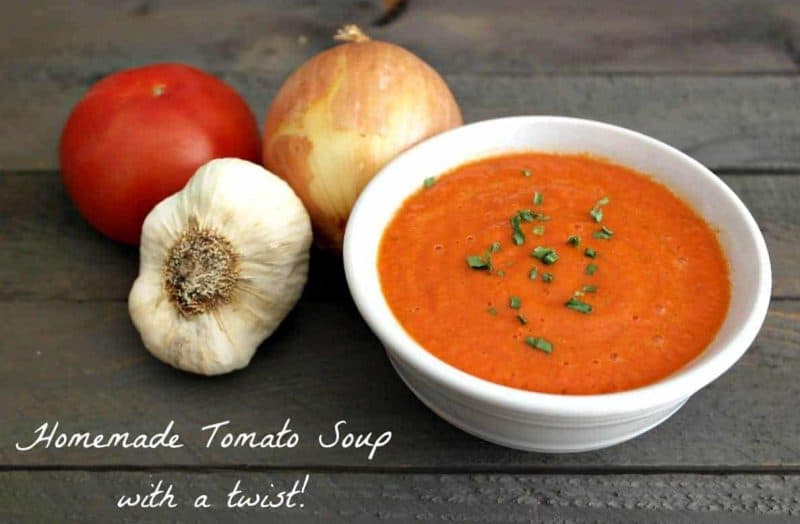 Pin
Visit Teaspoon Of Goodness's profile on Pinterest.