Frankly french onion soup is one of the easiest soups that I make at home. I've made it even easier with this Slow Cooker Guinness French Onion Soup. The time consuming part is completed in your slow cooker freeing up your day.
To make Crockpot French Onion Soup you will need the following ingredients: onions, garlic, butter, beef broth, Guinness Beer, soy sauce, bay leaf, red wine vinegar, dried thyme, salt & pepper.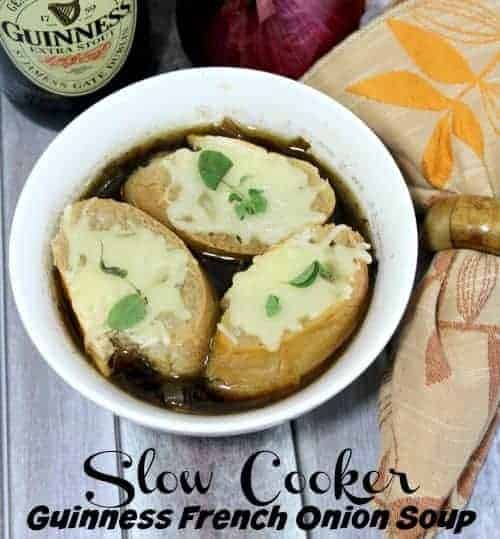 Pin
I LOVE French Onion Soup! When we go out to a restaurant if I hear they have french onion soup on the menu it's a guarantee that I will be ordering it. A couple of the reasons why I always ordered it was because I often only found it at high end restaurants and I thought it entailed a lot of steps that were out of my league of making at home, or at least making quickly and easily. A couple of years ago I learned how wrong I was.
Recently I've taken to adding to Guinness to my french onion soup because it really adds an extra flavor. This dark beer tends to add in another very robust flavor to this Slow Cooker French Onion Soup without being extremely overpowering. All that being said if your don't actually like to cook with alcohol or just don't have any Guinness in the house you can easily sub it out for extra beef broth. Guinness is not a beer of choice by anyone I know so it's not something I always have on hand, but I'll try my best to keep a few around for when the weather is turning colder and I have a craving and don't want to head out to a high end restaurant to curb it.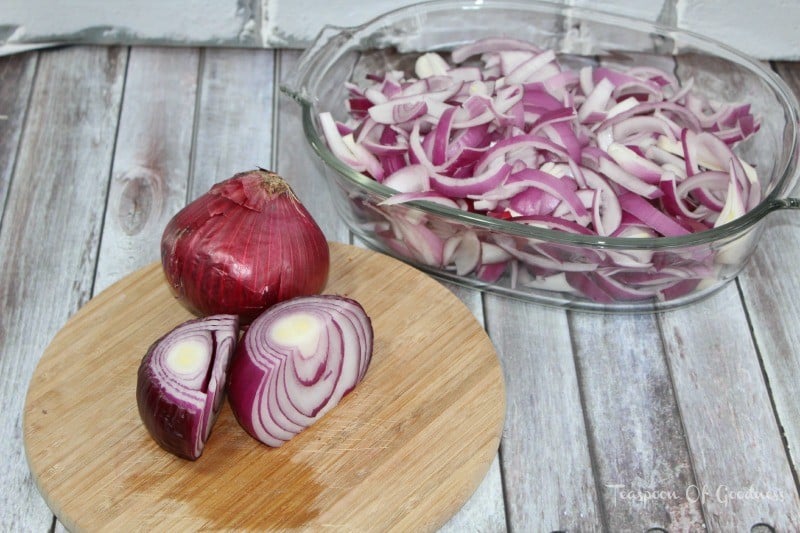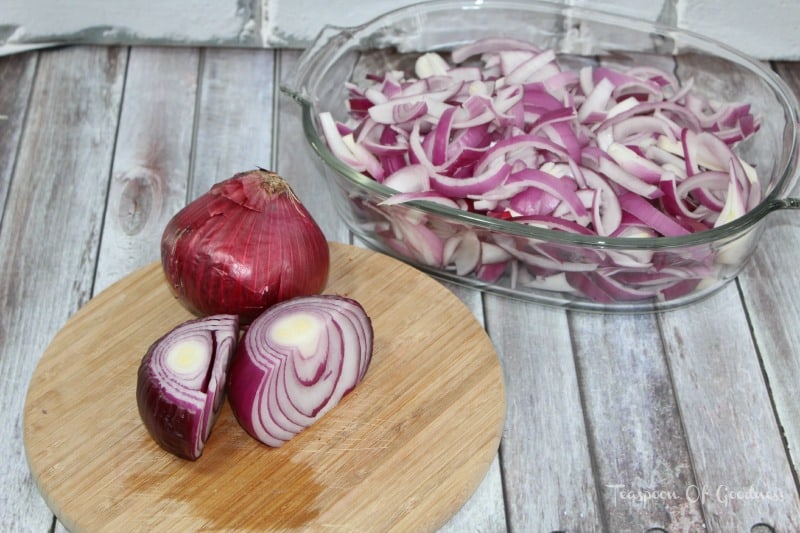 Pin
Tips & Tricks for this Crockpot French Onion Soup Recipe
Use a good beef stock as your base. A good french onion soup starts with a good base as it's the biggest component of the soup.
If needed bump up the taste of your stock base with a good beef bullion.
Toast your bread before placing into the soup so you don't end up with a soggy mess.
Use a mix of onions: sweet vidalia, white, yellow and even a red onion.
Know your crock pot. This recipe has you cooking your onions overnight and if you have a hot crock pot they can easily burn. I find 10 hours works well for mine.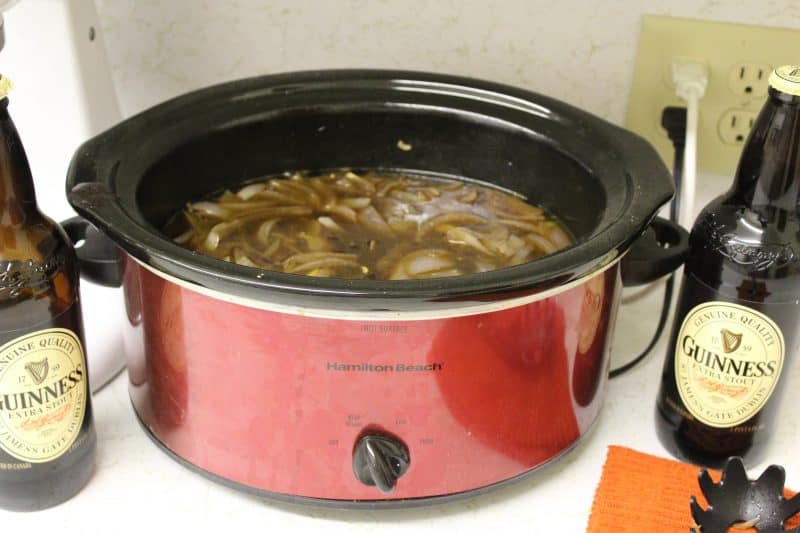 Pin
HELPFUL TOOLS TO MAKE FRENCH ONION SOUP
The following are affiliate links. We are a participant in the Amazon Services LLC Associates Program, an affiliate advertising program designed to provide a means for us to earn fees by linking to Amazon.com and affiliated sites.
Obviously you need a Crockpot for this meal. What I love though is it's not a one use appliance and it really makes my life easier on busy days. I'll admit that I have a really old one that just has basic functions but I've always wanted one with clipping handles for transport.


Having a good heat resistant bowl is pretty important when it comes time to melt your cheese on top. Isn't the toasty bread and cheese almost the best part?
Crockpot French Onion Soup with Guinness
All the robust flavors you would expect from high end french onion soup made in your slow cooker. Top with a toasted baguette slice and Gruyere cheese for the ultimate taste.
If you loved this Easy French Onion Soup Recipes let me know with a 5 star rating!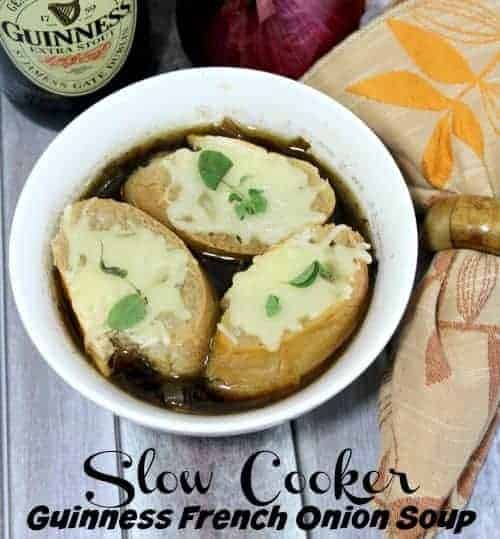 Yield:

6
Slow Cooker Guinness French Onion Soup
Total Time:
1 day
15 minutes
Ingredients
4-6 Cups Onions, Sliced Thinly, About 8
5 Cloves Garlic, Minced
2 Tbsp Light Butter
6 Cups Reduced Sodium Beef Broth
6 Ounces Guinness Beer
2 Tbsp Worcestershire
1 Tbsp Reduced Sodium Soy Sauce
1 Bay Leaf
1 Tsp Red Wine Vinegar
1/4 Tsp Dried Thyme
Salt & Pepper To Taste
Instructions
Place onions and butter into your slow cooker
Cover and cook on high heat setting for 10-12 hours or until onions begin to soften. I do this the night before so that they can caramelize while I'm sleeping.
Add broth, beer, , garlic, Worcestershire, soy sauce, bay leaf, vinegar and spices into the onions.
Cover and cook on low heat setting 6 to 8 hours or high heat setting 3 to 4 hours
Once the soup is finished, remove the bay leaf.​
IF YOU LIKED THIS RECIPE FOR SLOW COOKER FRENCH ONION SOUP YOU MIGHT ALSO ENJOY…
From left to right: Crock Pot Potato Soup, Crock Pot BBQ Chicken Wing Dip, 2 Meat Crock Pot Lasagna