Everyone loves pizza, and this homemade Pizza Crust is a super easy way to make your own custom pizza at home.
No need to order takeout from any of the local delivery places. Simply whip up this delicious pizza dough in no time, and then you can top it with your favorite pizza toppings.
The ingredients needed for this No Rise Pizza Dough recipe are the following: water, yeast, all-purpose flour, and optional seasonings.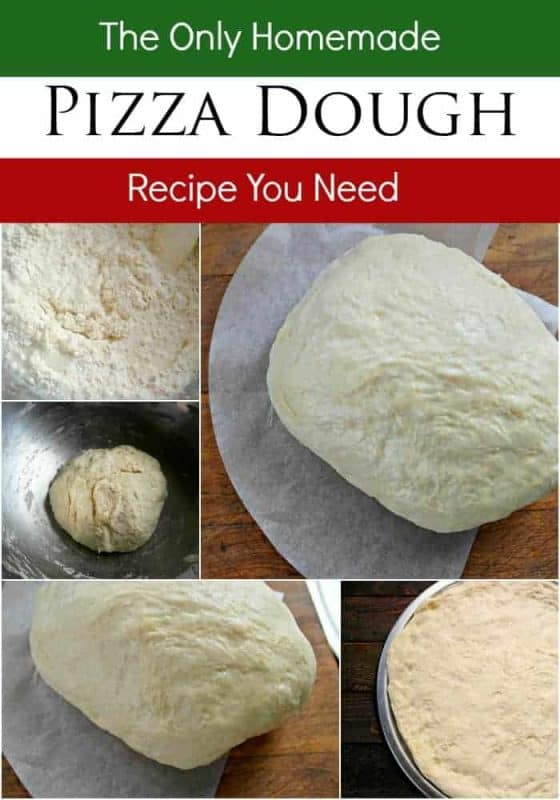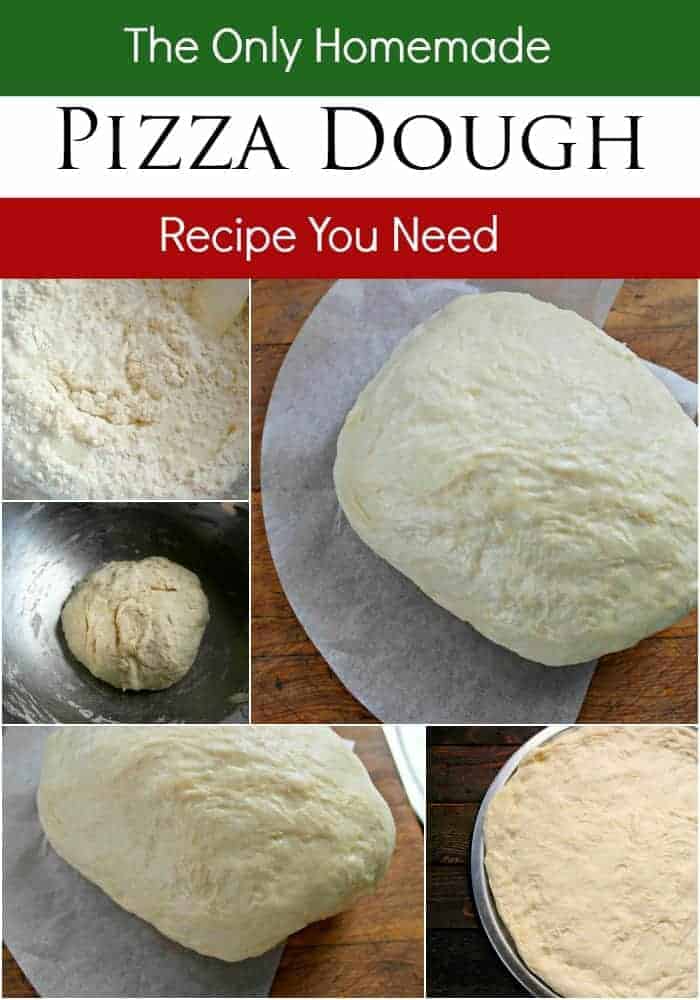 Pin
Every good pizza crust recipe starts with a bit of water, yeast, salt, and flour. This is no exception and is, in fact, a simple recipe that will work wonderfully for anyone. It's nearly impossible for this pizza dough recipe to fail. As long as you have good yeast, you have a delicious pizza crust in no time.
Mixing Pizza Dough
You can use a stand mixer to make this dough using a dough hook for kneading, or you can alternately knead it by hand until it is elastic and easily forms a ball.
Once it has formed into a ball, you simply have to divide it in half to make the crust for two pizzas. You don't even have to let this dough rest! It can be used immediately, which is great for a busy mom like me.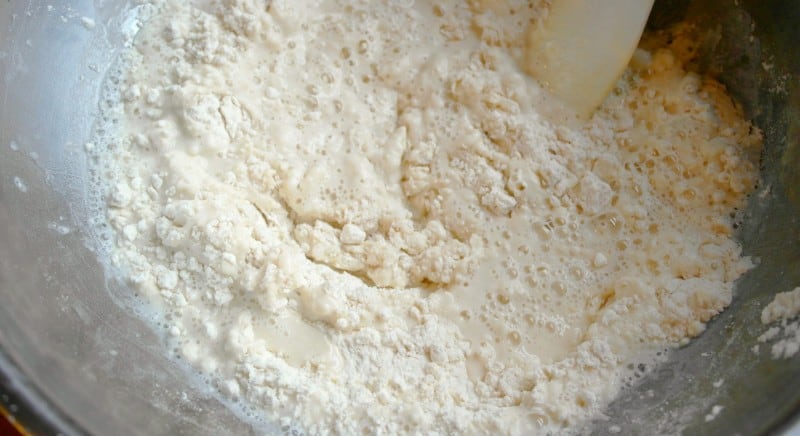 Pin
If you double this homemade pizza crust recipe, it is enough to make 3 large sized pizzas. We use a basic tomato basil sauce or pesto, then top it with our favorite toppings.
Sausage, hamburger, and pepperoni are always popular, but you can also customize them. Grilled chicken, spinach, sundried tomatoes, and a bit of feta cheese are a delicious spin that is healthier and full of amazing flavors adults will love.
I often make a double batch of pizza dough and bake 2 pizzas for dinner. I will pre-bake the third homemade pizza crust, cool it, and wrap it in saran wrap to freeze for a meal later.
To use the frozen crust, I will pull it out of the freezer, top it, and bake it as normal, adding an additional 5-10 minutes.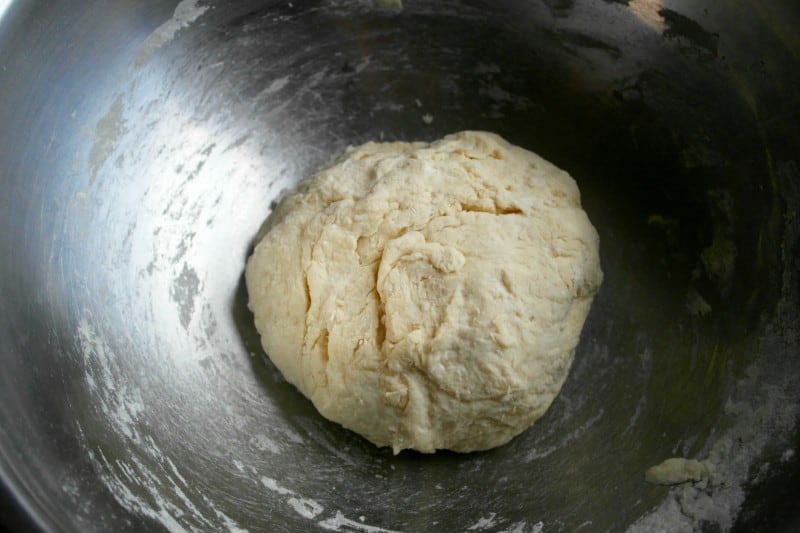 Pin
Optional Mix-ins For Your Basic Pizza Dough Recipe
My family does enjoy the basic pizza dough recipe as written, but one of the things I love so much about pizza night is how easy it is to customize it. That includes the pizza dough!
I've played around with a lot of mix-ins for pizza dough, and below are some of our favorites. You can easily do a single addition or a combination.
Italian seasonings
Oregano
Basil
Garlic
Parmesan cheese and black pepper
Teaspoon of olive oil helps "loosen" the dough to be worked with
Crushed Red Pepper
Brush the top of your pizza dough with melted butter
A touch of honey to sweeten your dough
Teaspoon of sugar to sweeten your dough
Asiago cheese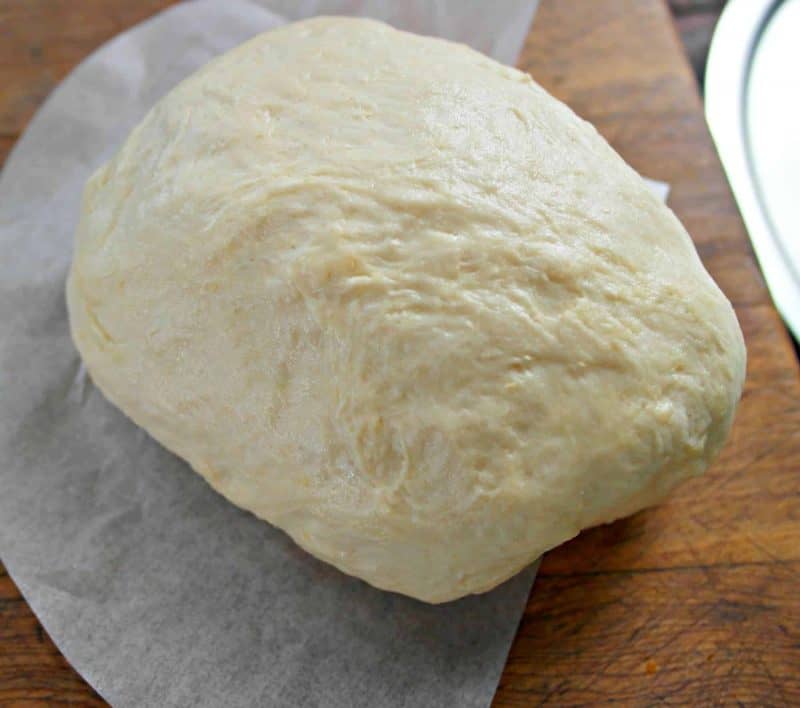 Pin
Homemade Pizza Crust FAQS
Here are some of the most frequently asked questions about homemade pizza crust:
How do you stretch pizza dough?
Start with your pizza dough in a ball. On a lightly floured surface, start working the dough with your hands, trying to maintain the shape of your pan, often a circle.
Work from the center of your dough to the outside to keep your thickness even. Make sure to rotate your dough often to keep it from sticking to the surface you're working on.
How do you make pizza dough?
Making homemade pizza dough starts with basic ingredients: flour, water, salt, and yeast. Combining these ingredients leaves you with an easy pizza crust that doesn't even need to rise!
You can easily make your pizza dough more complex with the above additions.
Can you freeze pizza dough?
Yes! You have the option to freeze your pizza dough before or after you have rolled out your dough. I have frozen the pizza dough both ways, and each has its advantage.
To freeze your dough without shaping it first, you can simply roll it into a ball and wrap well in plastic wrap.
I then store these balls in a Ziploc bag. Remember when freezing air is your enemy. To use, I will take a ball or two out of the freezer in the morning.
I let them thaw on the counter or in the fridge until dinner time, then roll them out and bake as directed. Freezing your pizza crust in a ball saves space.
Best Way to Freeze Pizza Dough
My favorite way is to freeze my pizza dough ready to be topped. I will roll out my pizza crust like I'm going to top it and pre-bake it for 5 minutes.
I will then pull my dough out of the oven and allow it to cool completely. Once cooled, I will wrap it well in plastic wrap and freeze individually.
Once it is frozen solid, I will put them all into an extra large Ziploc bag.
When I'm ready to use, I will take it out of the freezer and allow it to thaw for about 15 minutes. I will then top and bake as usual, adding a couple extra minutes to the baking time.
I prefer this method because I don't have to make the mess of rolling the pizza dough out at dinner time.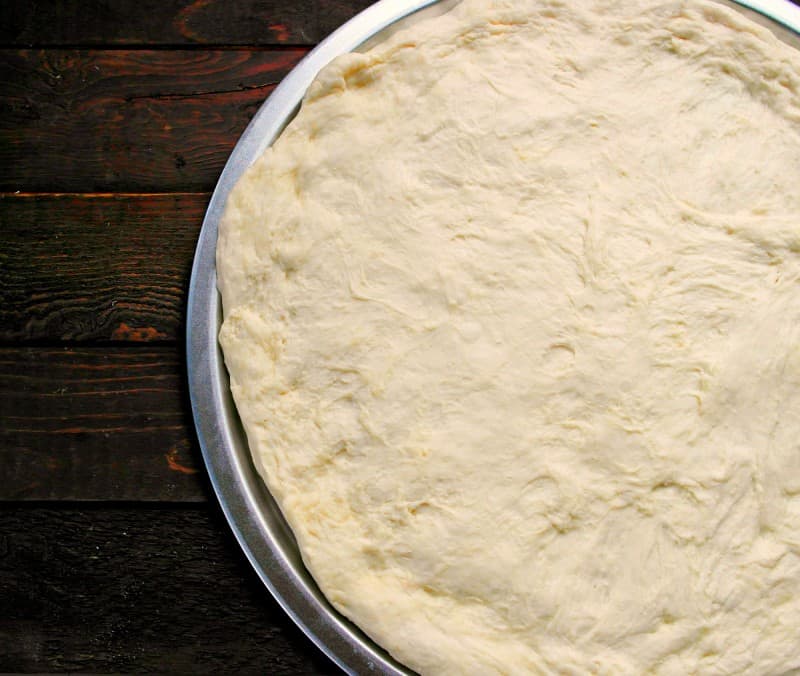 Pin
HELPFUL TOOLS TO MAKE THE BEST PIZZA DOUGH
The following are affiliate links. We are a participant in the Amazon Services LLC Associates Program, an affiliate advertising program. Shopping through these links doesn't cost you anything – it just helps us keep this site going!
Stand Mixer
A Kitchenaid stand mixer makes quick work of kneading the dough! It's not an absolute must, but it really does make it easier and can be used for so many other things!
Sale
Bestseller No. 1
KitchenAid Classic Series 4.5 Quart Tilt-Head Stand Mixer K45SS, Onyx Black
#1 MIXER BRAND IN THE WORLD* *Source: Euromonitor International Ltd. for retail sales revenue, USD, all retail channels. More information, including date ranges available at: mixerclaim.kitchenaid.com
Built to take it all on with the durable and built-to-last metal construction, and 59 touchpoints around the mixer bowl for great mixing results.
4.5 Quart Stainless Steel Bowl to mix up to 8 dozen cookies* in a single batch. Dishwasher safe. *Using the flat beater; 28g dough each
Easily add ingredients with the tilt-head design, because you'll have better access to the bowl - lock the head in place while mixing
10 speeds for nearly any task or recipe, from mixing ingredients together on the stir speed, to whipping cream at speed 8, you'll get thorough ingredient incorporation every time
Sale
Bestseller No. 2
Hamilton Beach Classic Stand and Hand Mixer, 4 Quarts, 6 Speeds with QuickBurst, Bowl Rest, 290 Watts Peak Power, Blue (64658)
2 PRODUCTS IN 1: Why take up room in your kitchen for 2 mixers when 1 space-saving appliance does it all? The stand mixer is perfect for thick mixtures like cookie and bread dough and the hand mixer easily unlocks from the base for quick mixing jobs.
5 ATTACHMENTS AND 4 QT. STAINLESS STEEL BOWL. Set includes 2 traditional beaters, 2 dough hooks and whisk, and the 4 qt. bowl is large enough to accommodate your favorite recipes. For easy cleanup, attachments and bowl are dishwasher safe.
POWERFUL MOTOR FOR ALL YOUR MIXING NEEDS. The 290 watt peak power* motor lets you easily do everything from mixing batter and kneading thick dough to whipping fluffy meringue.
BOWL MOVES SIDE-TO SIDE FOR THOROUGH MIXING. As you mix, the Shift & Stir lever lets you move the bowl from side-to-side to provide thorough mixing for all your ingredients.
6 SPEEDS COVER EVERY MIXING TASK. Go from slowly folding ingredients all the way up to whipping at top speed. This hand mixer has 6 speeds to cover every mixing task and a Quick Burst button for an extra burst of power at any speed.
Pizza Stone
A pizza stone helps your pizza cook evenly and gives you that crisp outer crust we all crave. I own several Pampered Chef stones, but I bought this one for my parents, and they love it. I let my stone preheat with my oven for 15-30 minutes while I make my dough.
Parchment paper is a lifesaver for me because I can pre-bake my crusts for 5 minutes and then easily take them out of the oven while leaving my stone in to stay hot, then transfer them right back to the oven. I can also easily press out my pizza crust right on the parchment sheet I'm going to bake it on.
How To Make Pizza Dough At Home
It's hard to believe you can have your homemade pizza in the oven within half an hour, but it is possible with this basic pizza dough recipe.
This pizza crust recipe is so versatile, can be frozen, and tastes amazing! Four basic ingredients turn into a family favorite no rise pizza dough that is sure to become part of your weekly menu plan.
If your family loves this pizza dough recipe as much as mine, don't forget to give it 5 stars!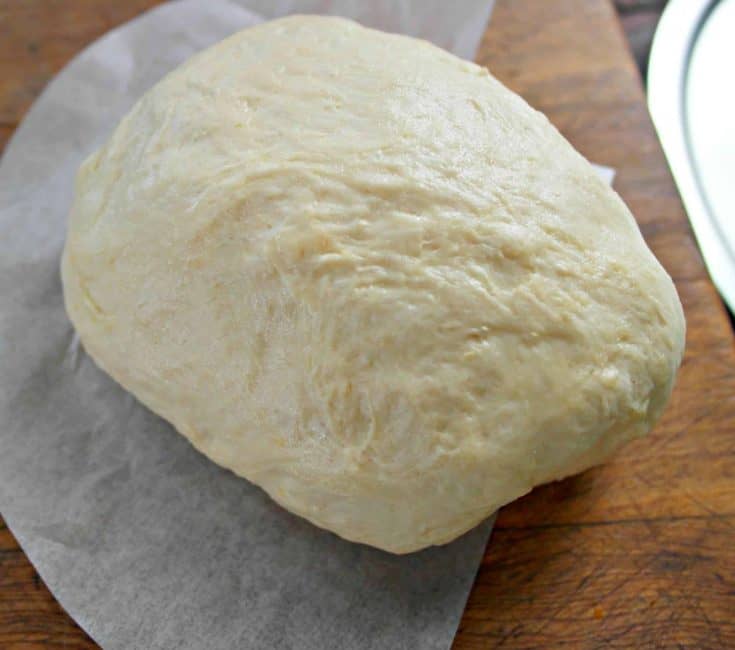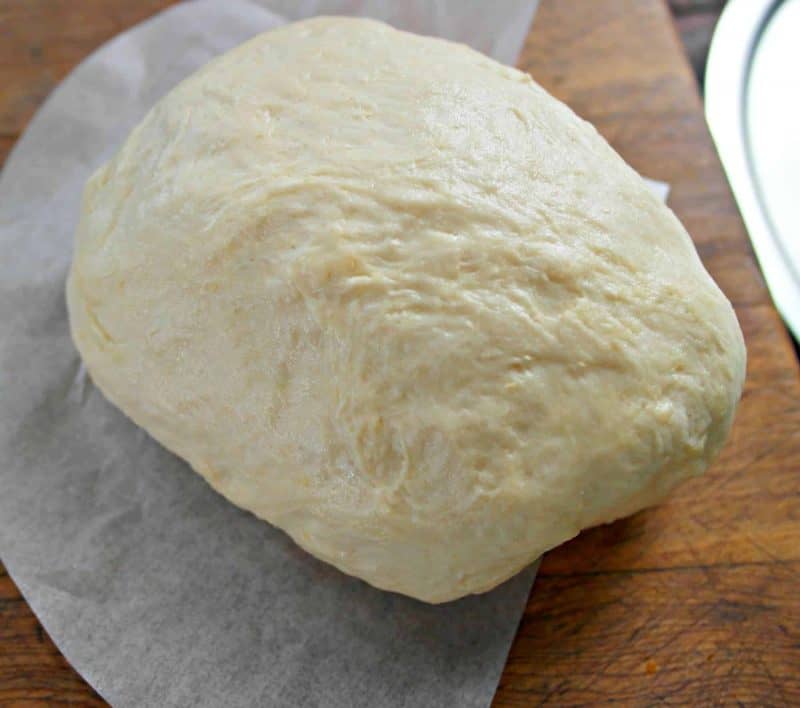 Yield: 10
Homemade Pizza Dough Recipe
Prep Time: 15 minutes

Cook Time: 14 minutes

Total Time: 29 minutes

Everyone loves pizza, and this homemade Pizza Crust is a super easy way to make your own custom pizza at home. No need to order takeout!
Ingredients
1 cup warm water
1 package yeast or 2 1/4 teaspoons
1 teaspoon salt
2-3 cups flour
Instructions
Combine yeast and warm water. Let sit for 1 minute.
Add salt and flour and mix.
Knead until elastic or with a kitchen aid until dough pulls away from sides of bowl.
Let rest 15-30 minutes in a warm draft free location. I usually shoot for 20 minutes.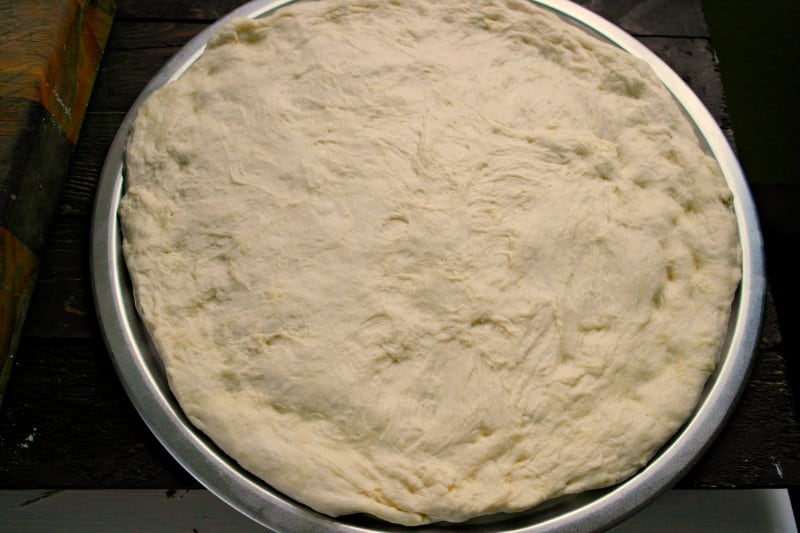 Pin
IF YOU LIKED THIS BASIC PIZZA DOUGH, YOU MIGHT ALSO LIKE…
From left to right: Copycat Passion Tea Lemonade, Cookie Dough Stuffed Brownie Cups, Funfetti Rice Krispy Treats