Living on a potato farm you can imagine just how many meals we eat with potatoes. This isn't a bad thing because my family loves them and, yet another bonus, is how versatile they are. Potatoes can quickly go from being a main dish like this Crock Pot Potato Soup to a side dish like these Oven Roasted Potatoes & Mushrooms. Heck, I even have several dessert recipes that include potatoes!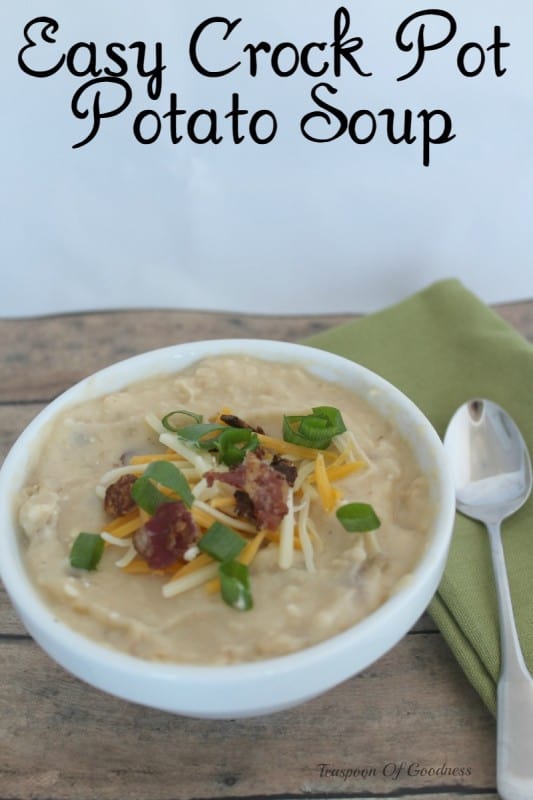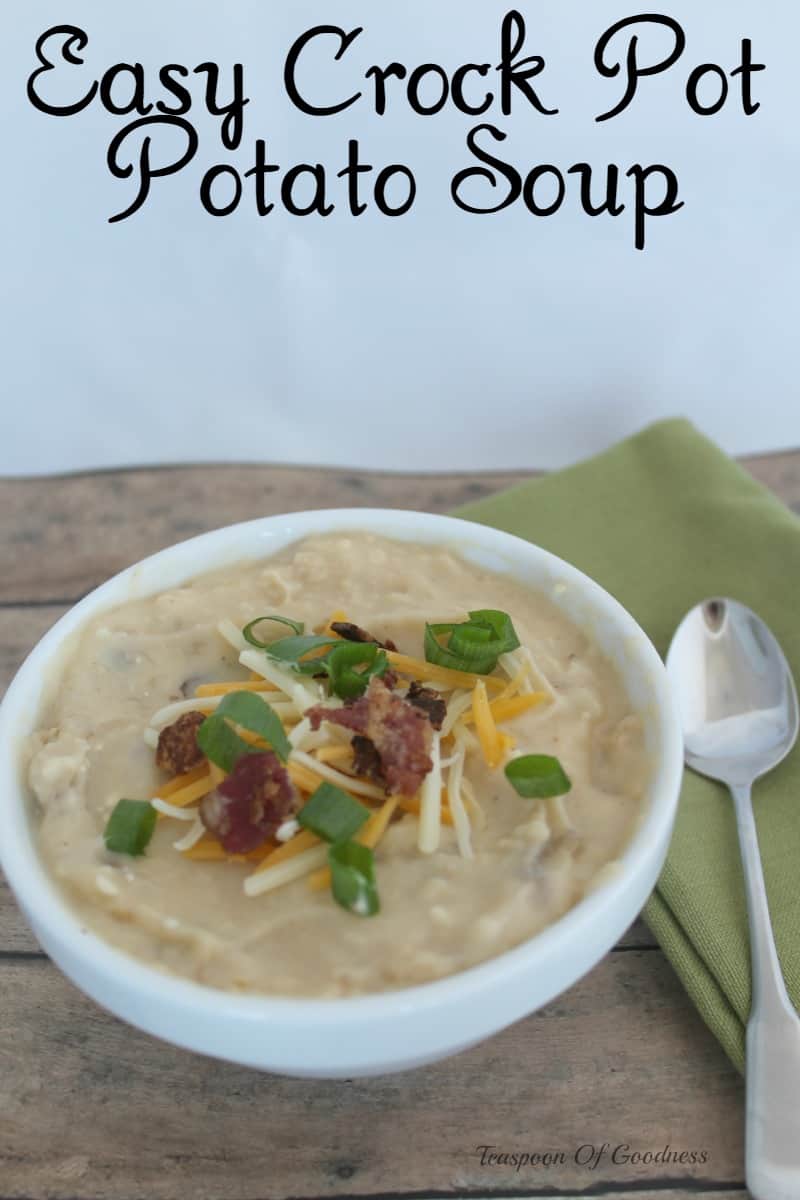 Pin
It's been an unusually warm winter for us this year, but that doesn't mean I don't crave a few hearty soups. The other family members are not big soup eaters, so if I want to indulge in a hearty soup recipe, I lean heavily towards this Crock Pot Potato Soup. It's one of the few everyone will eat seconds on, heck even firsts.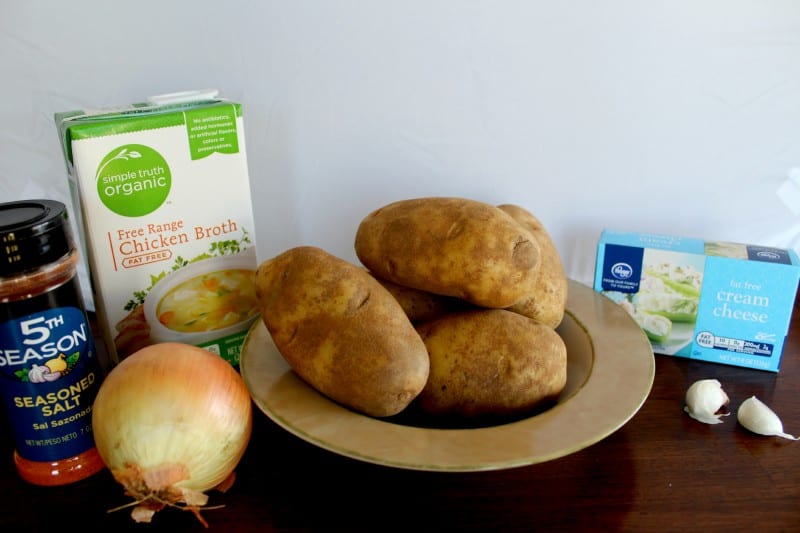 Pin
Easy Crock Pot Potato Soup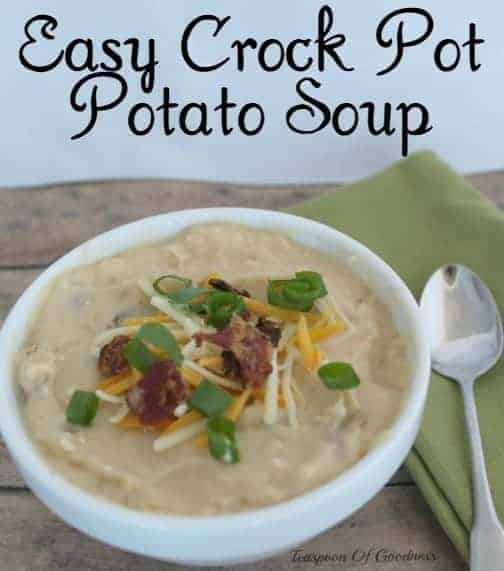 Easy Crock Pot Potato Soup
Ingredients
½ cups Diced Onions
4 cups Cubed Russett Potatoes – Skin On
1 teaspoon Seasoned Salt
4 cups Chicken Stock
2 minced garlic
8 ounces, weight Cream Cheese
9 slices Bacon
½ cups Shredded Cheese
¼ cups Green Onions, Chopped
Instructions
In a crock pot, combine onion, potatoes, seasoned salt, stock and garlic cloves. Cook on low for 8-10 hours.
Blend or Puree about 1/3 of the mixture (an emulsion blender works great).
Return to the crock pot with the rest of the soup and add the cream cheese block. Leave your cream cheese as a block and let cook for 30 minutes on low.
Stir in the cream cheese until well blended.
Top each bowl with crumbled bacon, shredded cheese and onions.
Note: if you like the soup a little thicker you can mash some of the potatoes up and it chunky and so creamy and just like those at the restaurants.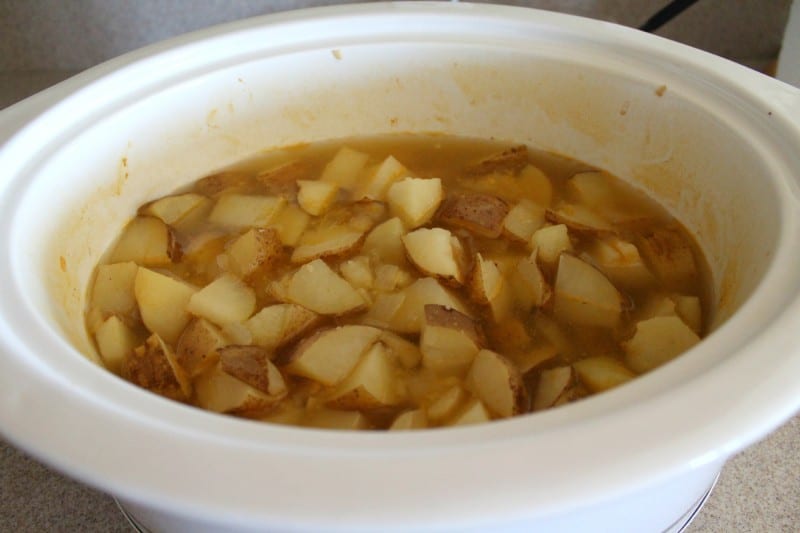 Pin
Would this Easy Crock Pot Potato Soup fit right into your weekly menu plan? What are your favorite hearty soup recipes? Do you prefer to make your soups on the stovetop or the crockpot?