I love making classic S'Mores treats and dips for my family. These S'Mores Nutella Cookies are a new and unique idea I am in love with. S'Mores Nutella Christmas Cookies combine a wonderful classic marshmallow treat with a favorite chocolate hazelnut spread, making these something for kids and adults.
To make Nutella Stuffed Cookies, you will need the following ingredients: chocolate graham crackers, vanilla graham crackers, Nutella spread, marshmallow fluff, white chocolate melts, dark chocolate melts, and holiday sprinkles.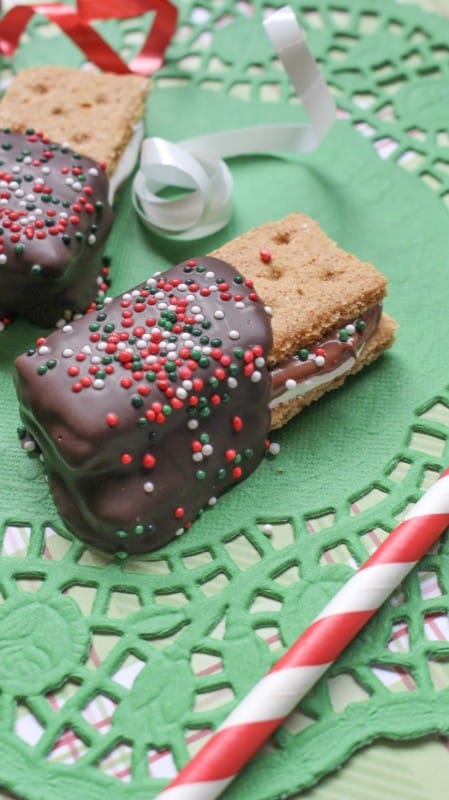 Pin
As with any yummy treat, getting the kids involved in making them is a great idea. I love using an assembly line in the kitchen for these Marshmallow & Nutella Chocolate cookies.
Just pass out all of the aprons, set up different stations on the table, and let kids and family get involved in helping put together a favorite dessert. It's sure to create plenty of memories!
How To Make Stuffed Nutella Cookies
Line a large baking sheet with wax or parchment paper.
Break apart each graham cracker sheet along the indented lines. You should have four pieces per sheet (24 for each flavor).
Lay the graham cracker pieces on the baking sheet.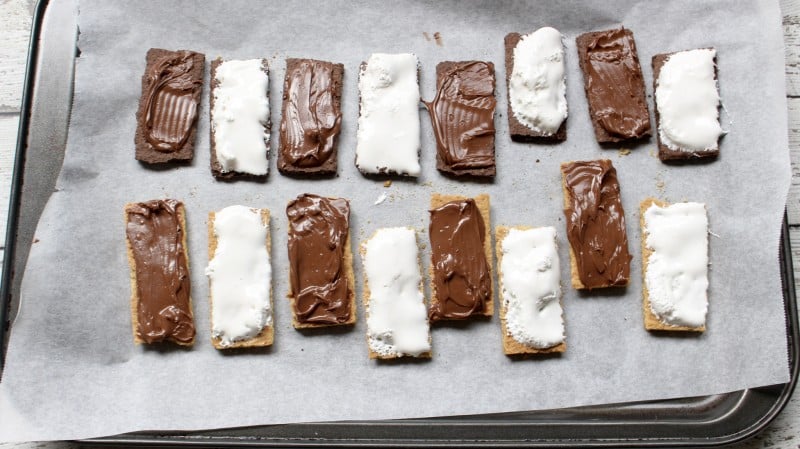 Take half of the chocolate and vanilla grahams and generously spread them with Nutella. Spread marshmallow fluff on the remaining grahams.
Sandwich the Nutella and marshmallow fluff grahams together and place back on the baking sheet.
In a small microwave-safe bowl, add the white chocolate melts. Microwave for 45 seconds. Remove from microwave and stir until melted.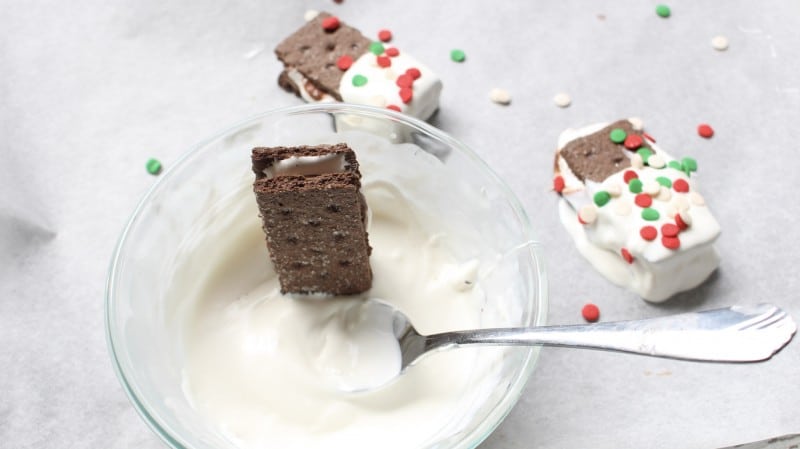 Dip the 12 chocolate graham sandwiches halfway into the melted white chocolate. Place back on the baking sheet and sprinkle with holiday sprinkles.
In a small microwave-safe bowl, add the dark cocoa chocolate melts. Microwave for 45 seconds. Remove from microwave and stir until melted.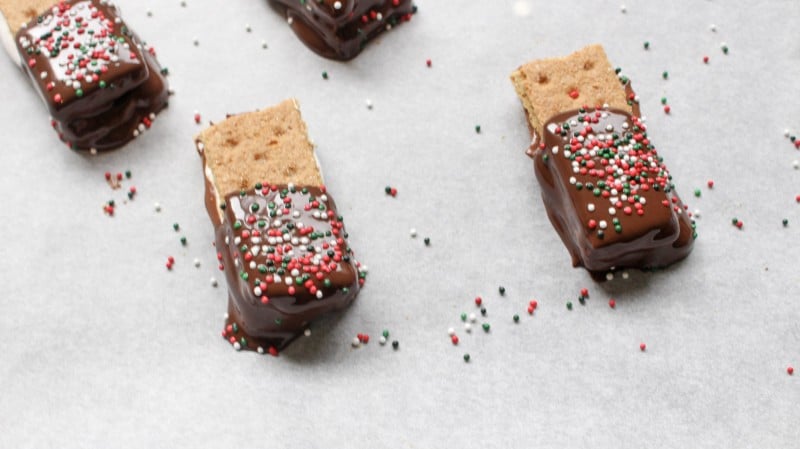 Dip the 12 vanilla graham sandwiches into the melted dark chocolate. Sprinkle with red and green holiday sprinkles and place back on the baking sheet for 15 minutes to allow the chocolate to harden.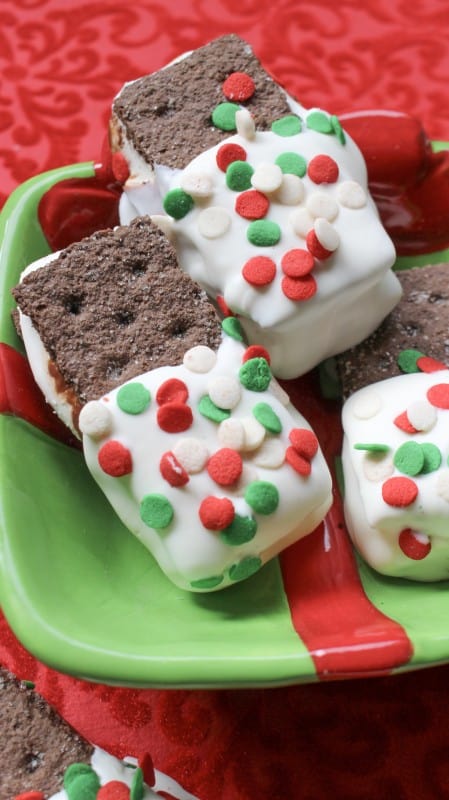 Pin
Tips & Tricks to Making Marshmallow & Nutella Christmas Cookies
I'm all in favor of making cookies in advance. However, these Nutella cookies won't keep as long as other cookies. I would use these cookies within a couple of days for the best flavor.
The graham crackers can get a bit soft if not stored in an airtight container.
Marshmallow fluff can be a bit messy! Dip your knife into hot water (and dry it) before spreading, or spray your knife with PAM.
Get the kids involved in making these fun Christmas Cookies. They can easily help you spread and dip, and of course, what kid doesn't like to play with sprinkles?
Common Questions About Marshmallow Cream & Nutella
Here are some of the most frequently asked questions about marshmallow cream (fluff) and Nutella:
Is Nutella Vegan?
Nutella is suitable for vegetarians because of the whey powder used, however, it is not suitable for vegans as it contains skim milk powder.
What is Nutella?
Nutella is a delicious tasting spread made from roasted hazelnuts, skim milk powder, and a touch of chocolate.
What can I substitute for marshmallow cream?
You could melt down 16 large marshmallows either in a double broiler or in the microwave and combine that with 2 teaspoons of corn syrup.
Other Christmas Cookie Recipes To Make
Helpful Tools To Make These Stuffed Easy Nutella Cookies
The following are affiliate links. We are a participant in the Amazon Services LLC Associates Program, an affiliate advertising program designed to provide a means for us to earn fees by linking to Amazon.com and affiliated sites.
Marshmallow & Nutella Stuffed Christmas Cookies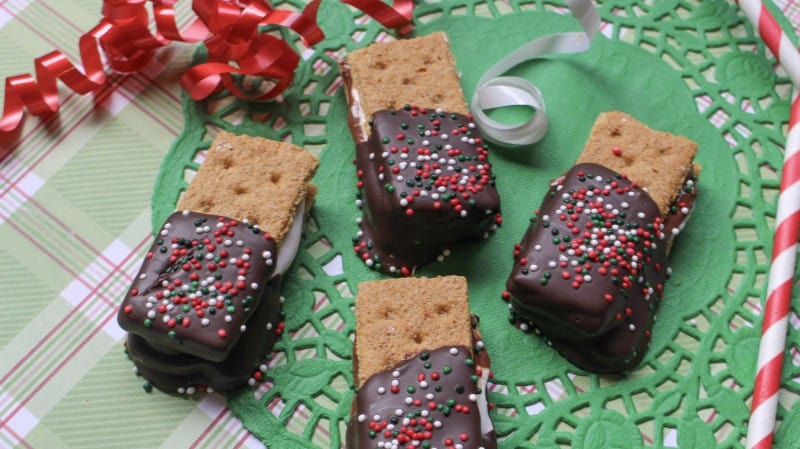 Pin
Kids and adults alike can gather around the dessert buffet and enjoy these delicious Easy Marshmallow & Nutella Stuffed Christmas Cookies. They also make an amazing gift option for your friends and family to enjoy this holiday season.
If you loved this Marshmallow & Nutella Stuffed Christmas Cookie recipe, let me know with a 5-star rating!