As the benefits and ethical implications of plant-based eating become a more prominent topic of conversation, more home cooks and professional chefs alike are beginning to embrace the wonders of vegan food.
Stereotypes of vegan food as bland, dull, nutritionally lacking, and unnecessarily expensive have been debunked time and time again by incredible chefs like Tanya Petrovna, Bryant Terry, and the phenomenal Chef Babette Davis.
These public figures and many others like them demonstrate that vegan food can be vibrant, fun, and delicious while nourishing your body and mind and helping out the planet.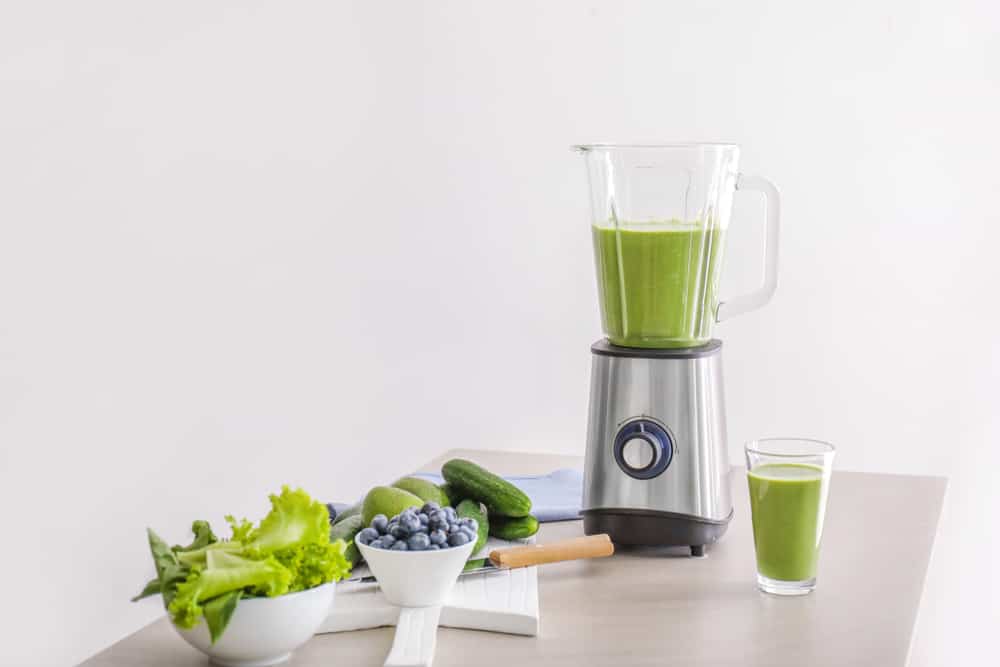 Pin
A high-performing blender will open up so many doors to exciting culinary possibilities, from soups and smoothie bowls to homemade hummus and even vegan cheesecake! There's almost no limit to the vegan food that a good blender can help you whip up – literally.
Today, we'll be showing you our top 5 best blenders for vegans and letting you in on our top tips for choosing the best blender for vegan food!
Can't wait? Neither can we! Here's our top pick:
Vitamix A3500 Ascent Series Smart Blender
1640-watt motor
Cool-running
Stainless steel hardened blade construction
Touchscreen controls
Variable speeds
Friction heating function
Self-cleaning
Built-in timer
Compatible with Vitamix Perfect Blend app
Best Blender for Vegans
Pin
If you've had your ear to the ground in your search for the best vegan food blender, you may have heard for Vitamix's Ascent series. The A3500 Ascent Smart Blender is one of Vitamix's most popular blenders, and by the end of this review, you'll see why!
The Vitamix A3500 relies on a 1640-watt motor to power its blades, and this has proved to be an excellent decision by Vitamix's development team.
The motor's high power, combined with the laser-cut, hardened stainless steel blades, allows this blender to power through even tough or thick foods that would typically be difficult to process. The motor is cool-running, so your blender won't overheat even when it's working extra hard.
As well as being a very efficient blender, the Vitamix A3500 is so easy to use, you'll wonder how you ever cooked without it! The intuitive touchscreen controls can be easily located and selected, so you can choose to blend, grind, chop, emulsify, or even heat your food through the blades' intense friction. Another bonus of these controls is that they give the blender a sleek, modern appearance that lends a touch of professionalism to every kitchen.
This blender's built-in timer adds another level of convenience to your vegan meal prep because it allows you to get on with other things while your food blends to perfection.
Even more conveniently, the blender pairs with the Vitamix app (Perfect Blend). By connecting to the app, you can unlock 17 additional programs and over 500 recipes! While not all of these recipes are plant-based, most can be made vegan-friendly with a few alterations.
Once you've finished using your Vitamix Ascent A3500, you can use the self-cleaning function to clean up any food residue in seconds.
Much like the vegan diet, this blender brings a lot of variety to the table. Its ability to transform basic foodstuffs into unbelievably tasty dishes embodies the nature of vegan cooking.
The Vitamix Ascent is very expensive, although we believe it's 100% worth it if it works within your budget. If not, no worries – we've got four more incredible blenders to show you!
Pros
1640 watts
Cool-running motor
Hardened stainless steel blades
Intuitive touchscreen controls
Multiple settings, including friction heat
Variable speed control
Self-cleaning function
Built-in timer
Pairs with Vitamix app
Cons
Vitamix A3500 Ascent Series Smart Blender, Professional-Grade, 64 oz. Low-Profile Container, Graphite
Program Settings: Five program settings (for Smoothies, Hot Soups, Dips & Spreads, Frozen Desserts, and Self-Cleaning) ensure walk-away convenience and consistent results. The A3500 pairs with the Vitamix Perfect Blend App: Unlock the Ascent Series A3500's full potential with 17 programs and 500+ recipes with the iOS + Android app.
Touchscreen Controls give the machine a sleek silhouette and are easily wiped clean.Electrical Ratings - 120 V, 50-60 Hz, 12 Amps. Cord: 4 feet. HP: 2.2-peak
You're in Control: Variable Speed Control and Pulse feature let you manually fine-tune the texture of any recipe
Built-In Wireless Connectivity: The motor base is able to read the container size you've chosen and automatically adjust program settings and maximum blending times accordingly. Add a range of compatible container sizes, building a customized blending system designed to fit your needs.
Programmable Timer: A built-in timer helps avoid over- or under-processing your custom recipes. Set the timer to the length of your blend, and it will turn the machine off automatically. What's in the Box: motor base, low-profile 64 oz. container, low-profile classic tamper, Simply Blending Cookbook
Pin
You won't get far in your search for a vegan food blender without encountering Ninja's range of blenders.
Most of the blenders manufactured by Ninja are impressive pieces of machinery, hence the brand's popularity, but the Nutri Ninja Personal and Countertop Blender is especially great for vegans.
Powered by a very respectable 1200-watt motor, the Nutri Ninja Personal and Countertop Blender uses Auto IQ technology to take all the hassle out of the blending process!
Because so many vegan nutrition staples often rely on blending (think soups, smoothies, dips, sauces, etc.), a blender that takes the stress and guesswork out of the process is always welcome.
The Nutri Ninja blender uses extractor blades to preserve all the nutritional goodness in your ingredients throughout blending. The blades are strong enough to blend whole vegetables, fruits, and even nuts and seeds. It can even crush ice for vegan cocktails!
All controls are easily accessible at the front of the stable, evenly-weighted base and can be activated with a single touch. Settings include three speed controls, a pulse function, and presets such as 'food puree,' 'blend,' 'ultra blend,' and 'frozen drinks and smoothies.'
Best of all, this blender has a high 72 oz capacity that makes cooking healthy, delicious vegan food for the whole family possible. Small, regular, and large serving cups with sealable lids are also included for catering to any serving size.
The main drawback to this blender, in our opinion, is that it can be a bit tricky to clean. There are a few small cracks (by design) in the blender that food remnants can seep into quite easily. This could cause potential problems if it goes unnoticed for too long.
Pros
1200 watts
72 oz capacity
Steel extractor blades
Three speeds
Multiple presets
Small, regular, and large cups included
Cons
Ninja BL642 Nutri Ninja Personal & Countertop Blender with 1200W Auto-iQ Base, 72 oz. Pitcher, and 18, 24, & 32 oz. To-Go Cups with Spout Lids, For Smoothies, Shakes & More, Dishwasher Safe, Black
PROFESSIONAL POWER: 1200-watt motor powers through the toughest ingredients and pulverizes ice to snow in seconds for creamy frozen drinks, smoothies, sauces, and more.
TOTAL CRUSHING: The rustproof Pro Extractor Blades break down whole fruits, vegetables, ice and seeds for maximum nutrient & vitamin extraction, blending entire fruits and vegetables & minimizing nutrients that go to waste.
AUTO-IQ TECHNOLOGY: Take the guesswork out of drink making with intelligent programs that combine unique timed pulsing, blending, and pausing patterns that do the work for you.
XL CAPACITY: The 72 oz Total Crushing Pitcher is great for making large batches for the whole family. (64 oz max liquid capacity).
ON-THE-GO CONVENIENCE: Choose from 3 sizes of single-serve cups (18 oz, 24 oz, and 32 oz.) with spout lids to make it easy to take delicious nutrient-rich smoothies on the go.
Pin
Is anyone surprised that we have two Vitamix blenders on our list? What can we say – it's an exceptional blender brand for vegans! This time, we're talking about the Vitamix Professional Series 750 Blender.
Manufacturers will often attach the word 'professional' to a product or series purely for the connotations of superiority. However, the Vitamix Professional 750 really does deserve its title. It's powerful, durable, and versatile enough to be used commercially as well as in a home kitchen setting, and this is reflected in the quality of the blends it produces.
There are several similarities between the Vitamix Professional 750 and the Vitamix Ascent. Both blenders use 1640-watt motors to power hardened stainless steel blades. The 750 also features the same cool-running motor and self-cleaning function. However, this blender has several features of its own that make it a unique and convenient appliance for vegan food blending.
The Vitamix Professional 750 has a practical, compact, low-profile design that will tuck away easily into the nooks and crannies of your kitchen. This means you can keep it somewhere accessible for regular use yet neatly out of the way.
Rather than a touchscreen, the speed controls and presets on the Vitamix 750 are adjustable via a rotary dial. This might feel less intuitive to some, but the ten speed controls on this model allow for more precision and variety in terms of consistency. The pulse function can be activated via a large, ergonomic switch, and all controls are built into the front of the broad, stable base.
Also included with the Vitamix Professional 750 are a cookbook with many exciting recipes (again, not necessarily vegan, but adjustable) and a tamper for those foods requiring a little extra nudge.
Unfortunately, another similarity between the Vitamix 750 and the Ascent is the price point. While this is a fantastic blender, especially for vegan food, it's not budget-friendly. If affordable pricing is your priority, keep reading for our next pick.
Pros
1640 watts
Compact build
Hardened stainless steel blades
Ten speed settings
Self-cleaning
Cookbook and tamper included
Cons
Sale
Vitamix Professional Series 750 Blender, Professional-Grade, 64 oz. Low-Profile Container, Black, Self-Cleaning - 1957
Automated Blending: Five pre-programmed settings ensure simple cleaning, walk-away convenience, and consistent results for smoothie, frozen dessert, soup, and purée recipes.
You're in Control: Variable Speed Control and Pulse feature let you manually fine-tune the texture of any recipe;Cord: 6 ft
Low-Profile 64-ounce Container: Perfect for family meals and entertaining, while fitting comfortably under most kitchen cabinets. Electrical Ratings - 120 V, 50-60 Hz, 12 Amps
Hardened Stainless-Steel Blades: Our aircraft-grade stainless steel blades are designed to handle the toughest ingredients, so from the first blend to the last, you get the same quality results.
Self-Cleaning: With a drop of dish soap and warm water, your Vitamix machine can clean itself in 30 to 60 seconds. What's in the Box: motor base, low-profile 64 oz. container, cookbook, low-profile tamper.HP: 2.2-peak
Pin
We recognize that shopping for a good blender can be a frustrating experience if you're on a budget. There are so many excellent models on the market in a higher price range that it can start to feel like you have to choose between a blender and your budget.
With the Oster Pro 1200, we hope to show you that this isn't the case at all! The Oster Pro blender is a high-performing and high-quality budget option that truly excels when vegan food is on the menu.
Operating at 1200 watts, the Oster Pro incorporates dual direction blade technology to power its 3.5-inch blade system. The blades can rotate backward and forwards to ensure every last morsel of food is blended to perfection – if you want it to be, of course!
As well as a smooth, standard blend, the Oster Pro can execute various consistencies through its seven-speed settings, including presets for 'milkshakes,' 'frozen smoothies,' and 'food chop salsa.'
A large, 24 oz smoothie cup is also included with this blender, so you can use the Oster Pro to make single servings of fruity goodness as well as larger meals.
In terms of construction, this blender has an ergonomic, broad plastic base that stably distributes the blender's weight. The jug or jar is made of thermal-resistant glass, which enables the blending of pre-cooked items and will withstand the heat generated by the motor. Be careful, though, because the jug is fragile and liable to crack if handled roughly.
Pros
1200 watts
Seven speeds
Dual-direction blades
Three presets
Thermal glass jug
Wide, ergonomic base
24 oz smoothie cup included
Cons
Sale
Oster Blender | Pro 1200 with Glass Jar, 24-Ounce Smoothie Cup, Brushed Nickel
Smart settings technology and 7 speeds including 3 pre-programmed settings for the most common blender creations
Dual direction blade technology for extra blending power to chop and grind with precision extra wide 3.5" blade system allows ingredients to flow down into the blade easier for faster and smoother results
1200 power watts and 900 watts of ice crushing power
6 cup dishwasher safe Boroclass glass jar withstands thermal shock
Pulse feature for added control and precision; Featuring a 50% larger blade system (compared to previous Oster blender models) and patented dual direction blade technology that blends in forward and reverse motion
Pin
Smoothies are a diet staple for many vegans. Not only do they make excellent healthy breakfasts and snacks, but they're a surefire way to get your five-a-day!
Hamilton Beach's Personal Blender model is the perfect blender to have on hand for your daily vegan smoothie fix.
It may be smaller than the other blenders we've reviewed for this article, but that's not necessarily a disadvantage! A large, cumbersome blender can be more of an annoyance than anything else when you want to make a single portion of something. Besides, this blender is much more portable and vastly more affordable than most of the larger, more expensive models.
In fact, you can drink straight from the jug with this blender, thanks to the included travel lid. You'll never be late for work because of your morning smoothie again!
Of course, the flipside to this is that the Hamilton Beach Personal Blender can't be used for large portions, so if you're looking for a blender for big, vegan family meals, this isn't the one for you.
In all other ways, though, the Hamilton Beach Personal is the perfect single-serve blender for vegan smoothies and other fruit and vegetable-based dishes.
Even though the motor is relatively low-power, at 175 watts, this blender can crush ice and pulverize seeds with no problem, thanks to the stainless steel blades. It's probably not strong enough to handle harder foods like nuts, though, so we'd advise reserving this blender for your smoothies, smoothie bowls, and soups.
There's only one control button on this blender, which turns it on and off and activates the single speed. While this isn't the optimal blender for experimenting with different consistencies, the single speed certainly does simplify things for easy, consistent, and efficient smoothie blending.
This little blender comes in five cute color options, including the standard black and white choices as well as red, raspberry, and blue! It's by far the least expensive blender we've reviewed today – and the most convenient for busy vegans.
Pros
Compact and lightweight
Portable
Perfect for smoothies
Five color options
Very affordable
Cons
Low-power motor
Single-speed
Sale
Hamilton Beach Portable Blender for Shakes and Smoothies with 14 Oz BPA Free Travel Cup and Lid, Durable Stainless Steel Blades for Powerful Blending Performance, Black (51101AV)
BLEND AND GO: Blend fruit smoothies, shakes and your favorite icy drinks right in the 14 oz. BPA-free travel jar. The personal blender jar comes with a travel lid to double as a to-go cup. It's lightweight and fits most car cup holders
POWERFUL BLENDING PERFORMANCE: Durable stainless steel blades on the blender power through ice, frozen fruits and leafy greens for smooth results. Perfect for adding more vitamins and nutrients into your diet in smoothies and protein shakes.
QUICK & EASY CLEANUP: The blending jar, blades and travel lid on this Hamilton Beach blender are all dishwasher safe so cleaning up is a breeze. Ice crushing power for smooth results efficient 175-watt motor provides all the power you need for fast, reliable performance
COMPACT DESIGN FITS MOST CUP HOLDERS: The small size of the personal blender jar makes it perfect for the home, office, travel, small dorms and apartments. The compact base comes with a 24" cord.
EASY ONE-TOUCH BLENDING. Quickly prepare a variety of icy drinks by just pressing the button. It's so easy. This is sure to be your go-to blender for shakes and smoothies.
Buyer's Guide
Now that you've been introduced to all the fantastic blenders for vegans on the market at the moment, you're probably ready to get buying.
Before you do, though, take a quick look at our buyer's guide. We've compiled all our advice for choosing the best vegan food blender to help you narrow down your choice.
Power
Unless you're looking exclusively for a smoothie blender, you should be looking for a powerful motor before anything else. Blade construction is essential, but without sufficient power behind them, your heavy-duty blades might not cut it (excuse the pun).
If you want your blender to be able to crush nuts and seeds (excellent sources of vegan protein and fatty acids), we'd recommend a motor rated at 1200 watts and over.
On the other hand, there are some situations where such a powerful motor might not be necessary. For instance, a single-serve smoothie blender can produce delicious results on just a couple of hundred watts.
If the only things you want to use your blender for are soups and smoothies, feel free to opt for a lower wattage. You'll probably also find it quieter and less stressful to use.
Blade Construction
We briefly touched on the importance of blade construction in the previous section, but this factor is worth delving into further.
Without question, the best material for blender blades is stainless steel. Hardened stainless steel is even better and more appropriate for blending tougher foods.
If you're vegan for the health benefits (and even if that's not your top priority), you could benefit from extractor blades. These blades are used in Vitamix blenders and retain as much of your food's nutritional value as possible.
Dual-directional blades are also beneficial because they rotate in two directions for maximum efficiency. These blades have a higher success rate when it comes to minimizing those pesky lumps that always turn up in your smoothie even after you thought you'd got them all.
Settings
Settings for blenders can be divided into two general categories: speed settings and presets.
Because a plant-based diet can be so broad and encompass so many different types of food, it's a good idea to choose a blender with as many settings in both categories as possible.
Ideally, you'll probably want at least three speeds (although some blenders can have up to ten). The more speed settings you have available, the faster you'll be able to prepare food and the more variety you'll have to work with. However, if you're looking for a simple smoothie blender that won't be used for much else, you may prefer to have fewer settings.
Be sure to look carefully at the available presets, too. These tend to be labeled after certain foods. For example, you might have a 'smoothie' preset or a 'salsa' preset. By verifying which presets each blender has available, you can discern which blender is most compatible with your vegan food preferences.
It's also helpful for a blender to include a pulse setting for when you need to give your blend a little boost.
Ease of Use
There's no point in buying a blender (an appliance designed to make cooking easier) if it makes your life more difficult. That's why we've prioritized blenders with ergonomic features to maximize ease of use.
Firstly, all controls need to be easily accessible. You shouldn't be reaching around a whizzing blender to try and change the speed. All controls, therefore, should be positioned on the front of the base.
Touchscreen controls are the easiest and most intuitive to operate for most people, although some blender users prefer rotary dials and push-buttons. This is entirely up to you.
You don't want to risk your blender tipping over on you while you're using it, so something else to look out for is a wide, stable base. This base should be wider than the jug to keep it bottom-heavy.
Cleaning your blender after use is one of the most boring post-cooking tasks, but luckily, some blenders these days are programmed to help with that part of the process, too! Blenders with self-clean settings will use their motor power to churn soapy water around the blender for a quick, thorough clean. If you're sick and tired of washing up, you should check this feature out.
Additional Features
Despite how varied and exciting plant-based eating can be, everyone runs into a bit of a food rut now and again. A blender that comes with a cookbook could be precisely what you need to keep up your culinary mojo!
Even if not all of the recipes are vegan-friendly, you could adapt them or simply use them as inspiration.
Some blenders also come with tampers included. If you anticipate cooking with stickier, more stubborn foods, this could be a time and energy-saving addition to your blender.