There's something magical about using my instant pot for cooking meals in the house. I'm able to make meals that used to take hours to create in just minutes. If you don't own an instant pot by now, you really should grab one! 
To make Instant Pot Chili with Ground Beef you will need the following ingredients: dry kidney beans, water, ground beef, olive oil, onions, garlic, green bell pepper, beef broth, diced tomatoes, tomato paste, chili powder, cumin, oregano, salt and pepper.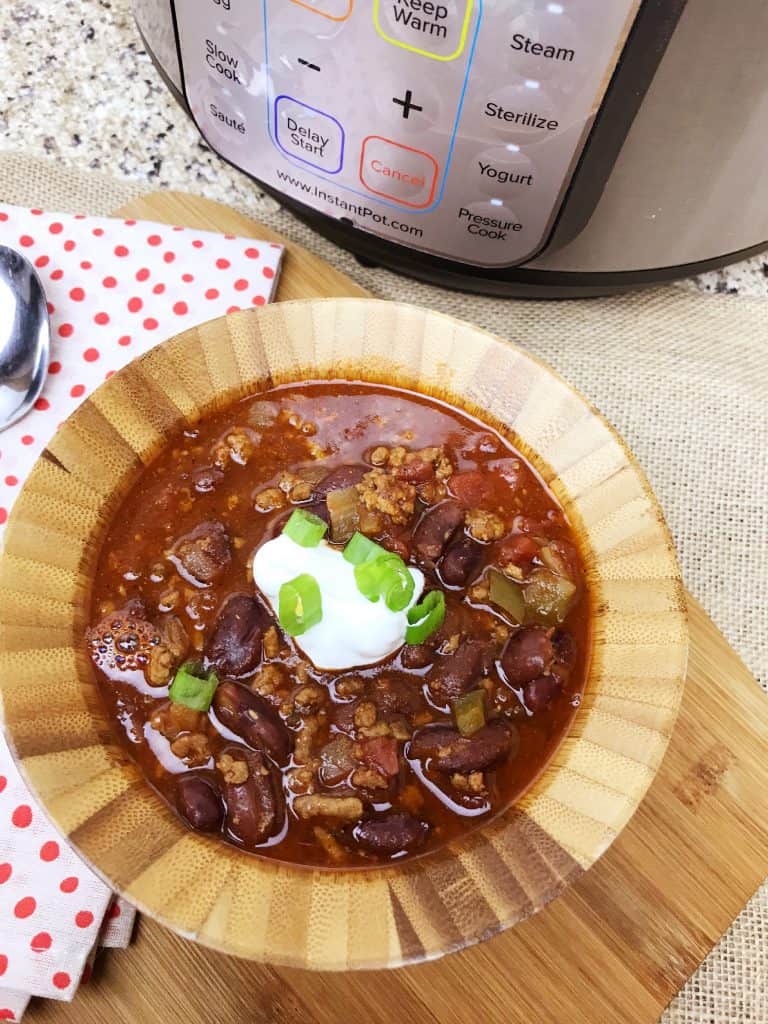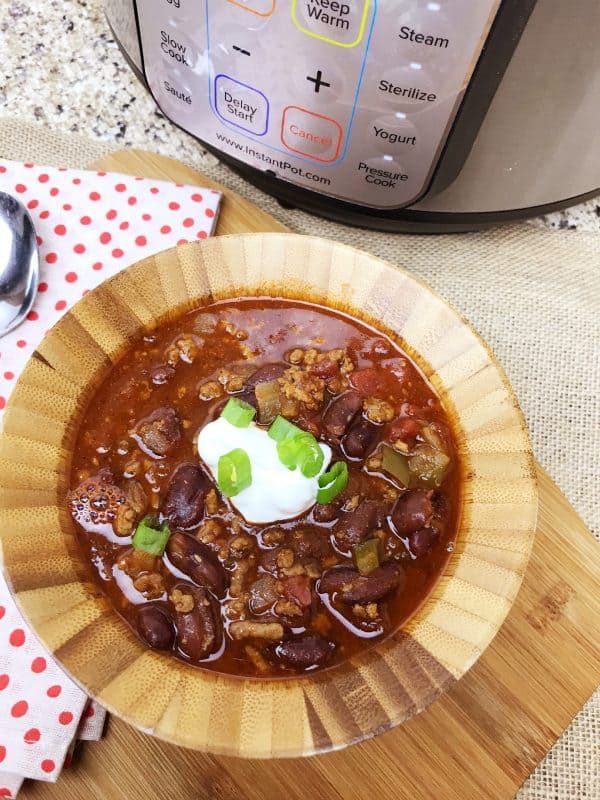 This chili with ground beef recipe is a delicious, hearty meal that will warm the bones after a cold winter day or rainy spring day. This rainy day weather comfort food is always a good fit in my household. Today I'll show you how you can easily make my favorite instant pot chili with ground beef for your family. 
Tips to Making Ground Beef Chili In Your Instant Pot
---
Use the proper instant pot setting for this recipe to have the most delicious chili with ground beef ever. 
You can store your leftover instant pot chili with ground beef in the refrigerator for 3-4 days. 
Allow your chili to cool for 20 minutes and then place it inside a plastic or glass airtight container for proper storage. 
Serve with rice to add a bit of texture to your instant pot chili with ground beef. 
If you want your instant pot chili with ground beef to be a little spicier, you can add habanero peppers.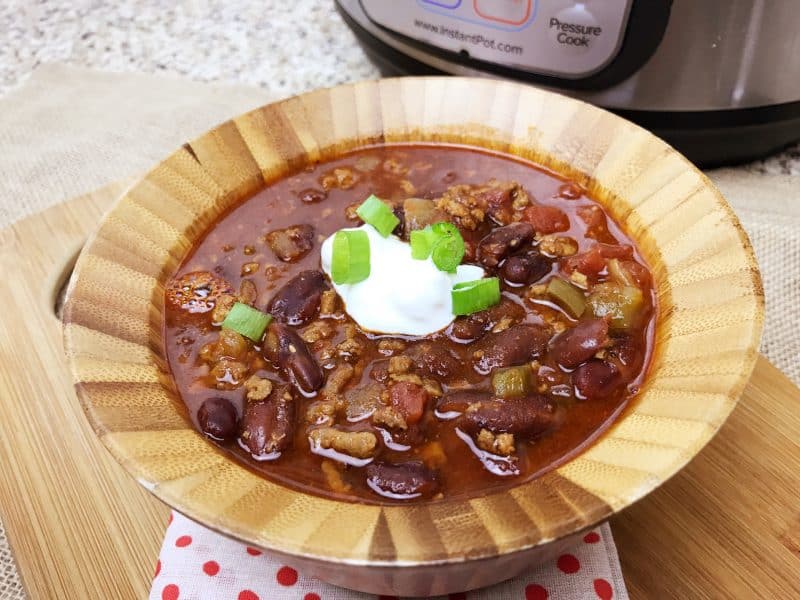 Common Questions About Chili In The Instant Pot
---
Here are some of the most frequently asked questions about making chili in the Instant Pot:
How do you store chili?
You can store chili very simply for up to 4 days when you allow it to cool for twenty minutes and place into a glass or plastic airtight container. You then store your sealed chili in the refrigerator for 3-4 days and reheat when ready to enjoy the leftover chili again. 
How long can chili sit out?
If you're not quite ready to take care of your instant pot chili with ground beef, or your family wants to indulge in more than one plate of this delicious meal, then you can allow chili to sit out at room temperature for up to two hours. If left out at room temperature for more than two hours, you'll want to discard your chili. 
Other Delicious Recipes To Make
---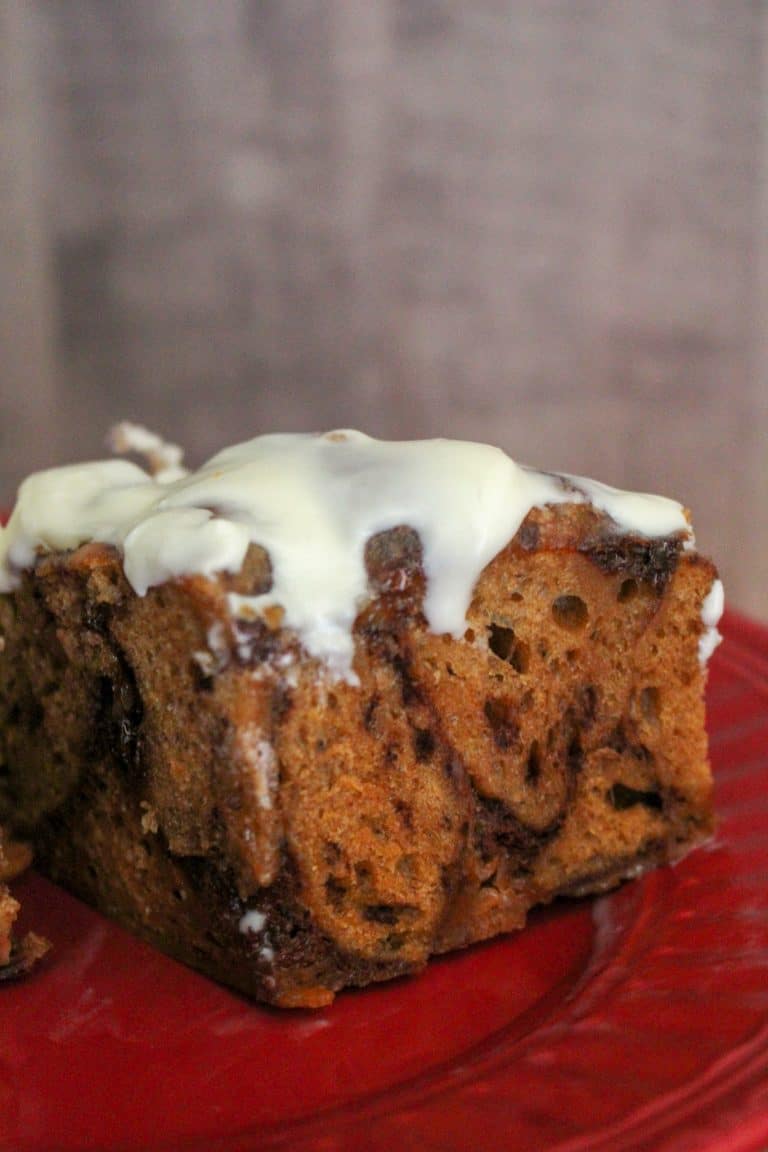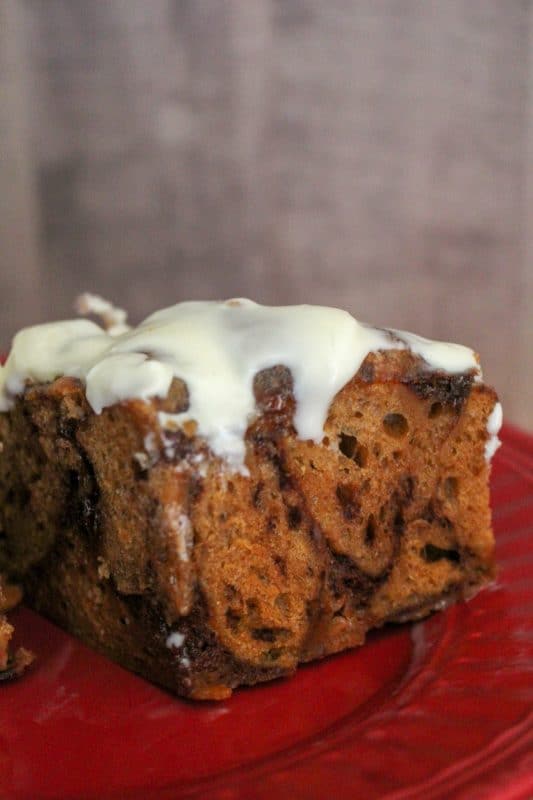 Instant Pot Ground Beef Chili
---
Enjoy this chunky, hearty delicious instant pot ground beef chili on a cool day this winter or spring season. 
If you loved this Instant Pot Chili with Ground Beef Recipe let me know with a 5 star rating!
Instant Pot Chili with Ground Beef
Total Time:
1 hour
15 minutes
Enjoy the great taste of slow cooked ground beef chili in less than an hour with the help of your Instant Pot!
Ingredients
1 (16 ounce) bag dry kidney beans, sorted and rinsed
8 cups water, plus additional if desired
2 pounds ground chuck
2 tablespoons olive oil
2 onions, chopped
3 cloves garlic, minced
1 green bell pepper, chopped
1 (32 ounce) carton beef broth
1 (28 ounce) can diced tomatoes in juice
1 (6 ounce) can tomato paste
3 to 4 tablespoons chili powder
2 to 3 tablespoons ground cumin
1 tablespoon oregano
Salt and pepper, to taste (I use about 1 tablespoon of salt to compensate for the dry beans)
Instructions
1. Place beans into the electric pressure cooker with water. Set the valve to sealing and cook the beans for 20 minutes on high pressure. Quick release and carefully transfer beans to a colander to drain. Rinse the pressure cooker liner and wipe the outside of the liner dry. Replace the liner into the pressure cooker.
2. Turn on the saute function and allow the pressure cooker to heat. Add the ground chuck, onions, garlic, and bell pepper. Cook until the ground beef is browned. Drain well. Return the meat and vegetables to the pressure cooker along with the drained beans and other ingredients. If you prefer a soupier chili, add an additional cup of water. Stir well.
3. Cover the pressure cooker and set the valve to sealing. Program the pressure cooker to manual or "pressure cook" on high for 30 minutes. When the cook cycle is complete, quick release the pressure. Stir again, taste to adjust seasonings, and serve with your choice of condiments.
Recommended Products
As an Amazon Associate and member of other affiliate programs, I earn from qualifying purchases.