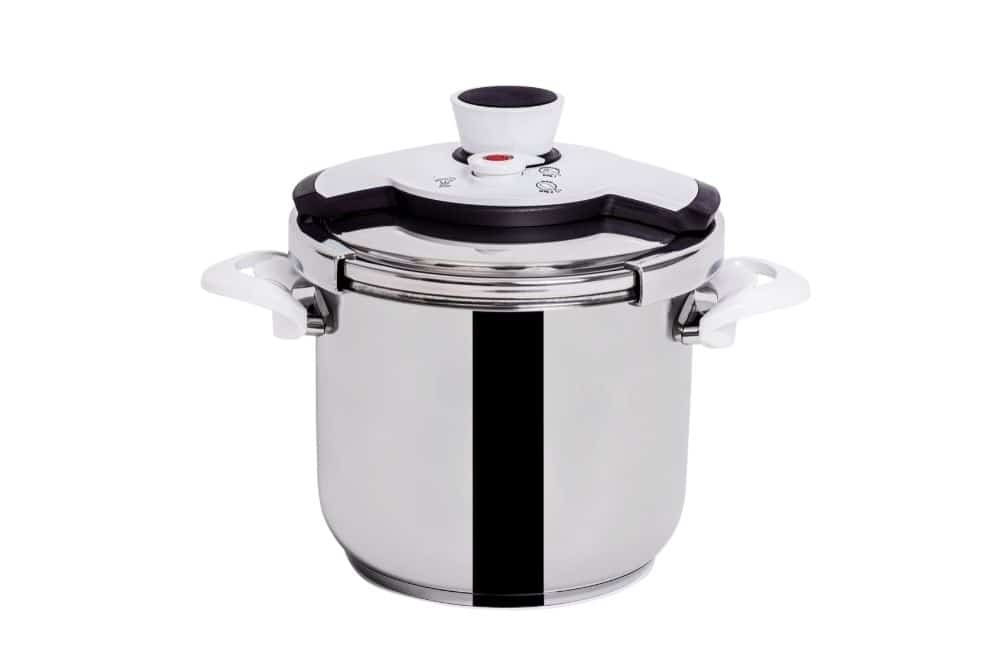 Pin
The pressure cooker revival is taking the cooking world by storm. Electric pressure cookers are taking the quick cook of the traditional pressure cooker, and adapted it safely for modern lifestyles. Now, it's difficult to find a home without a pressure cooker.
With the sudden pressure-cooking boom flooding the market, it's hard to know which is the right one for you. To help with the decision, we're taking a look at two of the big names available: Cuisinart and Instant Pot. We'll compare what makes them good, what makes them bad, and whether any of them are worth the cost.
What is an electric pressure cooker?
Let's start with the obvious: what are you buying when you get a pressure cooker? Many of us will associate pressure cookers with Grandma's kitchen, and rumors about explosions. These are the pressure cookers of the past.
Modern electric pressure cookers are safe ways to cook food fast. They don't sit on the stove, instead they're powered via an outlet. The pressure cooker makes slow dishes in a fraction of the time while preserving nutrients, for delicious meals that fit a busy lifestyle.
Cuisinart Pressure Cooker vs Instant Pot
For this review, we'll be covering the Cuisinart CPC-600N1 6-Quart Electric Pressure Cooker and the Instant Pot Duo Nova 7-in-1 Electric Pressure Cooker. These are two of the most popular products on the market.
Cuisinart CPC-600N1 6-Quart Electric Pressure Cooker, Silver
Fingerprint-proof brushed stainless steel housing with 6 quart capacity has a digital thermostat
Push button control for cooking options and programmed settings of low & high pressure, browning, simmer, sauté and automatic keep Warm
Unit has a 99-minute time and LED countdown display: 0-40 minutes = 1-minute increments 40-99 minutes =5-minute increments
Has cool-touch side handles and dishwasher-safe nonstick cooking pot and trivet
Unit is 1000 watts and has a limited 3-year warranty
Sale
Instant Pot NOVA 6 Pressure Cooker, 6qt, Stainless Steel/Black
Best for beginners: An upgrade to the all-time bestseller Instant Pot Duo series, the Duo Nova combines 7 appliances in 1: Pressure cooker, slow cooker, rice cooker, steamer, saute pan, food warmer, and yogurt maker. The 6Qt model is the most popular size, with a capacity to cook for up to 6 people – if you're on the fence about which size is right for you, you can't go wrong with the 6Qt
Healthy & consistently delicious: Duo Nova is powered by a sophisticated micro-processor that monitors and adjusts pressure, temperature, time, and heat to cook food up to 70% faster than other methods and deliver consistent, delicious results every time. Automatic keep-warm for up to 10 hours
Smart lid: The new easy seal lid gives you 1 less thing to worry about because it automatically seals your Instant Pot. Steam release is also a breeze with the fast, safe push of the quick release button. And it even comes with a bonus sealing ring
Worry-free cooking: 10 plus safety features with UL certification let you "set it and forget it." You're free to do other things while the Duo Nova cooks your dinner safely and quickly, with minimal mess and easy clean up. The Duo Nova's food-grade stainless steel 304 (18/8) cooking pot is dishwasher-safe and durable, with no chemical coating.
Clear, simple controls: Elegant blue LCD intuitively indicates the cooking process of the multicooker. Convenient 1-touch control of 13 programs can be customized to remember the way you like to cook
Size
The size of the pressure cooker you get depends on the size of your family. A 6-quart pressure cooker is the most popular size, as it feeds from 4 to 6 people. Both Cuisinart and Instant Pot sell pressure cookers in different sizes, so there's no real comparison there. Get the size you want that fits your needs (and doesn't waste precious countertop space).
Casing and Design
From the outside, there isn't much difference between the Instant Pot and Cuisinart. They both have a stainless steel housing which is finger-print resistant and easy to clean. They both have a central panel to use for control.
The handles of the Instant Pot stick out slightly further, but not enough to make a difference on a crowded kitchen countertop. Cuisinart may have the slight edge in visual design, but there isn't much to it.
It's on the inside that the initial biggest difference can be found. While both are dishwasher safe, the nonstick cooking pot of Cuisinart is much easier to clean. Instant Pot uses a food grade stainless steel, allowing it to get to higher temperatures. However, you may find more time spent scrubbing to get stuck bits off the bottom.
Timer Delay
This is where the Instant Pot really starts to set itself apart. The delay start is a small function that packs huge potential. Set your breakfast from the night before, set your dinner when you leave for work in the morning, or just get everything ready, so you can set it and forget it.
Even people who don't like to leave appliances running can fill the Instant Pot, set the timer to start when they get home, and relax.
It's a feature that's missing entirely from the Cuisinart. For many this won't make any difference, but it is frustrating not to have for those times when it may be needed. However, there is a "keep warm" function, so everything doesn't need to be eaten immediately after cooking has finished.
Cooking Settings
Cuisinart has made a pressure cooker, and not much else. Of course, there's nothing wrong with that if you want a pressure cooker. The limited range of features allows you to brown, sauté, simmer, and keep warm.
You can also switch between high and low pressure, but the low pressure function isn't as impressive as the high. This only makes a good slow cooker in a pinch.
Instant Pot, on the other hand, does almost everything you can think of. It's a pressure cooker, sauté pan, steamer, rice cooker, slow cooker, food warmer, and yogurt maker. This basically replaces everything you may already have on your kitchen countertops.
It also comes with several pre-set programs, allowing a laid back cook to get things done with little thought.
It's with these extra features that the differences become starkly apparent. Cuisinart is good, but basic. Instant Pot aims to become the sole appliance in your kitchen.
Is it any good at pressure-cooking?
Primarily, both Cuisinart and the multi-functional Instant Pot are pressure cookers, so what matters most is if they can pressure-cook. The results of the Instant Pot almost speak for themselves. It's hard to go on any food blog or recipe site and not see an Instant Pot recipe.
The brand has become practically synonymous with pressure-cooking.
Cuisinart may not have the reach, but it certainly is a good, reliable pressure cooker. The lack of functions has the advantage of an intuitive design, and allows savvy cooks a significant level of control.
Price
There's not much between them, to be honest. The Cuisinart offerings are, on the whole, cheaper. This is clearly due to the limited range of features.
If you already have a multitude of kitchen appliances, and only intend to use the pressure cooker as a pressure cooker, then the Instant Pot probably isn't worth the extra. The Cuisinart functions well as a pressure cooker, is easy to clean, and stores away neatly.
However, if you want a multi-functional appliance, then the Instant Pot is worth the higher cost.
Final Verdict
Cuisinart has chosen simplicity – and they do it well. A Cuisinart pressure cooker is easy to use, easy to clean, and makes good food.
However, the Instant Pot is the clear winner. The extra features are the kind of things that are useful to have just in case. And without a massive price difference, those additions feel more like a bonus.
The Cuisinart is still a good purchase, and something that wouldn't be out of place in most modern kitchens. It's just that the Instant Pot fits in that bit more.