French onion chicken is the perfect recipe idea for when you're craving a french onion soup but what to switch things up a little bit. This delicious, tender chicken amidst the flavorful french onion seasoning will bring your taste buds to life. The perfect meal idea for a family dinner when you have a little more time to prep. The onions will cook to the perfect texture when you follow my instructions within the recipe below. There's nothing better than enjoying french onion chicken after a long day of work and raising kids. Dinner time should be a time to make memories and I assure you this flavorful meal will leave you all wanting more.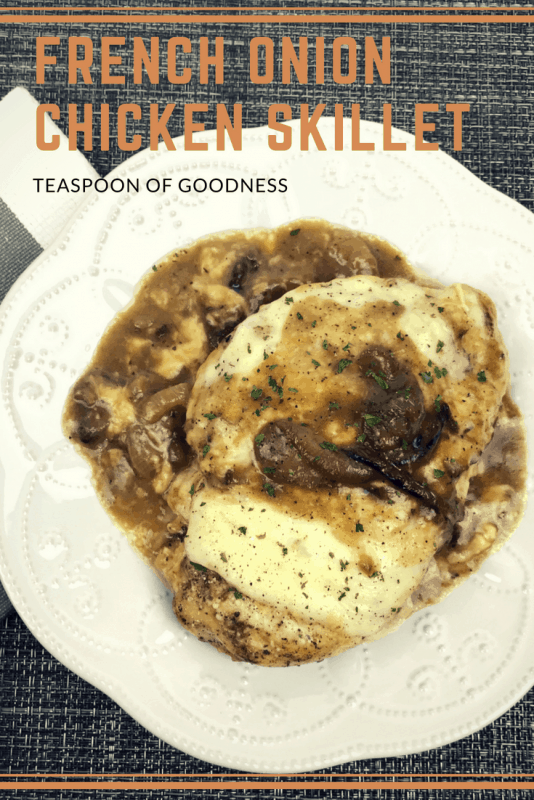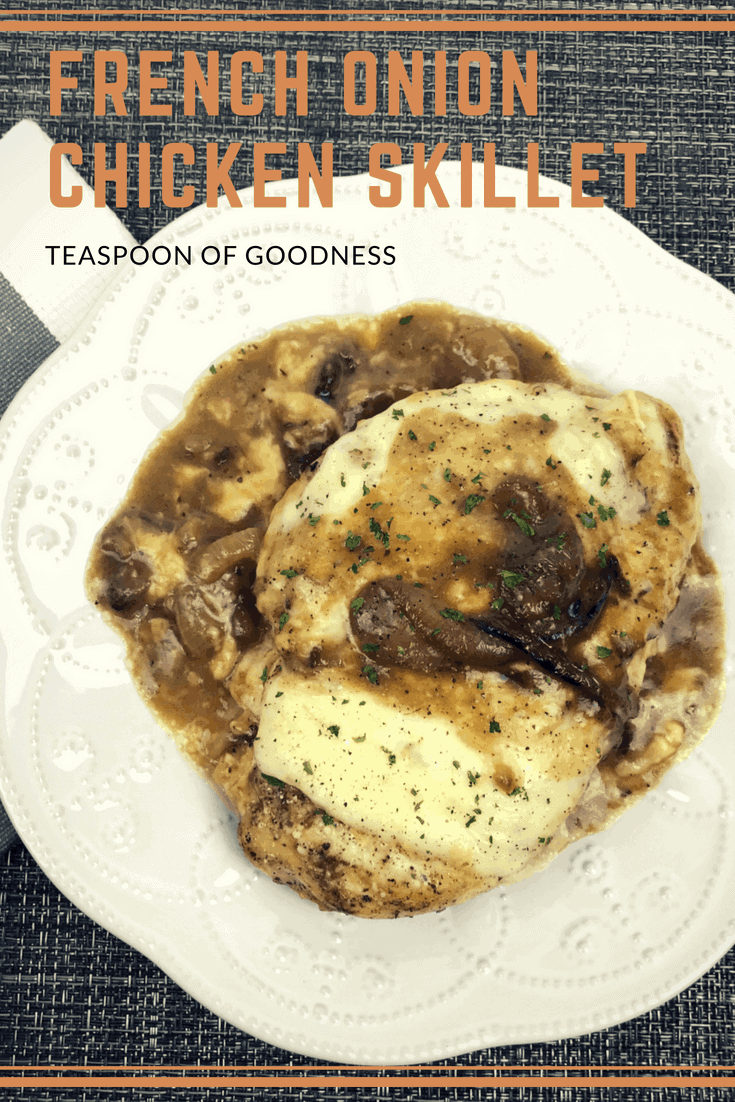 Pin
To make French Onion Chicken you will need the following ingredients: chicken breasts, onions, beef broth,butter, dried basil, dried thyme, dried oregano, salt, black pepper, olive oil, flour, grated parmesean, sliced provolone cheese and sliced swiss cheese.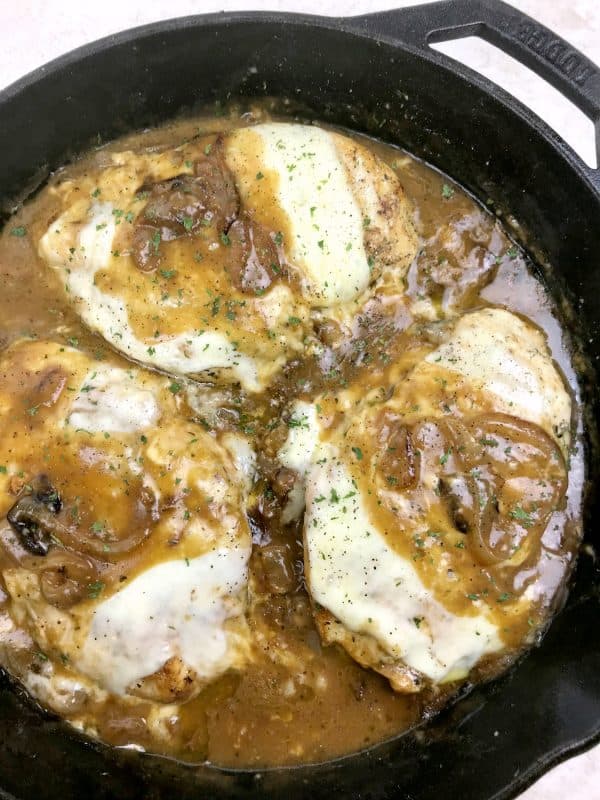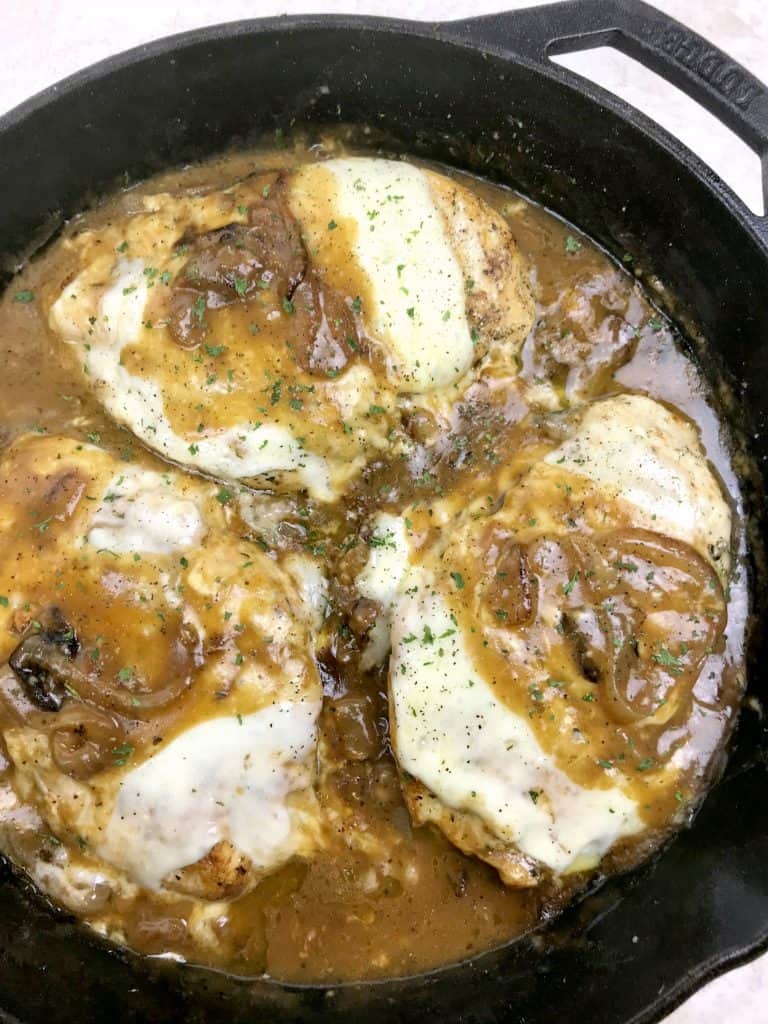 Pin
I prefer a nice, moist, and tender chicken when I'm creating a meal for my family. This french onion chicken provides the right flavor, texture, and seasoning for anyone who enjoys chicken. I know that this is a great protein for anyone looking to increase that area in their dietary needs. I love the provolone cheese melted on top, but if you prefer a mozzarella or cheddar cheese, feel free to switch up the options. This melt in your mouth french onion chicken meal goes great with a side salad or atop of a nice slice of homemade french bread.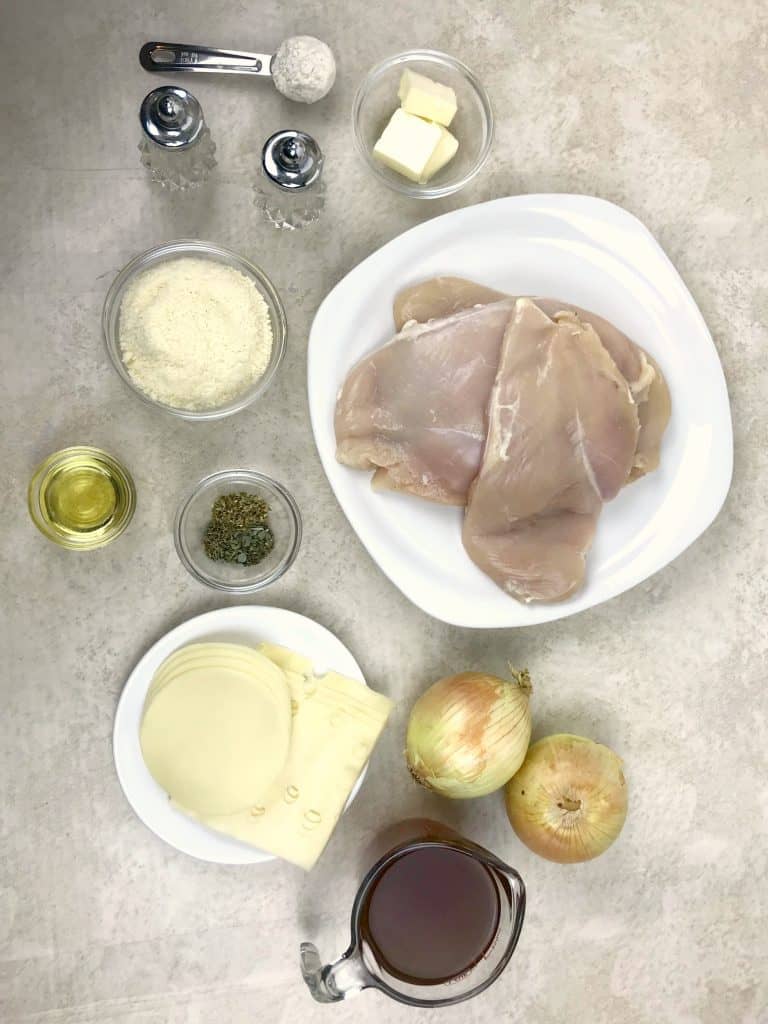 Every bite of this french onion recipe is delicious. The flavor works itself well throughout the entire dish, leaving your taste buds watering. You should have most of the ingredients on hand for this recipe, with the exception of the cheese and chicken. That's why I love making this french onion chicken as often as possible because I have the spices and ingredients on hand. This simple dish is extremely flavorful and is perfect for the entire family to enjoy.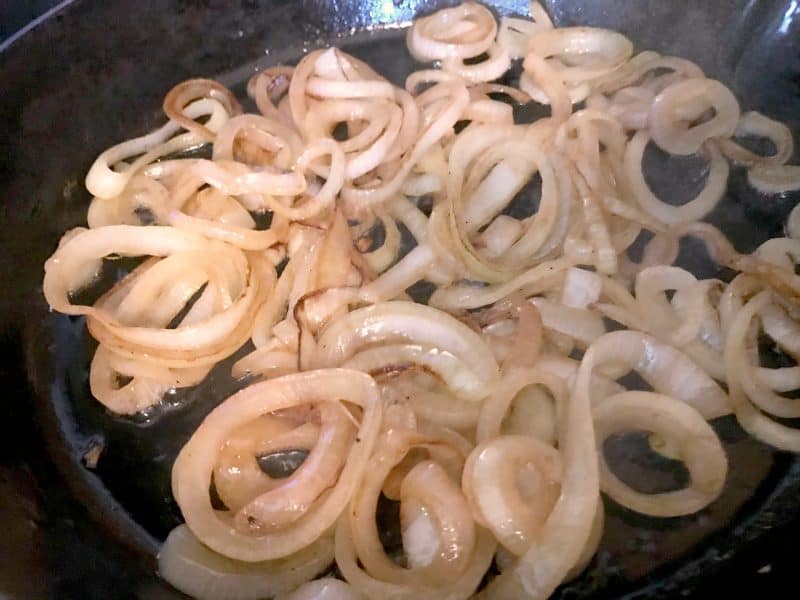 Pin
Tips & Tricks to Making French Onion Chicken
Switch out provolone sliced cheese for a swiss or mozzarella cheese to get a slightly different flavor.
Put aluminum foil over your recipe while it's baking in the oven to retain the tenderness of your chicken.
Serve with a crusty bread, such as garlic bread or homemade french bread.
Serve over pasta, such as spaghetti or penne pasta, to switch this up to a pasta dinner option.
Double up the cheese to make this french onion chicken a bit cheesier in texture.
Mix provolone and swiss cheese atop the french onion chicken to increase the flavor.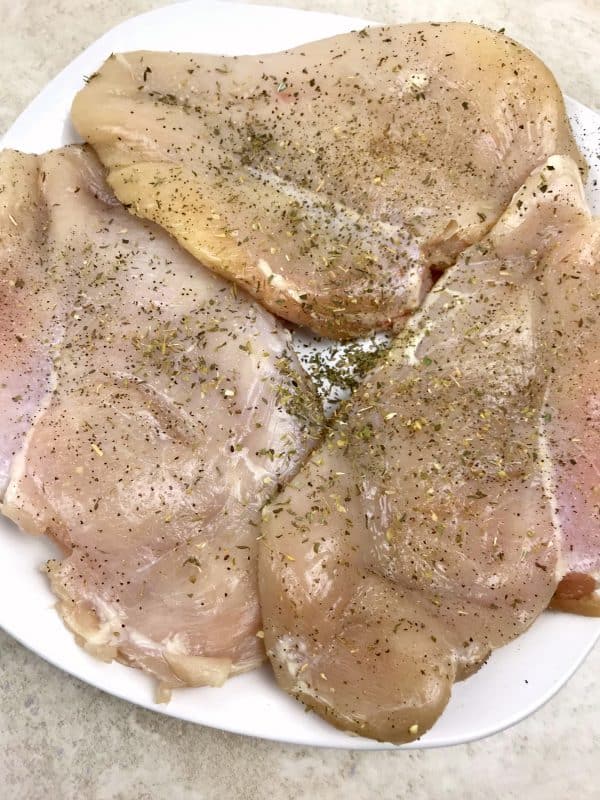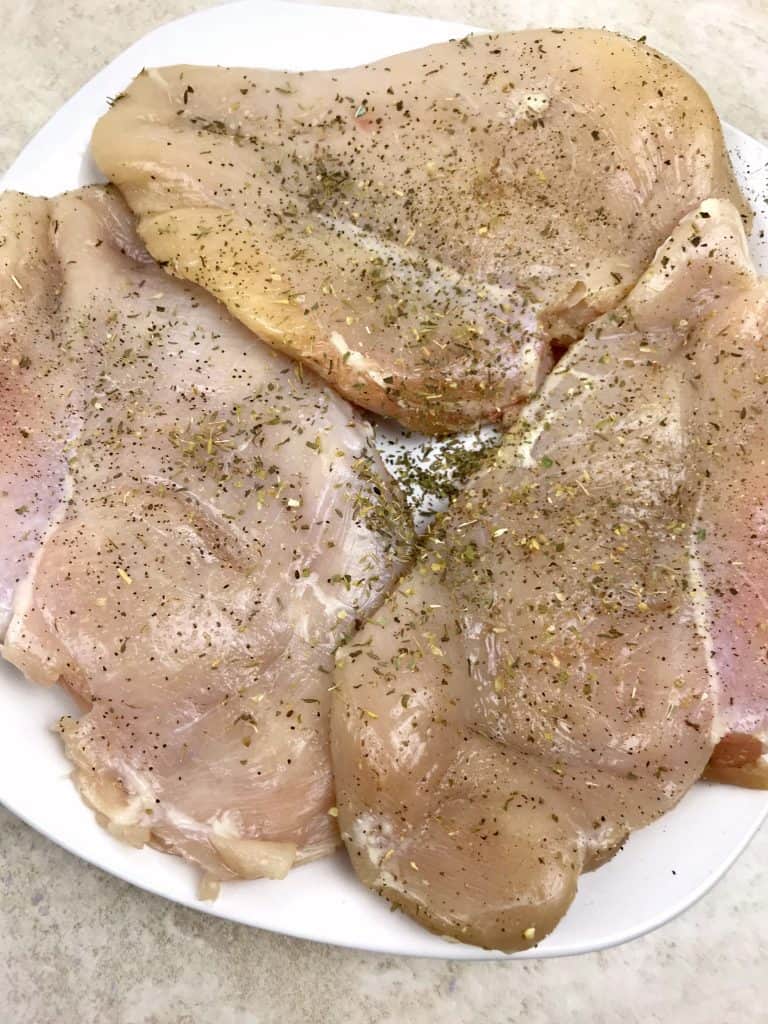 Pin
HELPFUL TOOLS TO MAKE SKILLET FRENCH ONION CHICKEN
The following are affiliate links. We are a participant in the Amazon Services LLC Associates Program, an affiliate advertising program designed to provide a means for us to earn fees by linking to Amazon.com and affiliated sites.
I love a good set of metal whisks!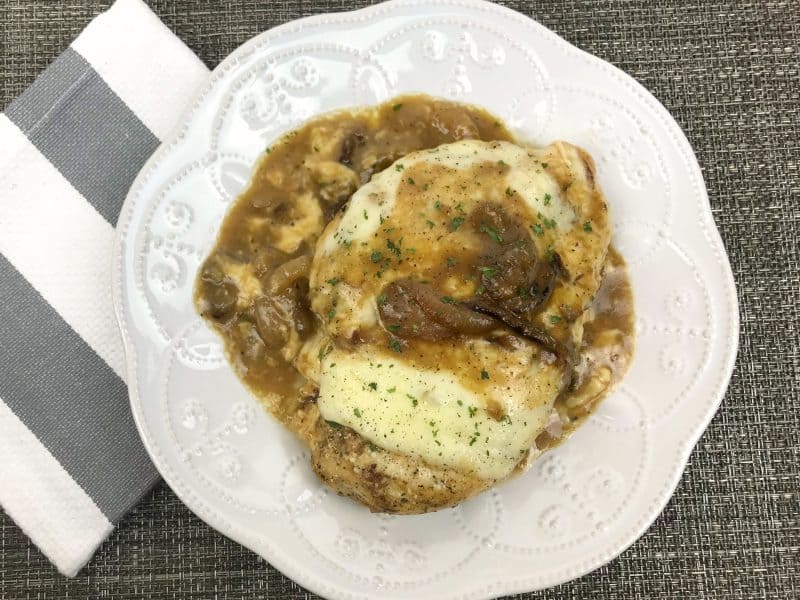 Pin
French Onion Chicken Recipe
Sensational french onion chicken with caramelized onions will surely delight your senses. This meal will surely make your family beg for more, serve this french onion chicken with a side salad to make the perfect meal combination.
If you loved this French Onion Chicken let me know with a 5 star rating!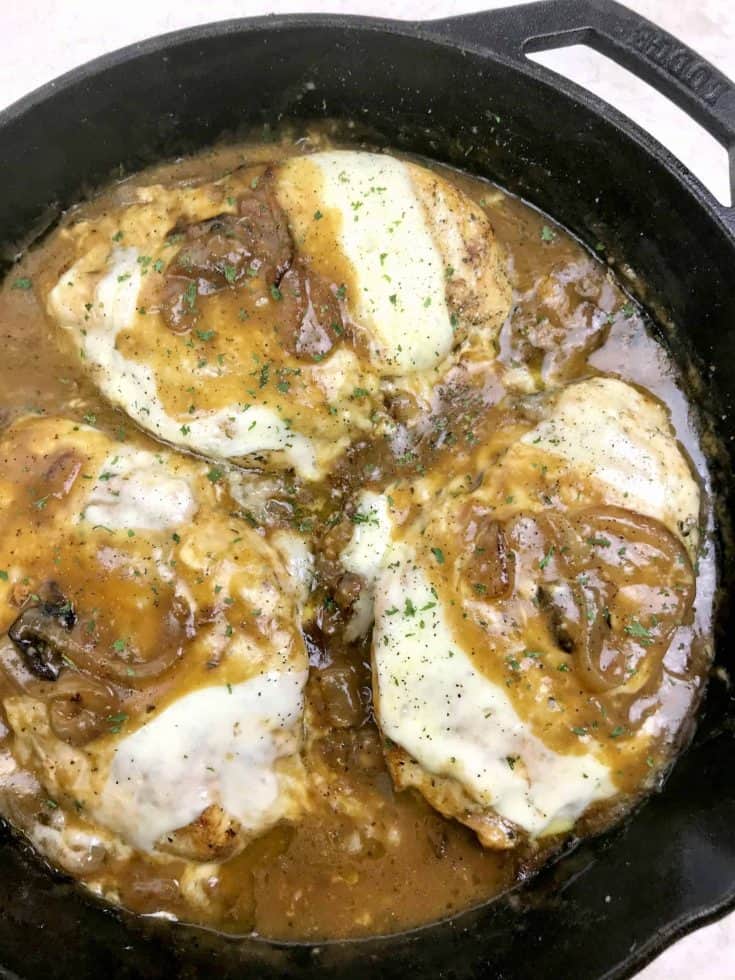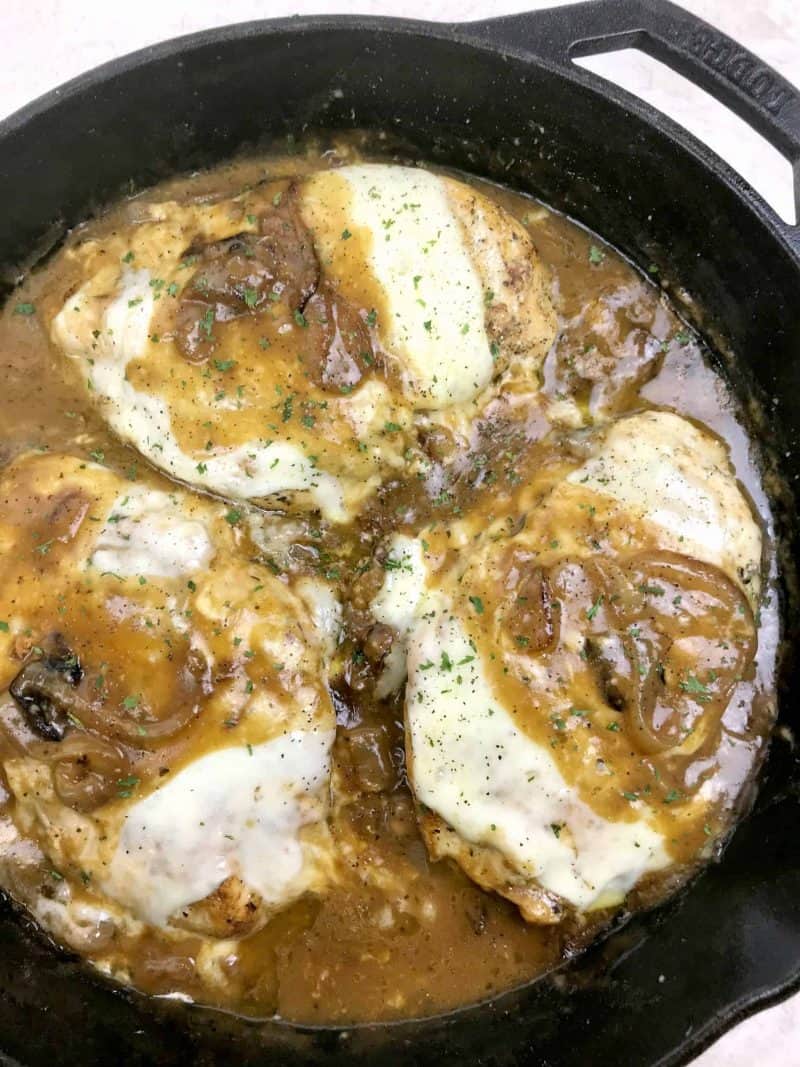 Yield:

4
French Onion Chicken
Sensational french onion chicken with caramelized onions will surely delight your senses. This meal will surely make your family beg for more, serve this french onion chicken with a side salad to make the perfect meal combination.
Ingredients
4 chicken breasts, pounded to even thickness
2 onions, peeled and sliced
1 cup beef broth, plus 3 tablespoons
3 tablespoons butter
1/4 teaspoon dried basil
1/4 teaspoon dried thyme
1/2 teaspoon dried oregano
1/2 teaspoon salt
1/4 teaspoon black pepper
1 tablespoon olive oil
2 tablespoons flour
2 tablespoons grated parmesan cheese
4 slices provolone cheese
4 slices swiss cheese
Instructions
Preheat oven to 400 degrees.
Melt the butter in a large, oven-safe skillet over medium heat. Add onions and 3 tablespoons beef broth. Cook stirring often until onions are soft and translucent, about 20 minutes. Remove onions from skillet and keep warm.
Meanwhile, mix together basil, thyme, oregano, salt and pepper. Rub into both sides of chicken breast.
Increase heat under skillet to medium-high heat. Add the olive oil and when it shimmers, carefully add the chicken breast. Cook chicken on one side for about 5 minutes until brown. Flip and continue cooking about 5 more minutes. Remove chicken and wrap in aluminum foil to keep warm.
Add onions back to skillet with flour. Stir until flour browns and bubbles. Whisk in remaining beef broth and bring to a boil, continuing to stir.
Add chicken back to skillet, spooning onions and broth over each piece. Sprinkle chicken with grated parmesan cheese and add a layer of each provolone and swiss.
Transfer chicken to oven and cook for 10 minutes or until the cheese has melted and bubbled slightly.
Serve, spooning gravy and onions over the top of the chicken.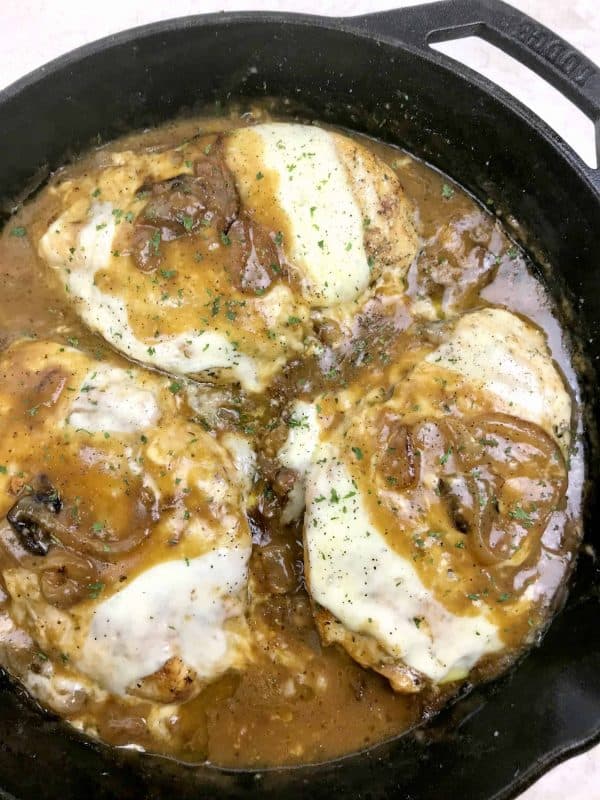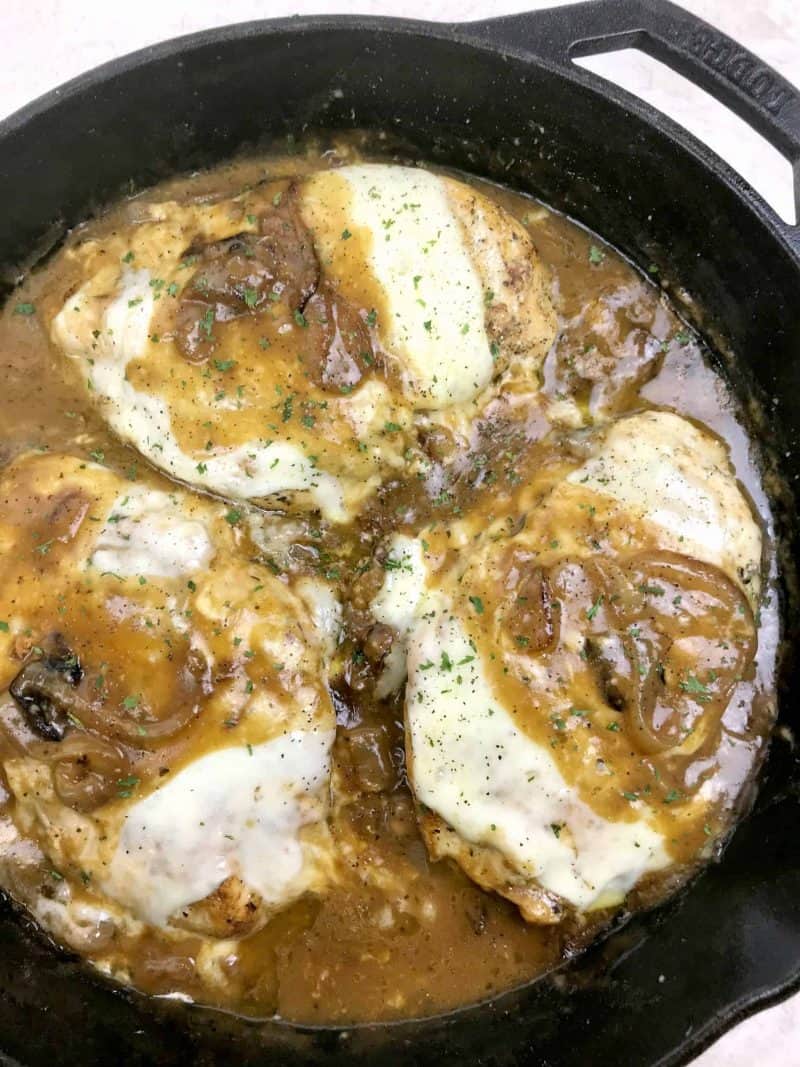 Pin
IF YOU LIKED THIS FRENCH ONION SKILLET YOU MIGHT ALSO ENJOY…
From left to right: Easy Weeknight Chicken Fajitas, Easy Teriyaki Chicken, Bacon & Chicken Stuffed Mini Peppers