If you're looking for a cost-effective way to enjoy some fresh lemonade, just like you enjoy at Chick-fil-A, then this recipe will surely please you. Providing a crisp, fresh lemonade taste for your pleasure, this copycat Chick-fil-A frosted lemonade will allow you to cool down on a hot spring or summer day.
This special treat is perfect for school break while the kids are outside running around, getting hot. Treat the kids to a frosted lemonade treat to cool them down in the mid-day hours of the hot, summer season.
To make Chick-fil-A Frosted Lemonade you will need the following ingredients: vanilla bean ice cream, lemonade concentrate & water.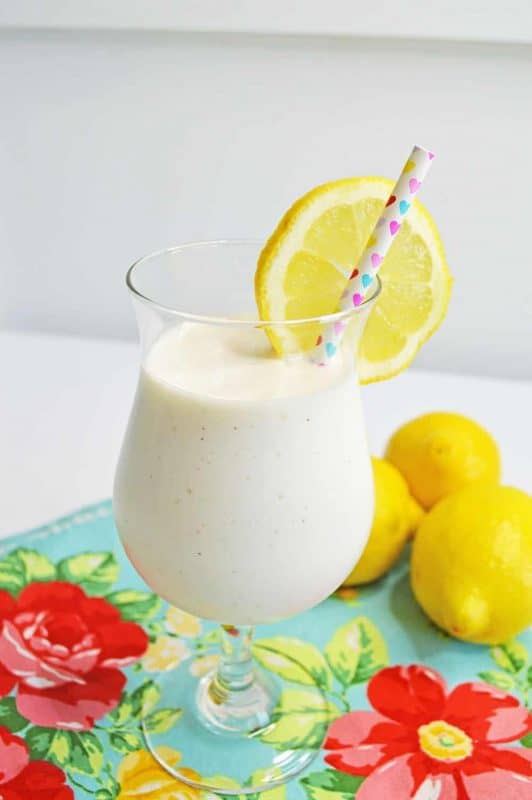 Pin
Lemonade is a childhood favorite. I think that the frosted lemonade really brings you back to a place where childhood blossoms and you can feel like a kid again. This frosty beverage is perfectly smooth, delicious, and full of flavor. The perfect addition to any summertime day as well as family gathering.
During the summer season, you'll often find yourself craving something smooth, cold, and delicious. Cue my copycat Chick-fil-A frosted lemonade recipe to save you from the heat of summer season.
There are many tips and tricks to making this recipe. I've shared my thoughts below to entice you to make this copycat recipe match your texture, taste and flavor desires.
Tips & Tricks to Making Chick-fil-A Frosted Lemonade
---
You can adjust the thickness of your frosted lemonade by how many scoops of ice cream you add. Start with 3 (1.5 cups) scoops for a thinner lemonade and 4 (2 cups) for a thicker lemonade.
Feel free to use a diet lemonade concentrate or low fat ice cream.
Mix up the flavors with another lemonade concentrate! Strawberry and raspberry are delicious!
Sub out frozen yogurt for a lower calorie treat.
Let the kids come up with their own clever additions for a summertime "DIY" drink event.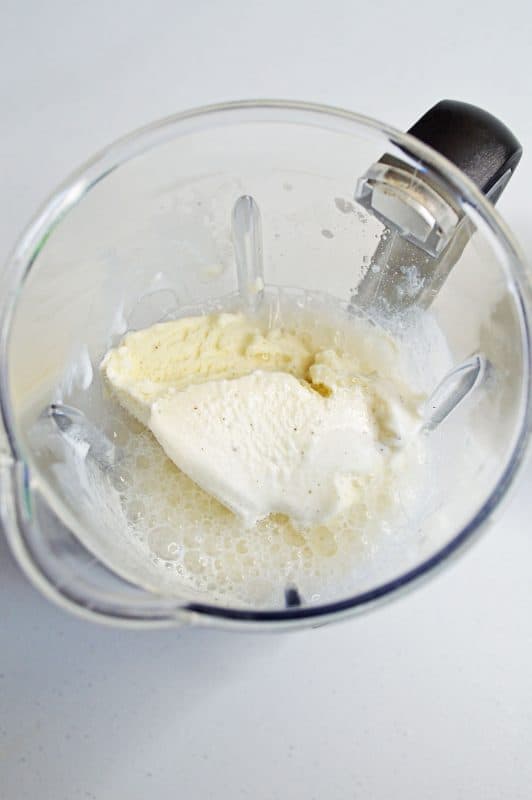 Pin
Chick-fil-A Frosted Lemonade FAQS
---
Here are some of the most frequently asked questions about Frosted Lemonade:
What is in a frosted lemonade?
In my homemade version, you will find vanilla bean ice cream mixed with a can of frozen lemonade concentrate as well as fresh water. In addition to this, I like to add lemon for garnish to make this frosty drink look appealing for any special occasion.
How much does a Frosted Lemonade cost at Chick-fil-A?
Starting at $2.69 cents for a 16 oz you can see that using a frosted lemonade recipe and making them at home can save you a significant amount of money when you're craving this delicious treat.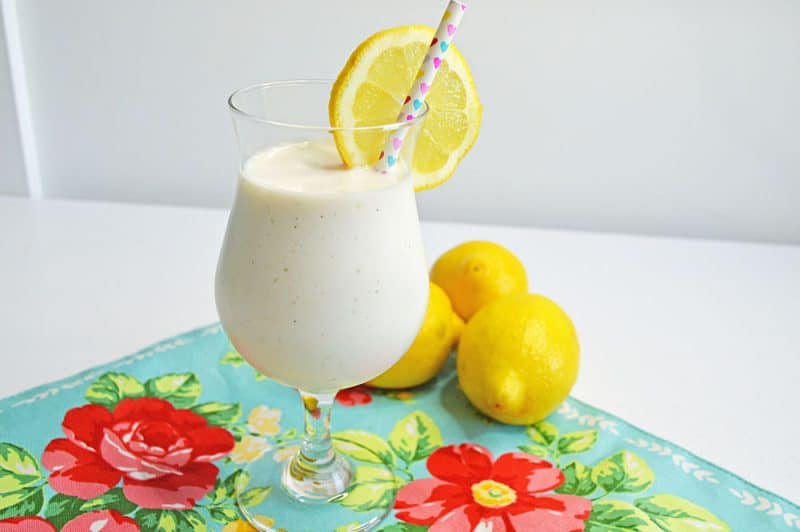 Pin
Helpful Tools to make Copycat Chick-fil-A Frosted Lemonade
---
The following are affiliate links. We are a participant in the Amazon Services LLC Associates Program, an affiliate advertising program designed to provide a means for us to earn fees by linking to Amazon.com and affiliated sites.
I've always trusted KitchenAid products and I'm looking at getting this KitchenAid blender with raving reviews and available in 21 colors!
KitchenAid KSB1570SL 5-Speed Blender with 56-Ounce BPA-Free Pitcher - Silver
The Intelli-Speed Motor Control senses contents and maintains optimal speed to power through all ingredients
Stir, chop, mix, puree or liquefy. Pulse mode works with all speeds for staggered blending, while the crush ice feature pulses at precise intervals for optimal ice crushing results
The Soft Start Feature starts the motor at a slower speed to pull food into the blade then quickly increases to the selected speed setting
Steel-Reinforced Coupler provides direct, efficient power transfer from the motor directly to the blade for robust blending
The Clean-Touch Control Panel wipes clean easily
Opt for these Colorful Smoothie Straws because the larger opening will make it easier to sip.
Sale
100 Pcs Jumbo Smoothie Straws,Colorful Disposable Wide-mouthed Large Straw.
PRODUCT SPECIFICATIONS: 0.43 inches diameter and 8.2 inches long, quantity: 95~102 (There may be about 2~5 errors in the number.)
SUITABLE FOR SCENARIOS: 6 colors mixed(Color Random), bright colors, colorful life, can be used together at a family gathering or event party other tableware
INTIMATE DESIGN:both ends are large bottle mouth, no sharp corners, will not scratch the mouth when eating, can easily sip sand ice, pearl milk tea and milkshake
MULTI-USE: one-time use or re-use after washing, can also be used as handcraft
CVNDKN Straws Series-GREAT VALUE FOR MONEY - CVNDKN has always been committed to providing customers with higher quality products and a comfortable customer experience. If you have any problems with these lovely straws you purchased, we will be responsible for the handling as soon as possible.New Year/Valentine'S Day/Mother'S Day/Wedding/Birthday/Halloween/Christmas/Party Supplies Decoration Straws.
You Might Enjoy These Other Copycat Recipes
---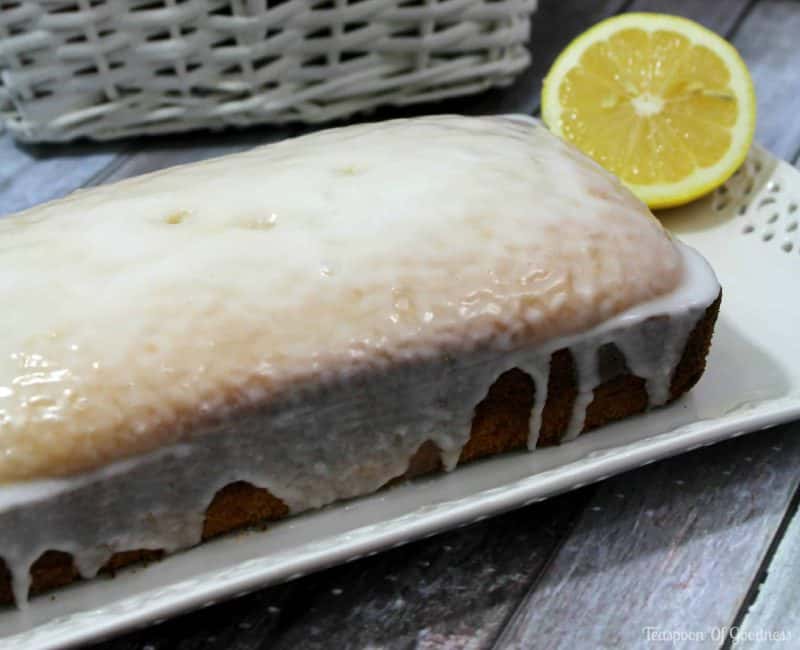 Pin
Copycat Chick-fil-A Chicken Nuggets
Starbuck's Cinnamon Roll Frappe
Copycat Chick-fil-A Frosted Lemonade Recipe
---
Making your own copycat Chick-fil-A frosted lemonade at home can be a fun way to spend quality time with the kids this summer season. Add in a splash of strawberry or make this with low-fat yogurt to match your dietary and flavor preferences.
If you loved this Copycat Chick-fil-A Frosted Lemonade Recipe let me know with a 5-star rating!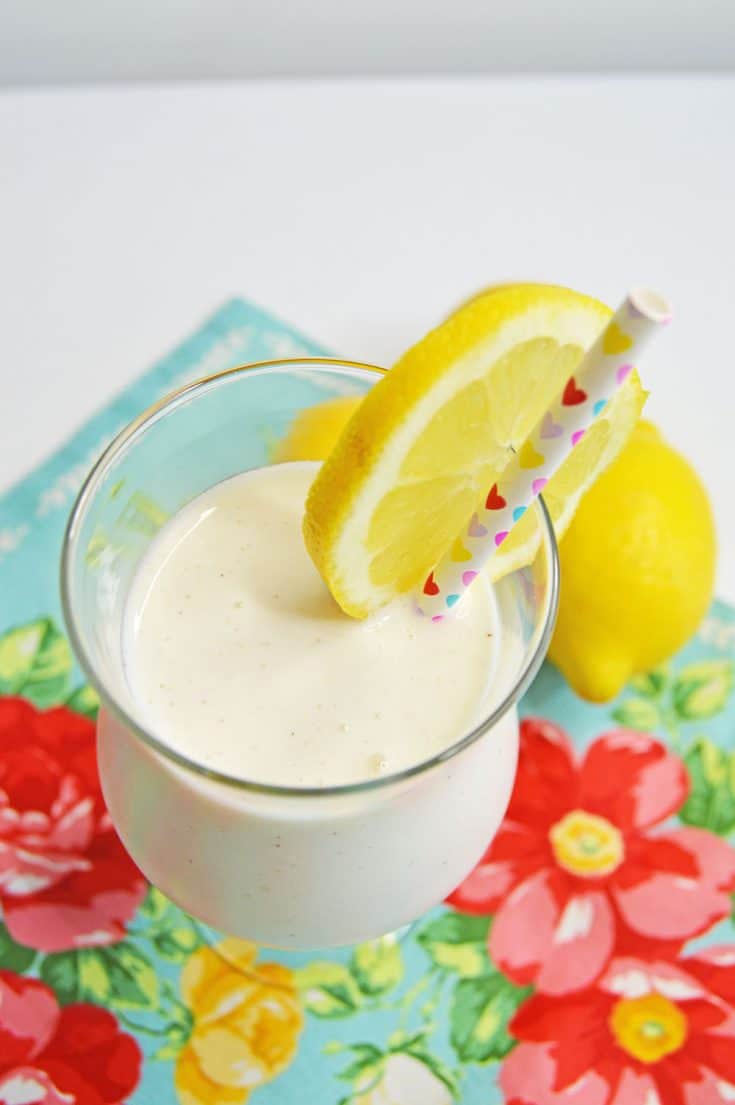 Yield: 4
Copycat Chick fil A Frosted Lemonade
Prep Time: 15 minutes

Total Time: 15 minutes

Providing a crisp, fresh lemonade taste for your pleasure, this copycat Chick fil A frosted lemonade will allow you to cool down on a hot summer day.
Ingredients
1/2 gallon vanilla bean ice cream
1 can of frozen lemonade concentrate
2 cups water
Lemon slices for garnish
Instructions
In a large pitcher, mix together lemonade concentrate and water.
Add 1/2 cup prepared lemonade mixture to your blender, along with 3-4 large scoops of vanilla ice cream, blend.
Pour into your favorite glass and garnish with lemon slices. Enjoy!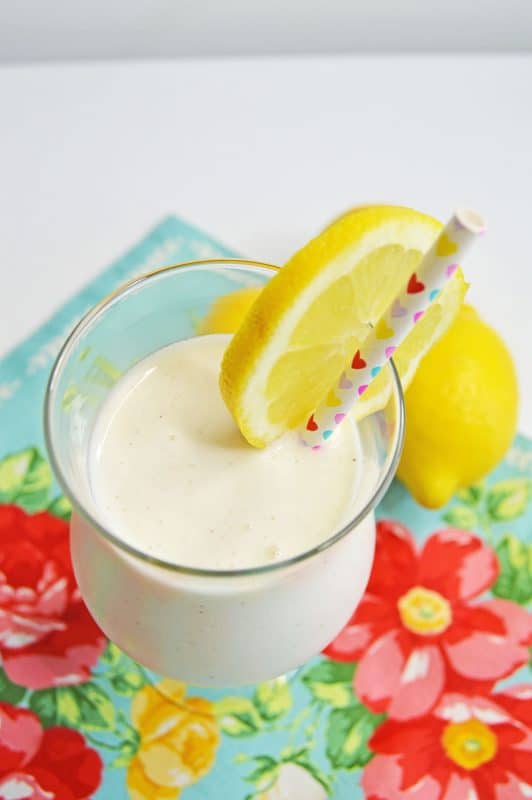 Pin