It's easy to find a blender online, but finding a blender that can successfully make consistent frozen drinks is another story.
By successful frozen drinks, we mean drinks that don't have lumpy bits of ice or fruit.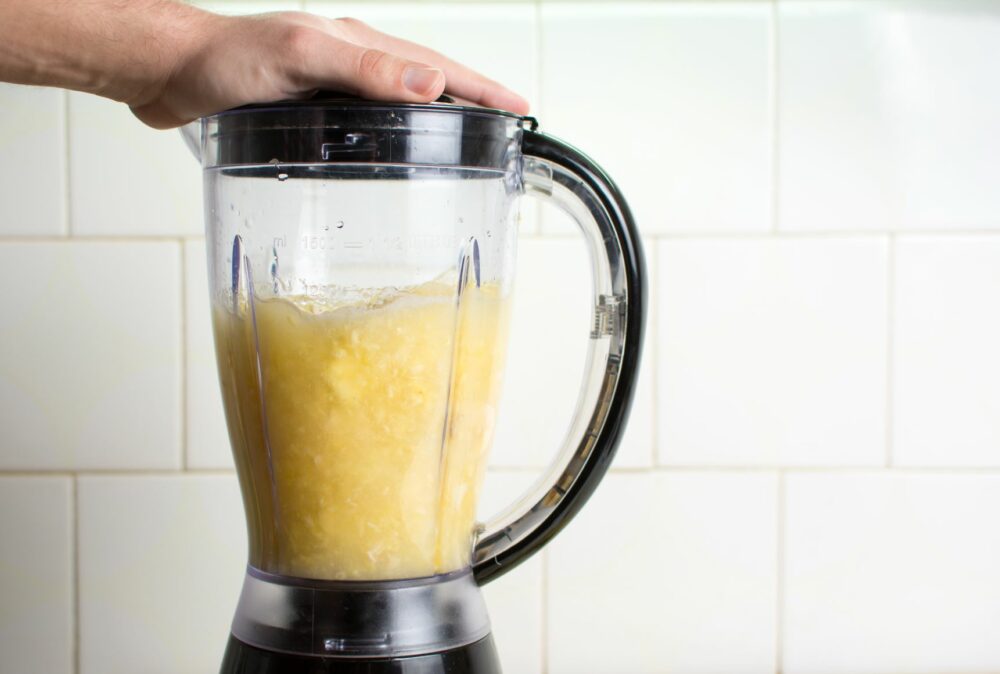 Pin
Frozen drinks that require a blender can range anything from smoothies to milkshakes, or cocktails to slushies.
It's not often that you can find a good blender that can blend all of the ingredients, and sometimes blenders can freeze entirely and break. In the case of this, it's a sign that you need a more powerful blender.
If you're looking for a blender that can blend anything that gets in its way, without ingredients getting stuck or the risk of it breaking, then you have come to the right place!
We have found the best blenders for frozen drinks on the market to help you find the perfect appliance. We have also compiled a useful buyer's guide and FAQ section for any unanswered questions.
In a rush?
Our top pick is the Ninja Professional Plus Blender with Auto-iQ, a modern and highly approved blender that works to crush ice completely with the Ninja Total Crushing Blades. With 1400 Watts of power, this is a serious blender. The Auto-iQ program features 3 different functions, allowing you to make smoothies, frozen drinks, and even ice cream. This blender is ideal for households who love their frozen drinks!
Best Blenders for Frozen Drinks
Pin
When it comes to blenders, Ninja is one of the most trusted and reliable brands. The Professional Plus blender is an improvement of the original Professional blender, just with more power and more features.
This blender features 1400 peak watts of power, alongside Ninja Total Crushing Blades which are designed to blend ice seamlessly. It has a liquid capacity of 64 oz, making it ideal for making large batches or for satisfying a larger household.
Picture this: it's summer, the neighbours have come over, and the kids are running around in the garden – what better way to cool down than to make a large batch of smoothies for everyone?
The Auto-iQ system is what makes this blender stand out in the market. The program features 3 presets, all at the touch of a button. These presets can make smoothies, frozen drinks, and even ice cream. Versatility is always a benefit in kitchen appliances, because you can make the most out of your money!
This blender comes with an instruction booklet, start guide, recipe inspiration guide, and more.
Pros:
Trusted brand

Modern and improved design

Powerful blades

Auto-iQ system provides 3 presets

High liquid capacity for large batches
Cons:
Loud blender – though this is sometimes unavoidable!
Sale
Ninja BN701 Professional Plus Blender, 1400 Peak Watts, 3 Functions for Smoothies, Frozen Drinks & Ice Cream with Auto IQ, 72-oz.* Total Crushing Pitcher & Lid, Dark Grey
MORE POWERFUL MOTOR: The Ninja Professional Plus Blender with Auto-iQ features a new modern design and a more powerful motor than Ninja's original Professional Blender. (Versus BL610, based on operating wattage.)
POWERFUL CRUSHING: Ninja Total Crushing Blades give you perfectly crushed ice for your smoothies and frozen drinks with 1400 peak watts of professional power.
3 VERSATILE FUNCTIONS: 3 preset Auto-iQ programs allow you to create smoothies, frozen drinks, and ice cream, all at the touch of a button.
AUTO-IQ TECHNOLOGY: take the guesswork out of drink making with intelligent programs that combine unique timed pulsing, blending, and pausing patterns that do the work for you.
XL BLENDING CAPACITY: The 72-oz. Total Crushing Pitcher is great for making large batches for the whole family. (64-oz. max liquid capacity.)
Pin
If you live alone or with one other person, and you don't require a huge blender, this is the ideal blender for you! The Ninja Personal Blender features 700 Watts of power, and is ideal for making a lunchtime smoothie or frozen drink.
As with all Ninja blenders, this blender features durable and high quality blades designed for precision. Perfect for blending anything from ice to fruit to nuts!
The size of this personal blender is an added bonus for storage. The slim cups and blender makes it easy to store in a cupboard or on a countertop without taking up too much space.
This blender comes with two BPA-free cups and lids to take your frozen drink on the go. Even better, these cups are dishwasher safe for effortlessly easy cleaning. There is also a recipe book included with the blender package, which can give you enough inspiration for kickstarting blender recipes.
It's also extremely easy to use – all you have to do is push the cup to blend!
Pros:
Perfect size for 1-2 people

Easy to use

Dishwasher safe

Comes with cups and to-go lids
Cons:
Small size can only take 16 oz of liquid, which isn't ideal for larger batches or households
Sale
Ninja QB3001SS Ninja Fit Compact Personal Blender, for Shakes, Smoothies, Food Prep, and Frozen Blending, 700-Watt Base and (2) 16-oz. Cups & Spout Lids, Black
PULSE TECHNOLOGY: The powerful 700-watt push-to-blend motor base powers through everything inside the cup to give you the best of Ninja blending.
NUTRIENT EXTRACTION: Unlock hidden nutrition from whole fruits and veggies. Extract a drink containing vitamins and nutrients from fruits and vegetables. By blending whole fruits and vegetables including portions that are usually discarded.
FROZEN BLENDING: Crush ice and pulverize frozen ingredients for resort- like frozen drinks, smoothies, frozen treats, and more.
COMPACT & SIMPLE: So compact that it fits on any countertop, and has intuitive, easy-to-use controls.
ON-THE-GO CONVENIENCE: Blend directly in the 16-oz. single-serve cup, attach the spout lid, and enjoy your creations on the go.
Pin
This one is probably the most ideal for a family household. The CRANDDI Countertop Blender has a liquid capacity of 70 oz, which is roughly 8 cups, which provides a pitcher for up to 6 to 8 people.
Feed your family with healthy smoothies, milkshakes, baby food for the little ones, and frozen cocktails for the not-so-little ones.
The quality of this blender is high, with its BPA-Free pitcher material and powerful 1500 Watt motor, made entirely of copper.
The 4 stainless steel blades work in a dual direction, meaning that no ingredient is left unblended – whether it's ice, fruit, or vegetables. It's also really fast with 9 varying control speeds.
This blender package comes with an additional 20 oz travel bottle with a to-go lid (dishwasher safe for easy cleaning), a user manual, and recipe guide. It also comes in 2 classy designs with a retro feel, in either ketchup red or black pearl.
Pros:
High quality materials

Sturdy and fashionable design for any countertop

1500 Watt power

9 control speeds

Large liquid capacity for large family
Cons:
Large size may cause issues for storage and counter space
CRANDDI Professional Blender,1500 Watt Commercial Blenders for Kitchen with 70oz BPA-Free Pitcher and Self-Cleaning, Countertop Blenders for Shakes and Smoothies, Build-in Pulse, YL-010-R
[ 1500W ] CRANDDI Professional Blender has 1500 watt of motor, including auto shut-off smart technology, 24,000 RPM can crush ice quickly and easily, blending your favorite shakes and smoothies, juice, ice cream, frozen fruits, soups, sauces, grinding nuts and coffee, baby food, puree.
[ 70oz Capacity ] CRANDDI countertop blender has large 70oz capacity (2 Liter/8 cups) for 5-6 people, designed specifically for blending up large quantities of smoothies, shakes, or other drinks.
[ 10 Variable Speed ] CRANDDI blender YL-010 has 10 adjustable speeds and the knob can be smoothie adjust and rotate to any level. Pulse function help you to blend ingredients for few seconds only. The 6-leaf stainless steel blade and dual direction technology create a vortex blending effect for optimal performance.
[ Healthy, Safety and Easy Cleaning ] CRANDDI pitcher is made of food-grade plastic. The pitcher sensor protects the engine and your safety. Self-cleaning help you release your hand, just add a drop of dish soap and water then pulse.
[ 1 Year Warranty ] CRANDDI provide 1 year warranty and cups/ tamper/ cookbook and user manual.
Pin
This blender is possibly the most versatile in our list. It does much more than just frozen drinks, which is always a bonus.
The DASH Chef Series Blender comes with 13 impressive presets, including smoothie, crush, puree, soup, and frozen to name a few. It also works to crush smaller ingredients such as nuts to make sauces and dips.
With 6-point stainless steel blenders and a 1400 Watt motor, this blender is all about power. It would have to be powerful for all the settings it has!
The range of ingredients it can blend and work with means that it can blend both hot and cold foods and drinks. This is ideal for if you want to make a quick lunch without creating a messy stovetop.
Speaking of cleaning, the spout is non-drip and there are functions to help clean the blender. These functions include self-cleaning and rinse, meaning all you need to do is rinse it with warm water and soap.
This blender comes with an additional recipe book, and a 1-year manufacturer warranty.
Pros:
Versatile

Multiple functions

Suitable for hot and cold foods and drinks

Powerful motor

Easy cleaning
Cons:
Large blender may take up space on a counter top or in a cupboard
Dash Chef Series 64 oz Blender with with Stainless Steel Blades + Digital Display for Coffee Drinks, Frozen Cocktails, Smoothies, Soup, Fondue & More, 1400-Watt - Matte Black
POWER BLENDER: 6-point commercial grade Japanese stainless steel blades and 1400watt, 2.25 hp motorwill grind, chop, dice, blend, puree, and juice, without ever going dull
HOT + COLD: Make smoothies, iced coffee drinks, frozen cocktails, or even snow cones & ice cream in minutes Hot soups or purees in just 8 minutes; no stovetop! Make melted cheese, pesto, chocolate fondue & more
13 PRESETS: Rinse, Puree, Soup, Smoothie, Crush, Frozen, Manual, & Pulse Grind through even the toughest of substances: nuts, hummus, dips, and even mill grains into flour, all with NO BURNOUT; can your conventional blender do that
SELF-CLEANING: The no-drip spout and self-cleaning function make cleaning a snap! When you're done blending, choose Rinse function with some warm water and dish soap and the Chef Series Digital Blender does the rest
INCLUDES: Backed by a 1-year manufacturer warranty on parts and includes 64 oz tritan blending jug (virtually unbreakable), tamper, recipe book and recipe database access (all non-electric parts are dishwasher safe)
Pin
When you hear "frozen drinks" and immediately think of cocktails, this is the blender for you. The Margaritaville Frozen Concoction Maker is appropriately named for its ability to make alcoholic (or non-alcoholic) frozen drinks effortlessly.
Obviously, this is not suitable for children or teenagers, but you can always make non-alcoholic versions so they can feel involved!
This blender features a mixing tool that is designed specifically for measuring liquids to make the perfect cocktail. Cocktails don't have to just be a mix of liquors and mixers, why not get a blender that can suitably crush ice?
This blender has a shave 'n blend cycle that mixes, crushes, and blends ice until it smoothly mixes in with the ingredients. This can make anything from pina coladas to daiquiris.
All parts of the blender are dishwasher safe, and it comes with a 1-year manufacturer warranty.
Pros:
Perfect for alcoholic and non-alcoholic frozen drinks

Measuring tool included

Blends ice perfectly

Dishwasher safe
Cons:
Doesn't offer as much versatility as the other products on our list
Sale
Margaritaville Bahamas Frozen Concoction Dual Mode Beverage Maker Home Margarita Machine with No-Brainer Mixer and, 36 Ounce Pitcher
FROZEN DRINK MAKER: Nothing captures island-inspired delight like this versatile frozen beverage maker
PRECISE MEASUREMENTS: No-brainer mixer is designed with markings up the side for precise measurements
EASY TO USE: Easy to use with automatic and manual controls that shaves and blends, blends only, or shaves only; automatic shave and blend cycle mixes the perfect amounts of ice with ingredients; manual features allow you to choose between blend or shave only
EASY TO POUR JAR: Features easy-pour jar for a quick, clean pour without the hassle of removing/replacing the lid
WHAT'S INCLUDED: Bahamas margarita machine includes 1 36-ounce pitcher and 1 no-brainer measuring cup; (L x W x H): 14 x 9 x 18 inches
Buyer's Guide
Benefits of Frozen Drinks Blenders
Due to the versatility of blenders, it's not actually possible to buy a blender with the sole function of making frozen drinks.
This is a good thing, because it means that users can experiment with other liquids and foods other than frozen drinks – as long as the product allows it!
The versatility of blenders is possibly the most beneficial factor of them, as the possibilities are endless.
Frozen drinks blenders don't have to be expensive to work. Sure, cheaper items are more likely to be faulty or break, but you don't have to break the bank to get your money's worth.
However, if you are looking for the best quality blender, it usually is better to spend a few more dollars.
These kitchen appliances are a simple way of making any kitchen look instantly more modern. They can sit on the countertop (provided there is enough room as some can be fairly large!), or can reside temporarily in a cupboard when not in use.
They're a modern appliance that suggests the family enjoys their health kicks as well as the occasional sweet treat.
What You Can Make
Depending on the product's abilities, frozen drink blenders can make a variety of drinks. This can range from fruit or vegetable smoothies, milkshakes, and cocktails.
Sometimes, a regular mixed alcoholic drink or milky milkshake doesn't quite hit the spot. Frozen drink blenders can blend the ice seamlessly into a satisfying texture that can only be mimicked in a cocktail, smoothie, or milkshake bar.
Some products also provide other functions, which is always a bonus! This can include dips and sauces such as hummus, or even foods such as soup – though remember that they will not always heat up the soup, they will just blend it.
A frozen drink blender is a perfect way to get all of your nutrients whilst providing a tasty treat. Smoothies are the best example of this, as you can create a multitude of smoothie recipes to get your five-a-day. Perfect if you have stubborn children who won't eat their fruit and veg!
Motor Speed and Power
As one of the main ingredients in frozen drinks is ice, you will need a blender strong enough to blend the ice without either:
1. Leaving chunks of ice in the drink
Or
2. Damaging the blades and blender
The best way to prevent this is to look for a powerful blender. The best blenders will have stainless steel blades, as they are the most durable and strong enough for large chunks of ice.
The motor speed will also affect the quality of the blended ice, so it is best to go for a high motor speed blender. This is measured in Watts. Generally speaking, smaller personal blenders will have a lower motor speed as the liquid capacity is smaller. Larger blenders, on the other hand, should have a higher motor speed due to a larger capacity.
Durability
Stainless steel blades aren't the only thing to look for in a frozen drinks blender. Blenders don't tend to have the longest service life if they are used often, and this is usually down to the overuse of ice.
Over a long period of time, ice will start to affect the quality of the cup or pitcher. The best material to look for in a pitcher should be BPA-Free, and either an impact-resistant glass or a heavy duty plastic. Weaker materials will only deteriorate faster, and the chances of cracks will increase.
Ability to Blend
This is the most important factor for a frozen drink blender! If the blender cannot blend ice and other ingredients properly, then it's probably faulty or cheap.
The best types of blenders will blend the ingredients into a whirlpool quickly, not leaving any chunks left. Most products will claim that they can make smooth liquids easily, but this does not always refer to ice or iced fruits.
Cleaning
Cleaning your blender cup or pitcher after each use is vital to preventing bacterial growth. This also applies to the blender blades, which are usually removable.
Most blenders claim they are dishwasher safe, but sometimes this isn't always enough. The best way to clean a blender is with hot soapy water and a sponge to get into all of the corners.
Regular cleaning will also increase the service life and quality of your blender.
Frequently Asked Questions
Can you put ice in a blender?
This honestly depends on the type of blender you have, whether it has the power to crush ice, whether you plan to crush ice in your blender often, and how durable your blender is.
In most cases, you can put ice in a blender! If you don't know whether your blender is suitable to crush ice, it's best to experiment with small chunks of ice at first.
Crushing ice in a blender is a quick and professional way to get the crushed ice consistency that can only be replicated in bars or restaurants. This means you can make smoothies, milkshakes, cocktails, and even slushies from the comfort of your own home!
How many Watts do you need in a blender to crush ice?
The higher the Watts figure, the better! The strongest and most powerful blenders will be able to blend ice and other frozen ingredients at a faster and more efficient rate. They are designed to withstand larger chunks of ice.
It really depends on the size of blender you are looking for, because smaller personal blenders won't offer a high Watts figure compared to larger blenders due to the liquid capacity. If you are looking for a blender that can cater to multiple people, we recommend looking for anything over 700 Watts for the best ice crushing results.
What's a good blender for frozen drinks?
From our research, we found that the best blender for frozen drinks is either the Ninja Professional Plus Blender with Auto-iQ, or the CRANDDI Countertop Blender. Both blenders are of the highest quality on the market, and have the best reviews for frozen drinks.
The CRANDDI Countertop Blender is slightly larger, and therefore has a higher Watts figure of 1500 Watts, in comparison to Ninja's 1400 Watts blender. If neither of these look suitable for you, the other products on our recommendation list are also the best on the market!
Can I use a normal blender to make a frozen drink?
Again, this depends on the model of your blender. Sometimes, your normal blender may not have the power or materials suitable for crushing ice for a frozen drink. Some blenders may be flimsy or weak, and the ice will only increase the chances of it breaking.
It is recommended to buy a blender specifically designed for frozen drinks and crushing ice to prevent your normal blender from breaking.
Why is my blender not blending ice?
If your blender isn't crushing or blending ice, there's a high chance that your blender is faulty, broken, or simply was not designed for frozen drinks. It may be a sign that you need a new blender, or a more powerful one to crush and blend ice.
Any blender that has a motor of less than 700 or 500 Watts will not be able to crush ice. If you want your blender to blend ice into a smoothie consistency, then you will need a blender over 1000 Watts in motor power.
If you are unsure if your blender can crush ice, we recommend testing it with semi-crushed ice beforehand to prevent potential damage from larger chunks of ice.
There could also be the possibility that you have put too much ice in the blender! Never put ice up to the lid, as the blender needs space for the other ingredients and space to crush and blend properly.