Notebook rice krispie treats are the most delightful idea for an after-school snack. As we head into the school days again, it's nice to have a recipe idea for snack time. These notebook rice krispie treats are easy to make and fun for the whole family. These notebook themed snacks are also a great welcome back to school treat for the whole classroom, just make sure your child's teacher is okay with you bringing this snack in.
The notebook theme treats will remind kids of school in a fun, creative way. This treat is very flavorful and will earn you a high five from your kids when you surprise them with these notebook rice crispy treats.
To make this Notebook Rice Krispie Treat Recipe you will need the following ingredients: premade rice krispie treats, white fondant, Wilton edible food writers, powdered sugar and apple decorations.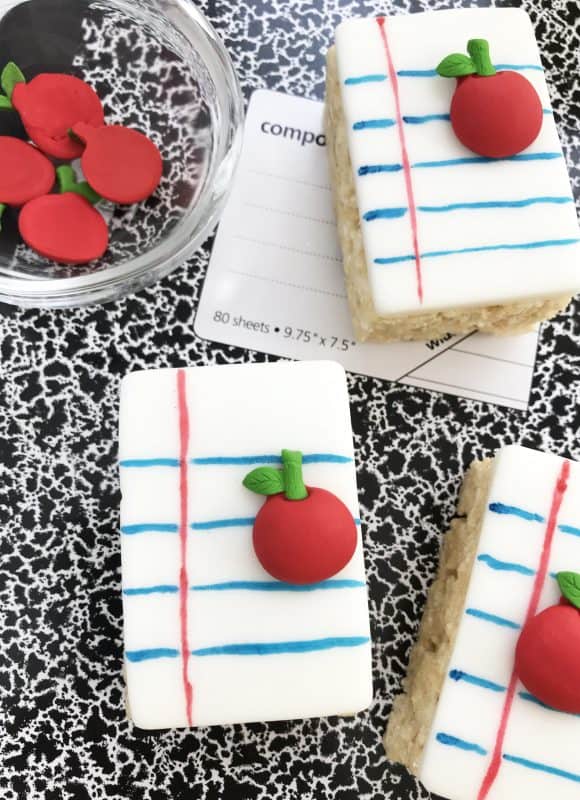 Pin
These notebook rice crispy treats are the perfect back to school or after-school treat when you want to make something special for the kids but don't want to spend hours baking up a special treat. Rice crispy treats are super easy to make and all you need to do is become one with decorating them to look like little notebooks. It's an easy process that anyone can do and I assure you that the kids will enjoy these unique rice crispy treats any time of day.
These notebook rice krispie treats are the perfect snack to celebrate back to school season with your kids.
Pin
Tips & Tricks to Making Notebook Rice Crispy Treats
Buy rice crispy treats already made, and only use my instructions for decorating them to look like notebooks to save on time.
Add letters, numbers, and handwriting to the notebook tops for an added touch.
You can save some money by exchanging the Wilton food writers with icing in the color you want for writing on the notebook rice crispy treats.
You can exchange the white fondant for a faux fondant that gives you a different texture and is lower in cost.
Add chocolate chips to make the notebook paper decoration appear more real as if it's a three-hole punched piece of paper.
Have the kids decorate the notebook so that each is unique to your kid's vision.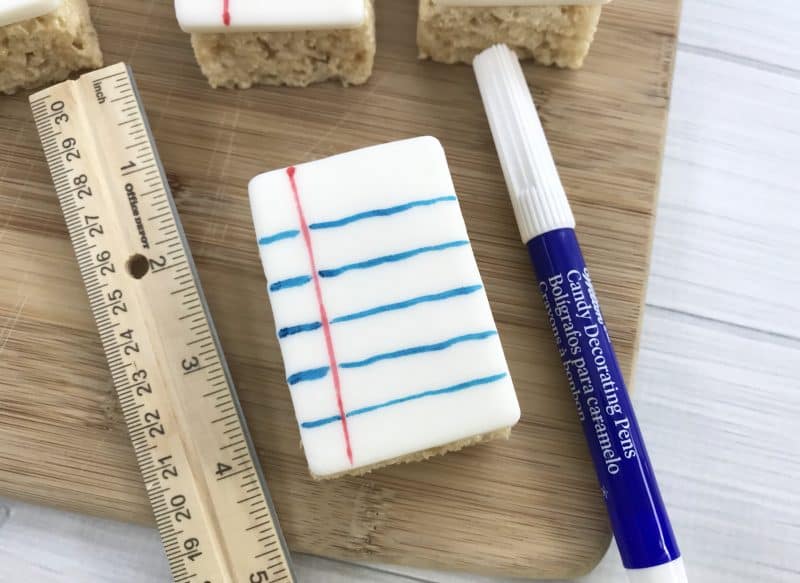 Pin
Notebook Rice Crispy Treats FAQS
Here are some of the most frequently asked questions about Notebook Rice Crispy Treats:
How do you make homemade rice krispie treats?
I opted to use premade rice crispy treats for the below recipe, but for homemade treats, you melt down some butter, marshmallow and rice crispy cereal to get the right texture and mold the treats into squares or your preferred shape for a delicious treat. You can see the original recipe here.
Can Vegans eat rice krispie treats?
My particular recipe for these notebook rice krispy treats are not Vegan-friendly. There are many Vegan-friendly rice crispy treat recipes online that are Vegan-friendly though.
Are rice krispie treats dairy free?
If you replace butter with coconut oil, then you can work to make these notebook rice crispy treats dairy free. You may also be sure to switch other ingredients found in my notebook rice crispy treats recipe that include dairy for non-dairy options and still have the same yummy results.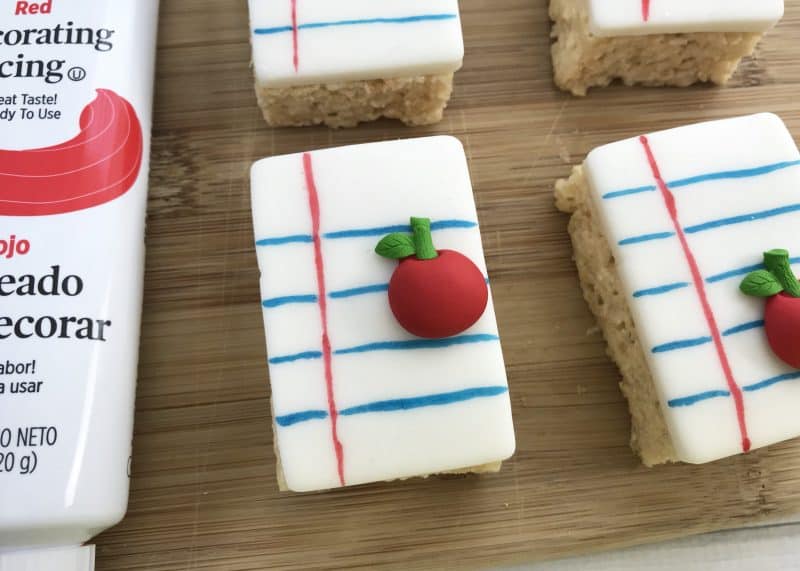 Pin
You Might Enjoy These Other Rice Crispy Treat Snacks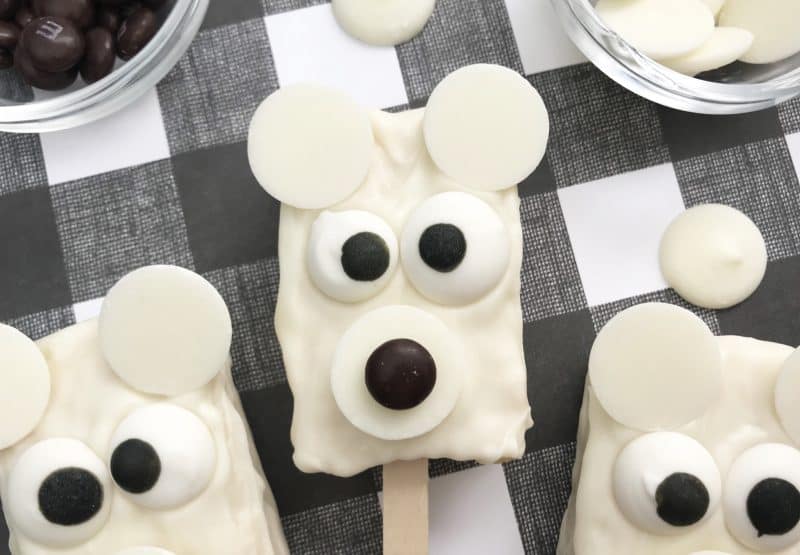 Pin
Back to School Decorated Rice Crispy Treats
Notebook rice crispy treats are a delightful treat for back to school season. The kids will enjoy decorating their own "notebooks" after you've created blank notebook paper out of these notebook rice crispy treats.
If you loved these fun rice crispy treats let me know with a 5-star rating!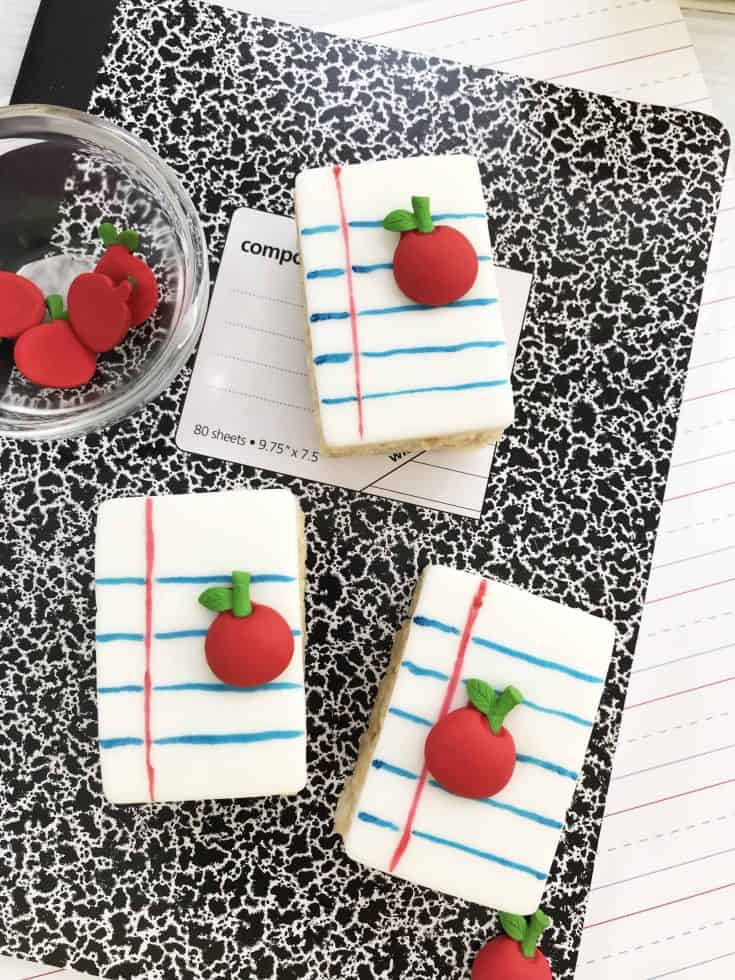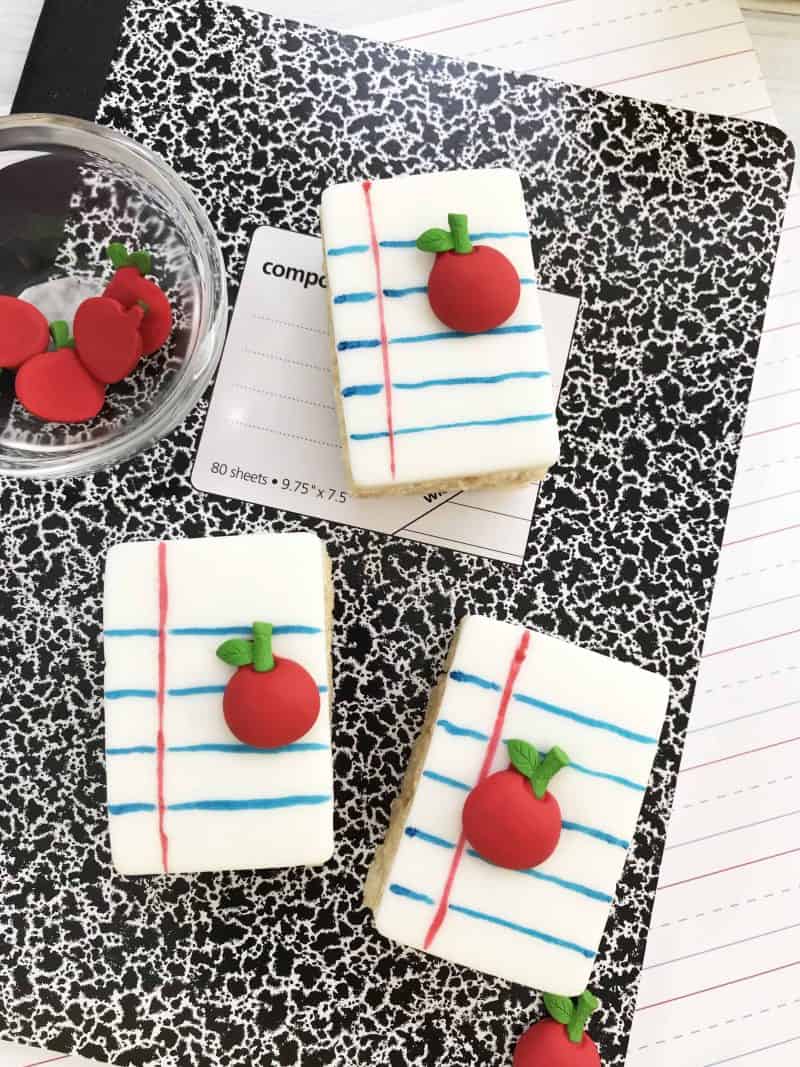 Yield:

8
Decorated Rice Krispy Treats
Ingredients
8 ct box Kellogg's Rice Krispie Treats or premade Rice Krispie Treats
White fondant
Wilton Edible Food Writers
Rolling Pin
Powdered sugar
White frosting
2"x1.75" rectangular cookie cutter
Wilton Apple icings (available at Walmart or Hobby Lobby)
Toothpicks
Ruler
Instructions
Unwrap each Kellogg's Rice Krispie Treat and discard the wrappers.

Gently roll out the fondant to about 1/8" thick. Use a little bit of powdered sugar on your rolling surface and rolling pin if the fondant is sticky.

Use the 2"x1.75" rectangular cookie cutter to cut out (8) rectangles.

Place some of the white frosting on top of each Rice Krispie Treat and lay a fondant rectangle on top of each.

Use the ruler to draw your notebook paper lines.

Place a small dab of white frosting on the back of each apple icing and adhere to the notebook paper.