With kids in the house, it's hard not to keep up to date on the latest movies hitting the theaters. Unless you have been living under a rock, you know that Inside Out has hit theaters. We tried to take the boys last week, but our plans fell through, and now they are holding out for the new Minions movie.
Pin
Even though we didn't make it to the theater, it doesn't mean that I have not been having a little fun with Inside Out's brightly colored characters in the meantime. Using a favorite and trusted Rice Krispie recipe and a little bit of patience, we have been enjoying plenty of fun Inside Out movie treats.
This technique works well for any movie, character, or theme. Keep that in mind, because you can guarantee I will be doing this decorating technique with many movies to come in the future with 3 boys in the house. These make really fun classroom birthday treats!
The first step will be to hit up google and find an image. Here are plenty of Joy images available from the Inside Out movie. Once you pick an image, you will want to get your characters made, and I'll explain how in the recipe. These can be made well in advance if you think you will be running short on time the few days before you need them. That's the great thing about working with royal icing!
PHEW. I know that this all looks like a lot, but I tried to break down each step. It's not truly as complicated as it looks; just allow yourself plenty of time to make your figures and allow them to dry.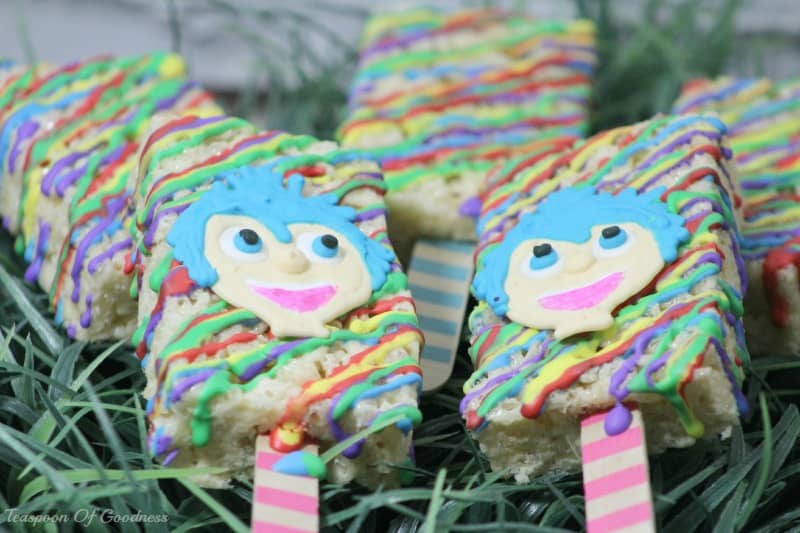 Pin
Inside Out Movie Treats
Rice Krispy Treat Ingredients:
3 TBSP unsalted butter
1 package (40) marshmallows
6 C Kellogg's Rice Krispies cereal
Rice Krispy Treat Directions:
Butter the sides and bottom of a 9×13 pan well. Set aside.
In your microwave, heat butter and marshmallows on high for 3 minutes.
Stir after 2 minutes.
Stir after 3 minutes until smooth.
Add Rice Krispies and stir with a spoon or use your hands to mix well. If you are using your hands, make sure they are well coated with butter to prevent burning and sticking.
Press the Rice Krispy mixture down evenly in the well-buttered 9×13 pan and allow to cool. Cut into 2-inch squares.
Place cut Rice Krispy treats on a parchment-lined cookie sheet.
Put a stick in one end of the prepared treats.
Royal Icing Icing Ingredients:
2 egg whites
1 C powder sugar
1/2 tsp cream of tartar
Add 1/4 C powder sugar until stiff peaks form
Blue, red, white, black, and nude gel food coloring
Directions:
Mix eggs, cream of tartar, and powder sugar on medium speed for 4 minutes.
To Make Joy Character:
Locate a picture of Joy on Google and resize your character to ensure that they are less than 2 inches. Print the picture in color. If you have some decent computer skills, you can get 6-8 characters on one sheet of paper. You will need to print off 1 copy of Joy for each figure you will need.
Tape your Joy figures onto a cookie sheet or any hard solid surface.
Tape wax paper (covering the copies of the "Joy")to the cookie sheet.
If you are using the same pastry bag and or tip, they will need to be cleaned after each use. (Or use Ziplock bags by cutting the corner of the bag.)
Divide the icing into thirds. Place 1/3 in one bowl with the nude gel food coloring.
In the second bowl, add several drops of blue gel food coloring for the hair, around the eyes, and for the eyes.
With the last third, divide that into thirds again (approx. 2 TBSP each). In each bowl, add and mix 2 drops of gel food coloring (red, black, & white).
Using a small pastry bag filled with the nude royal icing and a #2 tip. Start by outlining the face. Fill in only the face with the nude gel food coloring leaving the rest of the face uncovered.
Using the blue gel food coloring, outline, then color in the hair, around the eyes, and in the eye. Don't color in where the black of the eye should be.
Using the black color in the center of the eyes. Outlining first, then color in.
Using the red color, outline and color in the mouth, leaving the teeth untouched.
Outline and color in with the white the rest of the eyes and the teeth.
Allow to dry for 5-10 hours. Longer will not hurt them.
To assemble Inside Out Movie Treats:
Ensure the faces are dry by gently touching one of the images.
If the Joy character faces are dry, cut the wax paper holding the completed faces into squares surrounding the image.
Gently peel off the wax paper.
Before placing "Joy," use the different colors of royal icing to add stripes to each of the treats.
Place Joy character in the center of each Inside Out movie treat.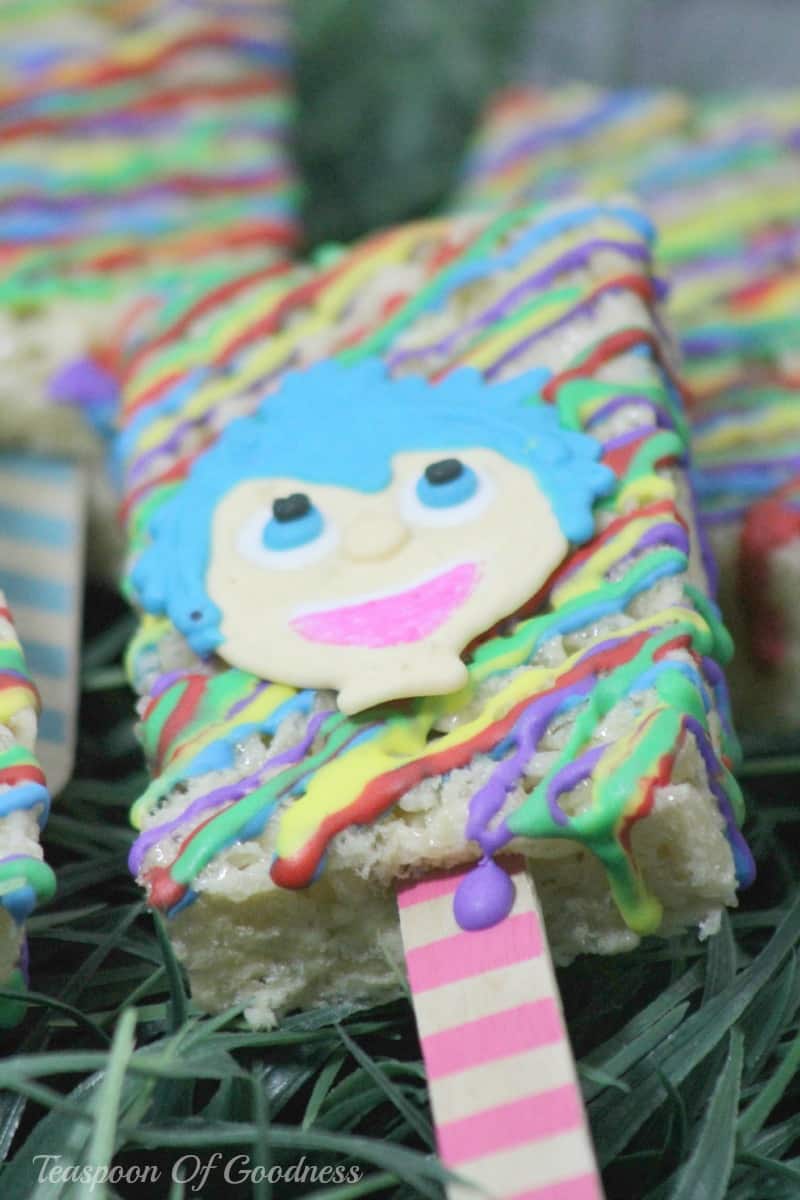 Pin
What is your or your child's favorite Inside Out movie character? Would your kiddos love having their favorite characters appear on Rice Krispie treats?