Do you want an easy-to-make recipe for dinner tonight? We all have busy schedules and sometimes it's simply wonderful to have a recipe like this sausage and potatoes meal to whip up, toss in the oven, and bake for a quick meal.
The mixture of sausage with potatoes will transport you back to childhood as you indulge in something that reminds you of those yummy home fries that your parents made. A shortlist of ingredients for a big taste at your next dinner gathering.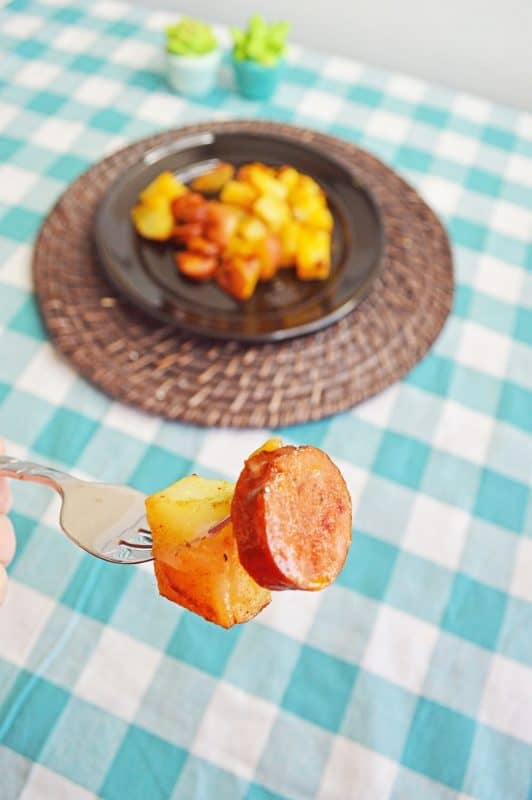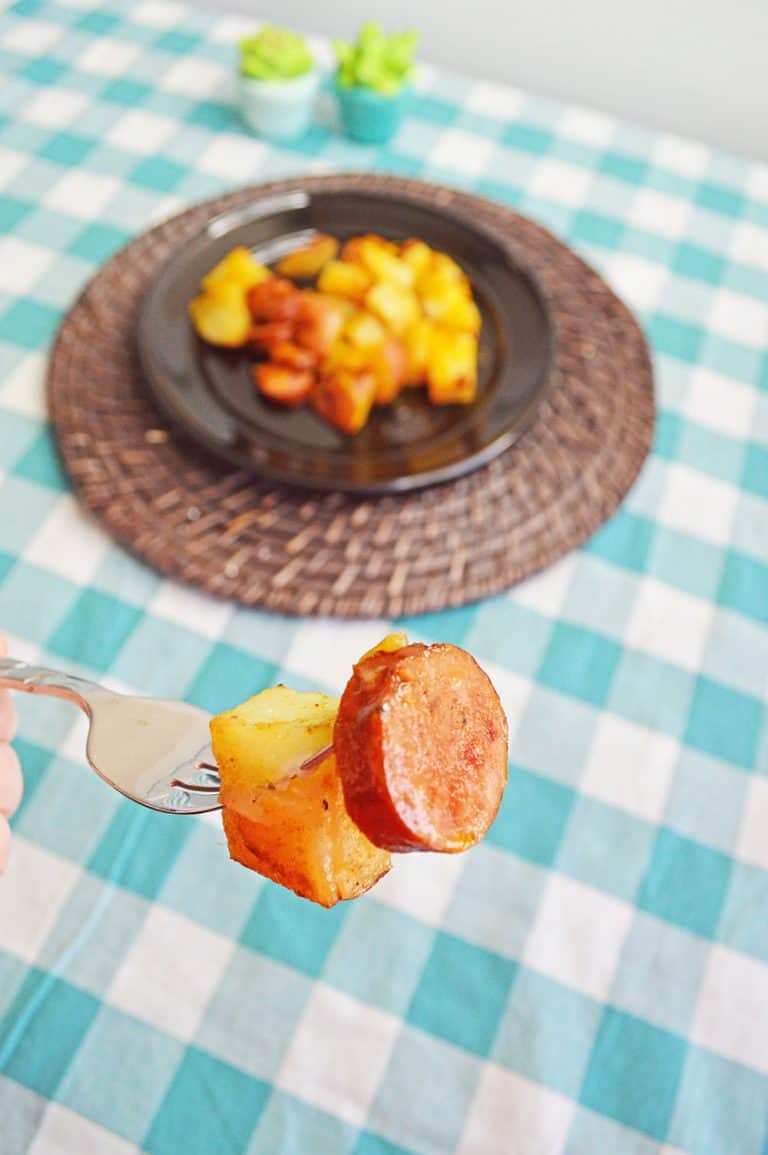 Pin
I love eating sausage and potatoes. There's something about the flavor of these ingredients combined together that magically light up my taste buds. This recipe is really unique because you can use it any time of day. If you're feeling a Sunday brunch with the family or an evening get together with friends, this recipe is versatile enough to handle both.
I have another recipe idea that is similar to this one, slow cooker green beans, sausage, and potatoes. I love that you can add more vegetables to this recipe without taking away from the flavor.
To make sausage and potatoes you will need the following ingredients: Red potatoes, smoked sausage, shredded cheddar cheese, garlic powder, paprika, olive oil, yellow onion, salt and pepper.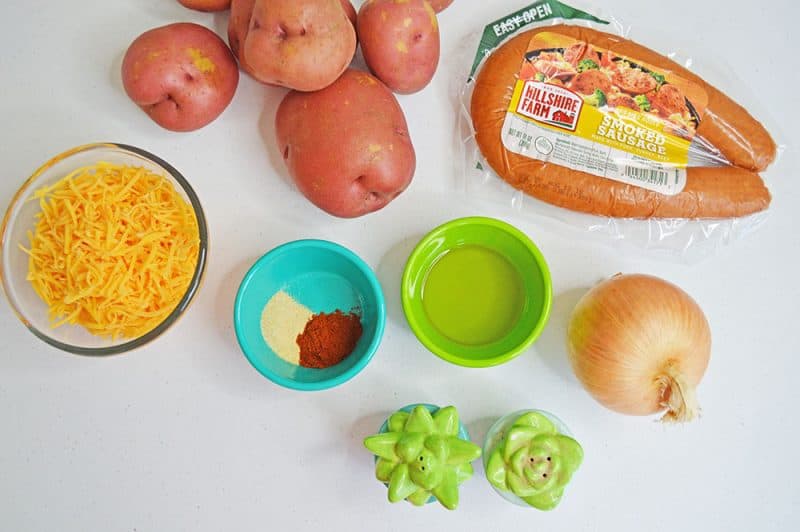 Pin
Tips & Tricks to Making Sausage and Potatoes
---
Complete the prep ahead of time so this is ready to pop in the oven when you want to make it for a meal.
Use a storage bag that has a zip-top closure to toss the ingredients more evenly than using a mixing bowl.
Add some peppers for a tangier flavor, if that sort of thing sounds delicious to you.
Play around with the seasoning, such as adding in cajun seasoning, to make these sausage and potatoes taste just right for your taste buds.
Place all of the ingredients in aluminum foil and cook on your grill for a summer gathering.
Do not overcook, the potatoes will crumble apart and make this meal look more like a hash brown mixture.
Helpful Tools to Make Sausage and Potatoes
---
The following are affiliate links. We are a participant in the Amazon Services LLC Associates Program, an affiliate advertising program designed to provide a means for us to earn fees by linking to Amazon.com and affiliated sites.
For this recipe, it's a really great idea to have a good mixing bowl and a serving dish to place the sausage and potatoes in once they're ready to serve to your family or at a BBQ.
You Might Enjoy These Other Potato Recipes
---
Sausage and Potato Recipe
---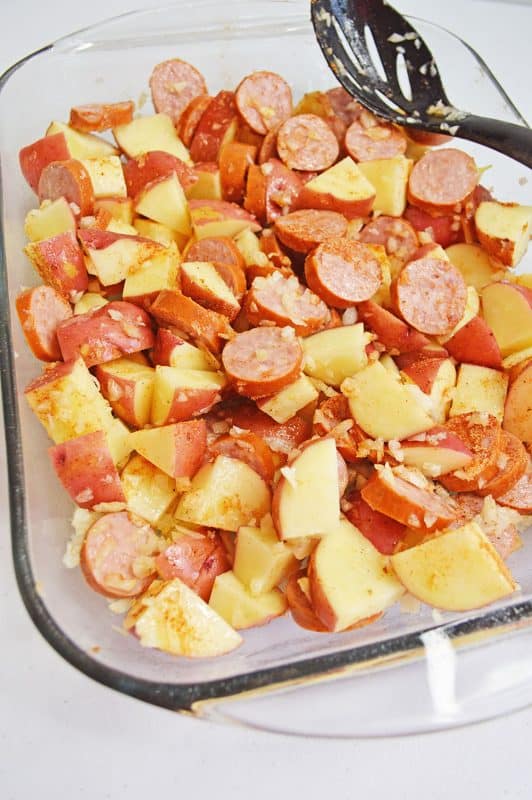 Pin
Bring on easy meal nights with this sausage and potato recipe that's easily made in less than one hour. Easy to prep meals are perfect for the busy family and with the melted cheese on top, this is sure to be a hit for your next meal or summer BBQ.
If you loved this recipe let me know with a 5-star rating!
Yield: 6
Sausage and Potatoes
Ingredients
6-7 medium red potatoes, chopped into 1 inch pieces
1 pack smoked sausage, chopped into 1/2 inch rounds
1/2 cup shredded cheddar cheese
1 tsp garlic powder
1 tsp paprika
2 tbsp olive oil
1 medium yellow onion
salt and pepper to taste
Instructions
Preheat your oven to 400 degrees and spray a 9x11 inch or larger baking dish with cooking spray.
In a large bowl combine potatoes, sausage, onion, and olive oil. Toss.
Add seasonings, and mix again.
Spread the sausage and potatoes evenly into your baking dish.
Bake for 40-45 minutes, until potatoes are tender.
Remove from the oven and top with cheese.
Bake 5 minutes more, just until cheese is melted.
Enjoy!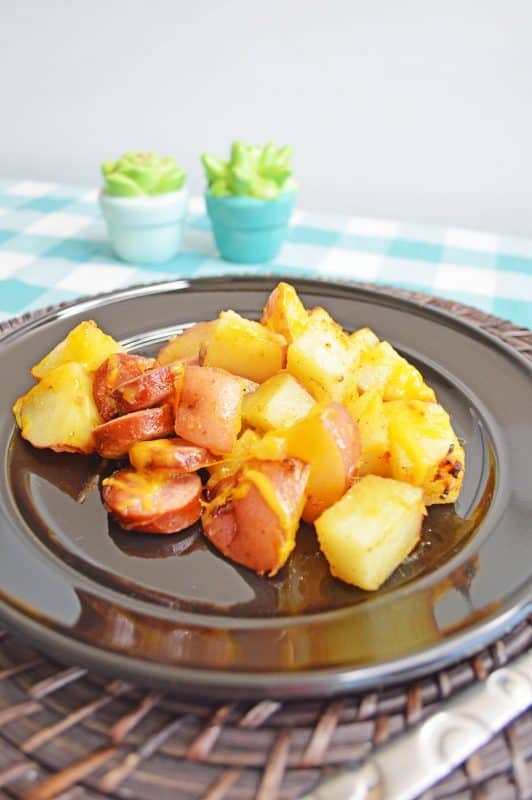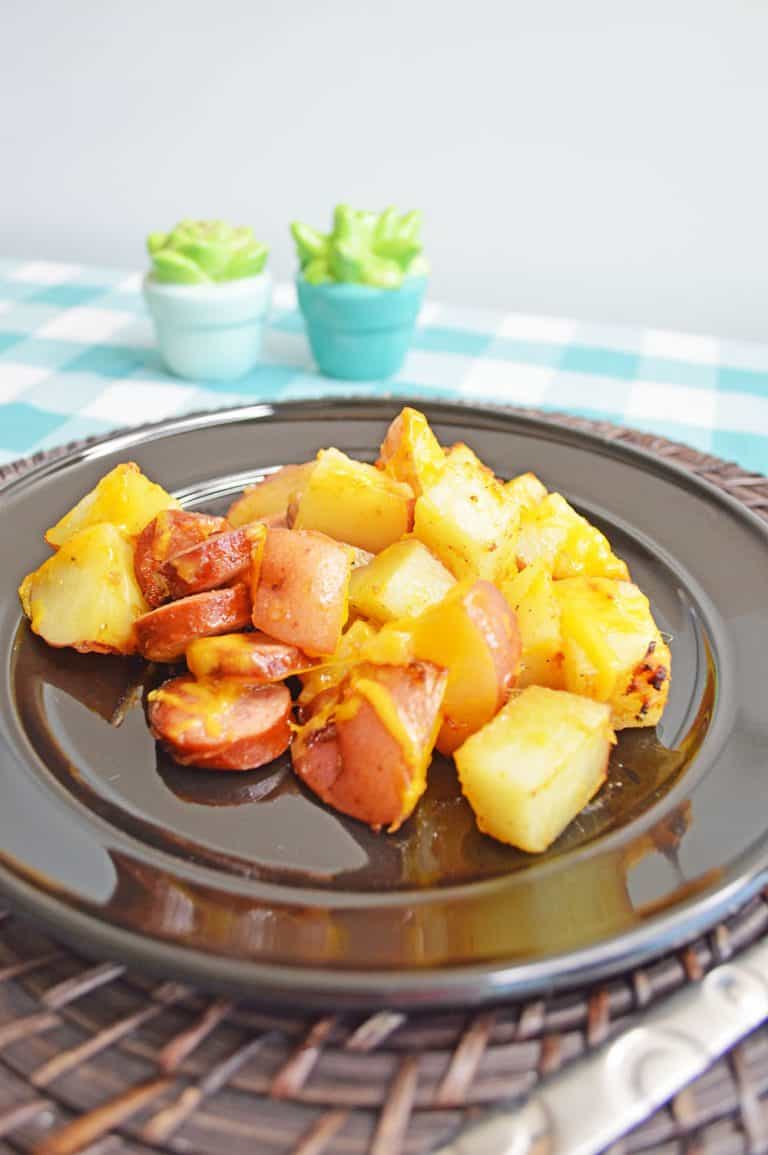 Pin