We are on Spring break this week with the kids and one of the ways we enjoy a family vacation on  budget is by finally utilizing the timeshare that my husband and I purchased after getting married.  Having our timeshare has greatly helped our pocketbook and still allowed us to enjoy wonderful activities that each city we visit has to offer.  This year we are visiting Las Vegas and as many of you know one of the biggest cost killers in Vegas is the food.  It's almost impossible t take the family out for under $60 a meal unless you know some good restaurants for the locals, which we don't.  By hitting up the grocery store when we got to town we have been able to save a ton of money and invest spend that money on entertainment, which the kids are going to remember better anyway.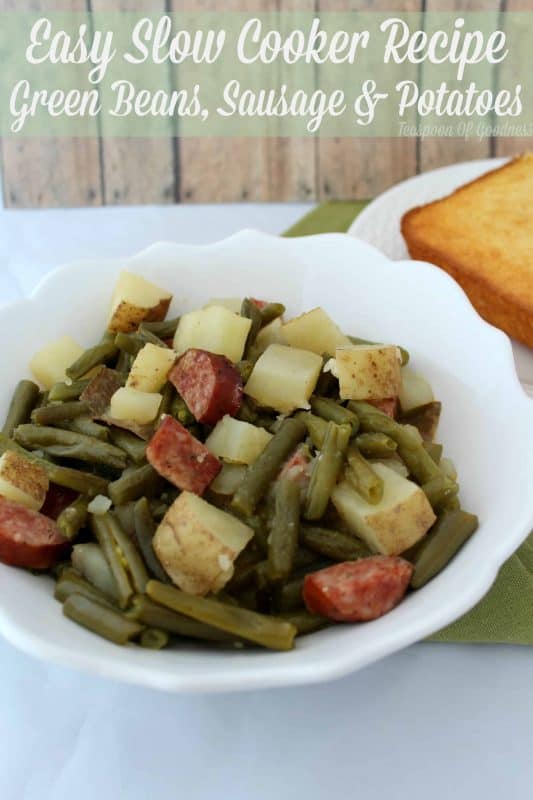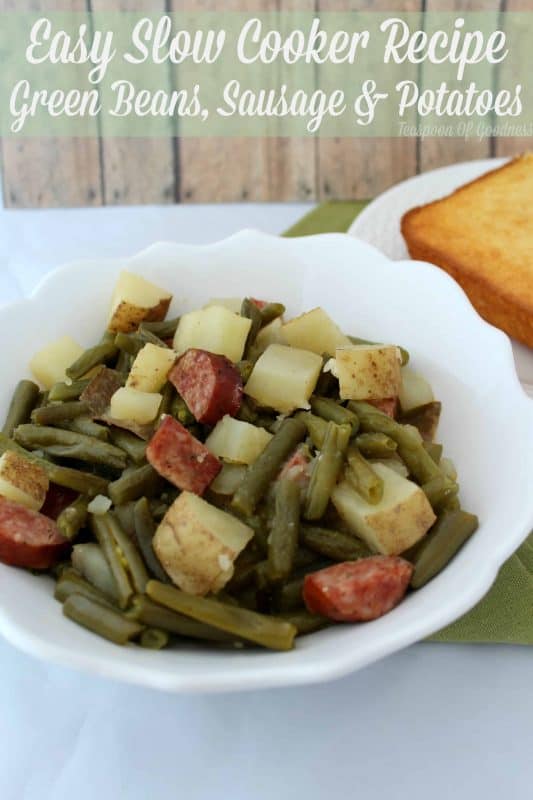 Just because we are avoiding hitting a restaurant at every meal to save money doesn't mean that I want to spend all of my time in the kitchen cooking.  I could be doing that at home in my own kitchen rather than a 400 square foot space, not to mention the fact that I have limited supplies or utensils.  One of my go to meals for times like this is this easy slow cooker recipe of  Green Beans, Sausage & Potatoes.
For me this slow cooker recipe of green beans, sausage and potatoes is easy to fall back on as I can have everything chopped and in the slow cooker within 10 minutes and be out the door!  By adding 2 packages of smoked sausage my family has a meaty one pot dinner ready when we get back from the days excursions.  Served with a quick dessert of berries and whip cream my family is ready to fall into bed after a very busy day.  I can feel good that we saved a good chunk of money, I didn't spend forever in the kitchen and clean-up is a cinch.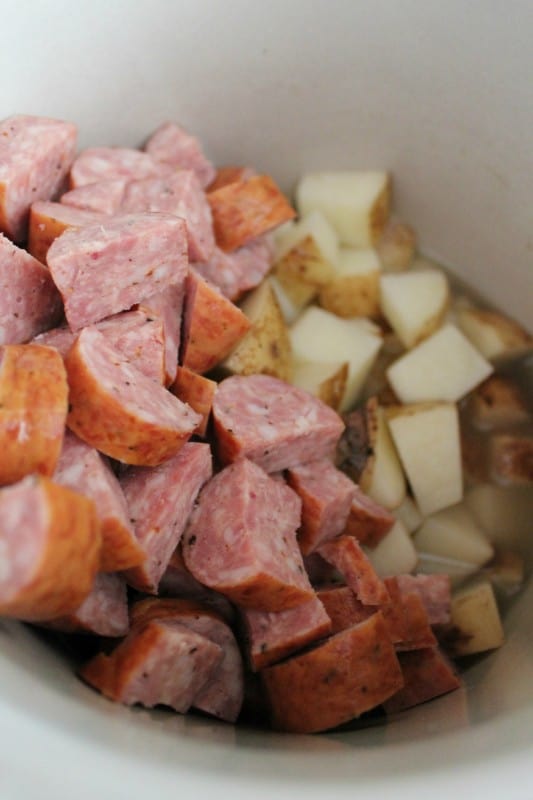 If you prefer to have just a different side for the night you can cut the sausage down to 1 package of smoked sausage and you have more green beans than meat making it a delicious flavorful side.
Slow Cooker Recipe ~ Green Beans, Sausage & Potato Dinner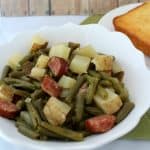 Slow Cooker Green Beans, Sausage & Potato Dinner
Ingredients
1- 2

pounds

of smoked sausage or Kielbasa sausage

this will be 1 or 2 packages

1 ½

pounds

of fresh green beans or 4 cans

5-6

potatoes

1

tablespoon

of seasoned salt

1

cups

– 1 ½ of chicken broth
Instructions
Wash and cut potatoes into small cubes. I choose not to peel the potatoes however you can if you prefer.

Cut smoked sausage into bite size pieces

Wash and cut up fresh green beans

Toss potatoes, sausages and green beans into the crockpot

Pour in a cup to a cup and a half of chicken broth and season to taste with the seasoned salt.

Cook on low for 8-10 hours
Recipe Notes
Calorie count is figured with 1 lb of Kielbasa sausage, 4 cans of green beans and 5.5 potatoes.

Have you ever stayed in a timeshare before and cooked most of your food at the condo?  If so what meals do you tend to gravitate to?  Could this easy slow cooker recipe of green beans, sausage and potatoes become a staple in your house?
Looking for more easy slow cooker recipes?
Slow Cooker Guinness French Onion Soup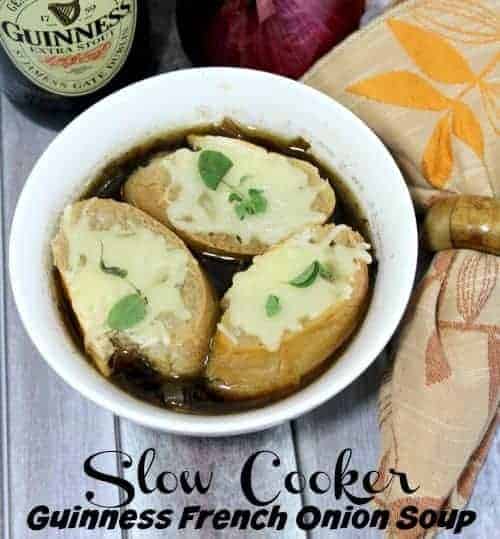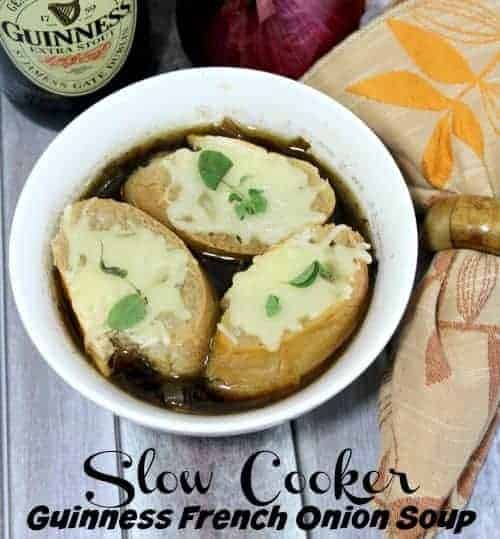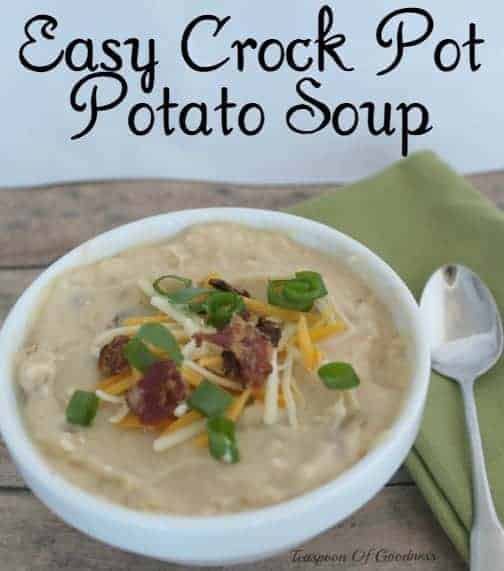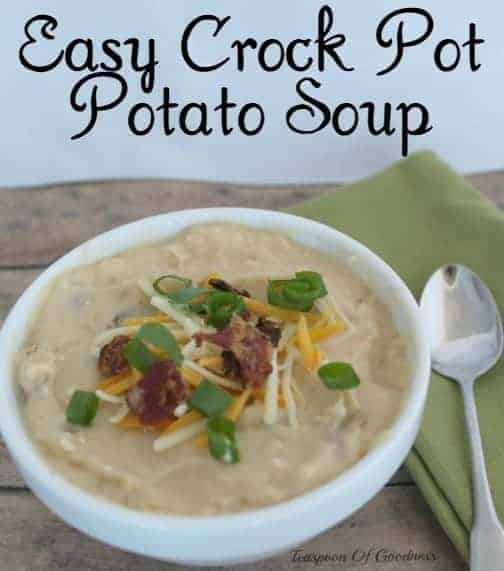 Save On These Ingredients