Having an arsenal of quick dishes on hand with a new little one in the house is essential. This quick pasta & ham skillet is an essential dish in our house. Most of the cooking takes place on its own, so I can focus on tending to the baby or helping my older boys with their homework for the day. Yes, I know it's summer, but my boys still have homework and book reports to do daily.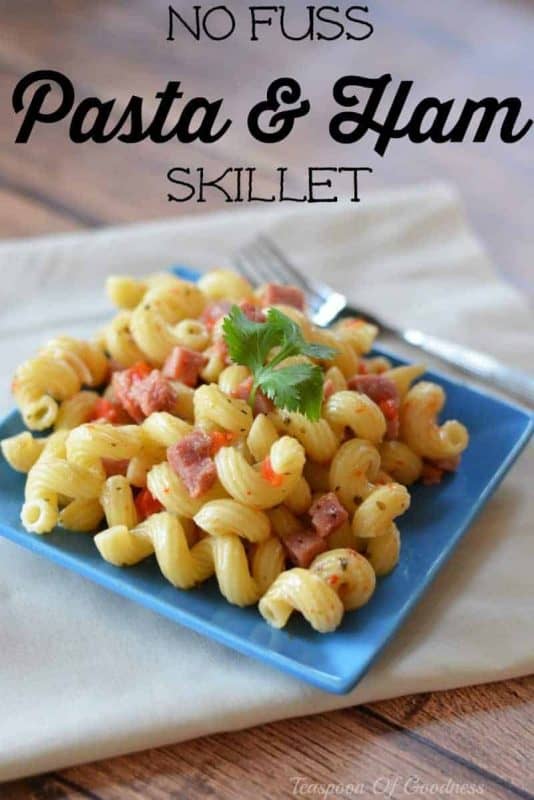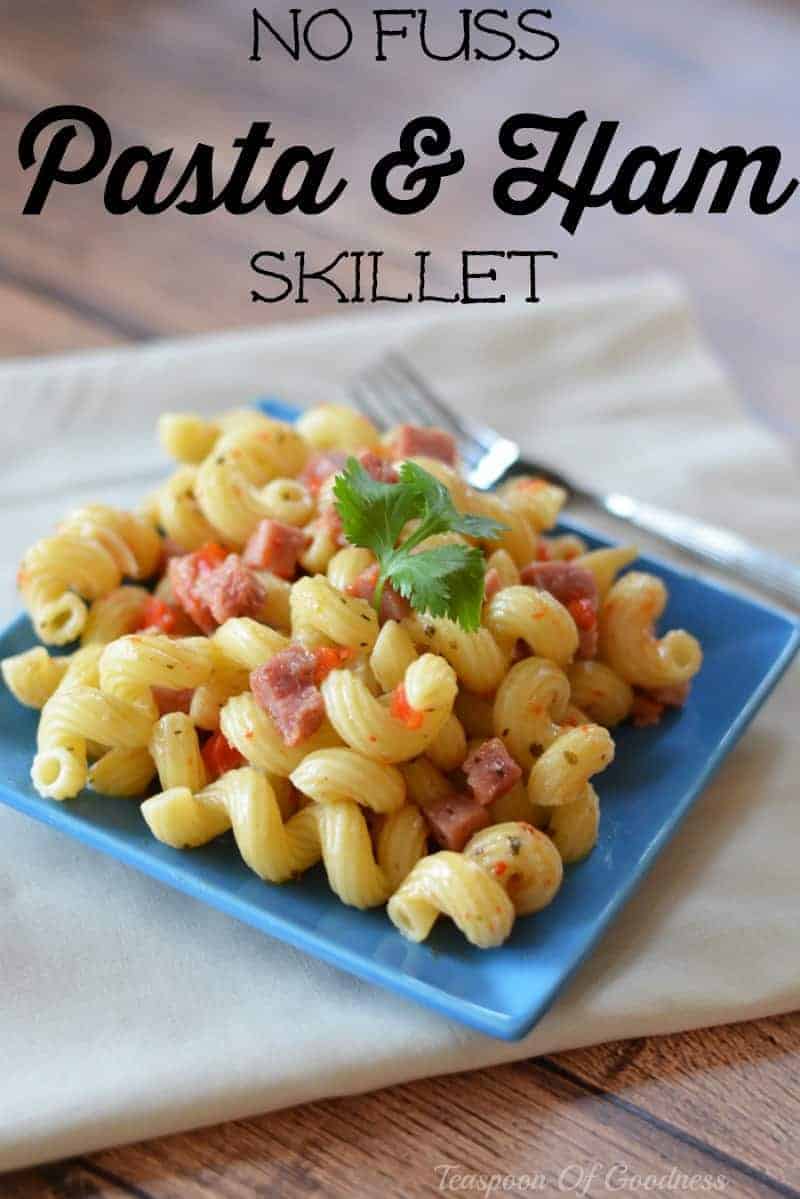 Pin
One nice thing about this quick pasta & ham skillet dish is that it's easy to adjust for your family's tastes or what you have on hand. Secondly, it doesn't heat up the kitchen as the dial goes up. I don't always have ham on hand, but I often have leftover chicken breast. Talk about an easy substitution or flavor change.
Quick Pasta & Ham Skillet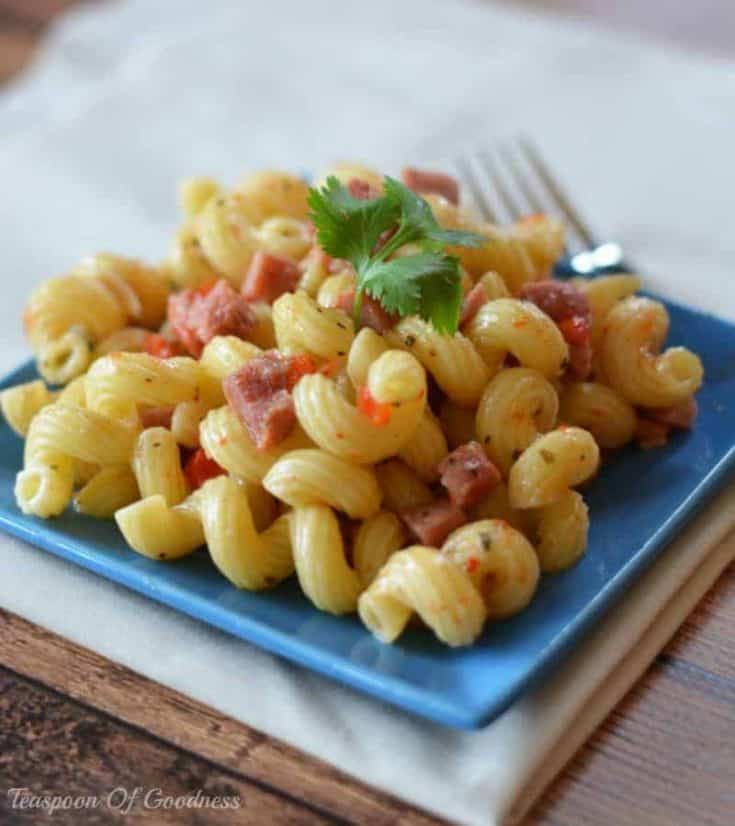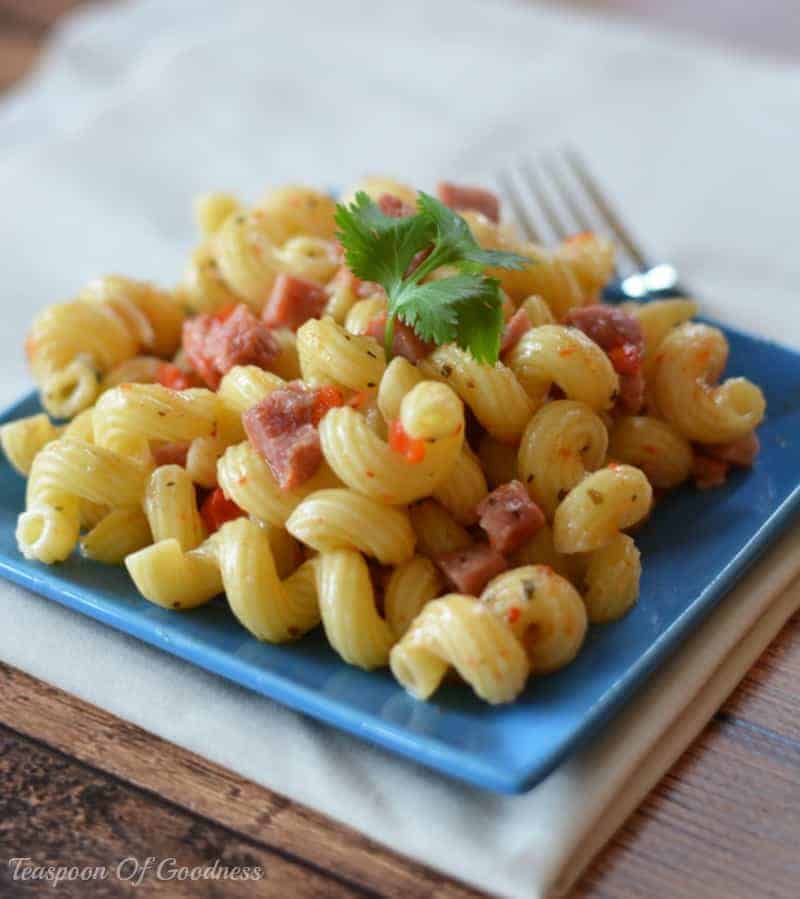 Quick Pasta & Ham Skillet
Prep Time: 5 minutes

Cook Time: 20 minutes

Total Time: 25 minutes
Ingredients
1/2 to 1 box pasta-16 oz, I used cavatappi this time but any kind works
3 cups ham, cooked and cubed
1 red pepper, diced
1 onion, medium size, chopped
2 cloves garlic, I always add more
1 tablespoon dried basil
1 tablespoon dried oregano
1/4 cup olive oil
3 tablespoons butter
1 can, 14 ounces chicken broth
Shredded Parmesan Cheese or Cheddar Cheese for topping
Instructions
In a large bowl on the stove, boil water and cook pasta according to the package directions. I made the entire box, but ended up using only half of the pasta since cavatappi is such a large pasta. If you were using something smaller like penne, I'd use the entire box.
In a 10" skillet, add ham, red pepper, onion, garlic, basil, oregano, oil and butter. Stir and saute until vegetables are tender and onion is translucent. About 3-5 minutes. Stir in broth. Bring to a boil. Reduce heat and simmer until liquid is reduced to half.
Drain pasta when cooked. Add to ham mixture.
Sprinkle with cheese before serving if desired.
Pasta is a favorite meal in our house, like so many houses. Most pasta dishes can go together quickly and don't need a ton of extra prep in the side dishes either. This quick pasta & ham skillet will add some variety away from the fallback of spaghetti!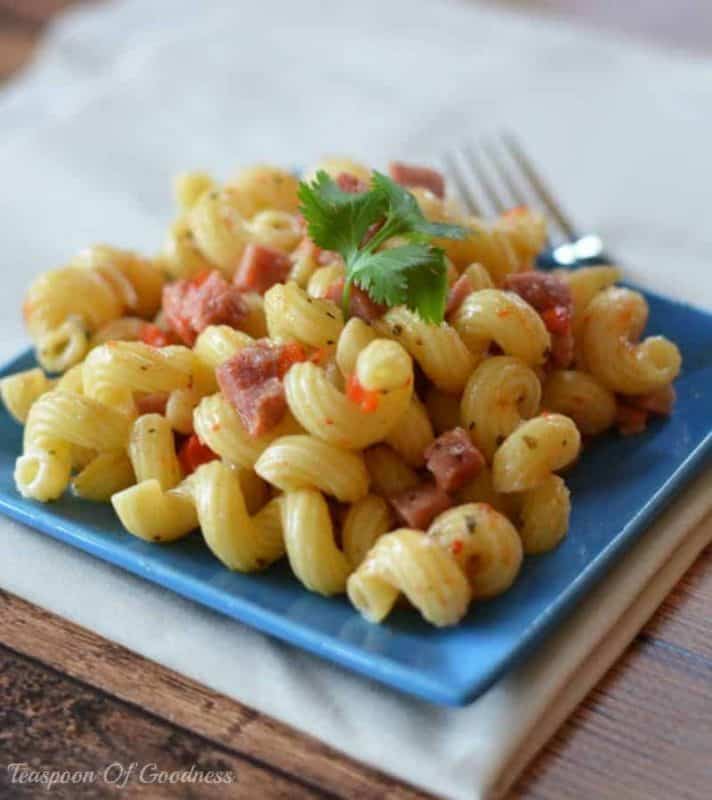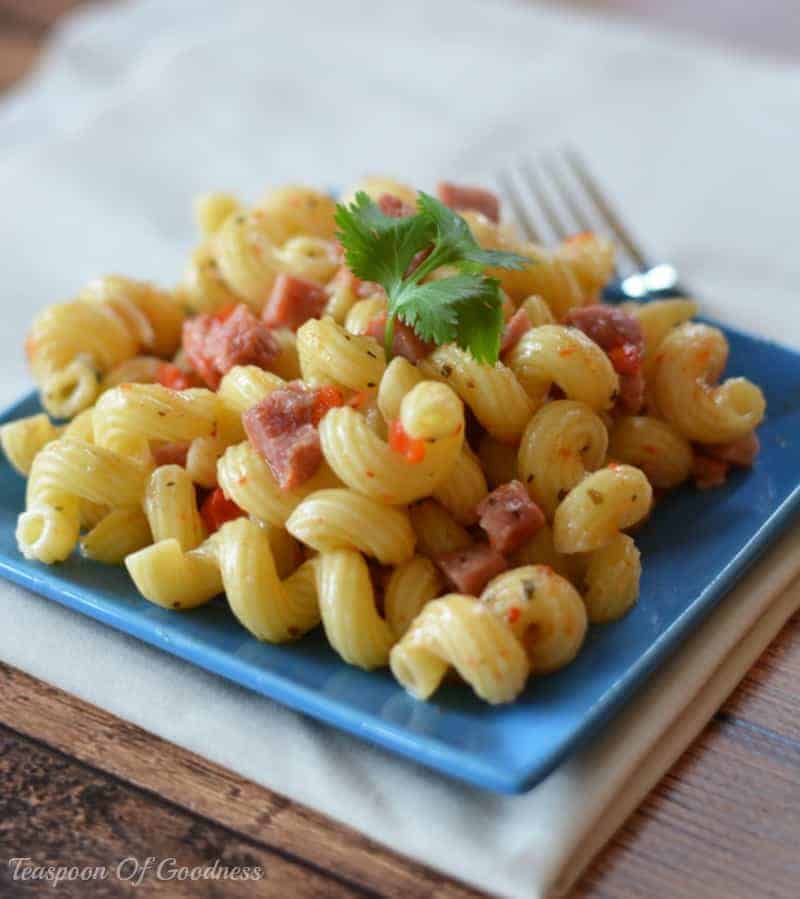 Pin
Do you have a go-to quick pasta dish that you use? What substitutions would your family enjoy?
Looking for more quick dinners to enjoy?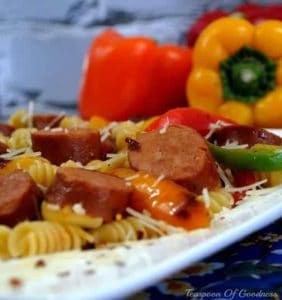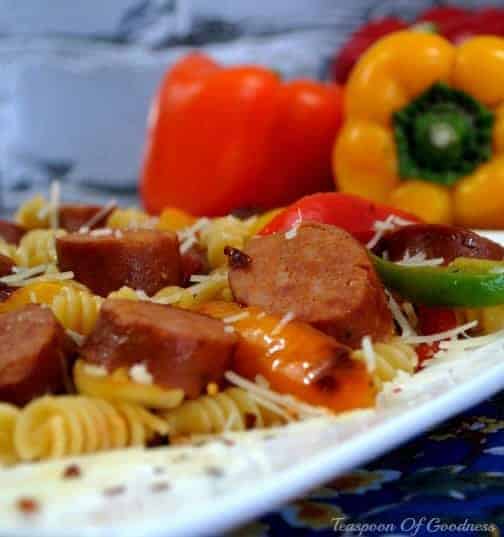 Pin
Slow Cooker Sausage, Potatoes & Green Beans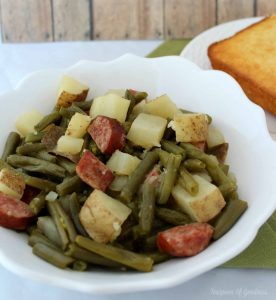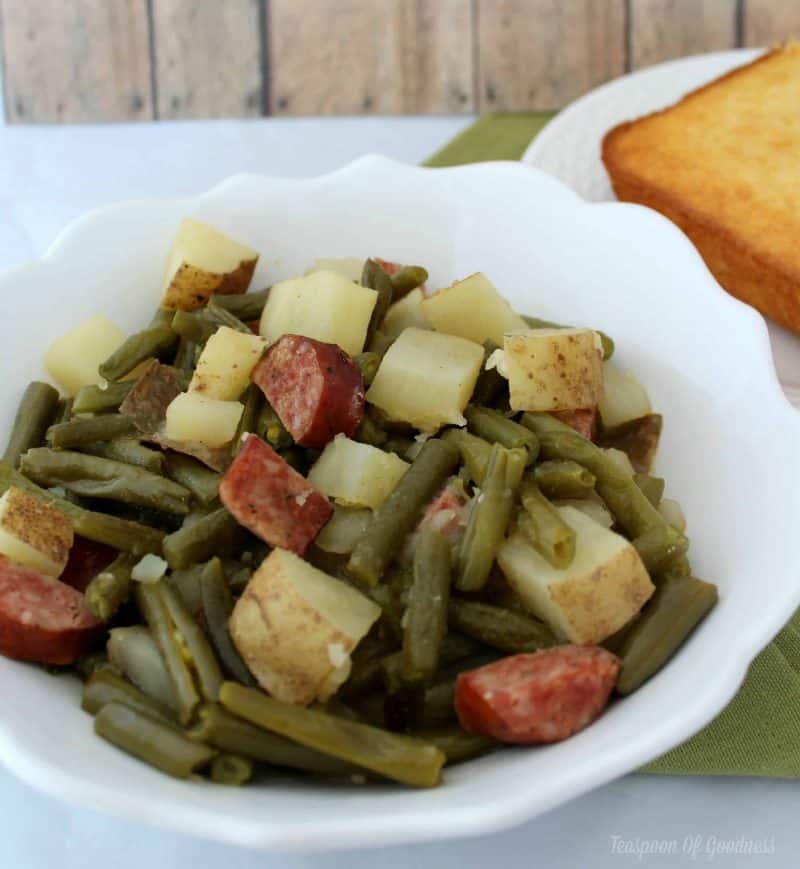 Pin
20 Minute Homemade Tomato Basil Spaghetti Sauce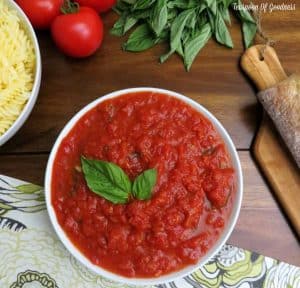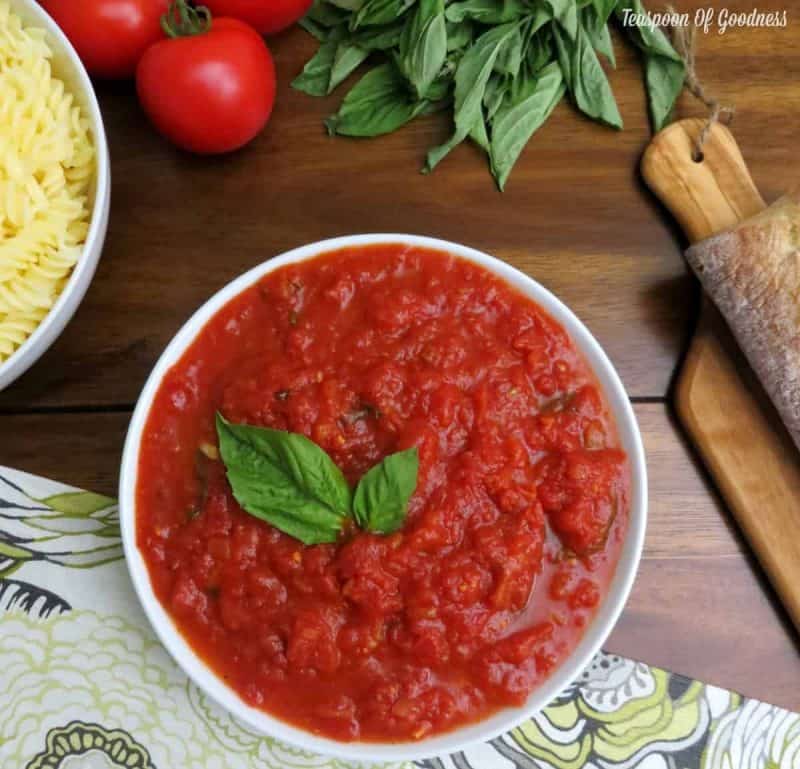 Pin