This year the 4th of July will be really low-key for us. I'm not up to doing a huge BBQ, so we will be doing a small 4th of July BBQ at a friend's house. It just so happens that we will be able to see the fireworks show from our friend's house. Glad we won't be missing out on that!
I'm responsible for a fruit dish and a dessert for the 4th of July BBQ, and I wanted to find a few things that are festive, fun, and that the kids will love. I have rounded up some delicious ideas, and you will find all 28 Scrumptious 4th Of July BBQ Goodies below.
I had to toss in a few side dishes and beverages as well, so that next year I can remember how good they all sounded. My short-term memory won't remember, but I don't want to forget things like bacon sriracha potato salad!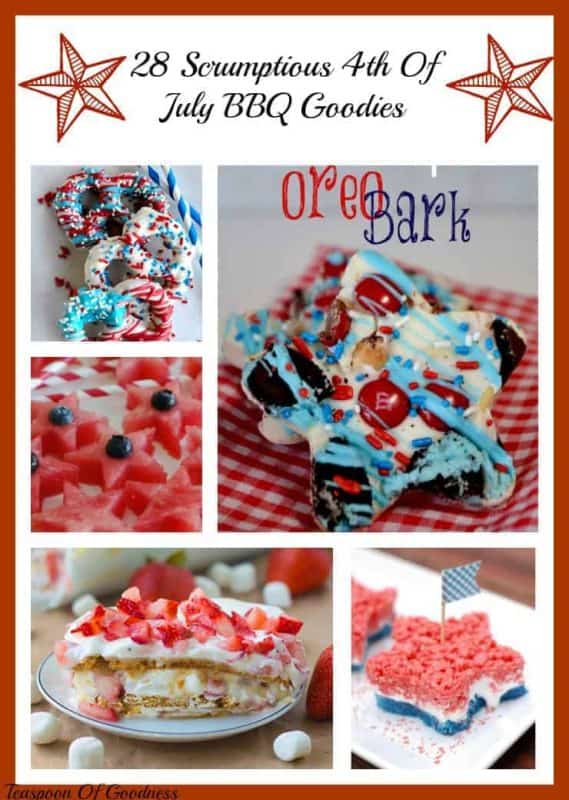 Pin
28 Scrumptious 4th Of July BBQ Goodies
Blackberry Lemonade
Strawberry Mint Lemonade
Strawberry Lemonade
Dill Glazed Carrots
Bacon Sriracha Potato Salad
Lemon Asparagus Pasta Salad with Cucumber and Feta
Red, White & Blue Overnight Oats
Watermelon & Blueberry Straws
4th Of July Fruit Kabobs
Patriotic Fruit Cones
4th Of July Banana Pops
Strawberry Ice Dessert
Strawberry Blueberry Cheesecake Salad
Strawberry Cheesecake Icebox Cake
Light Patriotic Trifles
Twizzler Firecracker Cupcakes
Red, White & Blueberry Ice Pops
4th Of July White Chocolate Dipped Cookies
Star-Spangled Pretzel Twists
Red, White & Blue Ooey Gooey Bars
Red, White & Blue Brownie Pops
Red, White & Blue Fruit Pizza
Patriotic Pudding Pops
Red, White & Blue Patriotic Oreos
Stars & Stripes Oreo Bark
4th of July chocolate Fudgsicles
Stars and Stripes Sugar Cookie Bars
Patriotic Sugar Cookie Bars
What are your holiday plans? Will you be celebrating with a 4th of July BBQ or keeping things low-key at home?