These healthy chocolate chip muffins are made with applesauce instead of oil, minimal sugar, and sometimes I cut out even more sugar completely. The amazing thing about these muffins is that you can easily make them into muffins or mini loaves and bake them for approximately 50 minutes.
To make Healthy Chocolate Chip Muffins you will need the following ingredients: flour, baking powder, baking soda, salt, mini chocolate chips, mashed bananas, sugar, egg, vanilla extract and applesauce.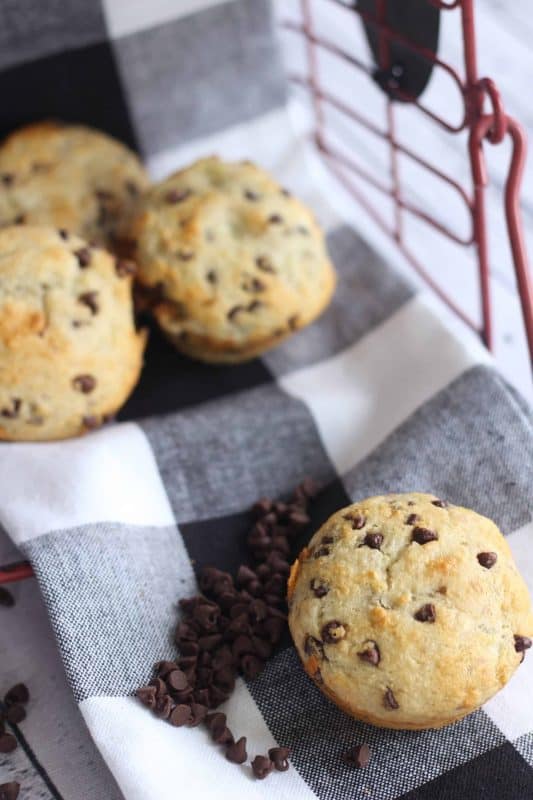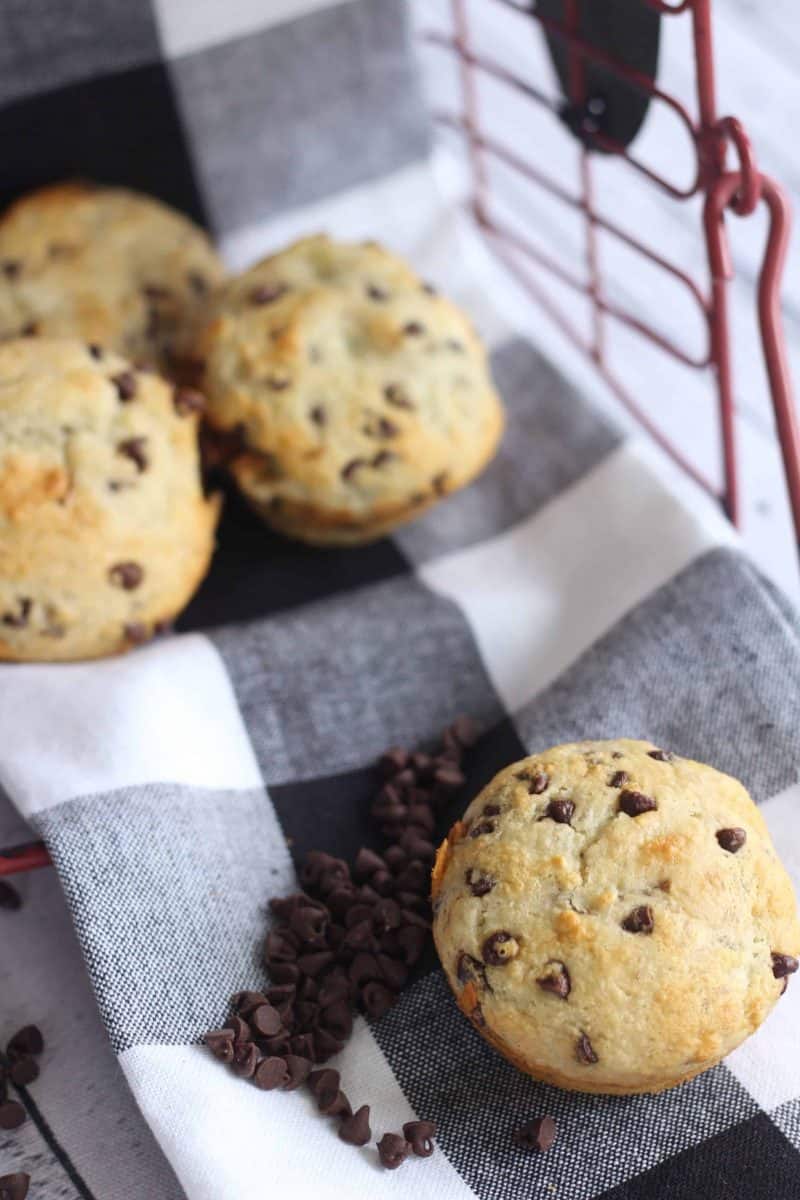 Pin
Giving mini chocolate chip muffin loaves out as gifts is a perfect way to share some sweetness with others. If you're thinking about making a delicious treat to give as a gift or to serve when entertaining guests, then these healthy chocolate chip muffins should be on the top of your list.
In the market for a new muffin tin? Try one of these top-rated picks!
Made By Design Non-Stick Muffin Tin
OXO Good Grips Non-Stick Muffin Pan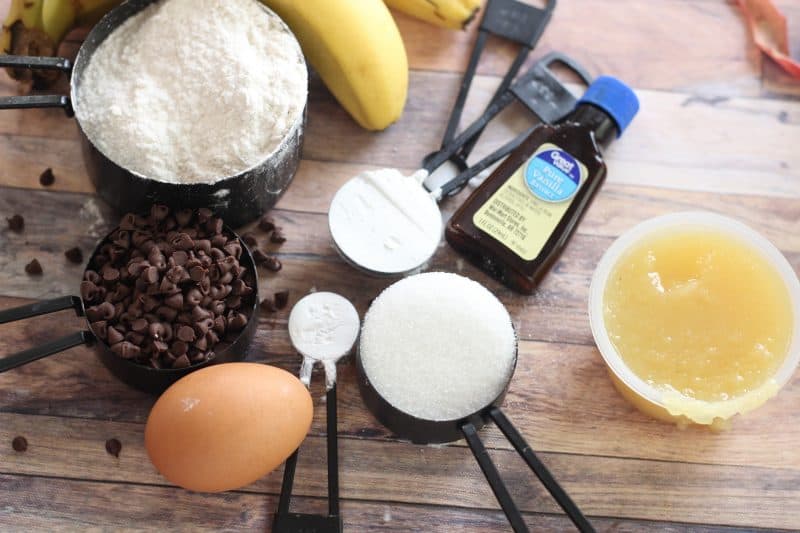 Pin
Tips for Making Healthy Chocolate Chip Muffins
---
You can use less sugar when you put chocolate chips into these muffins, the sugar isn't really necessary as the chocolate chips are sweet enough.
You can store these muffins for up to 3 days at room temperature or in the freezer for up to 3 months.
Place them into an airtight plastic bag, vacuum-sealed if possible to keep air from getting into your muffins or mini loaves.
If you don't want applesauce, you can replace it with oil, but the applesauce truly helps this be a healthier recipe and much fluffier in texture.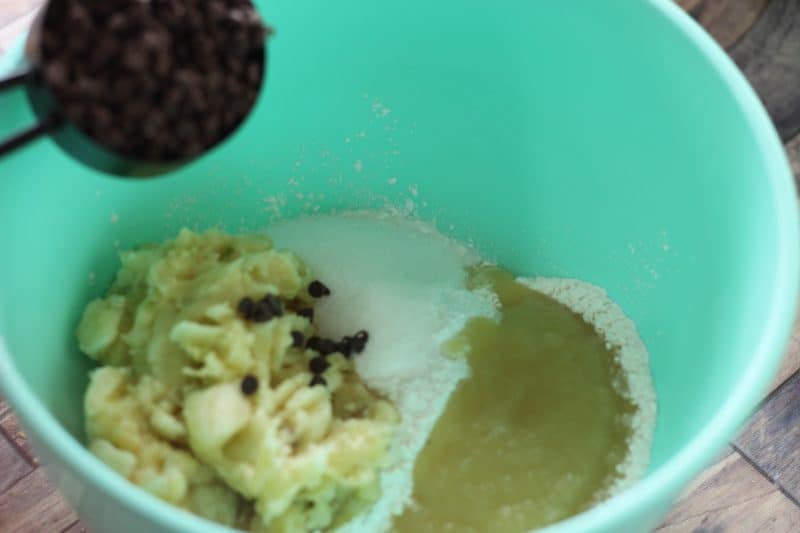 Pin
Common Questions About Muffins
---
Here are some of the most frequently asked questions about our yummy muffins:
How do you keep muffins from getting soggy?
Allow your muffins to cool for about an hour on a wire rack. Get a large airtight container and place a paper towel on the bottom of your container. Now you may put your muffins in a single layer on the paper towel inside this container. If you need to do any additional layers of muffins in this airtight container, be sure to separate each layer with a new paper towel. Storing your healthy chocolate chip muffins like this will ensure that your muffins don't get soggy.
Why did my muffins sink in the middle?
Muffins usually sink in the middle if you've overbeaten them during the mixing process. When too much air gets into your healthy chocolate chip muffins mix, due to over mixing, you'll find that your muffins end up sinking in the middle after baking.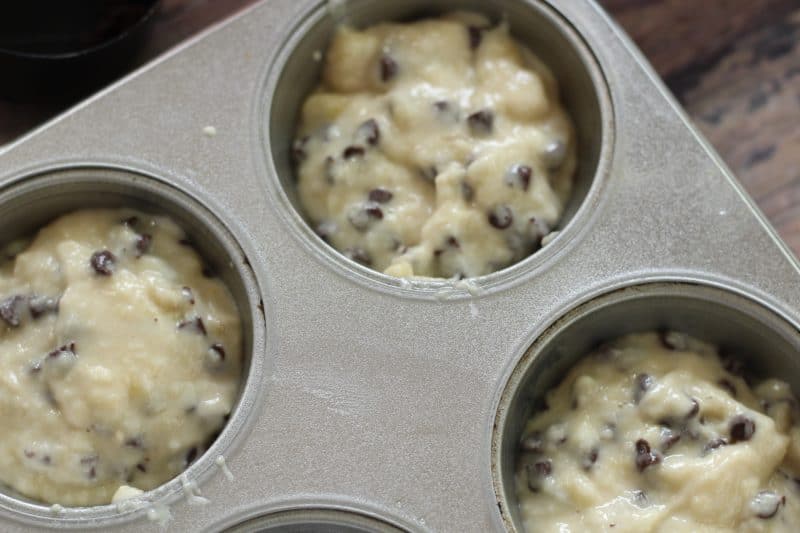 Pin
Other Muffin Recipes To Make
---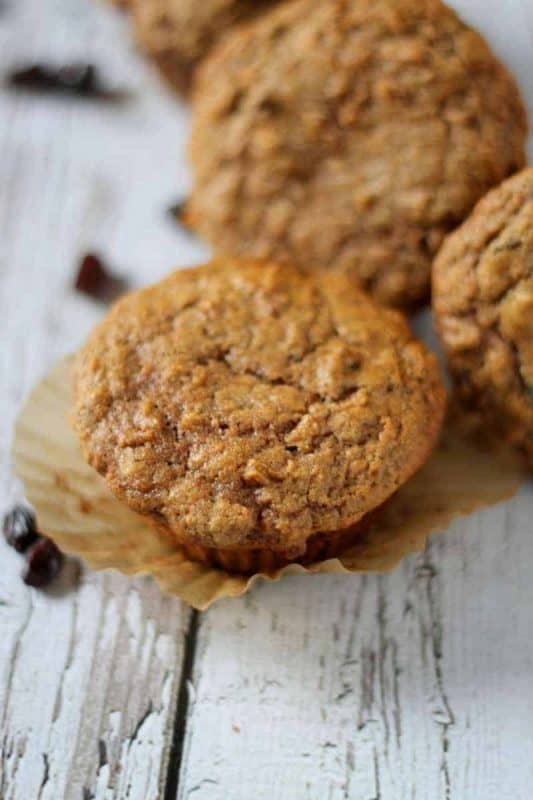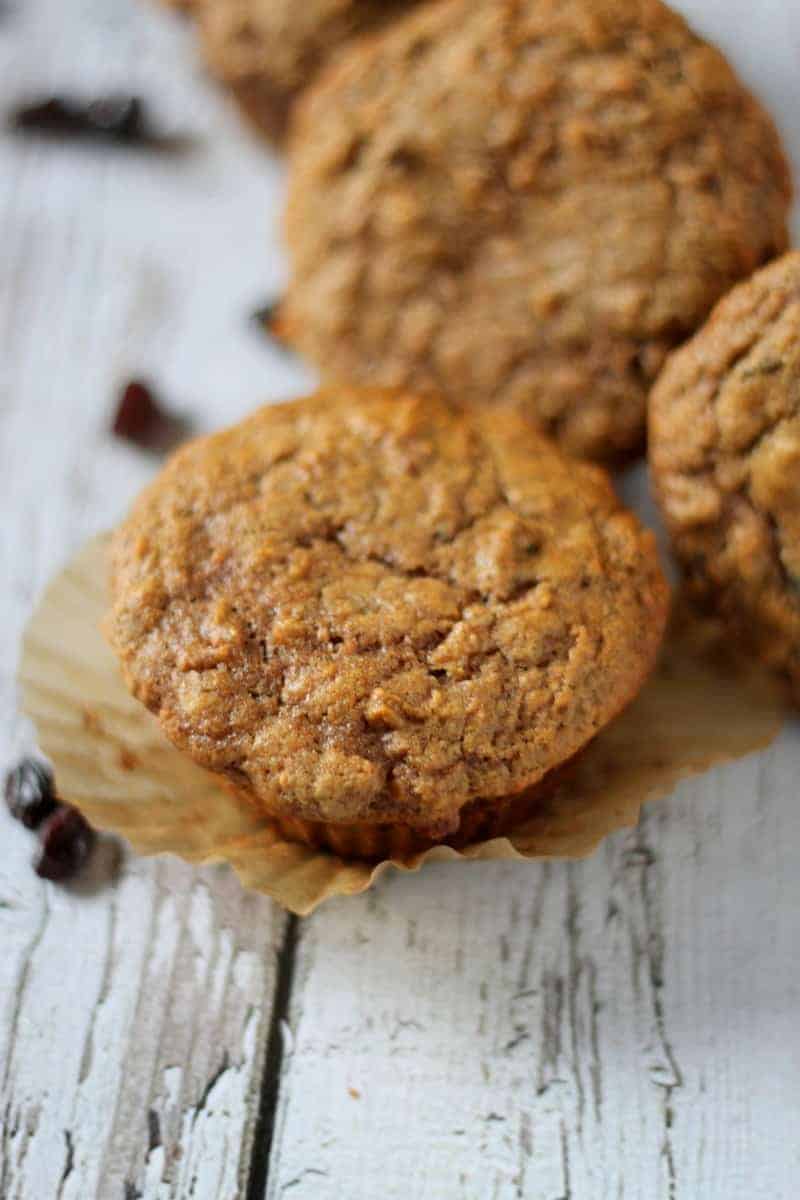 Pin
Chocolate Chip Muffins
---
Delicious healthy chocolate chip muffins made with applesauce to give you the best taste and texture ever.
If you loved this Healthy Chocolate Chip Muffins recipe let me know with a 5-star rating!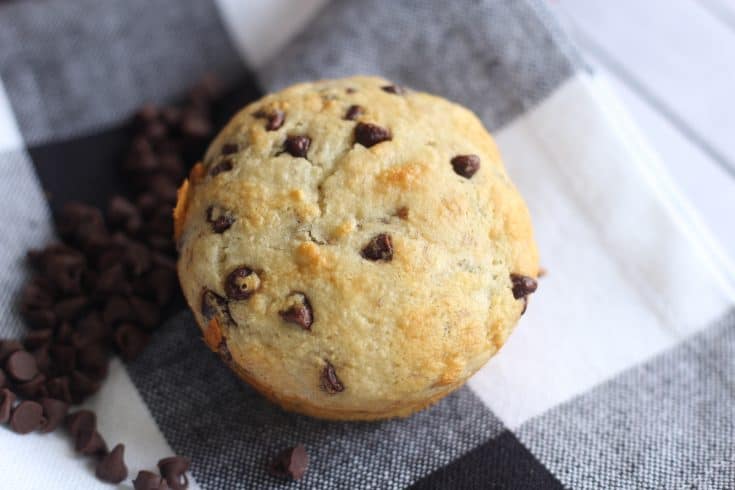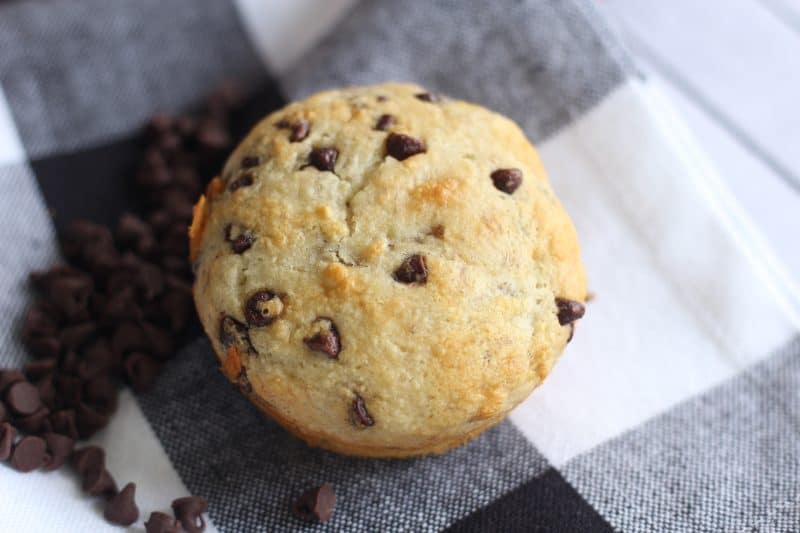 Yield:

12-15
Healthy Chocolate Chip Muffins
These healthy chocolate chip muffins are made with applesauce instead of oil, minimal sugar and sometimes I cut out even more sugar if I add chocolate chips into the recipe. 
Ingredients
1 cup all-purpose flour
1 tablespoon baking powder
1/2 teaspoon baking soda
1/8 teaspoon salt
1 cup mashed ripe bananas (I always use 3 good size ones)
1/4 cup sugar
1 large egg
1/2 teaspoon vanilla extract
1/4 cup applesauce
1/2 cup mini chocolate chips
Instructions
Heat oven to 350 degrees.
Combine dry ingredients in a bowl and mix well.
Add wet ingredients on top of the dry ingredients.
Mix the wet and dry ingredients together until well mixed. Mix as little as needed to accomplish this.
Portion evenly into muffin tins.
Bake 15-18 minutes.
Remove muffins to a cooling rack.