Do you love cookies and cupcakes? Check out this chocolate chip cookie dough cupcakes recipe that is the perfect combination of flavors to satisfy your cravings. A little moist cake, with sweetened cookie dough and of course the delicious chocolate chips make these chocolate chip cookie dough cupcakes a favorite dessert option for many.
To make Chocolate Chip Cookie Cupcakes you will need the following ingredients: Unsalted butter, egg whites, eggs, flour, baking powder, baking soda, salt, buttermilk, sugar, vanilla, chocolate chip cookie dough (purchased or homemade), cocoa powder, powdered sugar, heavy cream & mini chocolate chips.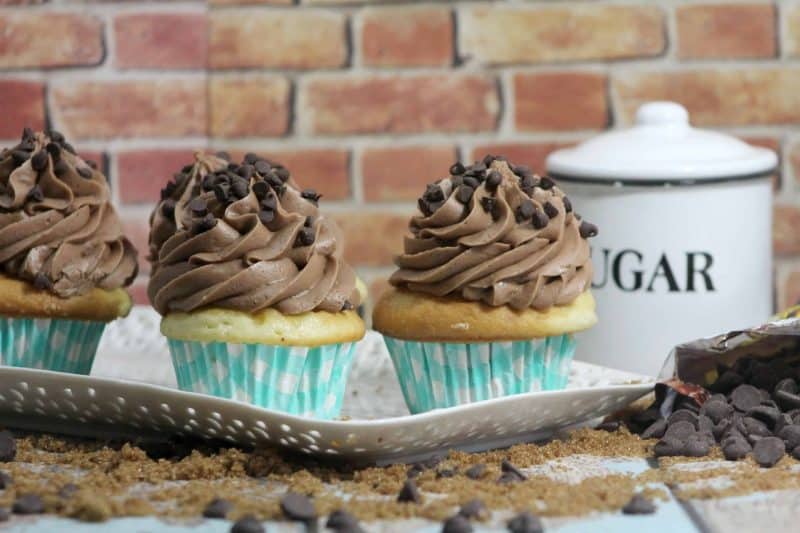 Pin
This easy basic cupcake recipe is simple to follow and will give you the moist and flavorful cupcake you want, without using a boxed mix. With just a few ingredients and steps, it's really a simple way to make a cupcake base that has great flavors and is easy to adapt for recipes like this one.
If you are like me and want to cut back on steps, simply grab your favorite packaged cookie dough in the refrigerated section instead of making homemade cookie dough. This gives you less work, and allows you to test out a few different cookie doughs. Make some with just chocolate chip cookie dough, and others with peanut butter chips or even the seasonal flavors. This will help give your cupcakes a bit of extra pep, and be a fun and tasty cupcake everyone will love.
Tips & Tricks to Making the Best Chocolate Chip Cookie Cupcakes
I really can't say it enough but take the time to cream your butter and sugar. This stage ensures your sugar is dispersed evenly throughout the cupcake recipe & it whips more air into your cupcake resulting in a lighter, fluffier cupcake.
Add your eggs one at a time and beat your batter for 30 seconds to a minute between each addition. This process helps keep air bubbles in your mixture.
Sifting your dry ingredients before hand helps with even the distribution of the baking soda, baking powder and salt.
I'll admit I'm awful at this step but can see a difference when I actually do it. Having room temperature ingredients for things like your eggs and your butter. Having room temperature butter will help it cream together smoother and faster with your sugars. Having room temperature eggs will also cause a smoother mix.
Using a scoop of some kind that gives you a uniform cupcake.
Only allow your cupcakes to cool in the pan for a minute or two. Once they are cool enough to touch you need to remove them as your pan will hold the heat in and continue to bake your cupcakes.
HELPFUL TOOLS TO MAKE CHOCOLATE CHIP COOKIE DOUGH CUPCAKES
The following are affiliate links. We are a participant in the Amazon Services LLC Associates Program, an affiliate advertising program designed to provide a means for us to earn fees by linking to Amazon.com and affiliated sites.
As mentioned above when I make cupcakes of any kind I use a cupcake scoop to ensure even size. Having the same amount of batter each time means they all cook evenly, and doesn't leave you with some cupcakes dried out from over baking and some cupcakes under-cooked.


A solid cupcake pan that you can rely on! I've always had wonderful luck with my Wilton cupcake pans.


A trusty hand mixer for those times you don't want to get your KitchenAid mixer out.



Chocolate Chip Cookie Dough Cupcakes Recipe
Learning how to make chocolate chip cookie dough cupcakes is a cinch with the right tools and ingredients! In no time at all you'll have your family begging you to make another batch of these chocolate chip cookie dough cupcakes.
If you loved these chocolate chip cookie dough cupcakes from scratch as much as my family let me know with a 5 star rating!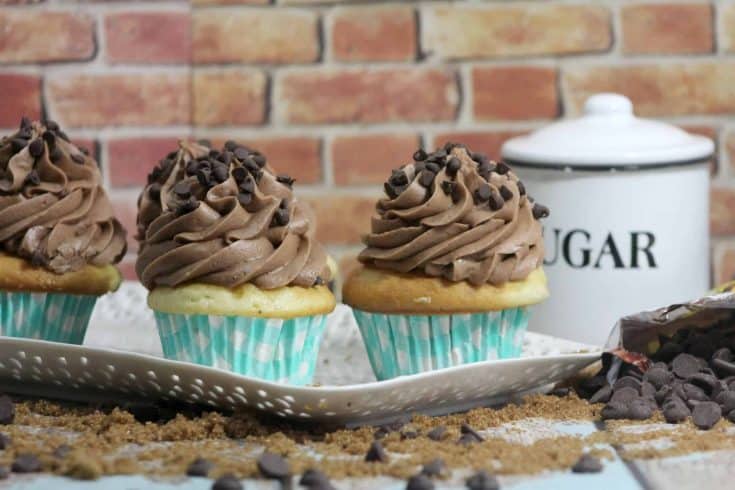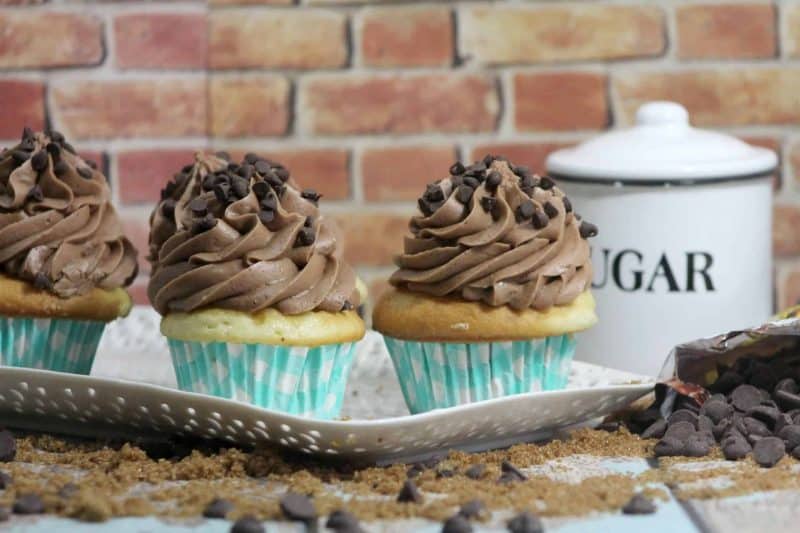 Chocolate Chip Cookie Dough Cupcakes
Cook Time: 25 minutes

Total Time: 25 minutes
Ingredients
Cupcakes
1/2 C unsalted butter, room temp
2 egg whites
2 eggs
2 C flour
1 tsp baking powder
1/2 tsp salt
1/4 baking soda
3/4 C buttermilk
1 1/2 C sugar
1 tsp vanilla
Chocolate Chip Cookie Dough , **purchased or homemade**
Frosting
1 C unsalted butter, softened
3/4 C cocoa powder
3 C powder sugar
3/4 C heavy cream
Bag of Mini Chocolate Chips
Instructions
Cupcakes
Preheat oven to 350 degrees.
Line cupcake pan with paper liners.
Sift flour, baking powder, salt, and baking soda together in a bowl.
Beat butter on high for 30 seconds.
Add sugar and vanilla extract to the butter and beat until well combined.
Add egg whites, one at a time, mixing after each.
Add eggs, one at a time, mixing after each.
Add 1/3 C flour mixture to the wet mixture followed by adding 1/3 C of the buttermilk; add 1/3 C flour mixture again then add 1/3 C buttermilk mix on low speed, add 1/3 C of flour and add the rest of 1/3 C of buttermilk mix in low speed until thoroughly blended.
Scoop "some" of the dough into the lined cupcake tins. (About 1/2 full).
Take 1 TBSP of chocolate chip cookie dough and push the dough to the bottom of the lined cupcake tin... Fill in the rest of the cupcake tin with the cupcake batter.
The batter should reach 2/3rds of the top of the lined cupcake holders.
Bake at 350 degrees for 20-25 minutes or until an inserted toothpick comes out clean.
Cool for 10 minutes.
Remove to a wire rack until fully cooled.
Frosting
Beat the softened butter on its own until smooth.
Add cocoa and powder sugar alternately with heavy cream into the creamed butter until it becomes a smooth and thick texture.
If the frosting is too thick, add more heavy cream, if too thin, add more powder sugar.
Scoop into a pastry bag with a large frosting tip and frost the cupcakes working from the outside edge of the cupcake working in a circle to the center of the cupcake.
Top with 1/2 handful of mini chocolate chips on top of the frosted cupcake.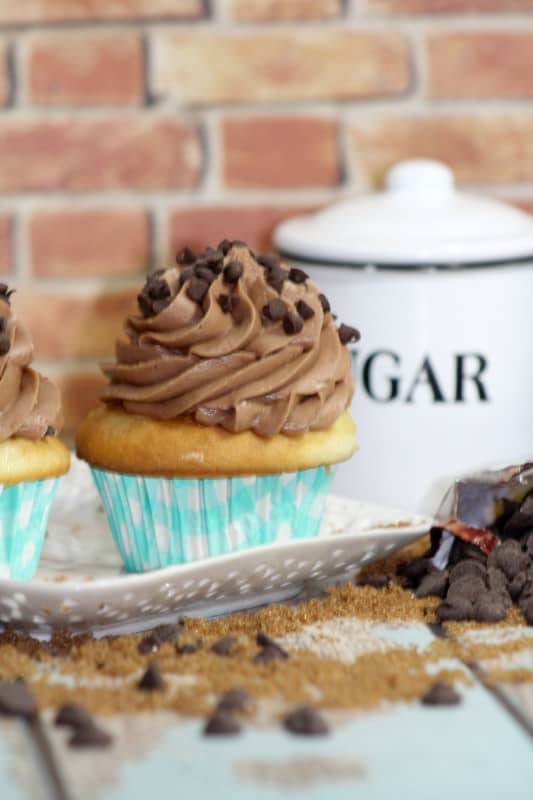 Pin
IF YOU LIKED THIS CHOCOLATE CHIP COOKIE DOUGH CUPCAKE RECIPE YOU MIGHT ALSO ENJOY…
From left to right: No Bake Chocolate Chip Cookie Dough Balls, Lemon Blueberry Cupcakes, S'mores Cupcakes