This easy fudge recipe will surely make your football watching guests happy this season. Old-fashioned fudge is the perfect half-time food for that football party you're hosting during this year's football season.
This is such an easy chocolate fudge recipe that allows you to make a deliciously crowd-pleasing treat that look like little footballs. Trust us, guests will love this treat!
To make this easy fudge recipe decorated like footballs you will need the following ingredients: white sugar, corn syrup, brown candy melts, marshmallow cream fluff, heavy cream, butter & white decorating gel.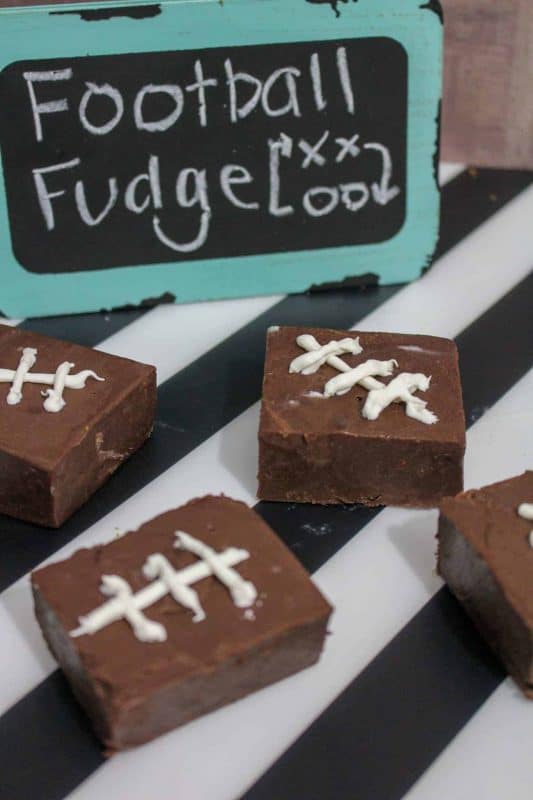 Pin
Football season has arrived and with that comes the need to find new recipe ideas that feed a crowd and then some. This football fudge recipe is a great way to showcase your love of the game and serve guests something that really fits the theme of the day.
Serving unique appetizers, finger foods, and desserts are a fun way to ensure your football party guests leave with a full belly.
Check out these versatile serveware options to add to your collection:
Circle Serve Board by Hearth & Hand
The football fudge recipe I'm sharing today is one of the easiest chocolate fudge recipes to make. All you need to have is a handful of ingredients and about three to four hours of time to whip up this party food. Expect to have your football party guests be amazed at the chocolaty flavor with every bite of these football fudge treats.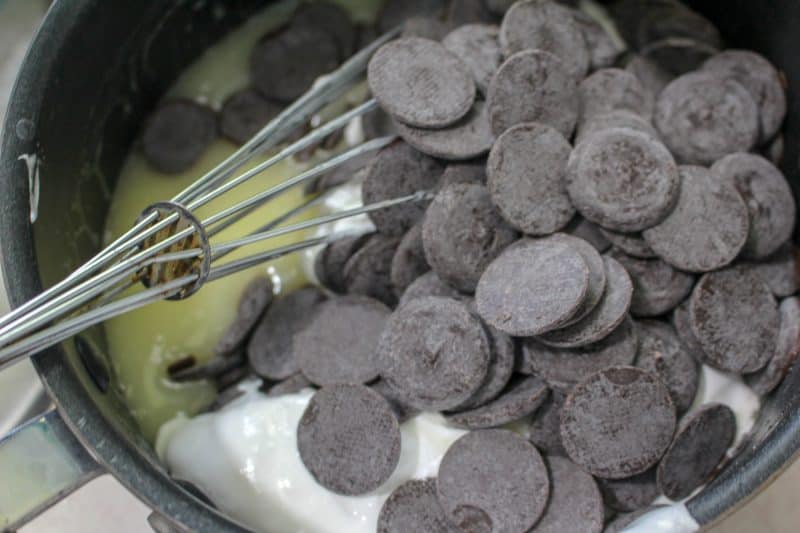 Pin
Tips & Tricks to Making This Easy Fudge Recipe
You can melt down chocolate chips instead of using candy melts.
You can melt down mini marshmallows instead of using marshmallow fluff.
Keep a close eye when heating up the ingredients on the stovetop, as they heat rather fast.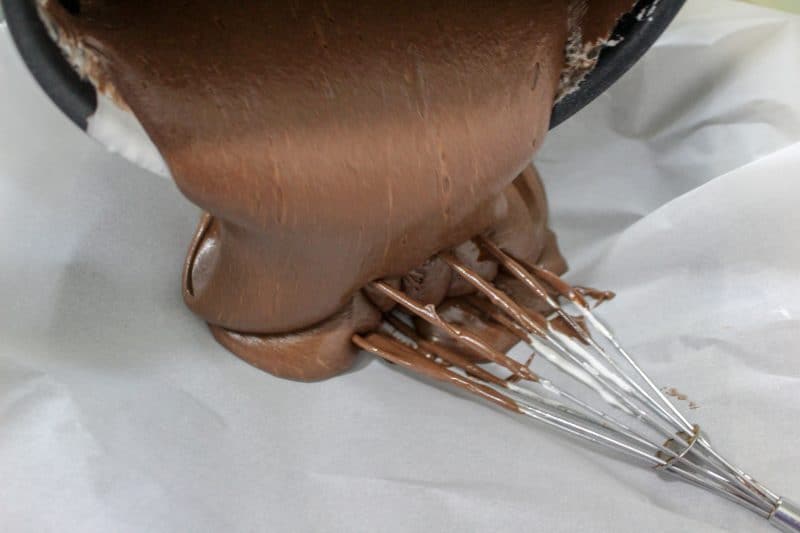 Pin
Easy Fudge Recipe FAQS
Here are some of the most frequently asked questions about Football Fudge:
Is fudge hard to make?
Fudge has simple ingredients but you can't let the boiling crystalize the ingredients or your football fudge will be junk and you'll have to start over, even losing a pan in the process due to the crystallization of the ingredients sticking to heavily to the pan.
How long does fudge last?
If you're looking to make this football fudge and store it for future football party snack ideas, you should know that you can store fudge for up to 2 weeks in a cool place, but if storing in the fridge fudge can last three to four weeks.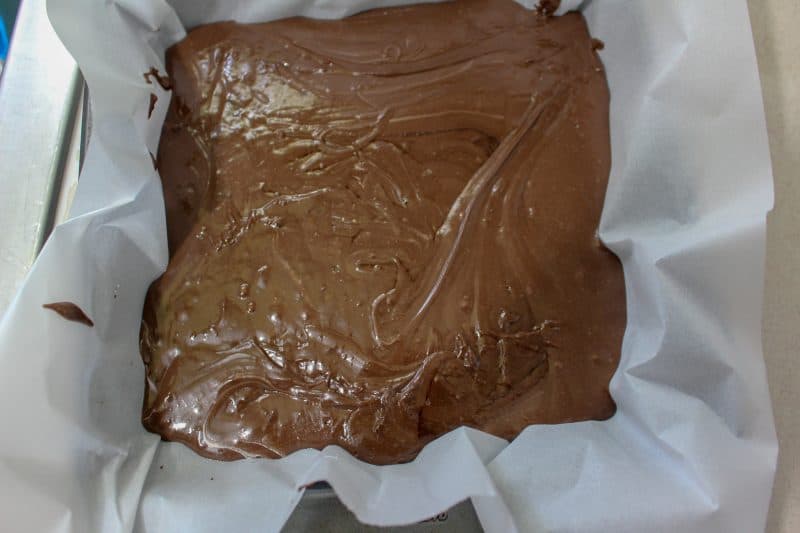 Pin
Easy Fudge Recipe
Enjoy a delicious football party food treat with this easy to make football fudge recipe that gives your football fans a sweet treat while watching the big game.
If you loved this easy fudge recipe let me know with a 5 star rating!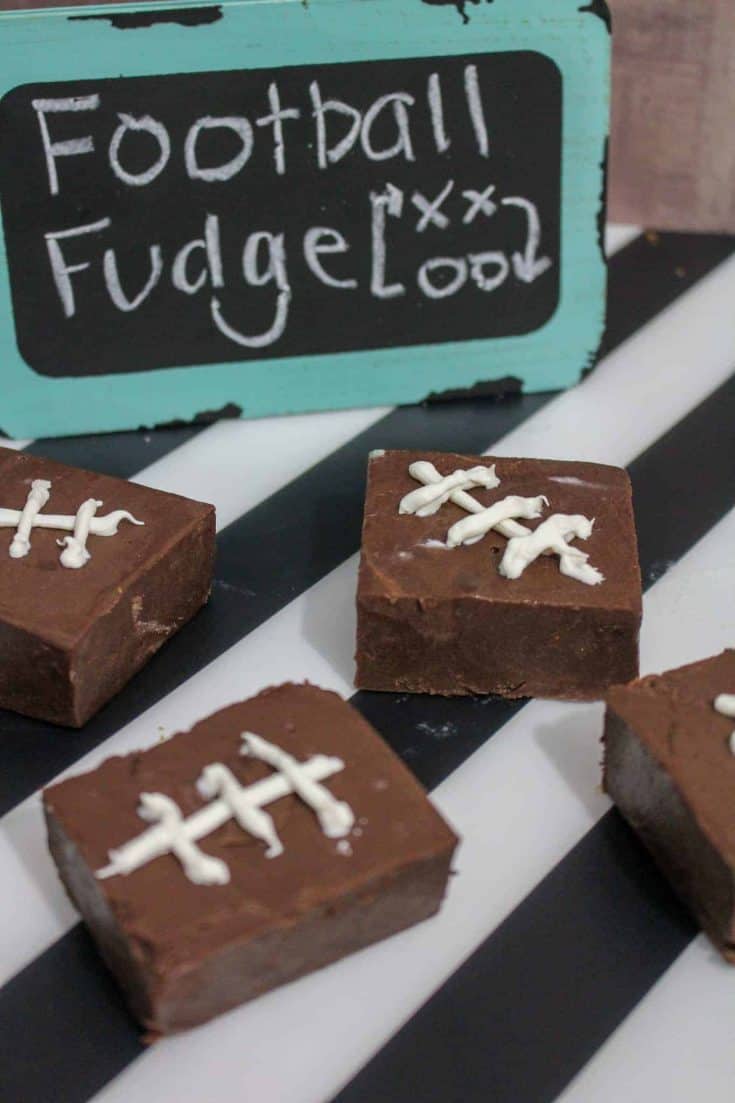 Easy Fudge Recipe Decorated like Footballs
This is such an easy chocolate fudge recipe that allows you to make a delicious football party food option that looks like footballs. Your guests will be amazed by your artistic talent as you serve football fudge during the football game event.
Ingredients
1 ¾ cup sugar
2 tbsp corn syrup
1 12 oz bag candy melts, brown
1 7 oz jar marshmallow cream fluff
½ cup heavy cream
10 tbsp of butter
White decorating gel
Instructions
Prepare a 9x9 baking dish by lining with parchment paper.
In a large saucepan, combine together the butter, sugar, cream and corn syrup.
Cook over medium heat until it boils, stirring constantly.
Continue to cook for 4 minutes.
Remove from heat and stir in brown candy melts and marshmallow fluff. Stir until smooth.
Pour into your prepared pan.
Let set for a few hours.
Cut into cubes and using white decorating gel, make the football laces.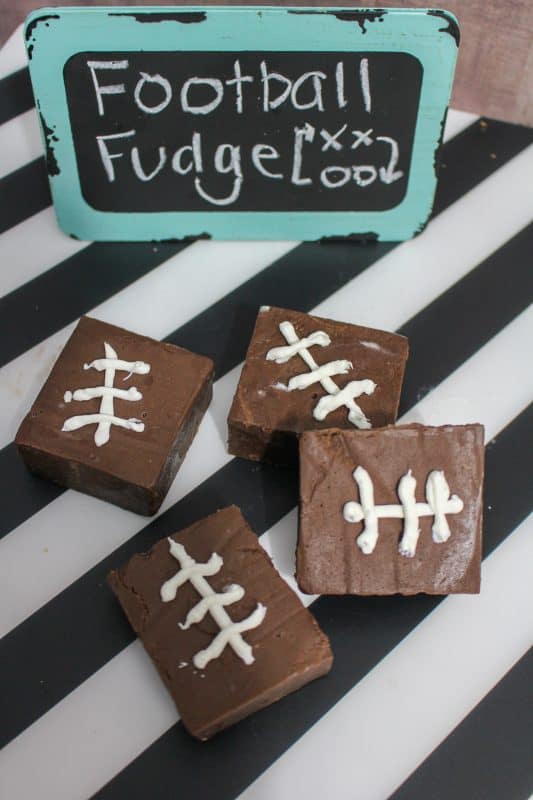 Pin
Don't miss out on these other mouthwatering appetizers for your football party:
Ham & Swiss Slides with Hawaiian Bread
The Ultimate Snacking Last-Minute Party Ideas
Freezer-Friendly Meatball Recipe