Are you wondering how to cook beef stew? Beef stew is the perfect warm you up option during the colder months. This beef stew recipe is easy to make and doesn't require a lot of effort. The really great thing about this beef stew recipe is that you can make this in the slow cooker, just put the ingredients in the slow cooker on low for 8 hours.
To make Slow Cooker Homemade Beef Stew you will need the following ingredients: Stew meat, carrots, an onion, celery, potatoes, season salt, beef base and water.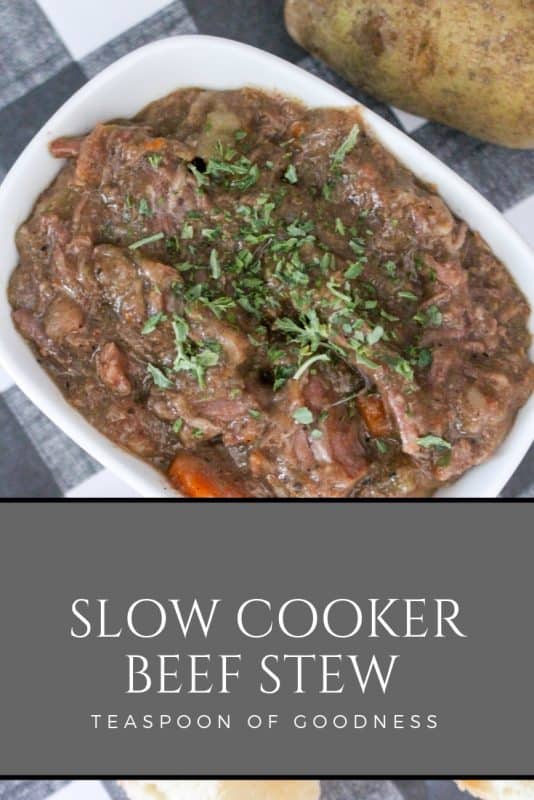 Pin
Beef stew is a familiar stew that many people have enjoyed. The thing about beef stew though is that it never gets old. Enjoying a hot cup of the best beef stew recipe is a delicious way to warm your bones during the cold winter season. This comfort food is quite often a popular choice, and when the meat is cooked to the perfect tenderness, it's a delicious option to serve guests, family or just indulge in for yourself.
This beef stew recipe is not only a great option for comfort food to warm your bones, but it's the perfect freezer meal option for anyone making homemade freezer meals. You can easily put some of the beef stew recipe into freezer bags to store for later consumption. If you're raising a large family or simply love this beef stew recipe, freezing the leftovers for later enjoyment will surely be cost effective and reduce future time in the kitchen for dinner time.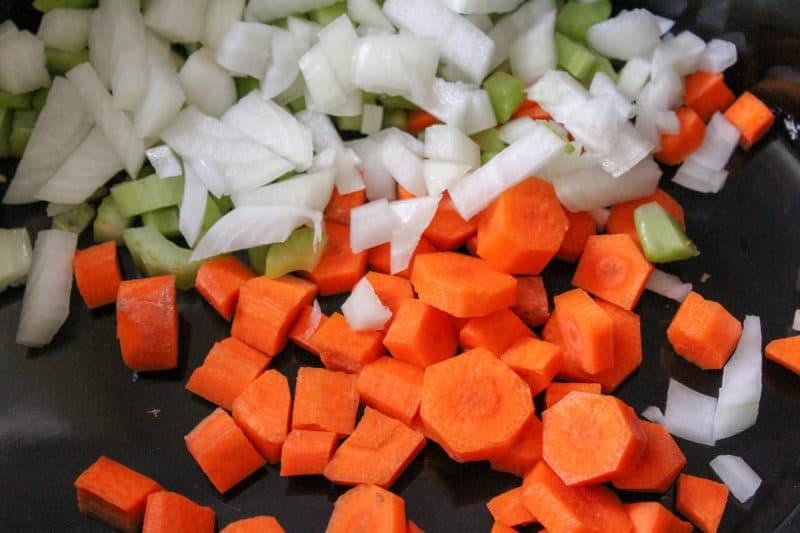 Pin
Tips & Tricks to Making Beef Stew
Be sure to sear the beef well, so that it gets to the desired level of tenderness.
Cook the beef in a wok or a Dutch oven to get the beef to optimal tenderness.
Save time by cooking this beef stew recipe in a slow cooker on low for 8 hours.
Sear the beef chunks in multiple batches to avoid getting gray lumps.
For a thicker beef stew, toss your beef chunks in flour or cornstarch before searing.
If you like a little crunch to your vegetables, add them when there's 45 minutes left for the stew.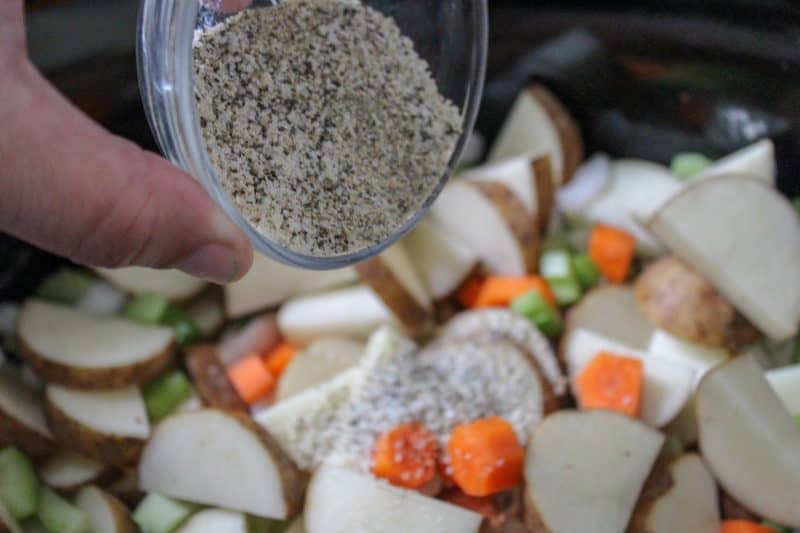 Pin
Beef Stew FAQS
Here are some of the most frequently asked questions about Beef Stew:
How do you make stew meat tender?
Place beef chunks in a pan on low with olive oil until all sides are brown. The slower you cook the beef stew meat, the more tender it will be.
What cut of beef is best for stew?
Chuck.
Bone-in short rib.
Bohemian (Bottom Sirloin Flap)
Oxtail.
Fatty brisket ("point" or "second cut")
Cross-cut shanks
What are the best potatoes for beef stew?
In general any potato will work well, ideally, red potatoes are lower in starch, but fingerling potatoes do well in stews and soups too.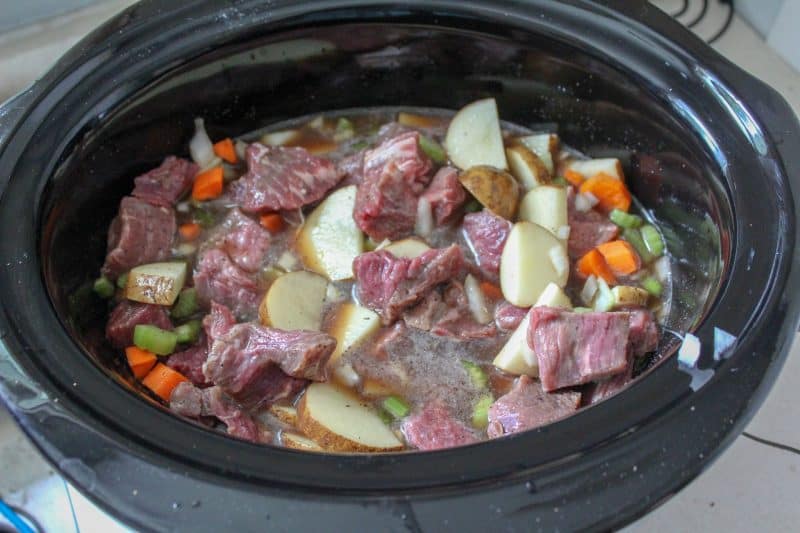 Pin
SLOW COOKER BEEF STEW
This is the best beef stew recipe to make and freeze for later enjoyment. Make your own freezer meal with this beef stew recipe.
If you loved this slow cooker beef stew recipe let me know with a 5 star rating!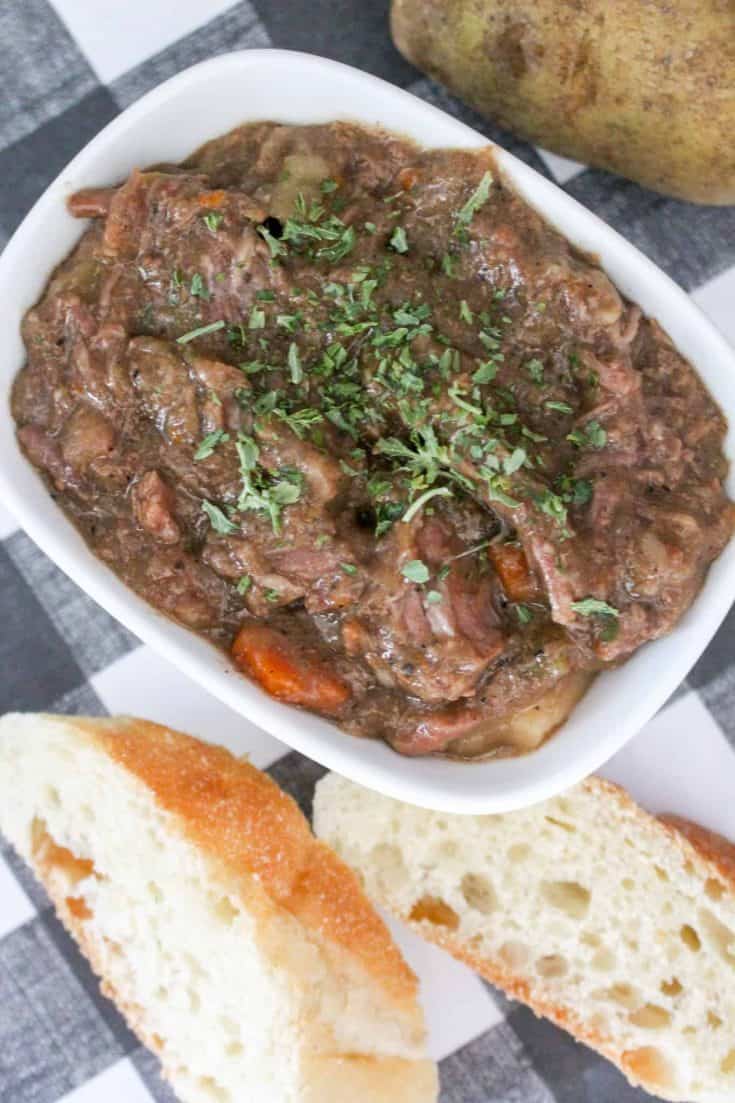 Yield: 8
Slow Cooker Beef Stew
Prep Time: 15 minutes

Cook Time: 9 hours

Total Time: 9 hours 15 minutes

This is the best beef stew recipe to make and freeze for later enjoyment. Make your own freezer meal with this beef stew recipe.
Ingredients
2 lbs of stew meat
4 potatoes
3 carrots
2 stocks celery
1 onion
1 tbsp of beef base
4 cups water
2 tbsp of season salt, ¼ salt, ¼ pepper, ¼ garlic powder, ¼ onion powder
Instructions
Peel and cut the carrots into bite sized pieces. Add to the bottom of your slow cooker.
Cut the celery and add to the slow cooker with the carrots.
Cut the potatoes and also add to the slow cooker.
Dice the onion and add to your mix of vegetables.
Add the meat.
Sprinkle with seasoned salt.
Make 4 cups of beef stock and add to slow cooker.
Set slow cooker to low and cook for 8 hours.
Once done remove lid and serve immediately.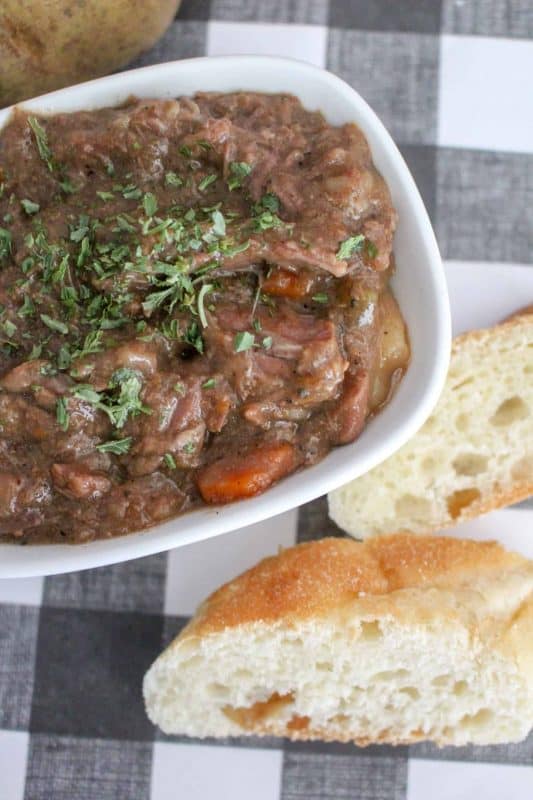 Pin
IF YOU LIKED THIS BEEF STEW RECIPE YOU MIGHT ALSO ENJOY…
Macaroni and Cheese Soup, Cheddar Beer Bread, Crock Pot Potato Soup