This simple Chicken Fajita Recipe is a great choice for any easy weeknight meal.  The great flavors in this seasoning blend are so much better than the packets you buy in store. With bright fresh flavors, you'll be surprised at how much better these taste than what you've been making.
To make these Easy Weeknight Chicken Fajita recipe you will need the following ingredients: Chicken breasts, yellow onion, green pepper, red or orange pepper, water, oil, salt, soy sauce, chili powder, cayenne pepper, and onion powder.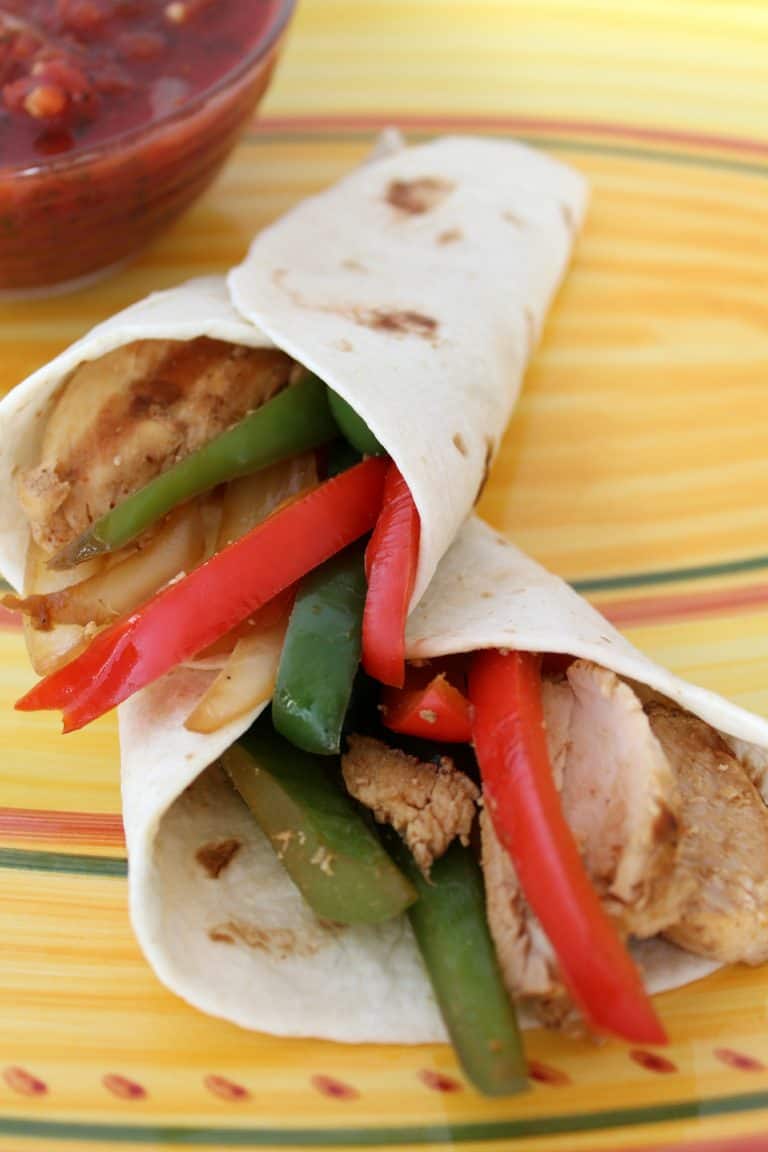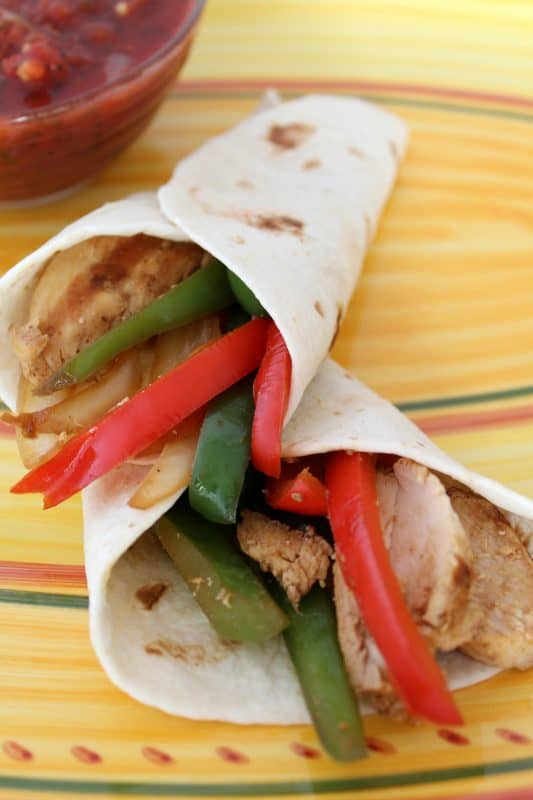 A huge bonus of this chicken fajita recipe is the lack of sodium. While it does include a bit of salt in the soy sauce, it won't be nearly as bad as the packaged seasoning blends you are use to. That makes it a much healthier option the entire family will enjoy.
To marinate your chicken, I recommend adding the meat to a gallon Ziploc bag that has been double bagged to protect from leaks. This makes cleanup much easier, and is simple to place on the shelf in your refrigerator. You need to marinade for at least 2-3 hours, but you can easily prep this blend and freeze your chicken in the marinade for future use. I love prepping meals ahead like that for a fast thaw and prepare dinner!
This chicken fajita recipe is going to become a favorite of the whole family. This can be served over a salad for those watching their carbohydrates, or in a corn or homemade flour tortilla. We enjoy some salsa, guacamole, cheese and even a bit of sour cream on ours. Serve yours with all of your family favorite additions and enjoy a delicious and healthy meal that is easy to prepare for any weeknight meal.
Tips & Tricks to Making this Simple Fajita Recipe
Freezing your liquid fajita marinade and chicken together makes this meal SO EASY on nights when you know you're going to be pressed for time.  Just thaw during the day while you're at work and you're main entree is less than 20 minutes away from complete.
Liquid smoke for chicken is a staple in my house and this recipe is no different!  It's really the secret ingredient that sets these chicken fajitas apart from others.  A light smoky flavor without all the work.
If members of your family like your fajitas with a bit of spice you can easily sub out the green pepper for either an Anaheim or Poblano pepper.  When I do this I like to cut them a tad skinnier and shorter than my other peppers so that my younger kids can pick them out.
When marinating I do like to double Ziploc my meat and marinade to prevent messes.
If you're marinating your meat the day of it, works great to combine all your marinade ingredients in a 9×9 inch pan covered with saran wrap.
SIMPLE FAJITA RECIPE FAQS
Here are some of the most frequently asked questions about simple fajita recipes:
How do you make chicken fajitas?
Chicken fajitas really come together easily!  There are several great marinades out there and then it's mostly about searing your chicken and vegetables quickly as you cook them.  Using your favorite peppers is including green peppers, red peppers, orange peppers, anaheim peppers, and poblano peppers.
What is a good side dish with chicken fajitas?
The obvious choices for most of us is of course refried beans, cilantro lime rice & spanish rice.  Other wonderful side dish choices could be mexican coleslaw, black beans with cilantro and lime, mexican corn, street corn, and an avocado salad.
Are fajitas healthy?
This is a tricky question for sure.  I think that depends on what you chose to top them with.  Corn tortillas make fajitas healthier than flour tortillas and limiting the addition of extra salt and sugar really helps.  I really like to let my meat be the star with fajitas and try to keep my toppings to a minimum and this really helps to keep them on the healthier side.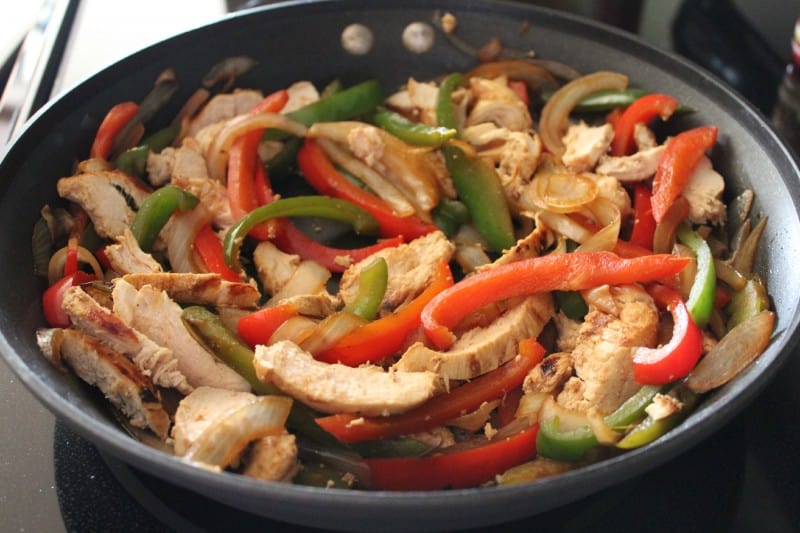 HELPFUL TOOLS TO MAKE EASY WEEKNIGHT CHICKEN FAJITAS
The following are affiliate links. We are a participant in the Amazon Services LLC Associates Program, an affiliate advertising program designed to provide a means for us to earn fees by linking to Amazon.com and affiliated sites.
When I bought my first tortilla warmer it was an impulse buy that I figured was a silly one. Boy was I wrong! I love this thing for tortillas, pancakes, waffles and more!


How cool is this fajita station? This would easily keep everything in one place when you're serving buffet style.


Easy Weeknight Chicken Fajita Recipe
This simple Chicken Fajita Recipe is a great choice for any easy weeknight meal. The great flavors in this liquid fajita marinade are so much better than anything you could purchase in a store.
If you loved this Simple Fajita Recipe let me know with a 5 star rating!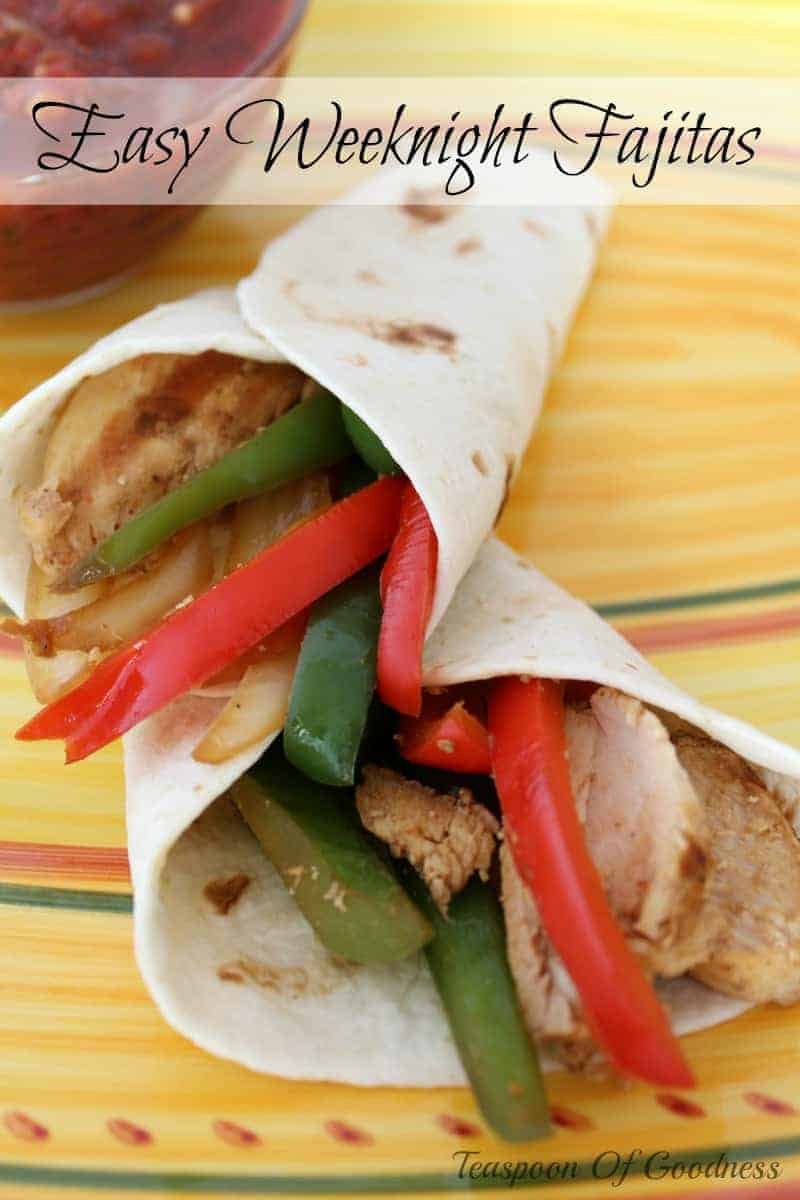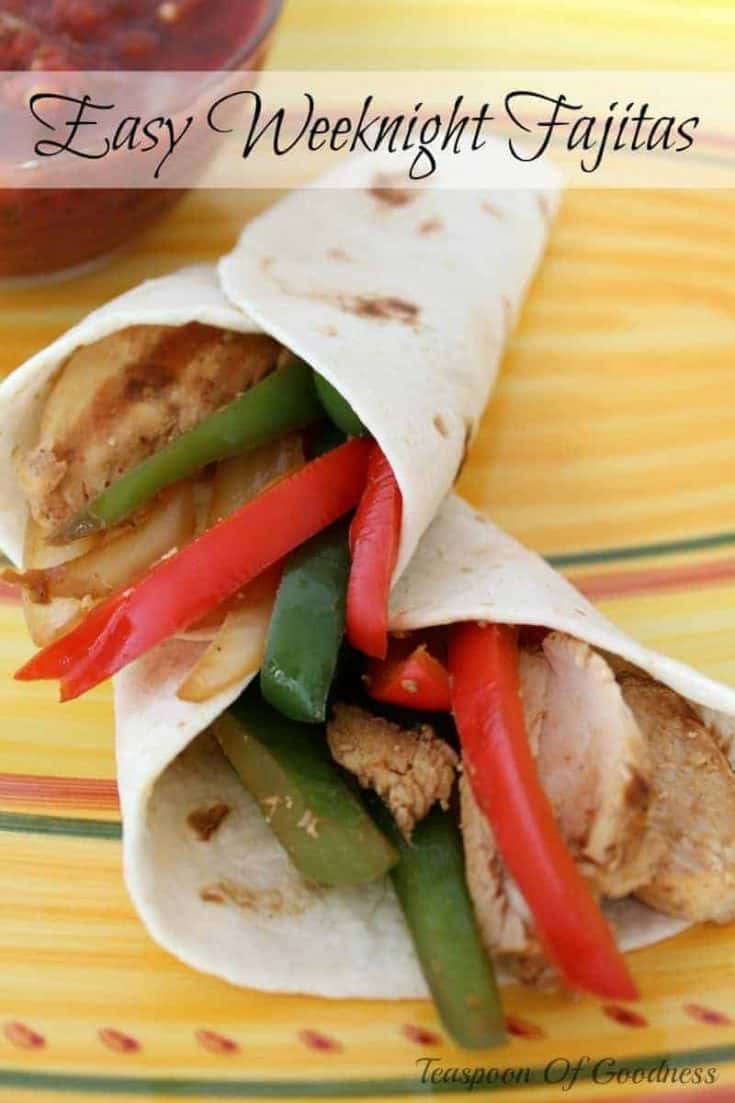 Easy Weeknight Chicken Fajitas Recipe
Ingredients
Marinade Ingredients
¼ cup fresh lime juice, about 3-4 limes
1/3 cup water
2 tablespoons vegetable oil
2 large cloves garlic, minced
1 teaspoon salt
3 teaspoons apple cider or red wine vinegar
2 teaspoons soy sauce
½ teaspoons chili powder
½ teaspoon cayenne pepper
½ teaspoon liquid smoke , – this is the secret ingredient it's worth it to have a bottle of hand just for this!
¼ teaspoon black pepper
1/8 teaspoon onion powder
Fajita Ingredients
1 1/2 pounds chicken breasts, about 3 large chicken breasts
1 yellow onion, cut into thin strips
1 green pepper, cut into thin strips
1 red or orange pepper, cut into thin strips
1 teaspoon soy sauce or liquid aminos
2 tablespoons water
½ teaspoon lime juice, a quick squeeze of a cut lime
dash of salt and pepper
Instructions
Combine all marinade ingredients in a small bowl. Place chicken in a ziploc bag and pour the marinade ingredients over the top. Seal the bag and place in the refrigerator and let marinate for 2-3 hours.
After marinading, take chicken out of the bag and discard the marinade.
Grill or broil the chicken 5-7 minutes per side . Remove from grill or pan and tent with foil to keep warm.
In a large nonstick skillet, heat 1 tablespoon oil over medium heat and add the onion and peppers.
Stir fry until softened but still crisp tender. Add soy sauce, water, lime juice and salt and pepper. Cook another 2-3 minutes, stirring frequently.
Slice chicken thinly on the diagonal and toss with the vegetables in the skillet. Cook an additional 2-3 minutes.
Serve immediately with flour tortillas and your favorite fajita fixings.
Notes
I put the chicken even when it's frozen into the marinade and let it thaw as it sits. The longer it's in the marinade the better (2-3 hours is good). I will often get the chicken marinating before I leave for the day and then in the evenings this meal is easy to put together.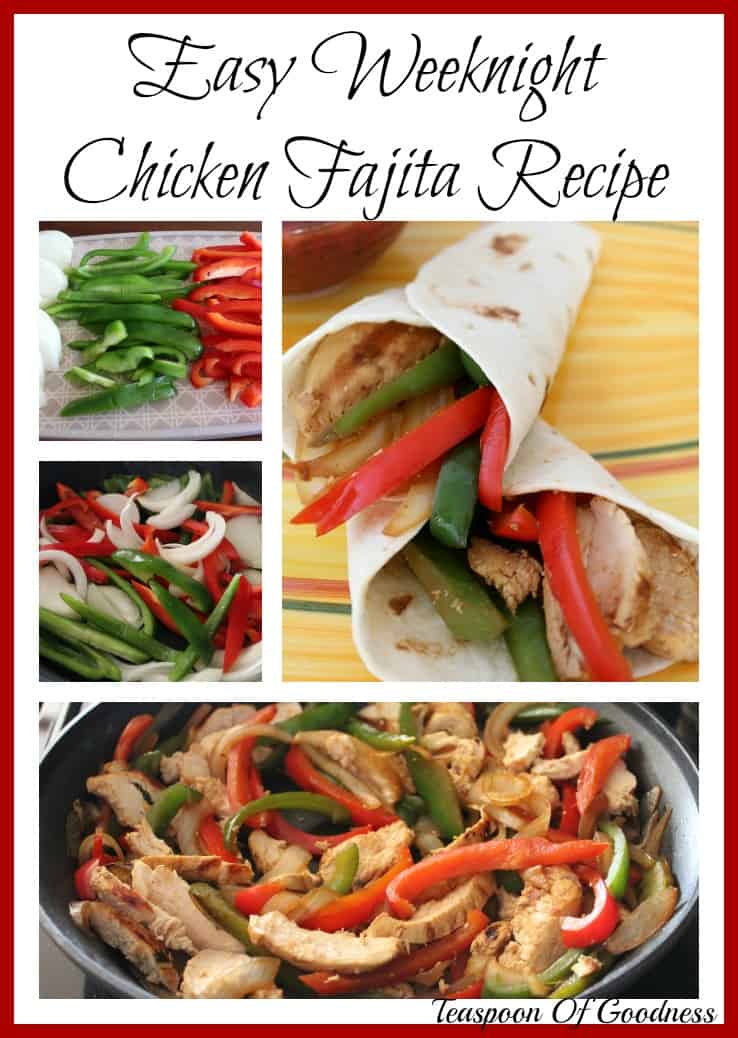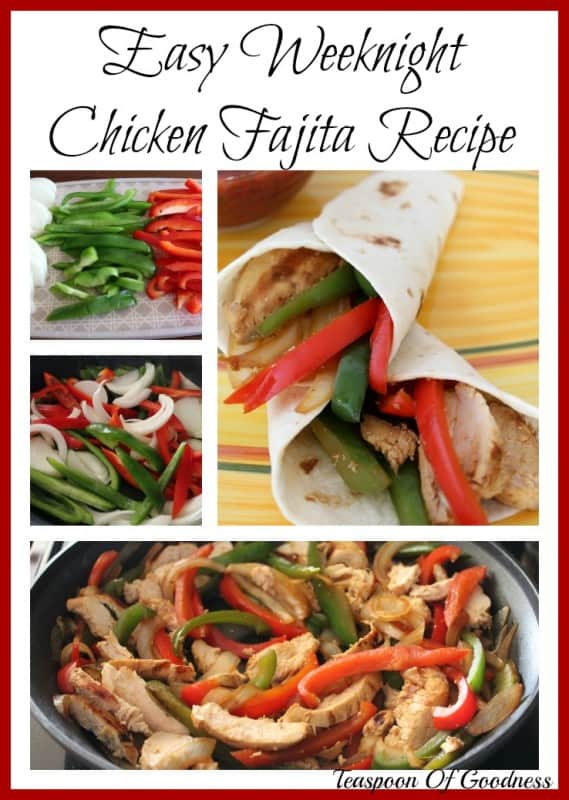 IF YOU LIKED THESE CHICKEN FAJITAS YOU MIGHT ALSO ENJOY…
From left to right: Teriyaki Honey Chicken Meatballs, Mini Bacon & Chicken Stuffed Peppers, One Pan Baked Chicken & Potatoes