We have been gearing up for summer in our house and that means plenty of gatherings. I have a variety of recipes that I like to take to these gatherings, when I'm asked to bring dessert cupcakes are always a hit. Most recently these Lemon Blueberry Cupcakes with Lemon Buttercream Frosting have been off the charts with everyone's taste buds.
To make Lemon Blueberry Cupcakes with Lemon Frosting you will need the following ingredients: Unsalted butter, sugar, brown sugar, large eggs, vanilla extract, baking powder, salt, buttermilk, zest and juice of 3 lemons, blueberries, powder sugar, & heavy whipping cream.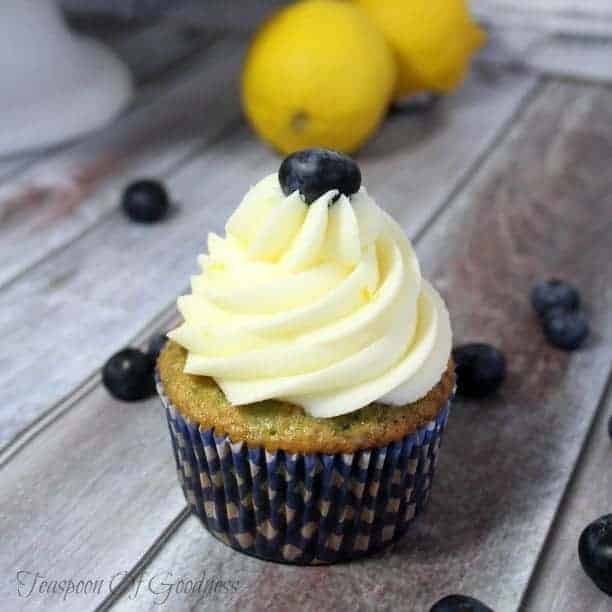 PinPin
We all know how much I love lemon and it's hard to go wrong when paring them with fresh blueberries. I am glad I stocked up recently when they went on sale and I look forward to one more really good sale on them.
Using frozen blueberries in these Lemon Blueberry Cupcakes helps keep them distributed better throughout the cupcakes rather than allow them to sink to the bottom. This tip also works wonderful for blueberry muffins.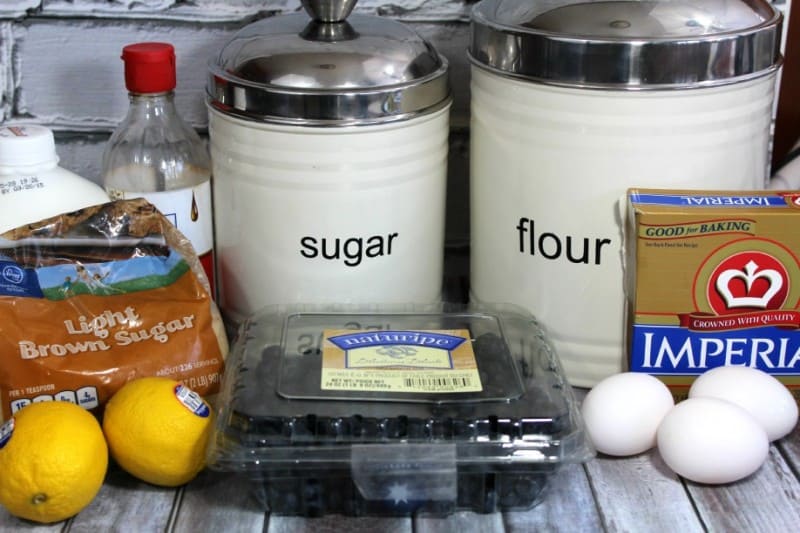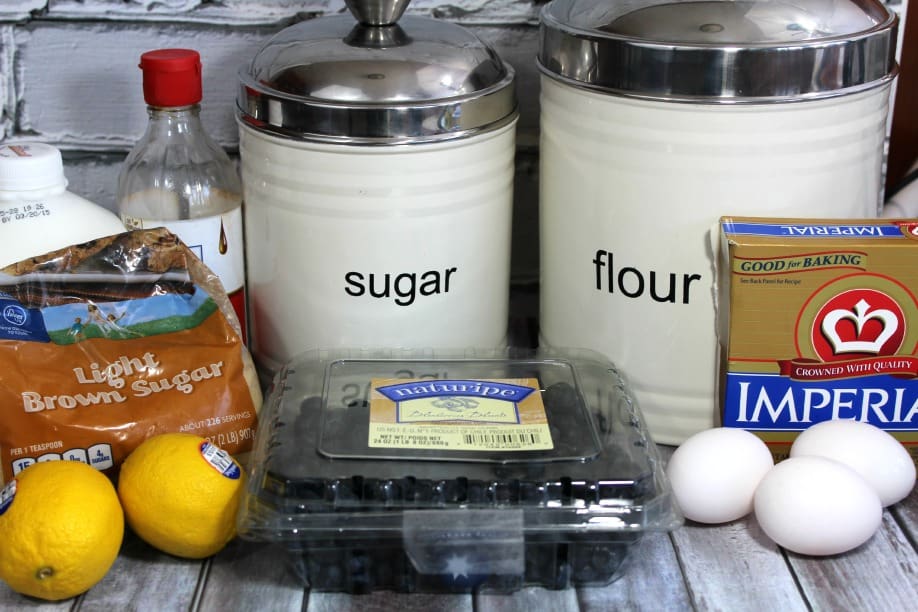 Tips & Tricks to making Blueberry Cupcakes with Lemon Frosting
Do take the time to cream your butter and sugar and eggs together. I like to mix for a good 30 seconds to a minute between each egg addition. This really helps to keep your cupcake light.
Sifting your dry ingredients together helps with even distribution of the baking powder and salt.
You need to fully mix your ingredients but you don't want to over mix your flour. Make sure the rest of your ingredients are mixed well before adding in your flour.
Having room temperature ingredients for things like your eggs and your butter. I'm awful at this one! Having room temperature butter will help it cream together smoother and faster with your sugars. Having room temperature eggs will also cause a smoother mix.
Using a scoop of some kind that gives you a uniform cupcake. Having all your cupcakes uniform going into the oven helps them bake evenly. You don't want some cupcakes under done while some are over browned and dry.
I'll admit I'm horrible at this one as well but a pre-heated oven is a must.
Don't let your cupcakes continue to cool in the pan. Your pan will hold heat for awhile and your cupcakes continue to bake.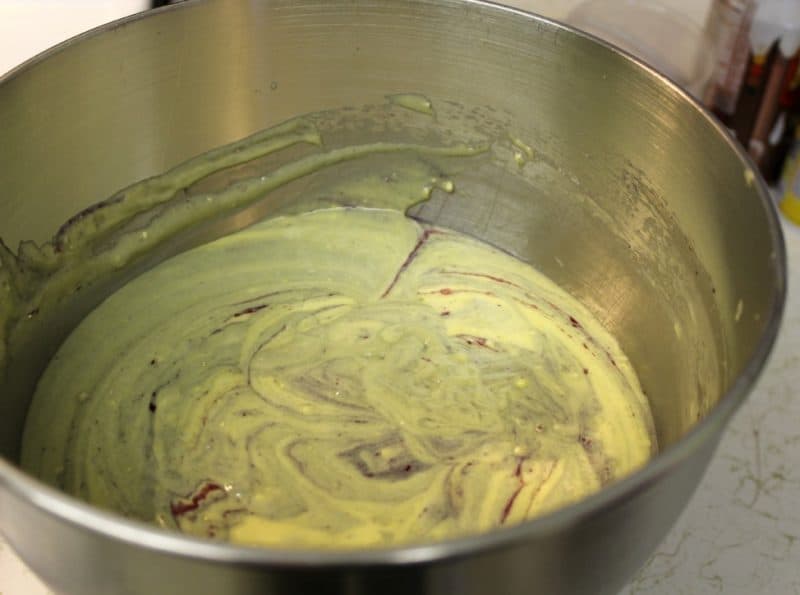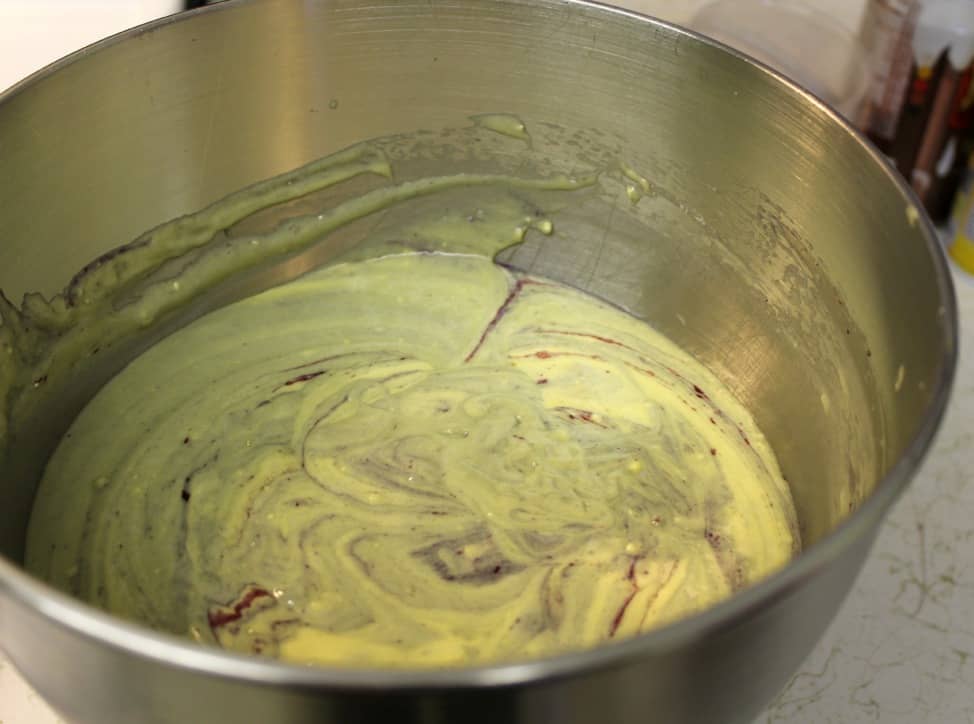 HELPFUL TOOLS TO MAKE LEMON BLUEBERRY CUPCAKES WITH LEMON FROSTING
The following are affiliate links. We are a participant in the Amazon Services LLC Associates Program, an affiliate advertising program designed to provide a means for us to earn fees by linking to Amazon.com and affiliated sites.
I've always been a huge fan of the Wilton Muffin Pan. I own two of them and they always bake evenly for me!
My FAVORITE cupcake liner are these cupcake liners from Reynolds.


The above liners are not the cutest though and when you need a cute cupcake liner once again the Wilton company has never let me down! I find when I purchase the cheaper liners that they leave ink stains on my pan.



Lemon Blueberry Cupcakes with Lemon Frosting
Bring on summer with the refreshing light taste of these Lemon Blueberry Cupcakes with Lemon Frosting.
If you enjoy these Lemon Blueberry Cupcakes with Lemon Buttercream Frosting let me know with a 5 star rating!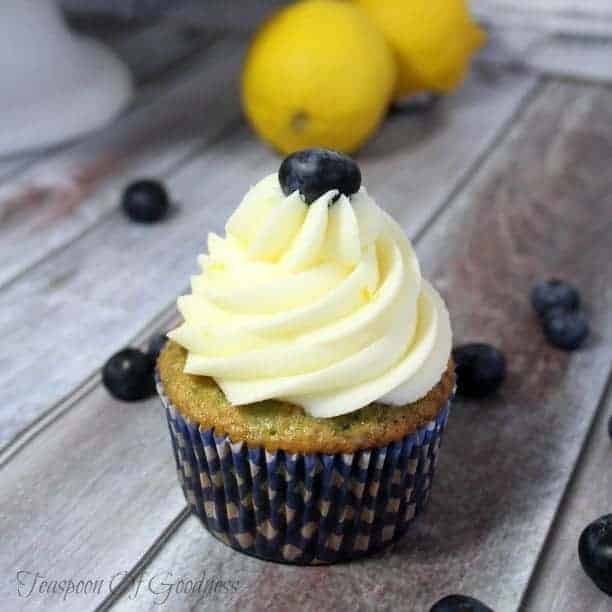 Lemon Blueberry Cupcakes with Lemon Buttercream Frosting
Prep Time: 10 minutes

Cook Time: 20 minutes

Total Time: 30 minutes
Ingredients
Lemon Blueberry Cupcakes
1 Cup unsalted butter, softened to room temperature
1 1/4 Cups granulated sugar
1/2 Cup light brown sugar
4 large eggs
1 T Vanilla Extract
3 Cups all-purpose flour
1 T Baking powder
1/2 t salt
1 Cup buttermilk
zest and juice of 3 lemons
1 Cup blueberries
1/4 Cup sugar for blueberries
Lemon Buttercream Frosting
3 Cups powder sugar
1 Cups softened unsweetened butter cream butter
1 T lemon juice
2 T of heavy whipping cream.
Instructions
Lemon Blueberry Cupcakes
Preheat the oven to 350F.
Place cupcake paper into the cupcake pan. Set aside
Using a mixer with the paddle attachment, beat the butter on high until creamy. Add granulated and brown sugars and beat on medium-high speed until creamed, about 2-3 minutes. Scrape down the sides and bottom of the bowl as needed. Add eggs and vanilla. Beat on medium speed until everything is combined, about 2 full minutes. Scrape down the sides and bottom of the bowl as needed.
In a large sized bowl, add together the flour, baking powder, and salt.
Then begin to slowly add the dry ingredients to the wet ingredients.
Beat on low speed for 5 seconds, then add the milk, lemon zest, and lemon juice.
Remove from the mixer and stir lightly until everything is just combined.
Place aside.
In a small sauce pan. Pour in one cup of blueberries and 1/4 cup of sugar. Cook down the blueberries into a compote for 5 minutes. Let cool for 20 minutes and pour into the batter.
Using a ice cream scoop. Scoop batter into cupcake tins and place in the oven for 18-20 minutes.
Lemon Buttercream Frosting
In a mixer, using the whisk attachment, mix together powdered sugar and butter. Mix on low speed until blended and then increase speed to medium beat for 3 more minutes.
Add Lemon juice and heavy cream and continue to beat on medium speed for a few more minutes. Add in more powder sugar if necessary.
Garnish with a blueberry or lemon zest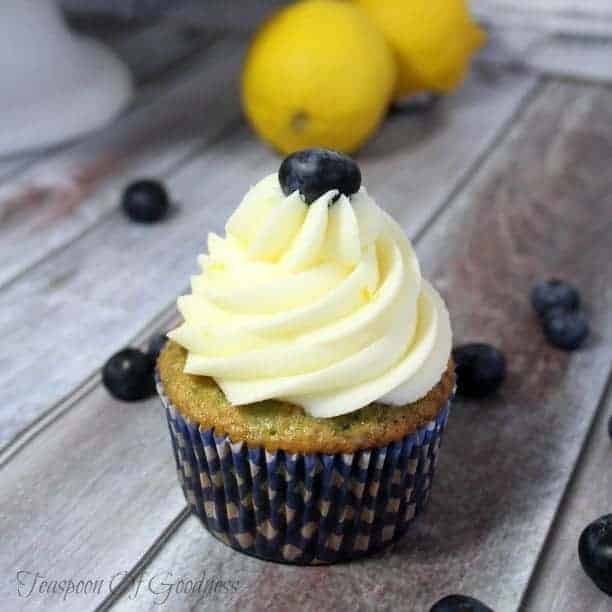 PinPin
IF YOU LIKED THESE LEMON BLUEBERRY CUPCAKES WITH LEMON FROSTING YOU MIGHT ALSO ENJOY…
From left to right: M&M Cupcakes, Chocolate Chip Cookie Dough Cupcakes, Salted Caramel Cupcakes