I love snack mixes for the kids and puppy chows or muddy buddies are no different. I was 8 when I made my first batch of puppy chow and really loved telling people I was feeding them a food made for puppies. My Snickerdoodle Puppy Chow Recipe is so much fun to make!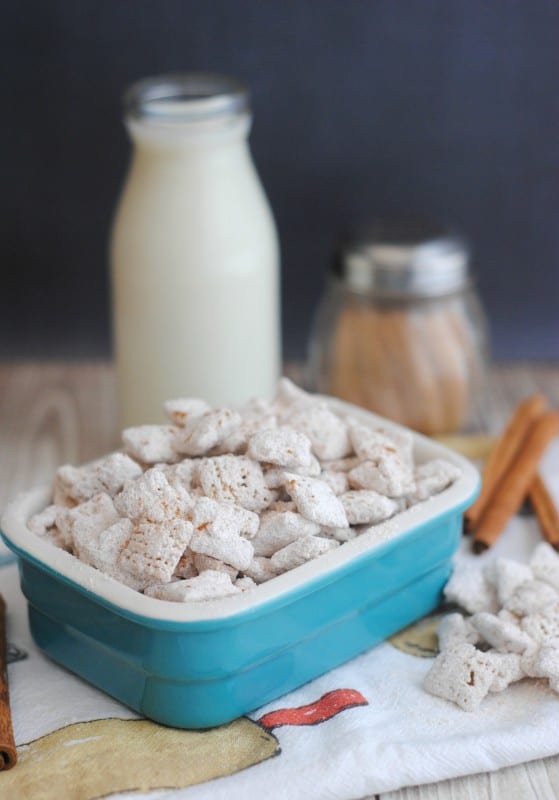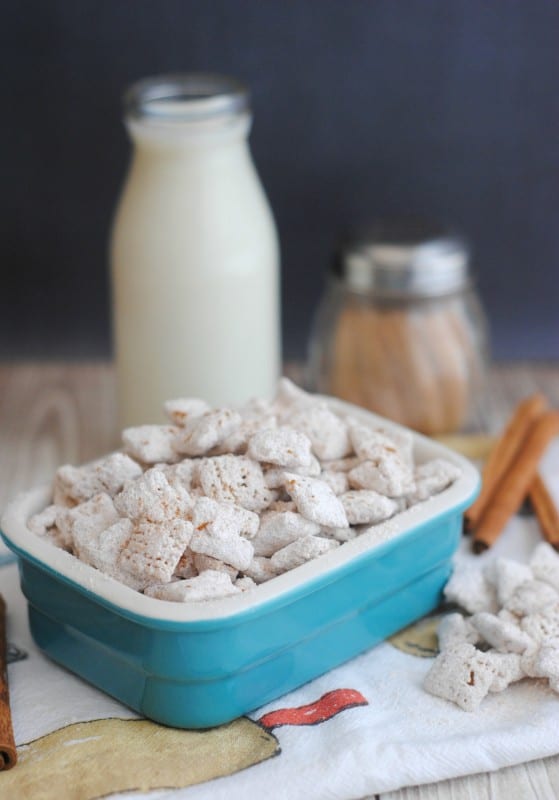 If you've never made a puppy chow recipe before, then you've ben missing out on this sweet and crunchy treat. It consists of a base of Chex cereal with powdered sugar and candy melts or chocolate along with other flavorings. Since we love Snickerdoodle flavors, this was a great spin on a classic!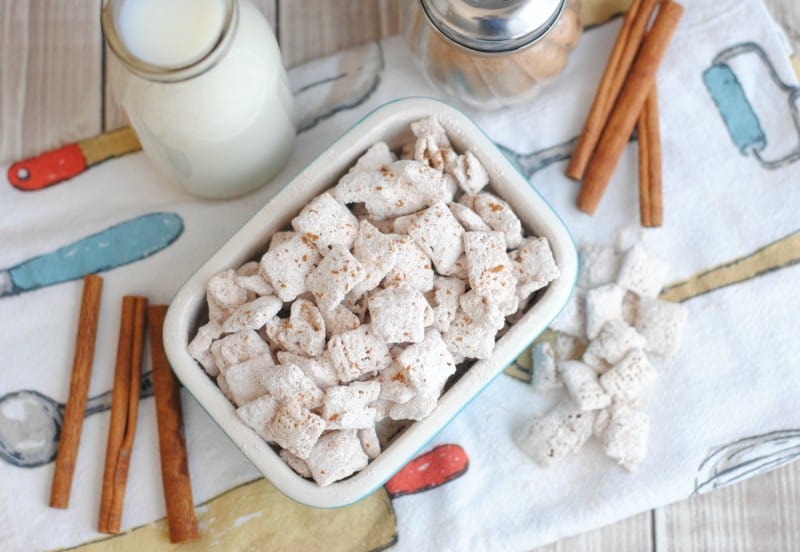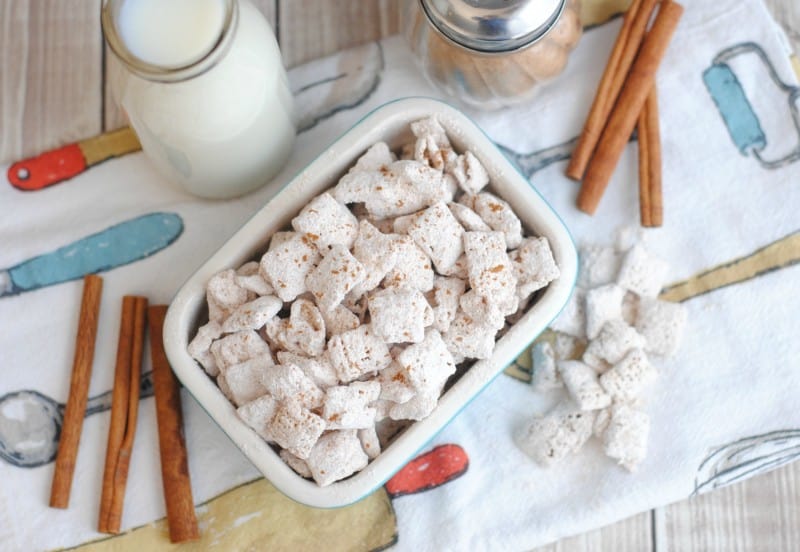 Kids will love helping you make this puppy chow recipe. One of the best parts of the recipe is shaking up the bag of cereal to coat with the sugar. While I don't let the kids deal with the hot candy melts, I do let them join in to shake the bags of cereal to coat with the cinnamon and sugar blend.
Snickerdoodle Puppy Chow Recipe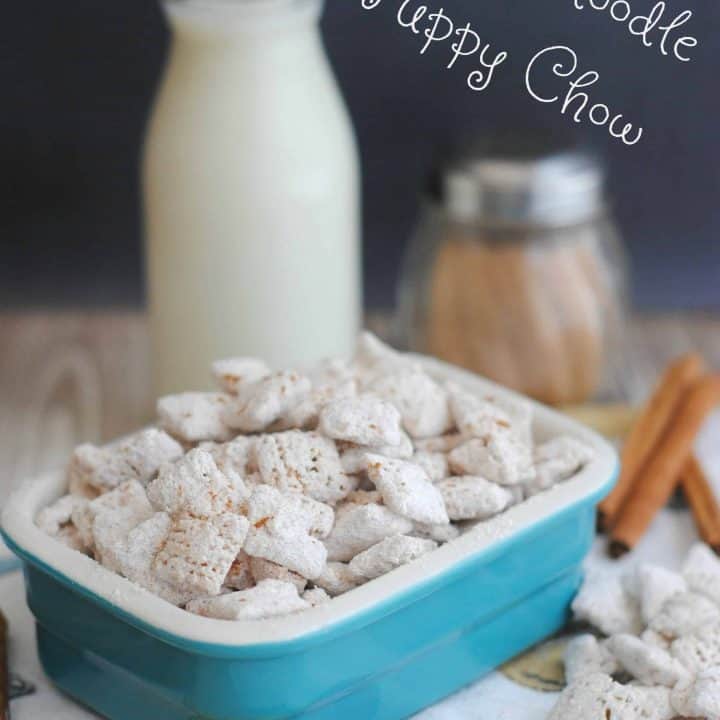 Snickerdoodle Puppy Chow Recipe
Ingredients
9 C. Chex cereal
10 oz Wilton white chocolate candy melts
1 1/2 C. powdered sugar
1/2 C. granulated sugar
4 tsp. cinnamon
1 tsp. vanilla extract
2 large gallon freezer bags
Instructions
Pour the candy melts into a glass microwavable safe dish. Heat in 30-second increments, stirring occasionally until melted.
Let cool a few minutes and quickly stir in the 1 teaspoon of vanilla extract.
Pour the melted candy melts over the Chex cereal and gently stir until all the cereal is coated.
Divide the 2 cups of powdered sugar, granulated sugar and 4 teaspoons of cinnamon between the 2 large freezer bags.
Divide the chocolate coated cereal between the 2 bags, seal shut and gently shake each bag to coat the cereal with the sugar
This makes a large batch of Snickerdoodle flavored Puppy Chow Recipe. It is ideal to keep stored in an airtight container, but I love portioning this into snack baggies. If I don't portion ahead of time, I will easily sit and eat way too much of it at once! Yes, it is that good!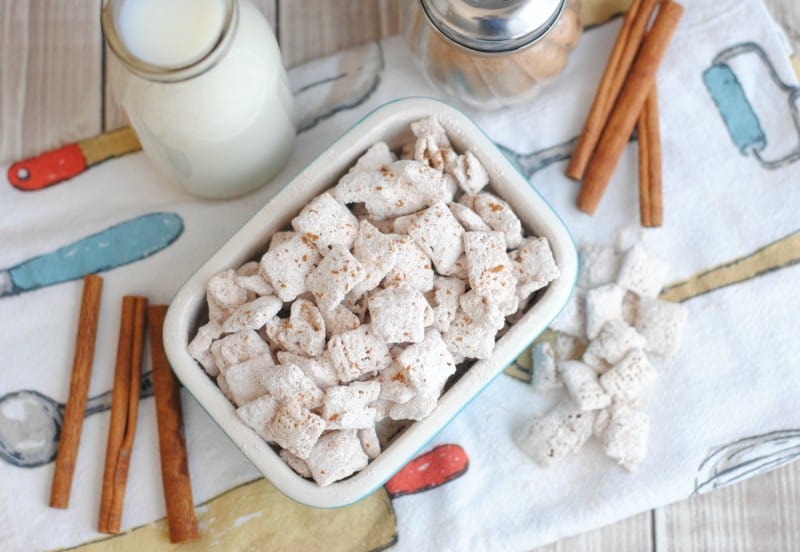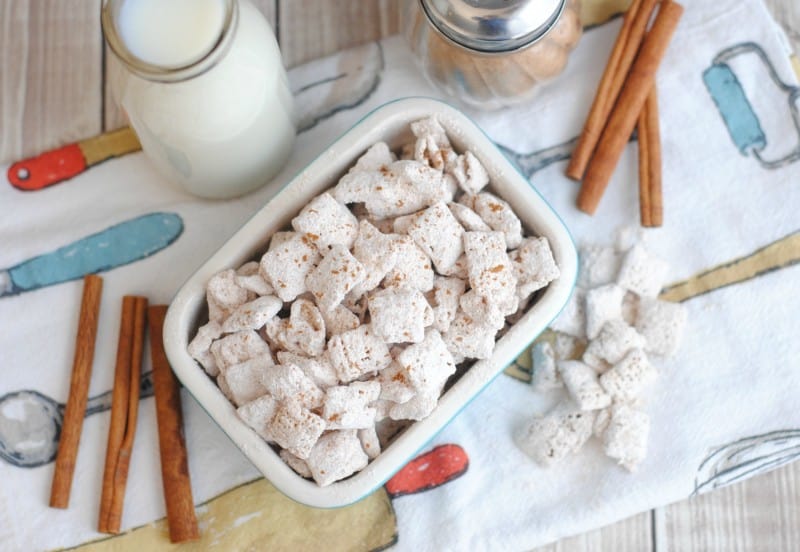 My kids love our Snow Day Snack Mix and Rainbow Flavored Popcorn Party Mix, but this Puppy Chow Recipe is definitely their favorite to make with me. It's so much fun to shake those bags, and of course, they love the cinnamon sugar flavor. Make large batches of this to share with friends, or just tuck into your desk for an afternoon sweet snack!