Whether you have snow on the ground or are longing for snow, this fun Snow Day Snack Mix is a great way to help kids have fun with snack time! Mixing some fun and yummy treats with a classic blue and white theme creates a delicious snow day themed snack mix that resembles Disney's Frozen theme that everyone loves.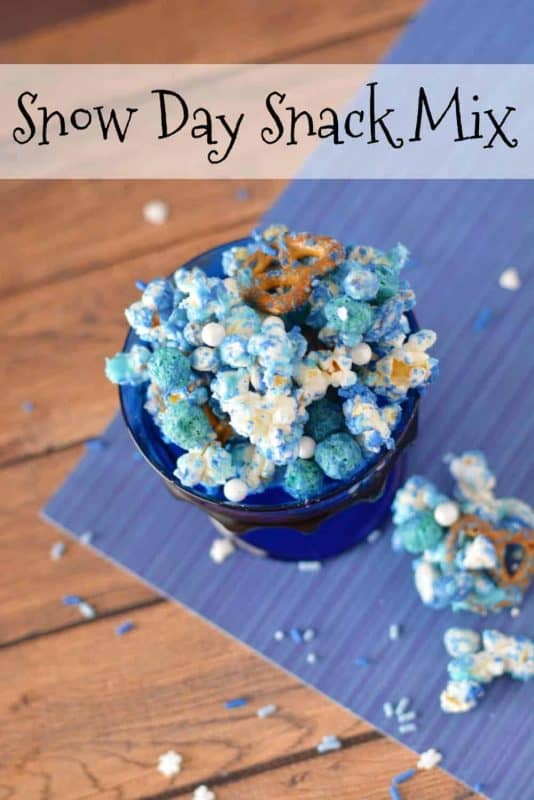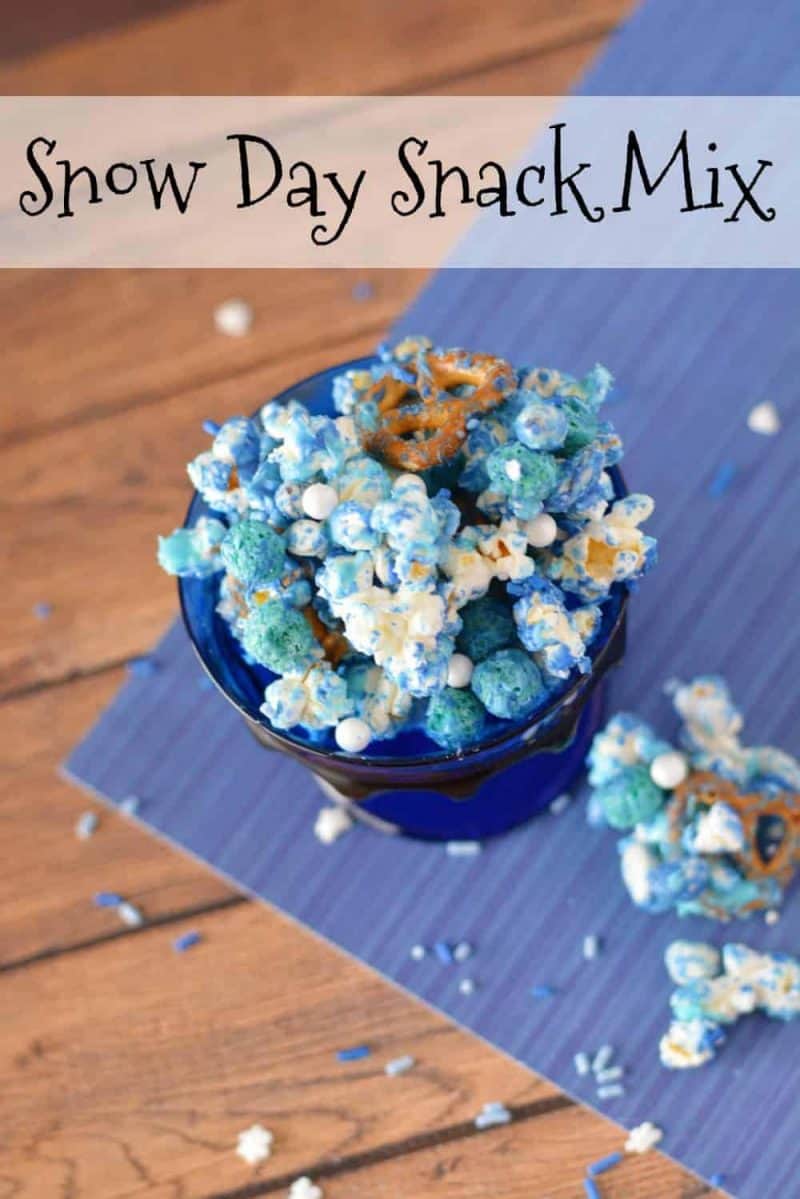 Pin
Snow Day Snack Mix
Kids everywhere have been drawn to the sisterly love themed Disney Frozen movie, so no matter what time of year your kids beg to watch the movie, this Snow Day Snack Mix is a great choice to have on hand. Just grab a few ingredients you already have on hand, like popcorn and pretzels, along with some special blue treats, and throw together a yummy treat your kids will feel special snacking on during the movie and playtime.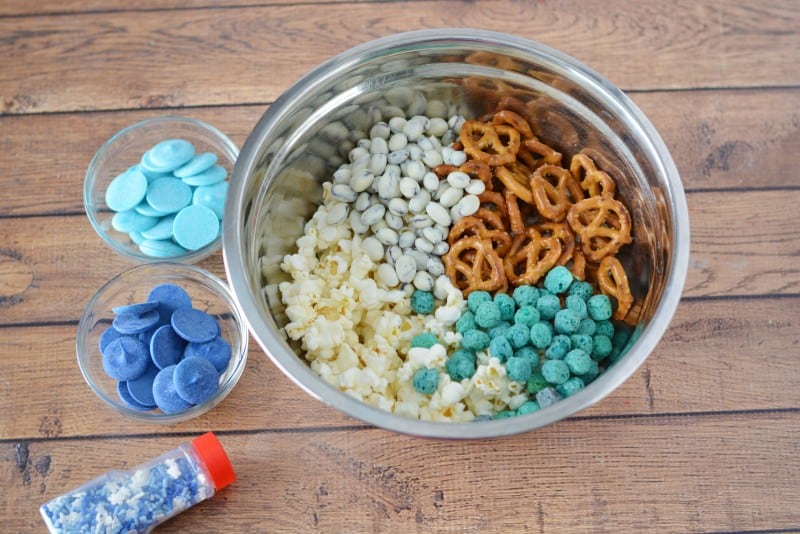 Pin
This Snow Day Snack Mix is great for snacking during movie time and a great addition to kids class parties or birthday parties. I love making themed snacks, and it goes right along with our always popular Rainbow Flavored Popcorn Party Mix or Minion's Trail Mix Recipe for some of my favorite yummy treats to make the kids for special days!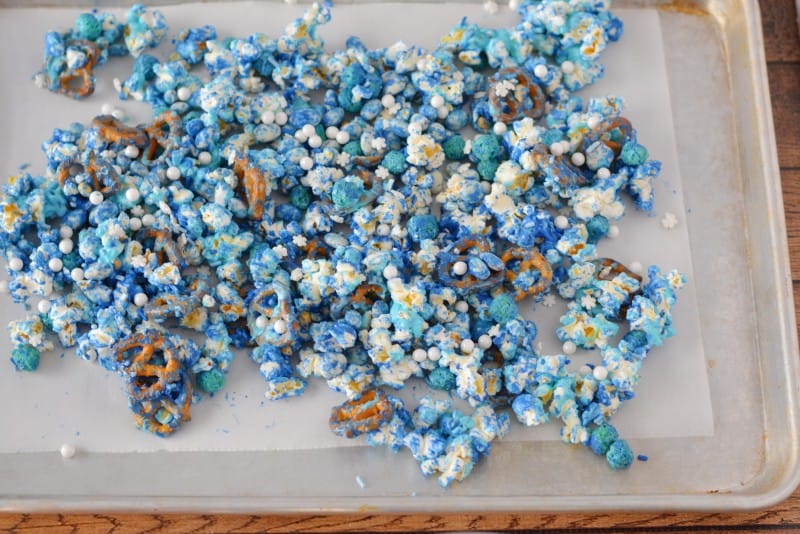 Pin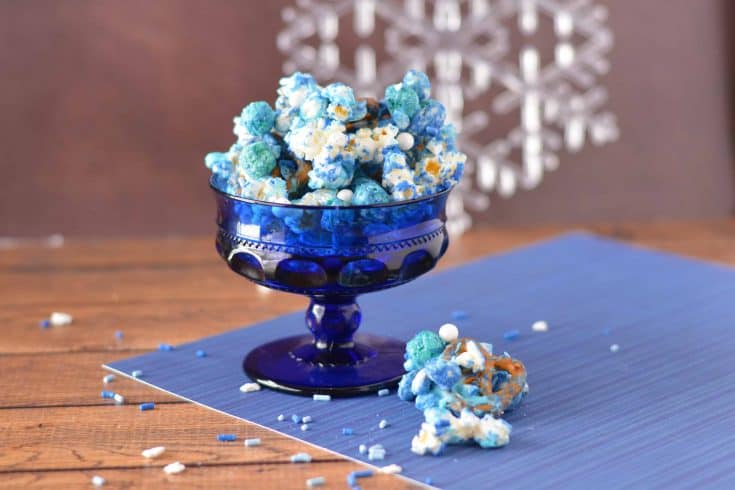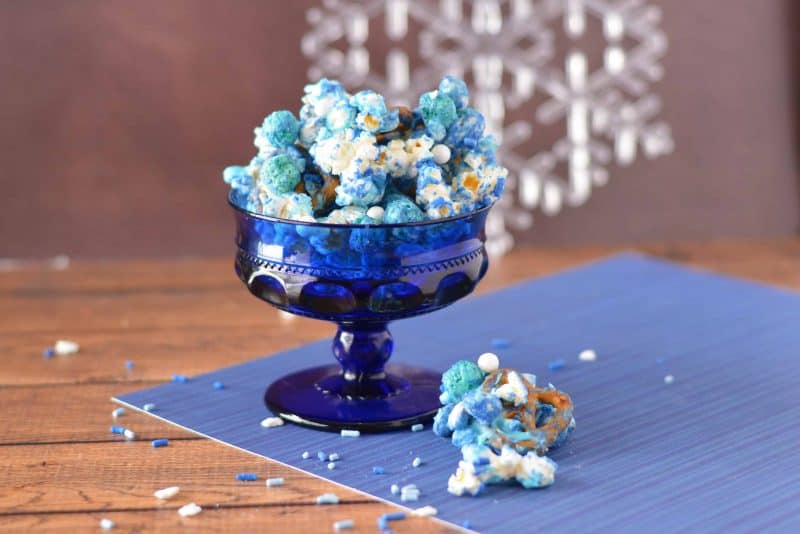 Yield: 4
Snow Day Snack Mix
Prep Time: 20 minutes

Cook Time: 5 minutes

Total Time: 25 minutes
Ingredients
4 cups popped popcorn, try to remove as many kernels as you can
2 cups pretzels
1/2 cup blue cereal, I picked the blue out of the Cap'n Crunch box
1/2 cup yogurt covered raisins
20 blue candy melts
20 royal blue candy melts
Snowflake Sprinkles (used Betty Crocker Snowflake Mix
White "Snowball" Candies, used celebration pearls
Instructions
Line a baking sheet with parchment or wax paper and set aside.
In a large bowl, combine popcorn, pretzels, cereal and raisins. Stir to mix well.
In a small microwave safe bowl, microwave 20 candy melts of one color for 30 seconds. Stir until melted and if necessary, return to the microwave in 10 second increments, stirring after each one, until melted.
Pour candy melts over the mixture in the bowl and mix well to coat.
Repeat with the other blue color of candy melts.
Transfer mix to prepared baking sheet and spread out. Sprinkle with candy snowballs and snowflake sprinkles. Let set until candy melts are hardened.
Break apart and enjoy.
Trinity from Moms Collab has a great list of Disney Movies if you're looking for a new one. Her list contains plenty of movies from the early years that I had even forgotten about!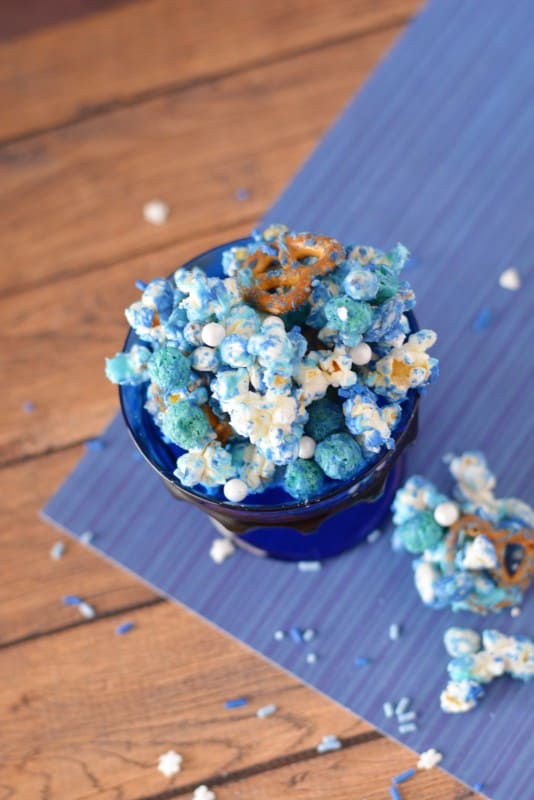 Pin
Visit Teaspoon Of Goodness's profile on Pinterest.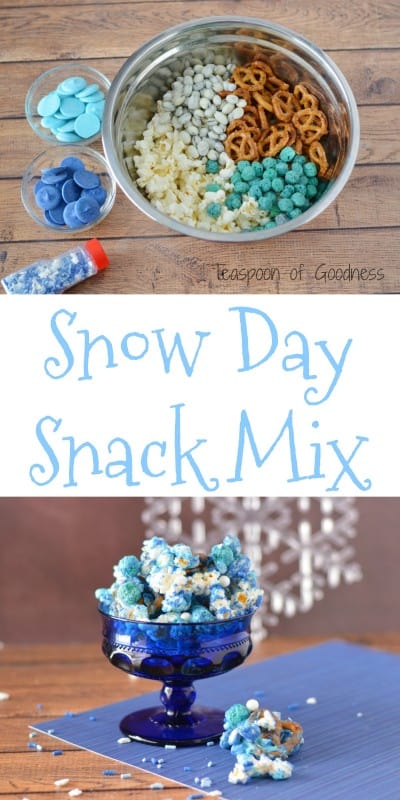 Pin