Who doesn't love Puppy Chow? No I am not talking about what you serve your furry friends. I am talking about those Puppy Chow Recipes that are Chex cereal topped with chocolate and powdered sugar to make it all kinds of deliciousness.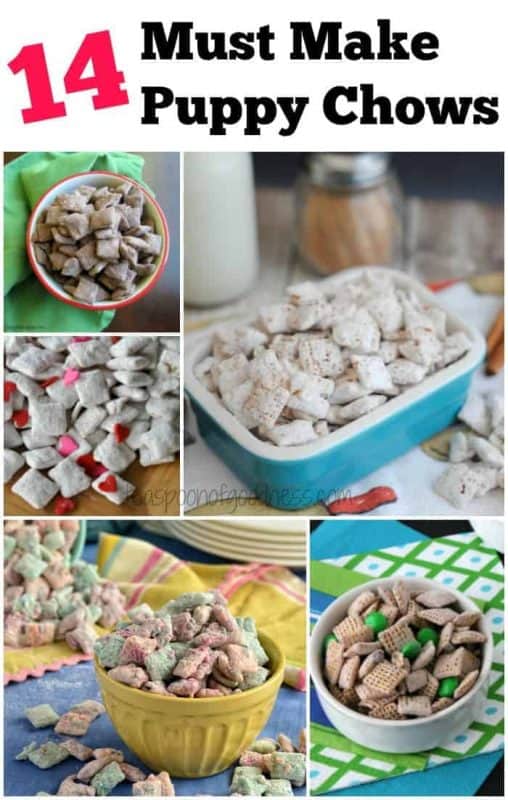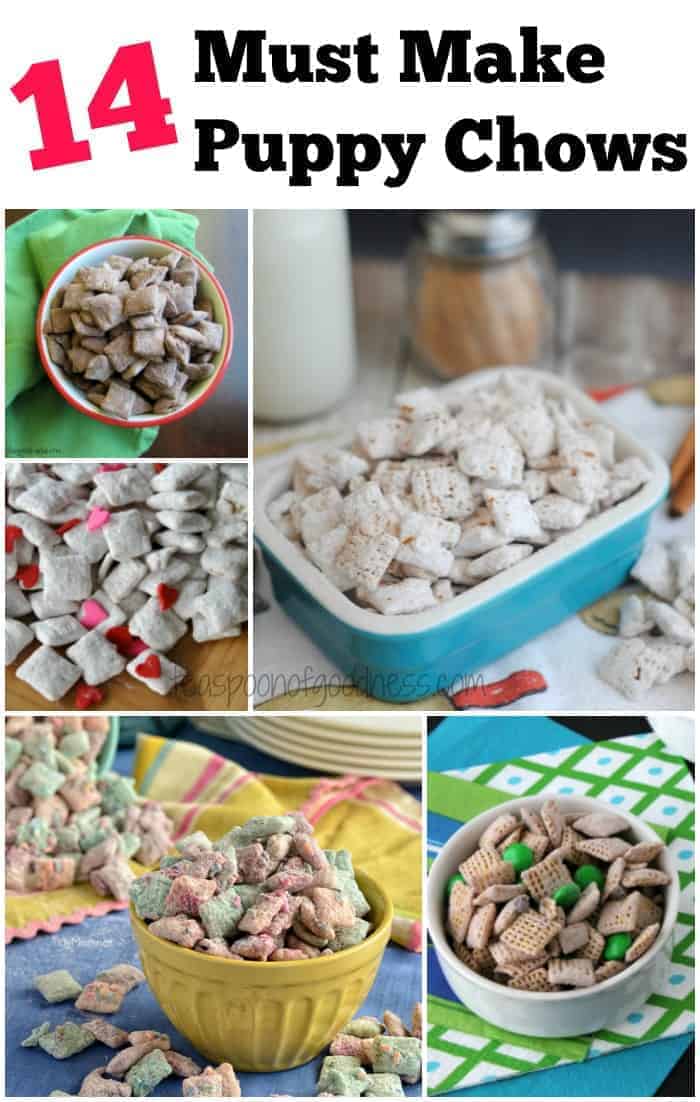 Pin
Maybe you call it a muddy buddy recipe or like me and call it a puppy chow recipe. No matter what you call it, it is nothing shy of of a perfect snack. What is great about making a puppy chow snack mix is that you can change up the flavors you add to it, so that it can be made for any holiday, family get together or afternoon occasion. Believe me, the basic recipe is so versatile, you will find a reason to make these Muddy Buddy Recipes.
How do you make puppy chow snack mix?
Making Puppy Chow snack mix is easy. The basic recipe is Chex cereal, chocolate and powdered sugar. Simply melt the chocolate. Coat the cereal with the chocolate. Then toss it with the sugar. The fun comes in with how you can change it up and make it Puppy Chow Snack Mix perfection.
14 Must Make Puppy Chow Recipe Variations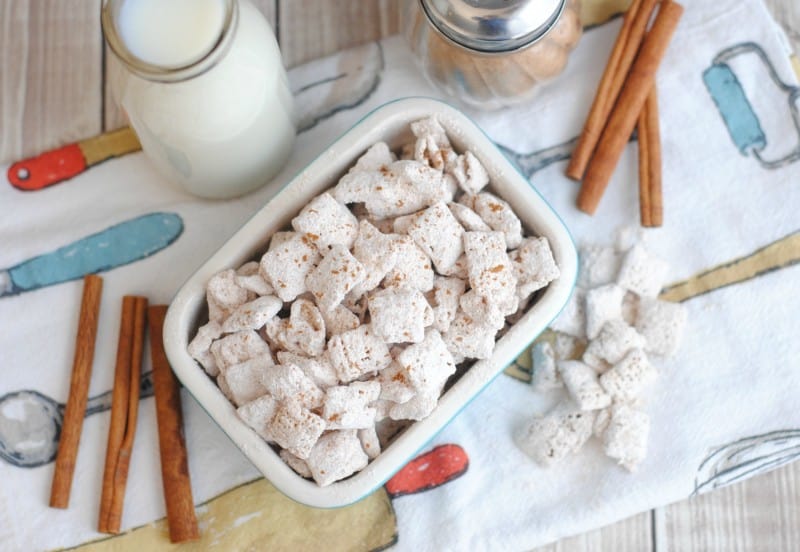 Pin
Snickerdoodle Puppy Chow Recipe – White chocolate and cinnamon come together to make this delicious puppy chow recipe without peanut butter.
Peppermint Puppy Chow – Shugary Sweets hit the nail on the head with another puppy chow recipe without peanut butter by using melted white chocolate and Andes Peppermint Crunch Baking Chips.
Frosted Animal Cookie Muddy Buddies – Those pink and white frosted animal cookies bring back so many childhood memories and Jocelyn just took them to the next level!  Talk about a muddy buddy recipe that can't be beat!
Holiday Puppy Chow – Shugary Sweets may have called this a holiday puppy chow because it's red and green but really the possibilities are endless.  I see light green and yellow for Easter, red & blue for the fourth of July and orange and black for Halloween.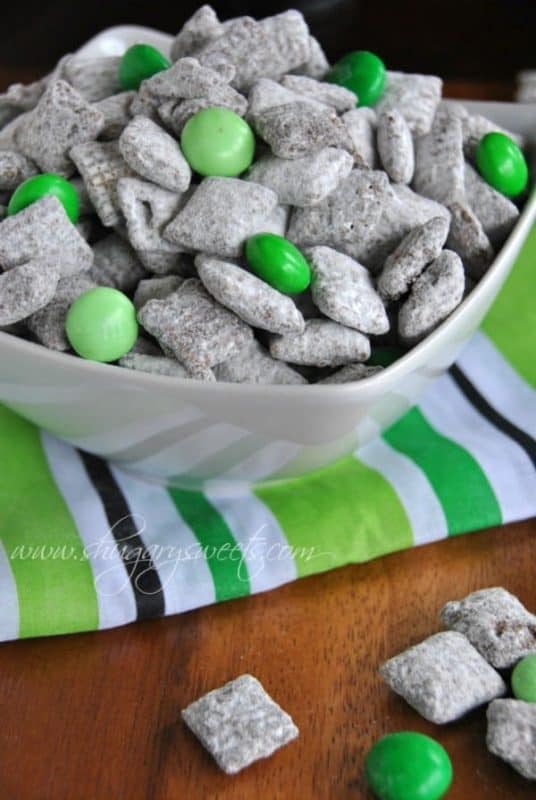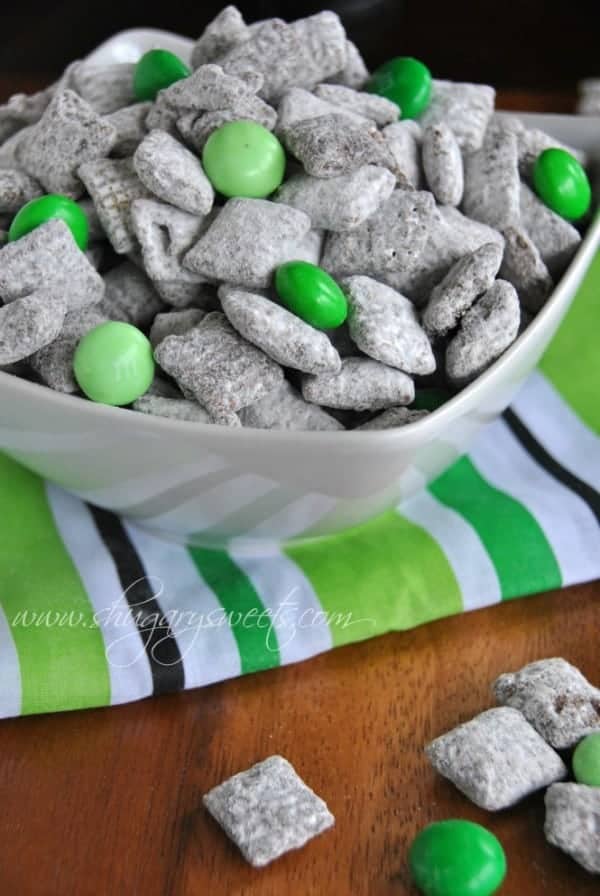 Pin
Thin Mint Puppy Chow – When I hear Thin Mint I think of Girl Scout cookies but I can't get them year round.  With mint M&M's and this snack recipe I can have my thin mints all year round!
Chocolate Peanut Butter Puppy Chow – Chocolate and peanut butter belong together and NeighborFood has the winning combination with this puppy chow mix made with peanut M&M's and crushed pretzels.
Chocolate Coffee Toffee Puppy Chow – Toffee bits, pecans, pretzels and coffee (optional) make up this to die for mix from Blessed Beyond Crazy.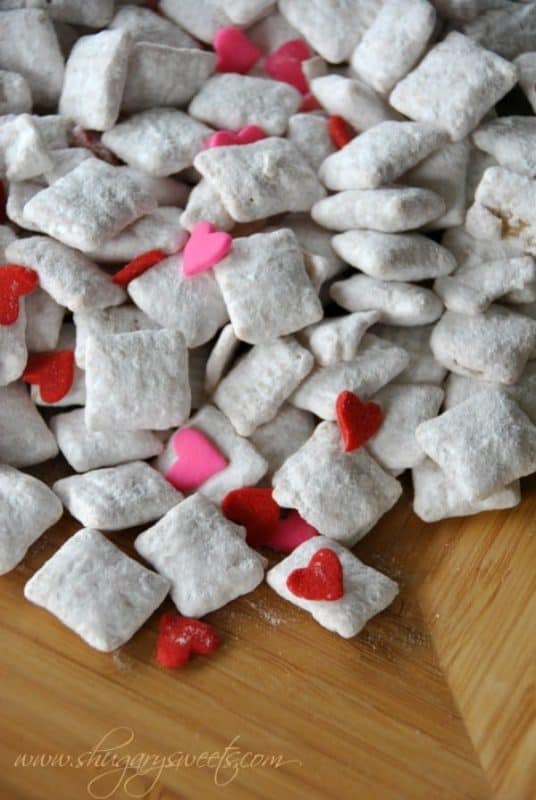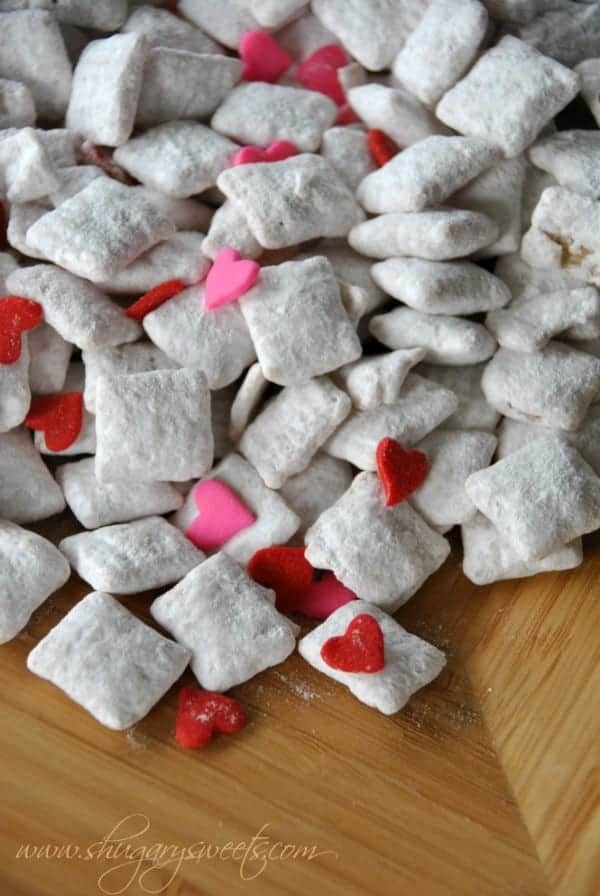 Cherry Vanilla Puppy Chow – Melted vanilla candy bark and sugar free Jello just opened the door for SOOOO many possibilities when it comes to a muddy buddy recipe without peanut butter!
Caramel Pretzel Puppy Chow – My aunt makes the most AMAZING caramel dipped pretzels but they are a labor of love.  Kit from the Kittchen shortens that time up with her sure to be a hit puppy chow!
Sugar Cookie Puppy Chow – Let the kids help with another fun batter puppy chow recipe!  Mix up the sprinkle colors and This Mama Loves has a created a recipe that can't be beat!
Brownie Batter Puppy Chow – Cooking With Carlee is after my heart!  It's no secret that I love batter usually more than the baked good so this puppy chow mix is sure to be a favorite!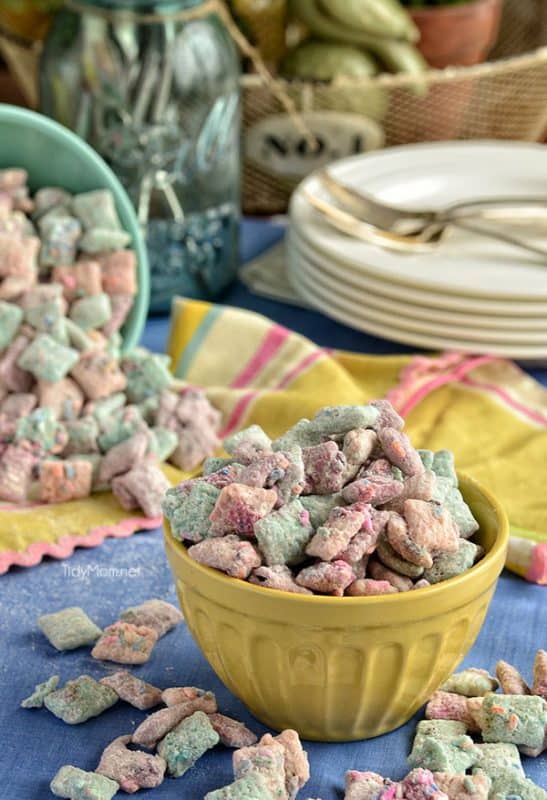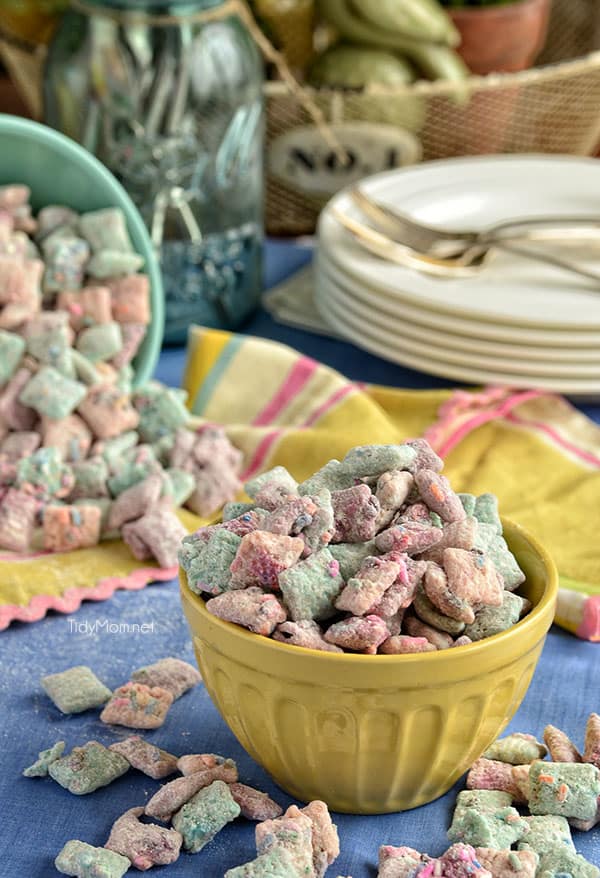 Pin
Cake Batter Puppy Chow Recipe – Ummm once again do I really need to say more than edible cake batter?   It's like Tidy Mom reads my mind nightly when I want indulge!
Red Velvet Puppy Chow – Chocolate chips, peanut butter and red velvet cake all in one snack mix?  Cooking With Carlee hit all the bases with this muddy buddy snack recipe!
Mint Chocolate Chip Muddy Buddies – I may have said that Jocelyn's recipe couldn't be beat and that's still true but this muddy buddy recipe from The Bitter Side of Sweet is a close second with M&M's and mint hot cocoa!
Did you call these fun treats puppy chow or muddy buddies growing up?  Which puppy chow recipe can you not wait to try?