I love making cupcakes that are fun and unique for a treat. This M&M Cupcake recipe is ideal for birthday parties, special holidays, or just because. Everyone loves M&M's candy recipes, and cupcakes are one of our favorite easy to make dessert treats.
With delicious flavors in a bite-sized cake, these M&M Cupcakes are the perfect idea for your summer get-together!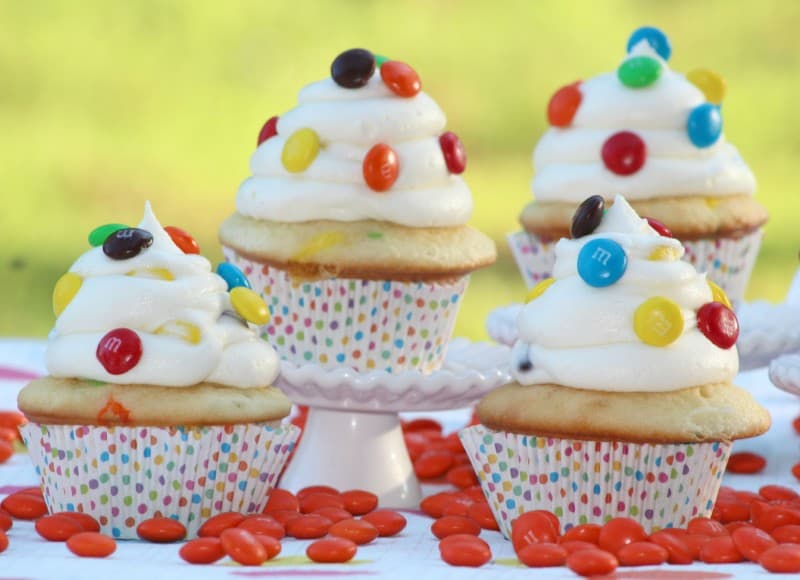 Pin
Our homemade cupcake recipe is a great base for any of your favorite M&M cupcake ideas. You can use this for decorating with an M&M logo, icing, or as we have here. Plain M&M's candy is our favorite, but with fun new flavors on the market every season, you could easily mix it up to match your most recent holiday or event. You can even create these cupcakes with a few alterations to fit the holiday or seasonal flavors if you prefer!
For a great dessert that everyone will love, look no further than our M&M Cupcakes recipe. Using candy along with our amazing moist cupcake recipe, you'll find your cravings satisfied in a single bite.
If you are looking for other great cupcake flavors to create for your family, don't miss our Chocolate Chip Cookie Dough Cupcakes and my favorite Salted Caramel Latte Cupcakes. These great unique flavors are ideal for making to share at parties and potlucks.
M&M Cupcake Recipe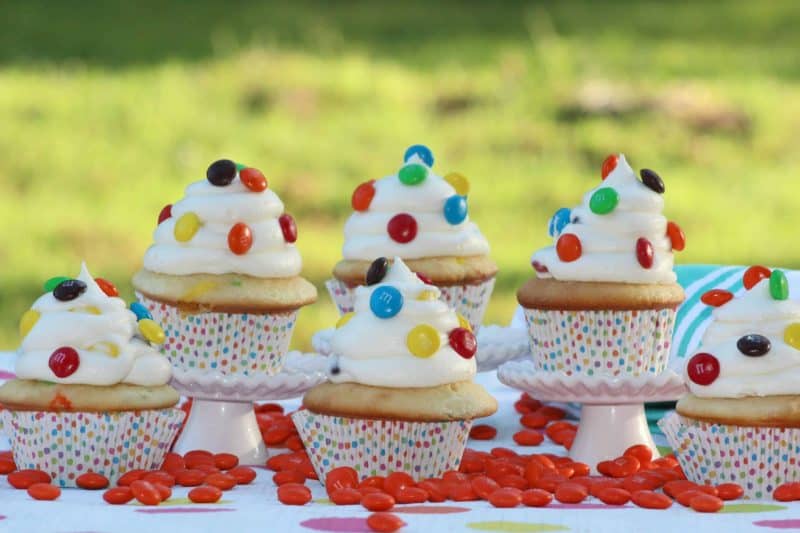 M&M Cupcake Recipe
Prep Time: 15 minutes

Cook Time: 25 minutes

Total Time: 40 minutes

With delicious flavors in a bite sized cake, these M&M Cupcakes are the perfect idea for your summer get together!
Ingredients
Cupcake Ingredients
1/2 C butter, room temp
2 egg whites, room temp
2 eggs, room temp
2 C all- purpose flour
1 tsp baking powder
1/2 tsp salt
1/4 tsp baking soda
3/4 C buttermilk
1 1/2 C sugar
1 tsp vanilla
1/2 C milk chocolate different colored M&M's
Frosting Ingredients
1 C soft unsalted butter
4 + C powder sugar
4 TBSP heavy whipping cream
Bag of milk chocolate M&M candies
Instructions
Cupcake Instructions
Preheat oven to 350 degrees. Line cupcakes tins with paper liners.
Whisk flour, baking powder,salt, and baking soda in a medium bowl.
In another bowl, beat butter on medium-high for 30 seconds.
Add sugar and vanilla to the butter, beat until combined.
Add egg whites and eggs, one at a time, beating well after each one is added.
Alternate the flour and buttermilk mixture, beating on low speed until everything is mixed together.
Add M&M's stirring to mix well.
Scoop the batter into the lined cupcake tins until they are 2/3rds filled.
Bake at 350 for 20-25 minutes or until a toothpick inserted in the center comes out clean.
Remove from oven and allow to cool for 10 minutes.
Remove from cupcake tray and place on wire racks allowing to cool completely.
Frosting Instructions
Cream the butter and powder sugar until it looks light and creamy.
If it doesn't cream add several drops of the heavy whipping cream until it creams.
Test to see if the frosting can form and hold a stiff peak by taking a spoonful of frosting and turning the spoon upside down. If the frosting stays on the spoon it is ready if not add more powder sugar 1/2 C at a time until it will hold.
When the frosting is ready scoop into a pastry bag with a large tip.
Twist the open end of the pastry bag to push the frosting to the #15 tip.
Start by frosting on the outside edge of the cupcake working to the center of the cupcake.
Sprinkle different colored M&M's on top of the frosted cupcakes.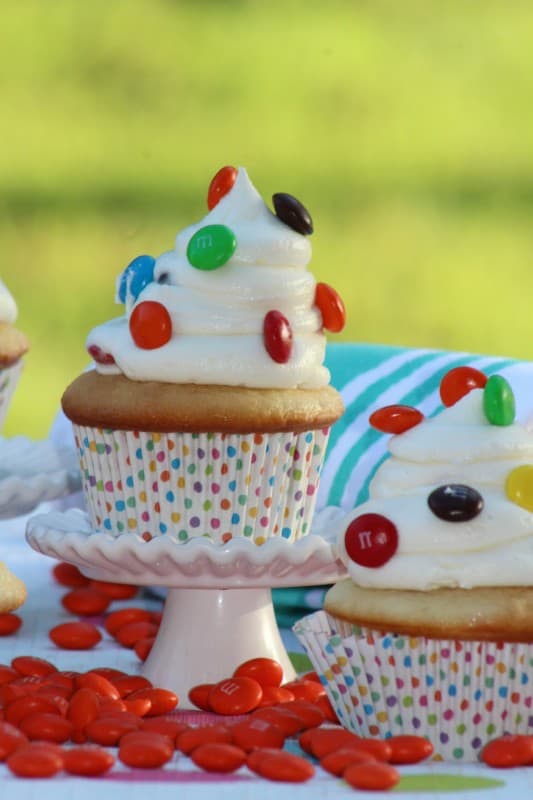 Pin
Visit Teaspoon Of Goodness's profile on Pinterest.