I love making fun Halloween treats, and this is a super easy and totally cool Mummy Pretzel Rods idea that everyone loves.  Chocolate dipped pretzels and candy dipped pretzels have always been a favorite treat.  They offer both the salt and the sweet flavor that I love and crave.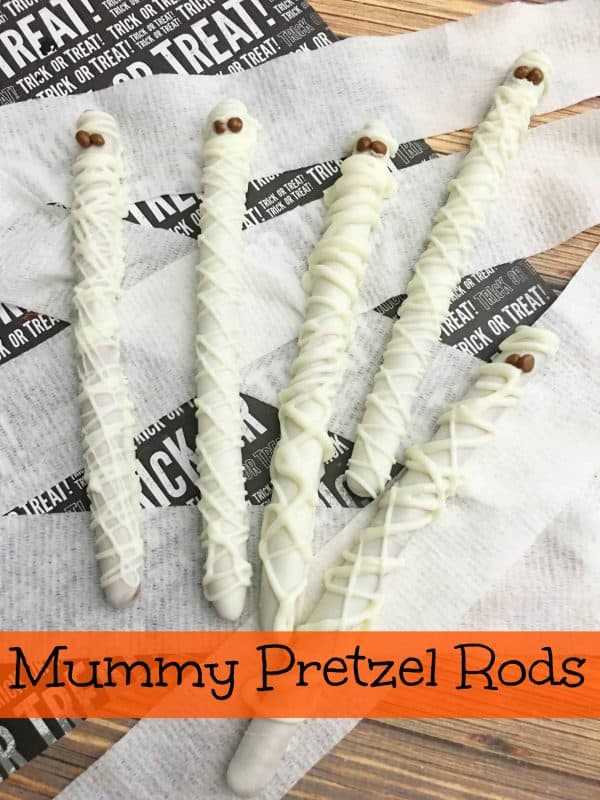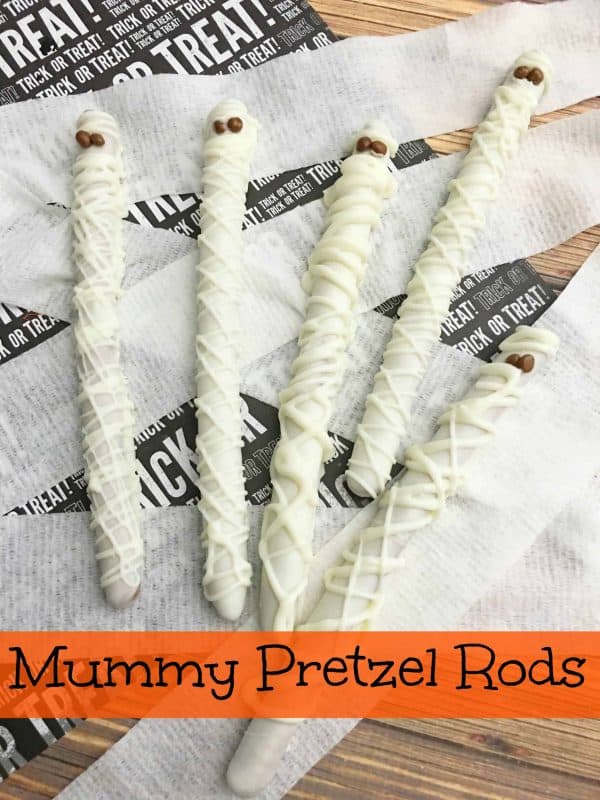 If you've checked out our Halloween Classroom Treats list and liked it, then you may want to add this one to that list to use.  Dipping pretzels is something kids can easily help you manage.  With these cool Mummy Pretzel Rods, you have even more chance to decorate.  Adding on the fun eyes and the drizzle of extra chocolate that makes them look like they are wrapped as a mummy is tons of fun for kids to help you manage.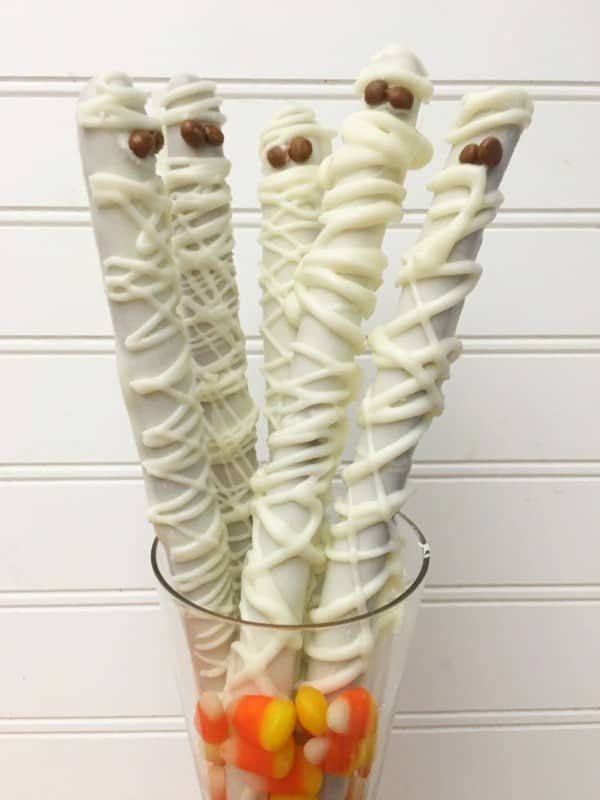 I prefer an assembly line method for these Halloween treats.  If kids are helping, you can set up a table where you dip the pretzels and lay onto the paper.  Then, one child can use some extra melting chocolate to drizzle on the mummy wraps, and the next child can add the eyes.  If you have more children to help, it's easy to have to lines going, or add fun embellishments like candy spiders or similar  so everyone has a job.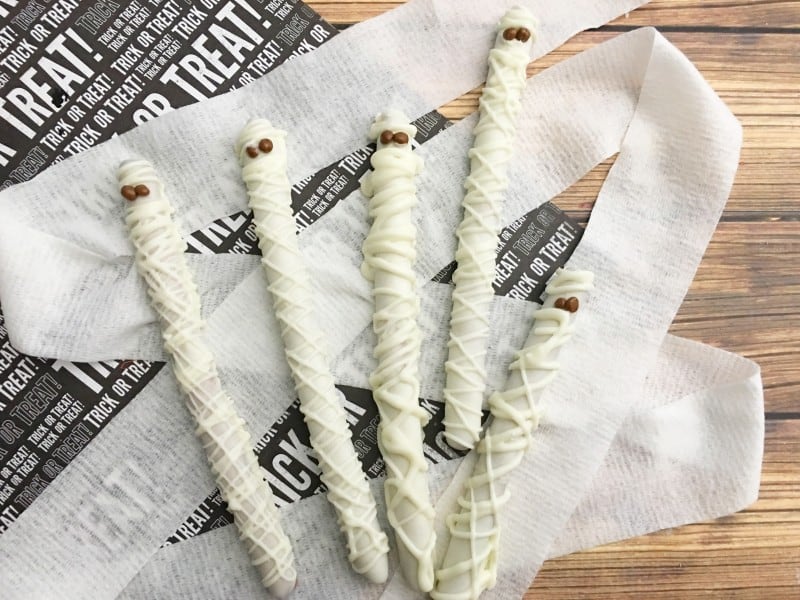 I love easy Halloween treats since I know they can be done at the last minute.  Something fun like our Easy Spooky Halloween Witches would go great alongside these Mummy Pretzel Rods Halloween Treats to create a fun dessert and treat buffet.  Decorate with pieces of gauze and spooky elements around the container on your buffet and make it look like a complete fun Halloween themed display.
Halloween Treats Mummy Pretzel Rods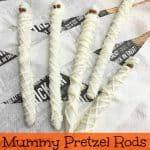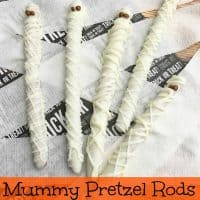 Halloween Treats Mummy Pretzel Rods
Ingredients
1

lb

vanilla flavored almond bark block

Pretzel rods

Tootsie rolls

Parchment paper

Sandwich bags
Instructions
Lay out a piece of parchment paper before you get started

Heat your almond bark in the microwave for 1 minute on high then stir

Heat again for another 45 seconds, but stir every 15 seconds until melted

Place a pretzel into your melted almond bark, remove with a fork, and place onto your parchment paper

Heat your a few tootsie rolls in the microwave for 10 seconds, roll them into tiny balls, and place two on the top front of each pretzel for eyes

Once you've dipped 14 pretzels into your melted almond bark, pour the rest of your almond bark into a sandwich bag and cut a small tip off the corner

Drizzle your melted almond bark over your pretzels using a back and forth motion

Let your almond bark harden at room temperature for 30 minutes.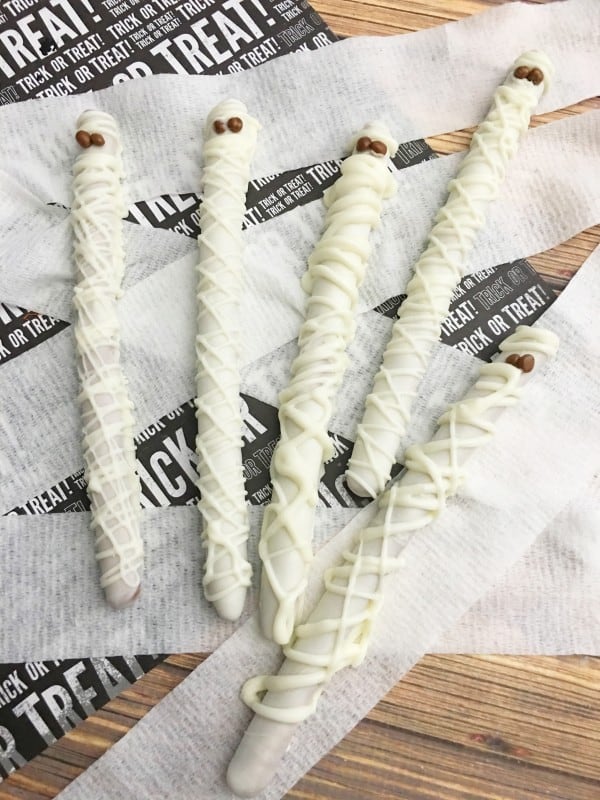 Visit Teaspoon Of Goodness's profile on Pinterest.