These Spooky Marshmallow Witches are a fun and whimsical treat just in time for Halloween. Semi-homemade treats like these are tons of fun to make and even more fun to serve and enjoy. Kids will love this treat at their next class party, or love the surprise of you adding to their dessert plate after dinner.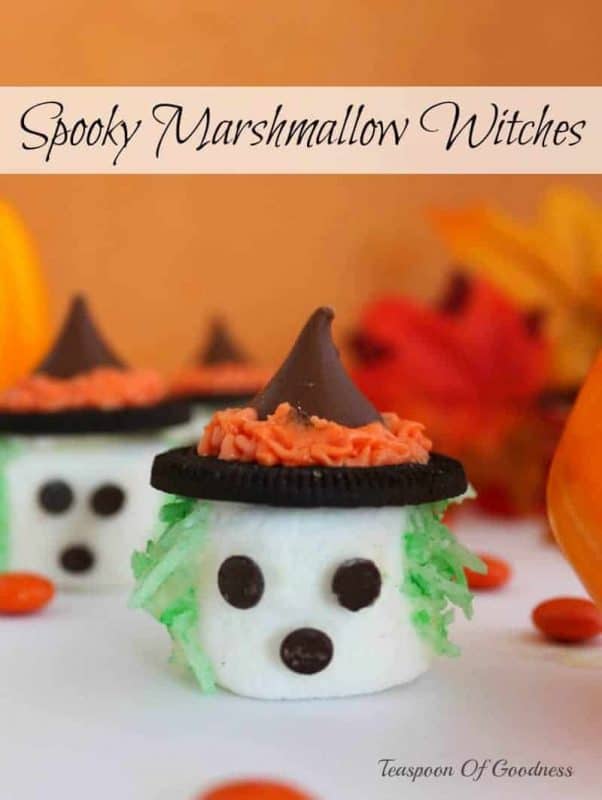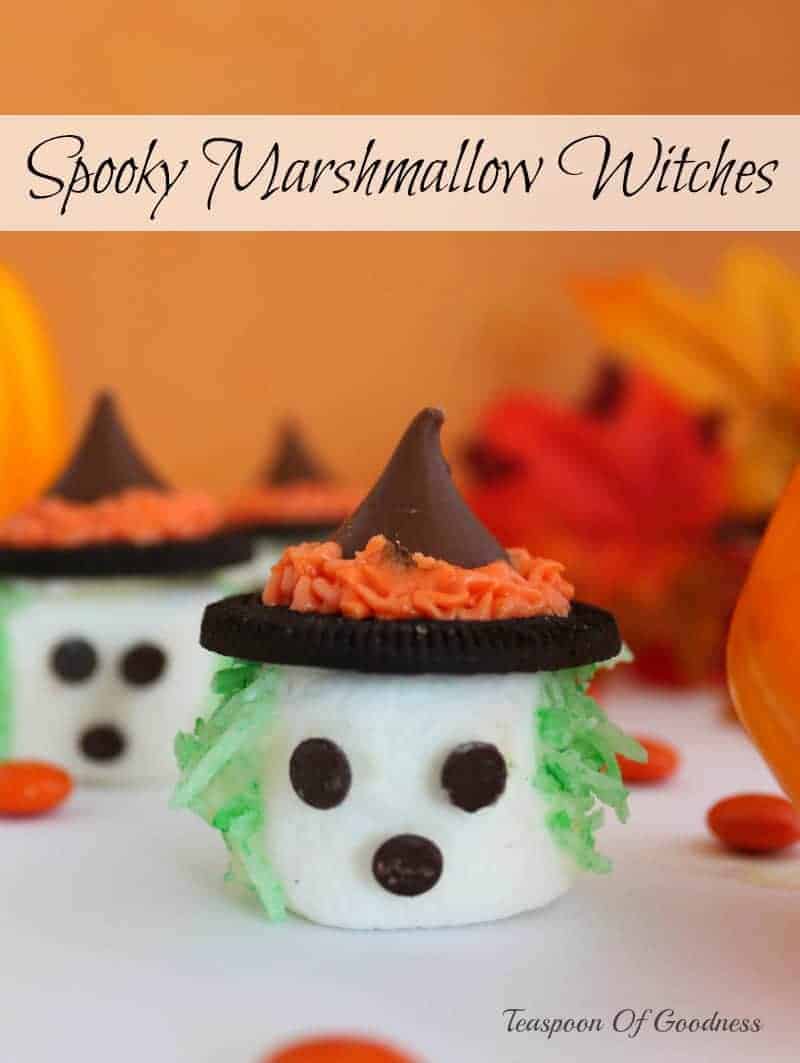 Pin
I love recipes that don't really involve a lot of cooking and prep that is easy to manage in a simple assembly method. Since you are doing multiple steps with each "witch," I think it is best to set up your counter for a simple assembly line. Get the kids involved and this task will go even faster.
While the recipe calls for chocolate chips to be the eyes and nose on your witch, you can easily substitute with colored candies if you want to add a unique color eye to each witch. We went with the simple chocolate chips so it was more cost-effective and a bit easier to keep track of.
Kids will love helping you color the coconut, add the hair to the witch, and use frosting to make witches hats. Setting up supplies in a row makes it easy to give each kid a task to handle. This makes a fun and productive setup that helps make your spooky marshmallow witches easy to assemble.
Add these fun treats to your dessert buffet for a kids class Halloween party, at-home party, or haunted house event.
Spooky Marshmallow Witches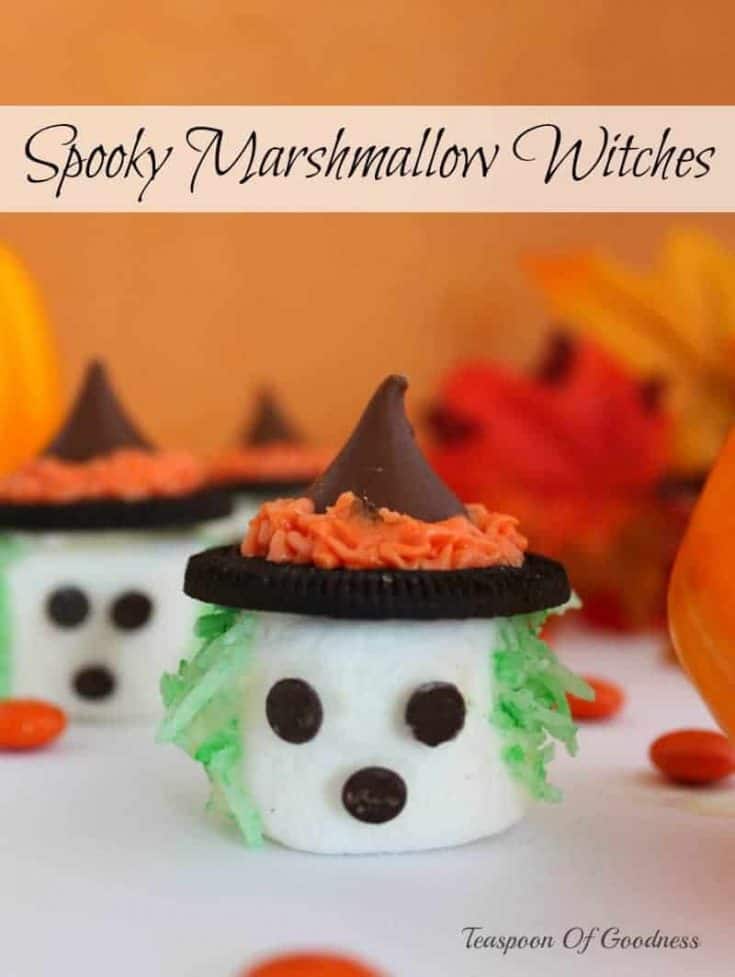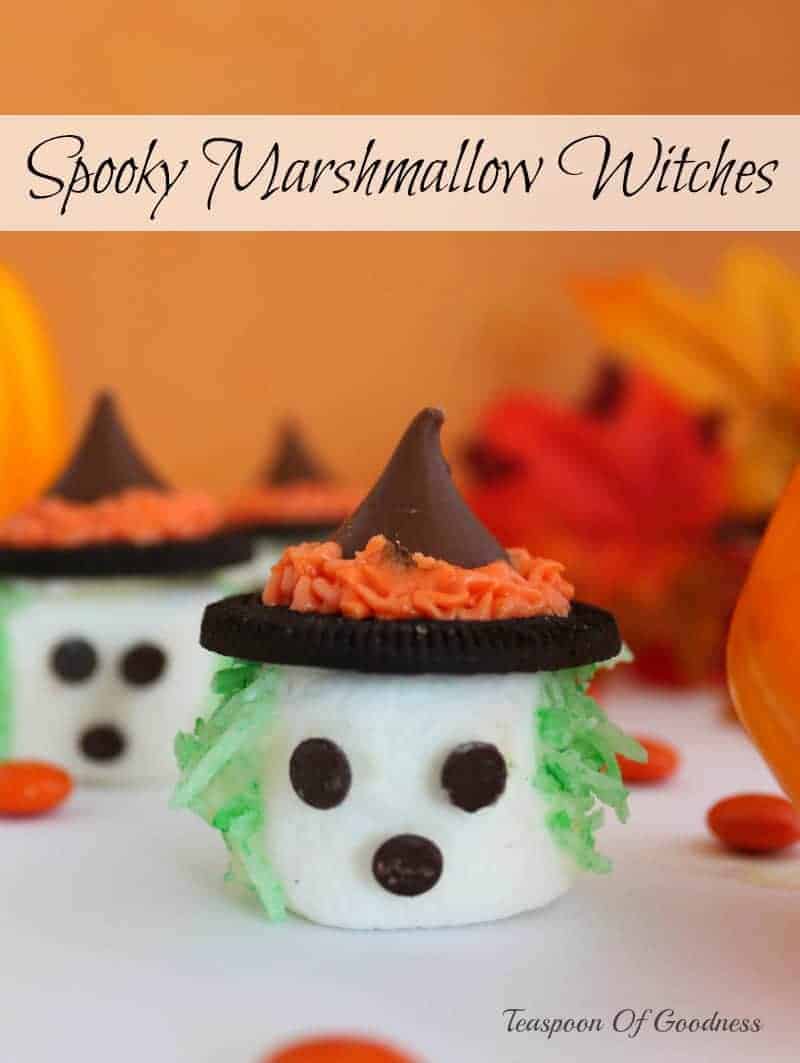 Yield:

12
Spooky Marshmallow Witches
Ingredients
1/2 cup vanilla frosting, divided
36 miniature semisweet chocolate chips
12 large marshmallows
1 drop each green, red and yellow food coloring
1/4 cup flaked coconut
12 chocolate wafers
12 miniature peanut butter cups, optional
12 milk chocolate kisses
Instructions
For The Face
Place a dab of frosting on the bottom of three chocolate chips; press two for eyes and one for nose onto each marshmallow.
For The Hair
Combine green food coloring and a drop of water in a small plastic bag; add coconut and shake well. Spread a small amount of frosting on sides of marshmallows; press coconut hair into frosting.
To Make Hats
Place 3 tablespoons of frosting in a small heavy-duty plastic bag; tint orange with red and yellow food coloring. Set aside.
Spread some of the remaining frosting in the center of chocolate wafers.
To make tall hats press peanut butter cups upside down into frosting and add a Hershey kiss on top.
If you like shorter hats lightly spread bottoms of chocolate kisses with frosting; place on tops of chocolate wafer cookies.
Cut a small hole in the corner of pastry or plastic bag; insert a small star tip. Fill the bag with frosting and pipe stars around the base of the hat.
Secure a hat to each witch with a dab of frosting.

Visit Teaspoon Of Goodness's profile on Pinterest.