Chef's knives are all-purpose kitchen tools that allow you to work with any ingredient you may think of. They are built for professional use, so durability and sharpness are ensured. Premium-quality chef's knives also come with long-term usage safety. Since mommies typically don't have time to do a thorough research before purchasing new kitchen tools, we have compiled a list of the top-notch chef's knives available in 2018.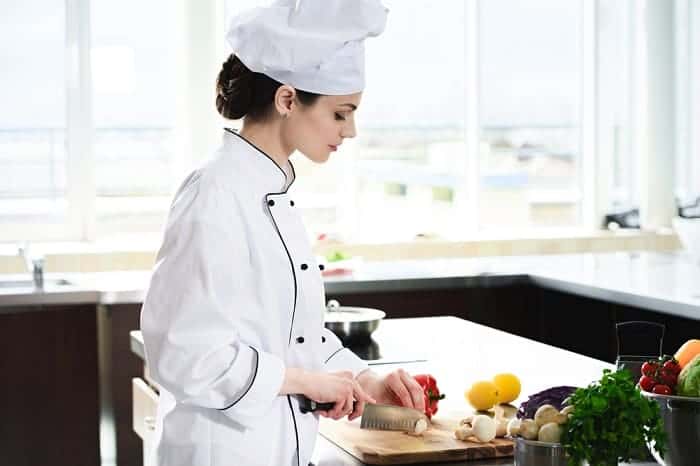 Victorinox Fibrox Pro 45520
The Victorinox Fibrox Pro has a versatile 8-inch stainless steel blade and a non-slip handle. This knife tops the charts due to its laser-tested edge and rust protection. For more info on the usability and performance of the top 10 premium quality chef knives that you can buy starting this year check the linked article. Give it a go before deciding on the next meal you're about to cook!
The Victorinox Fibrox Pro retails for around $50, which helped it become the #3 top-selling item in the Knife category on Amazon. More than 6,000 Americans have reviewed the Victorinox chef knife and even more have purchased it. The product includes a National Sanitary Foundation (NSF) certification that guarantees its premium quality. For moms, the Victorinox Fibrox Pro 45520 is a tool that spares them lots of time in the kitchen while allowing them to work with large volumes of meat or small-sized veggies.
Mac Knife Professional Hollow Edge Chef's Knife
The Mac chef's knife combines Japanese sharpness with Western resistance. Imagine a knife with a Pakka wood handle, a 2.5 mm blade, and extra dimples to allow the knife glide through sticky ingredients. This product is incredibly sharp. Japanese precision doesn't come with products that chip off after a few uses.
The knife may cost around $145, but it also boasts a spectacular overall 4.7/5-star rating. Its blade is overall straight to help you split large pieces of food. It also comes with end tapers to allow you to easily chop delicate herbs.
Shun DM0707 Classic 10-Inch Chef's Knife
Mothers with average cooking experience who rely on recipes they know by heart but don't steer clear of cooking challenges will find this knife handy. The Shun DM0707 Classic chef's knife is mostly suitable for kitchen rookies and home cooks. This knife is precision-forged in Japan by the highly reputed manufacturer KAI. Its blade is made of 33 layers of stainless steel and has a rust-free Damascus design. This knife is also used by many professional chefs in restaurants.
The handle is made of D-shaped Pakkawood for increased comfort. Moreover, the knife comes with a limited lifetime warranty, which largely explains the $145 price. The manufacturer claims that you rarely need to re-sharpen the blade thanks to a 16-degree angle forging process.
Mercer Culinary Genesis 6-Piece Stainless Steel Forged Knife Block Set
Another knife with an NSF certification is the Mercer Culinary Genesis, which includes a lifetime guarantee. The 6-piece block set includes an 8-inch professional knife, a paring knife, a utility knife, a bread knife, a boning knife, and a safe storage block. The 8-inch chef's knife – as well as the others – is made of high-carbon no-stain German cutlery steel that promises to resist corrosion and discoloration.
The precision forged design focuses on offering you strength and durability. You won't need to use force while cutting beef. The handle ensures no slipping due to a patented Santoprene compound made of plastic and rubber. The set costs around $160.
Zelite Infinity 8-Inch Chef's Knife
Many older mothers recall having worked with a Zelite Infinity chef's knife. The knife looks impressive and feels like a natural extension of your hand. The 67 layers of high-carbon in its blade gives it a surgical precision so that you can stay creative in the kitchen and prepare those delightful school bus-shaped treats. It also has a chip- and rust-resistant structure that ensures a long-term use.
The Zelite Infinity chef's knife is among the best of its kind due to its thick bolster and a harmoniously curved blade that allows you to rock it through herbs and fruit easily. The manufacturer claims that the Zelite Infinity is suitable for both professional and home use. It retails for $130.
How to Use Premium Quality Chef's Knives in Your Kitchen
A premium quality chef's knife is versatile enough to fit any menu or ingredient. You can use it to chop root veggies, cut steak, and slice delicious desserts. However, there are some instructions that should come with a chef's knife when entering a family's home.
Only wash chef's knives by hand. The dishwasher might harm the blade, if there are other objects next to it.
Store the knives safely in designated boxes. Also, keep the boxes out of children's reach.
Use the knife to create appealing and joyful shapes out of vegetables and fruit for your child.
don't show your kid your collection of premium quality chef's knives. If your child loves to prepare and cut ingredients, give them a smaller and less sharp item. A large knife can be too dangerous for them.
Final Thoughts
Premium quality chef's knives are an investment that you will benefit from for years to come. Choosing such an item can greatly improve you cooking skills and reduce the time spent in the kitchen. Upgrade your kitchen with a set of premium quality chef's knives and experience a new level toward culinary artistry!