Fresh berries are here and the sales to go with them!  I'm so ecstatic as we have been out for several months.  During the summer I tend to stock up on them big time so that we can be enjoying strawberry shortcake long into the winter season.  I snagged some strawberries on sale from one of our local shops last week and this week my fridge is over flowing with raspberries and blackberries waiting their turn in the freezer.  During the summer months one of the most common ways we enjoy our fresh berries is as a sauce.  This Easy Strawberry Sauce is a perfect example of one way to enjoy those fresh berries for the next several months!
How To Make Strawberry Sauce
A couple things that I love about this sauce is that it's only 2 ingredients, can be used with any berry (or most fruits you buy) and it doesn't require any cooking.  I tend to not cook this recipe as all as it can take away some of the nutrients and really it doesn't need to be as I'm looking for a sauce not a syrup.  I leave mine a bit chunky as I love getting a solid bite of strawberry with my strawberry sauce but you can opt to puree yours in the blender or food processor if you prefer.  By leaving it chunky I can use just a potato masher or pastry blender.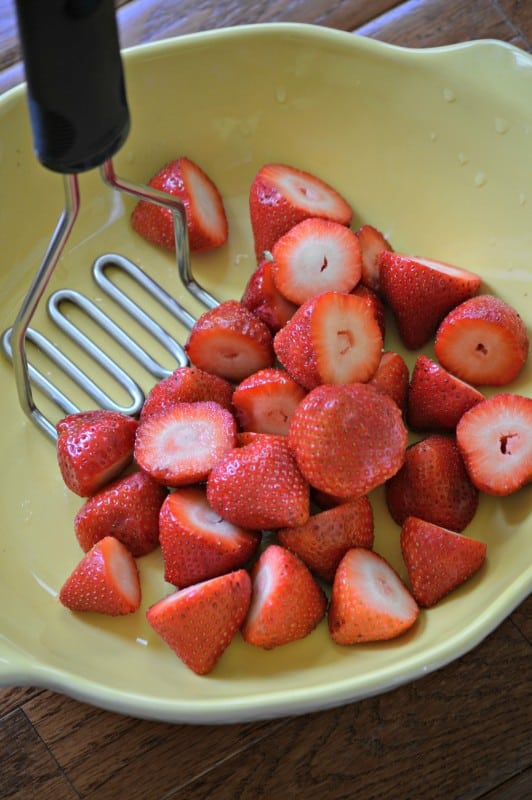 Easy Strawberry Topping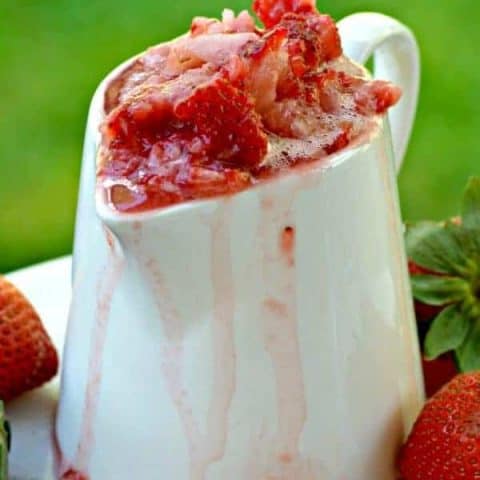 Easy Strawberry Sauce
Ingredients
1 lbs of strawberries
2 Tbsp of sugar, optional
Instructions
Wash and cut the top of them off.
Pour them in a bowl and add sugar if they are a little on the tart side.
Using a potato masher crush the strawberries to your preferred consistency.
I like them chunky.
Serve over waffles, pancakes, ice cream or greek yogurt!
**I find that I like my strawberry sauce better if it has set for an hour and I am able to enjoy the juices as well. This is a not a must though and is delicious either way!**
15 Strawberry Sauce Uses
Served over plain yogurt
Strawberry topping for waffles
Strawberry topping for ice cream
Strawberry topping for pancakes
Added to fresh squeezed lemonade
Added to seltzer water as low calorie treat
Strawberry topping for crepes
Strawberry filling for crepes
As a strawberry sauce for angel food cake
To make a strawberry milkshake
Added to vodka or champagne for a cool summer cocktail
Strawberry topping for toast
Strawberry topping for cheesecake
As a strawberry topping for french toast
As a strawberry topping for shortcake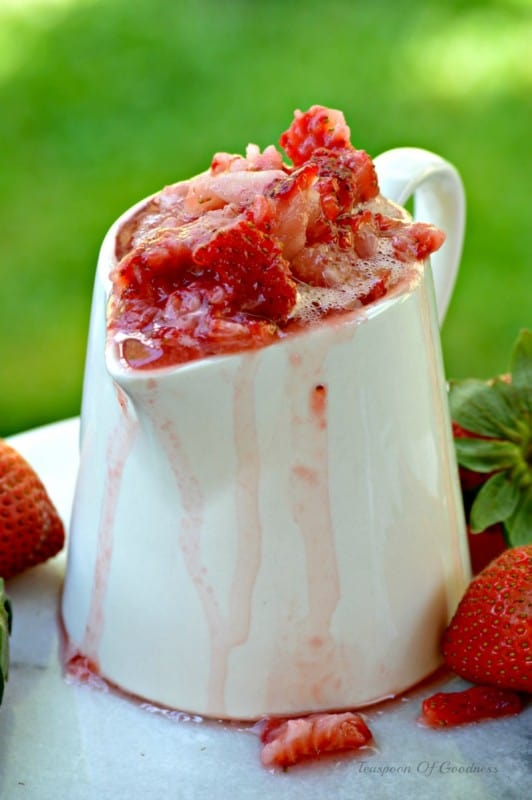 How will you be enjoying this easy strawberry topping?  What other flavors could you see yourself making?
You know what goes great with strawberry sauce?  Homemade pound cake and boy do I have a recipe for you!  Homemade Pound Cake is made for this strawberry topping recipe!  Really they scream summertime to me and pair together beautifully.