Summer is in full swing here, and each sale ad I receive in the mail reinforces this in my mind. As I open my sale ad, I see great prices on some of our favorite summer fruits each week. Most of these prices are stock-up prices.
Recently, I have been seeing awesome prices on strawberries, blackberries, raspberries, and blueberries. We all know these prices don't come around often, so I do my best to stock up when they come around for the year.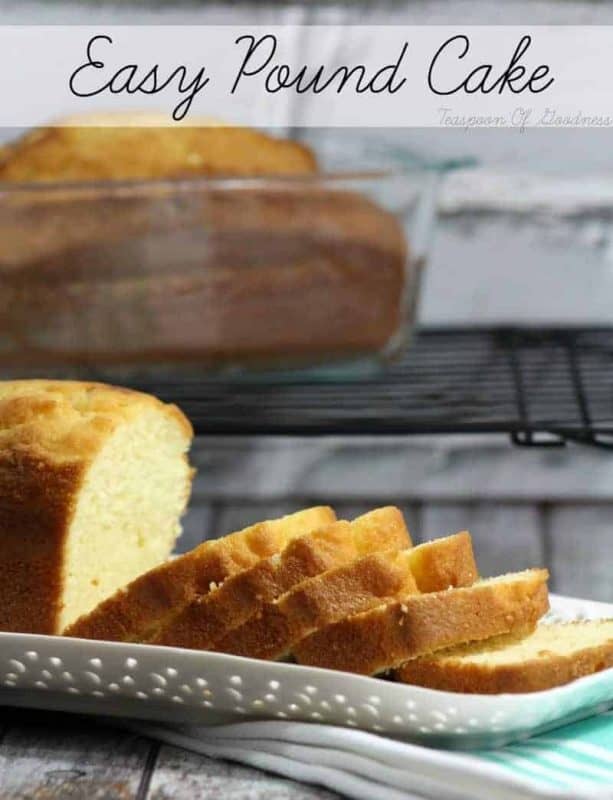 Pin
We enjoy frozen berries preserved from the summer, often with just a dollop of homemade whip cream, but once in a while, I like to take it to the next level. You know, the one that includes Homemade Pound Cake. I know it's easy to snag one from the frozen section, but I promise it's just as easy to make your own.
I often will double the recipe, and if you wrap them well in saran wrap and aluminum foil, they will stay good until you need another Homemade Pound Cake.
Another delicious way to enjoy homemade pound cake is with a delectable sauce drizzled over the top. My easy strawberry sauce makes this homemade pound cake a delectable summer treat!
As you are mixing the eggs in, I know it's tempting to put them all in at one time and mix until incorporated. However, it's very important that you mix thoroughly between each addition when doing this step. If you don't, you will end up with a much denser pound cake. This same rule applies to the first step of beating the butter and sugar. Skipping this on either step will not do your homemade pound cake any justice.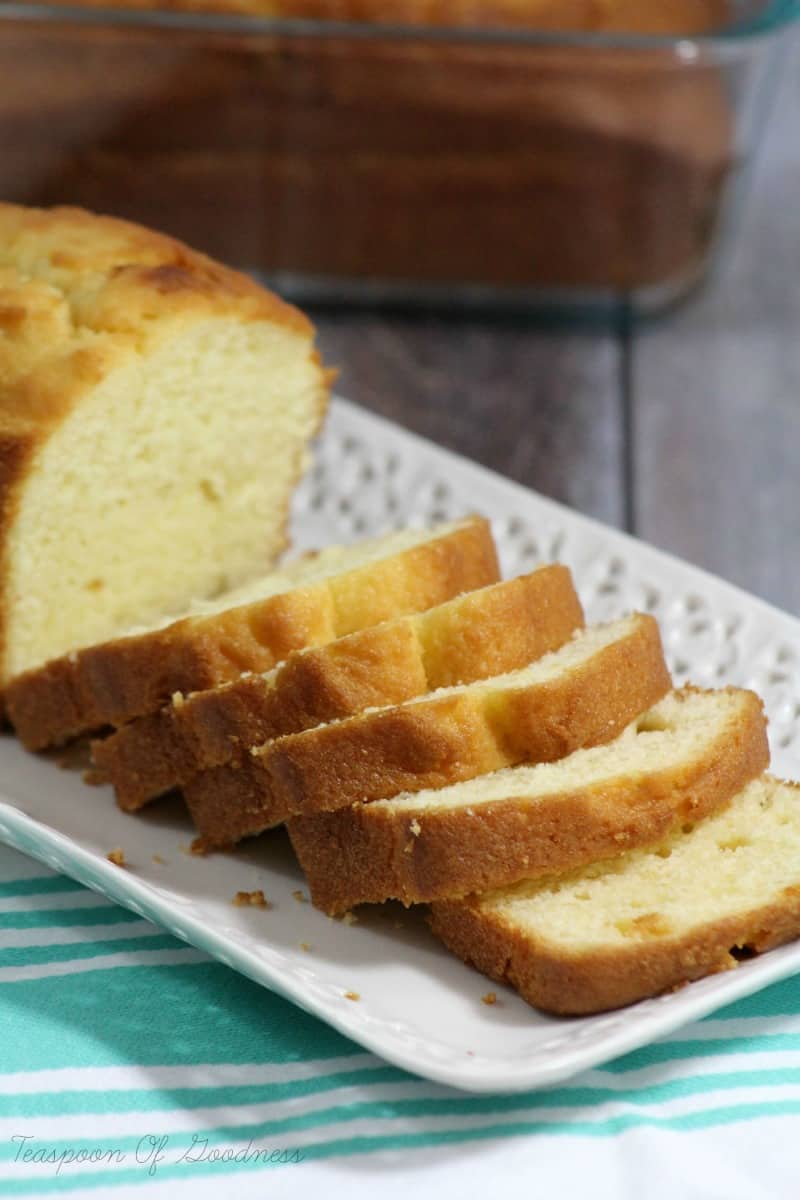 Pin
A Little History On The Traditional Pound Cake
Pound cake refers to a type of cake traditionally made with a pound of four ingredients: flour, butter, eggs, and sugar. However, any cake made with a 1:1:1:1 ratio of flour, butter, eggs, and sugar may also be called a pound cake, as it yields the same results.
Homemade Pound Cake Recipe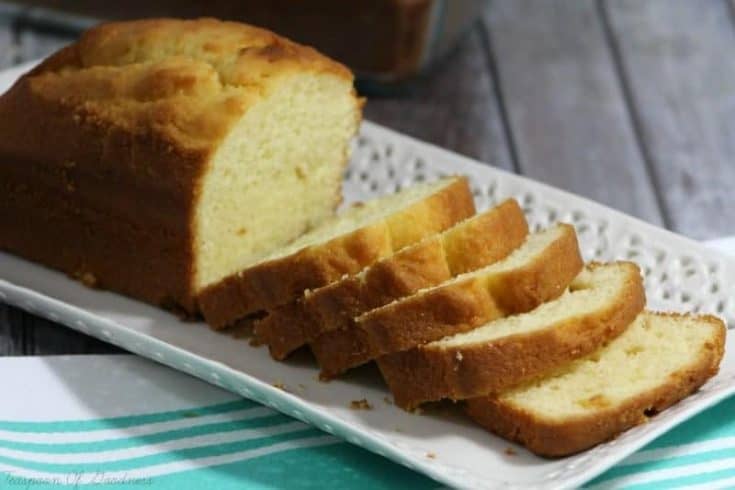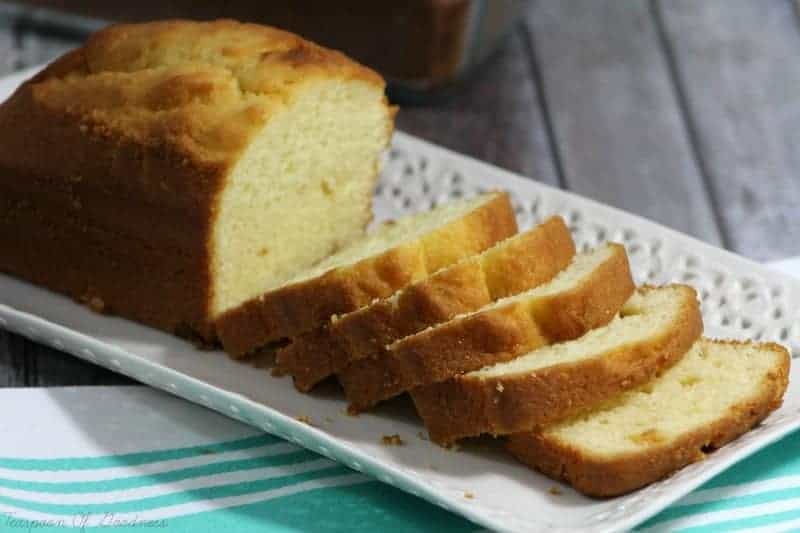 Homemade Pound Cake Recipe
Prep Time: 15 minutes

Cook Time: 1 hour 40 minutes

Total Time: 1 hour 55 minutes
Ingredients
2 C butter, soft
3 C sugar
6 large eggs, room temperature
4 C flour
3/4 C whole milk
1 tsp almond extract
1 tsp vanilla extract
Instructions
Preheat oven to 300 degrees.
Lightly grease 2 bread pans.
Cream butter and sugar together until light and fluffy. Can take up to 7 minutes.
Add eggs, 1 at a time, and beat 1 minute between each egg addition.
Alternately add flour 1 cup flour and 1/4 cup milk to the creamed mixture.
Beat on low speed after each addition.
Continue alternating until all of the flour and milk has been added.
If there are lumps gently stir with a rubber spatula.
Gently stir in the vanilla and almond extracts.
Pour into lightly greased pans.
Bake at 300 degrees for 1 hour, 40 min.
Insert a tooth pick and if it comes out clean the pound cake is done.
Cool on rack for 10-15 minutes.
Remove from pan.
Cool on your wire rack until completely cooled.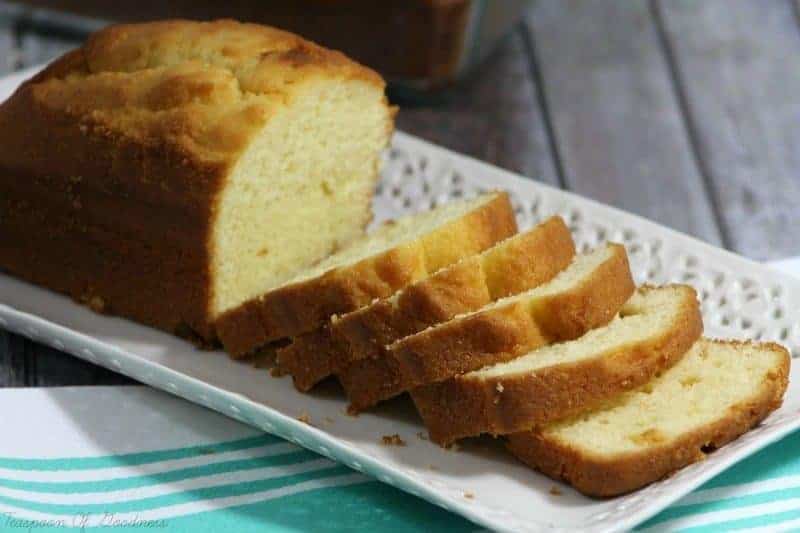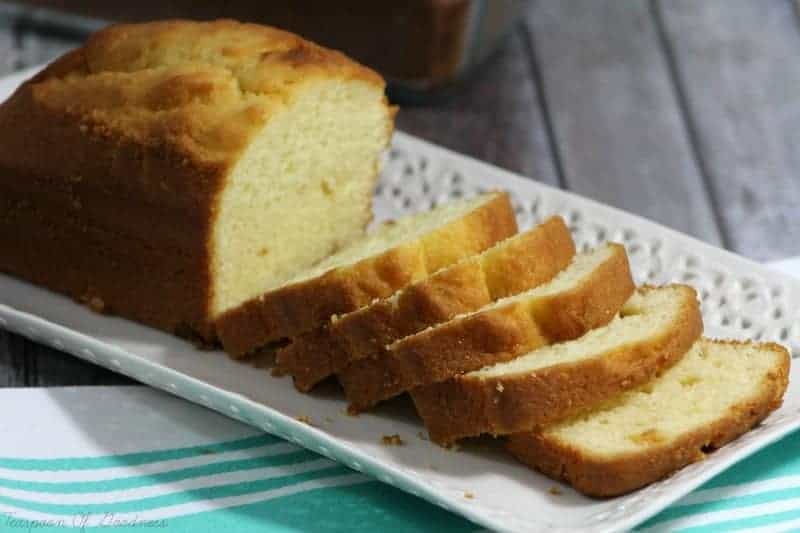 Pin
What are your favorite pound cake toppings? Have you ever made homemade pound cake?