A blender isn't capable of chopping your vegetables and a food processor won't make you a smoothie.
So, you think you'll need 2 separate machines, right?- Wrong. This is where blender food processor combos come in.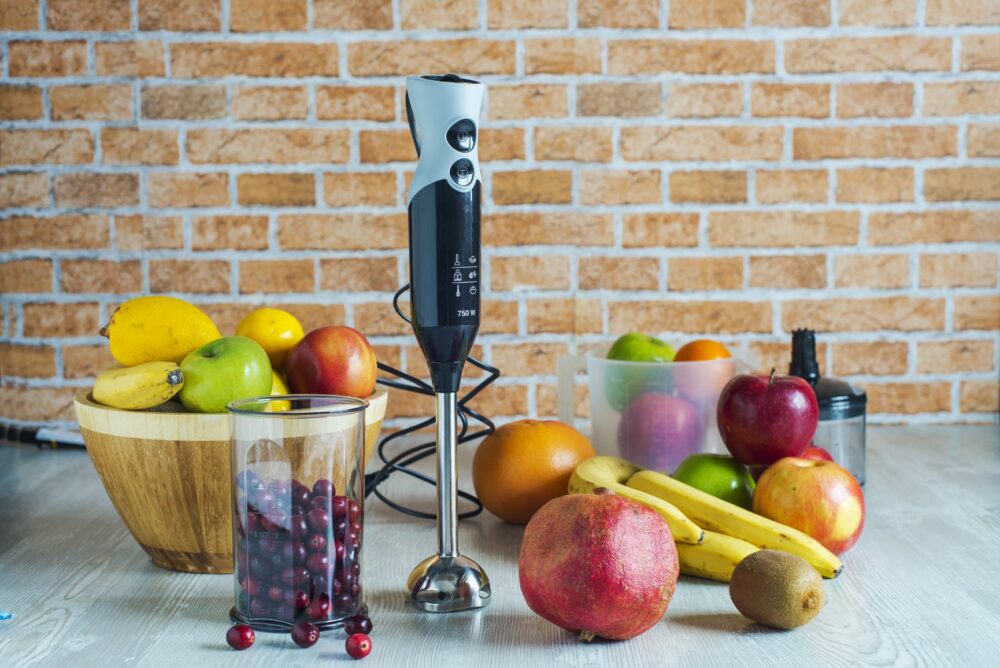 Pin
Blender food processor combos are ingenious machines that combine the capabilities of both appliances. Any foodie will understand how precious surface space is in the kitchen, and these machines can save you a whole load of it.
They're made with functionality in mind, making them perfect for those who constantly find themselves juggling everything during mealtimes and having to multitask.
While blenders and food processors may seem interchangeable, they're not. Each appliance comes with its own advantages and disadvantages. However, blender food processors can do it all.
To make things easier, we've compiled a list of the best blender food processors on the market right now. Read on to see how they compare in terms of features, functionality, and price.
No time to spare? Here's a quick link to our Top Pick, and a few reasons why we think you'll love it:
6-piece set that includes everything you'll ever need to prepare food.

Capable of crushing, dicing, slicing, kneading, chopping, pureeing, pulverizing, creaming, and blending.

It's powered by a beastly 1500-watt motor which can handle anything you throw its way.

Large capacity bowl and jar, making it perfect for larger families and bulk food preppers.

Product Dimensions: 9.5 x 8.25 x 17.75 inches
Best Blender Food Processor Combos
Pin
When researching blenders and food processors, you'll swiftly notice that the brand Ninja dominates this industry. The first of their products we're going to look at is their BL770 Mega Kitchen System.
This blender and food processor combo deserves the top spot on our list for numerous reasons. However, we were drawn in by the thousands of 5-star reviews on Amazon- so don't just take our word for it.
The BL770 is one of Ninja's larger units, hence the popularity. It comes complete with a 72-ounce blender bottle and 64-ounce processing bowl which are powered by a hefty 1500-watt motor.
With a motor this big, you can take advantage of the capacity of this machine without worrying about overloading it. This makes the BL770 perfect for large families or batch food preparation.
If you've ever used a Ninja product before, you'll know that they prefer not to use speed functions named "slow", "medium", and "fast." Instead, they prefer to name the settings after their purpose. For example, some functions on this specific unit include blending, crushing, and kneading dough.
There's one catch when it comes to the Ninja Mega Kitchen System- it's expensive. If you're interested in a top-of-the-range model such as this, you should expect to pay a higher price.
However, the customer reviews suggest that it's worth the money if you require a bigger machine.
Pros:
The sizeable 72-ounce pitcher can crush ice and blend smoothies.

The two 16-ounce cups come with secure to-go lids.

The 8-cup food processor makes chopping food easy.

This unit is dishwasher safe for effortless cleanup.

It comes with a blade specifically made for cutting dough.
Cons:
It's more expensive than other models on the market.
Sale
Ninja BL770 Mega Kitchen System, 1500W, 4 Functions for Smoothies, Processing, Dough, Drinks & More, with 72-oz.* Blender Pitcher, 64-oz. Processor Bowl, (2) 16-oz. To-Go Cups & (2) Lids, Black
POWERFUL CRUSHING: The 72-oz. Total Crushing Pitcher pulverizes ice to snow in seconds for creamy frozen drinks and smoothies with a powerful 2-plus horsepower motor. (64-oz. max liquid capacity).
FOOD PROCESSING: 8-cup food processor bowl provides perfect, even chopping and makes up to 2 pounds of dough in just 30 seconds.
4 VERSATILE FUNCTIONS: All 4 functions – Blend, Mix, Crush and Single-Serve – utilize 1500 watts of performance power to truly customize your drink-making experience.
ON-THE-GO CONVENIENCE: Two 16-oz. Nutri Ninja Cups with To-Go Lids are perfect for creating personalized, nutrient-rich drinks to take on the go.
BLADES FOR ANY RECIPE: Stacked Blade Assembly for the pitcher, Dough Blade and Chopping Blade for the processor bowl, and Nutri Ninja Blades for single-serve cups.
Pin
The Oster Pro 1200 blender and food processor owes its namesake to its powerful 1200-watt motor. This compact machine certainly packs a punch, despite being one of the cheapest combo units we managed to find.
It is fitted with a 5-cup food processor bowl, which does a great job of shredding, slicing, and chopping food with speed and precision to make mealtime preparation as easy as possible.
The glass blender jar has a capacity of 6-cups, making it roomy enough for cramming in multiple servings at once.
The bowl and jug are easily detachable, which makes cleaning less stressful. The attachments and bowls are dishwasher safe too, so you can reduce cleanup time as well as preparation time.
The Oster Pro 1200 comes equipped with 7 different speed settings, so you can customize the viscosity of your food.
There are even preset functions too, for making things like smoothies and salsas. This enables you to just push a button and let the machine work its magic.
Despite its affordable price, the Pro 1200 is a firm favorite among Amazon reviewers. Customers who bought this product repeatedly mention the durability of the glass components and how user-friendly the design is.
Some reviewers mentioned that this machine can be noisy, which isn't uncommon for cheaper models with high power. A quiet blender and food processor combo is hard to come by.
Pros:
It is made from strong and durable plastic with attractive metal accents.

The 1200-watt motor is powerful enough for most tasks.

It has 7 speed settings and 3 pre-programmed functions for specific foods.

The dual direction blade technology blends in forward and reverse, improving flow.

It looks modern and not too bulky to leave out on the kitchen counter.
Cons:
The motor isn't as powerful as some of the others on this list.

This machine can be noisy when in use.
Oster Blender | Pro 1200 with Glass Jar, 24-Ounce Smoothie Cup and Food Processor Attachment, Brushed Nickel - BLSTMB-CBF-000
The Oster pro 1200 blender plus food processor starts with 1200 powerful watts, and lets you use the blender and food processor features interchangeably to make everything from smoothies to salsa to soup with ease
Blender and food chopper feature smart settings technology and 7 speeds, including 3 pre programmed settings for 1 touch salsas, milkshakes, and smoothies, plus pulse for added control and precision
Dual direction blade technology blends in forward and reverse, allowing ingredients to flow down into the blade easier for faster and smoother results; the powerful and precise blade system is 50 percent larger compared to previous oster blenders
Comes with an 6 cup boroclass glass jar; extra large, bpa free 5 cup food processing bowl; stainless steel slicing disk and chopping blade; and 24 ounce lidded smoothie to go cup
10 year duration last all metal drive limited warranty for longevity; 900 watts of ice crushing power
Pin
If you're on the hunt for a more compact machine with a smaller price-tag, the Hamilton Beach Wave is for you. This machine is perfect for single-person households or even couples.
The 40-ounce jug is the smallest so far on this list, and the 24-ounce processing bowl can't be jam-packed with multiple portions at once.
Therefore, if you're looking for a family-sized blender and food processor combo, you should consider one of the larger machines on this list- as this one is unlikely to cut it.
The Hamilton Beach Wave comes equipped with a whopping 12 different functions, making it one of the most versatile units on the market.
It has settings for specific tasks such as grating, slicing, dicing, chopping, grinding, crushing as well as pre-set puree, salsa, and smoothie options.
If you're interested in getting a combo machine to help you multitask in the kitchen and save time, then this may just be the perfect fit for you.
As the Hamilton Beach Wave is one of the cheapest blender and food processor combos out there, it doesn't come with the same ultra-sleek design as the previous products on this list.
However, if you're a bargain hunter, you may not be bothered by the more standard design. This product comes with a travel jar too, perfect for on-the-go drinks and snacks.
Pros:
40-oz jar and the 3-cup chopper is perfect for small families and couples.

700-watt peak power motor, which is plenty for everyday food preparation.

Compact dimensions of 7.8 x 6.8 x 15.2 make it easy to store.

The multi-function blender can crush, blend, and puree.

The food processor can slice, shred, and chop.

Innovative wave action system.
Cons:
This is one of the smallest combo machines on the market.

The motor is only powered by 700-watts, much less than larger units.
Sale
Hamilton Beach Blender for Shakes and Smoothies & Food Processor Combo, With 40oz Glass Jar, Portable Blend-In Travel Cup & 3 Cup Electric Food Chopper Attachment, 700 Watts, Gray & Black (58163)
3-IN-1 VERSATILITY: This blender and food process combo includes a 40 oz. glass blending jar for large servings, 20 oz. blend-in personal blender travel jar for on the go and a 3 cup vegetable chopper attachment for slicing, shredding, chopping and more.
POWERFUL BLENDING PERFORMANCE: With 700 watts of peak power and durable stainless steel blades, this multifunction blender effortlessly blends a variety of frozen ingredients and leafy greens to make smoothies, shakes, icy drinks, salsas and more.
CONSISTENTLY SMOOTH RESULTS: The patented Wave~Action System on this Hamilton Beach blender pulls the mixture down into the blades for smooth results every time you blend. Excellent for making fruit smoothies, milkshakes, icy drinks and more.
DURABLE 40 OZ. GLASS JAR: The large glass blending jar is designed to withstand extreme temperatures. It is perfect for blending both ice-cold drinks, like fruit smoothies and protein shakes, and hot liquids.
DRIP-FREE POURING: The 40 oz. glass blending jar features a lid with a patented, no-mess pour spout that's designed to eliminate drips and spills. The pour spout can also be used for streaming in oils and other ingredients during blending.
Pin
Next up we have the second Ninja product on this list, their Foodi SS201 Power Blender and Processor. We simply couldn't make a list about blenders without including multiple options from the biggest name in the industry.
Although this model is in the same price range as the Ninja BL770 Mega Kitchen System, it is designed in a completely different way. So if you're struggling to choose between the SS201 and the BL770, it simply comes down to design preference.
The Ninja Foodi SS201 machine is a 3-in-1 blender and food processor that is capable of crushing ice, blending creamy sauces, chopping chunky vegetables, and even making fresh dough.
The unit is powered by a 1400-watt motor, which is powerful enough to maintain the high speeds required to power through heavy food loads without interruption.
Unlike the Ninja BL770 Mega Kitchen System, this machine consists of one jar with interchangeable blades, rather than using multiple cups and components.
There is one blade designed specifically for crushing and chopping. It is made with a stacked design that delivers precise chopping results and quickly turns ice into slushy snow.
Alternatively, you can use the dough blade which has been specially designed to imitate the kneading motion that baked goods require.
Another feature that makes the Foodi SS201 model unique is that it comes with 6 Auto-iQ preset programs.
These automated programs are designed to deliver perfectly crafted smoothies, frozen drinks, and smoothies at just the touch of a button.
Pros:
High-end machine from a reliable and trusted brand, Ninja.

Includes a 1400-watt power-dense motor for pristine performance.

Interchangeable blades for different tasks.

Pre-set options available.

User-friendly design.
Cons:
It's one of the most expensive of its kind on the market.
Sale
Ninja Foodi SS201 Power Blender & Processor. 3-in-1 Crushing Blender, Dough Mixer, and Food Processor 1400WP smartTORQUE 6 Auto-iQ Presets
The 3-in-1 blender that crushes, food processes, and makes dough.
Smart TORQUE is designed to power through heavy loads without stalling or the need to stir or shake.
Variable speed control. Start slow and ramp up as needed for precision chopping and mixing.
Power Blender & Processor Pitcher: crush, chop, and make dough conveniently in one pitcher.
6 preset Auto-iQ programs for one-touch smoothies, frozen drinks, bowls, spreads, chopping, and dough.
Pin
The last blender and food processor combo we'd recommend is the Cuisinart Smart Power Duet. It is not as large as other models on this list, so it makes a good option for individuals, couples, or small families.
The machine is powered by a 500-watt motor, which isn't impressive in comparison to similar models. However, this motor is equipped with overload protection, preventing breakages and spills.
The machine itself is petite enough to nestle on your kitchen countertops without appearing too cumbersome. However, it doesn't look as flashy as some of the Ninja models.
But if standard and user-friendly is what you're into- the Smart Power Duet is the one for you. The 48-ounce glass blender jar is armed with premium ultra-sharp stainless steel blade assembly, enabling it to puree and blend with ease.
Also, the 3-cup food processor attachment is great for slicing and shredding thanks to its sturdy steel chopping blade.
The Smart Power Duet comes with 7 different speed settings, each achieving a certain consistency. These functions are controlled using the electronic touchpad buttons that are fitted with LED indicators for ease of use. There's even a small measuring cap fitted into the jar of the blender lid.
Pros:
Full power 500-watt motor with overload protection.

Made with die-cast metal housing.

48-ounce glass blender jar and the 3-cup food processor is plenty for small families and couples.

7-speed electronic touchpad controls with LED indicators.
Cons:
It is not as powerful as you'd expect for a machine of its price point.

It is basic compared to competitor machines.
Sale
Cuisinart BFP-703BC Smart Power Duet Blender/Food Processor, Brushed Chrome, 3 cup, count of 6
SUPERIOR PERFORMANCE: The powerful 500-watt motor crushes ice instantly with no liquid added – blends, purées, chops, mixes, and liquefies all with the push of a button!.Voltage: 220 V
EASY TO USE: 7-Speed touch pad controls with LED indicators: off, on, pulse, stir, chop, mix, puree, food processor and ice crush
MUST-HAVE FEATURES: Die-cast metal housing, 48-ounce glass blender jar with premium ultra-sharp stainless steel blade assembly and removable 2-ounce measuring cap on blender jar lid
INCLUDED: 3-Cup food processor attachment with feed tube and pusher, slicing/shredding disc and chopping blade with large 48-ounce glass blender jar, clear 2-ounce measured pour lid, manual and recipe book – all removable parts are dishwasher-safe
LIMITED 3-YEAR WARRANTY: Refer to user manual for troubleshooting steps and questions surrounding warranty policies – this product is BPA free
Buying Guide
If you've never been shopping for a food processor and blender combo before, it can feel pretty overwhelming. There's an abundance of different models on the market, and it can be difficult to know what to look for.
To help you out, we've broken it all down. Here are the factors you should consider when buying a food processor and blender combo:
Size
Combo machines are typically bigger than regular blenders, as they have more components. The food processor bowl should always be large enough to handle oodles of ingredients.
If it's not roomy enough, you're going to have to deal with messy splashing and leaking. However, if your bowl isn't full enough, it's not going to blend well.
It's a case of playing the Goldilocks game here- you have to find one that's just right. If you plan on using it for small portions as well as large batches, we recommend looking at machines that come with multiple-sized containers.
Design
As well as making sure your blender food processor is big enough, you should also consider what will look right in your home. Some models will have knobs, buttons, toggles, switches, dials, or touchscreens.
But smaller, more inexpensive models will have fewer functions, such as just an on/off switch. The controls of your processor will come down to your personal taste.
Depending on what model you choose, it may come with additional features. Some machines are programmed to automatically clean themselves, others have multiple speed settings, and some even come with preset options for specific food and drinks.
You should also try to opt for a processor that can be taken apart, as this can come in handy when it's time to clean it.
Another design feature you should take into consideration is the blade composition. If the blades are made from low-quality metal or plastic, you're not going to achieve a smooth blend.
Choose a machine with as many blades as you can afford- you won't regret it. If the blades can move in both directions, even better.
Power
If you want to be able to blend anything at will, you're going to need to find a machine that really packs a punch. How powerful a food processor is will depend on the motor.
Motors control almost every aspect of the machine including blade spin and speed. To achieve an effective blend, we recommend looking for a processor with a motor that has at least 1000 watts.
High-end models can sometimes exceed 2000 watts. Your required wattage will depend on what you plan on using the blender for.
Cleaning
Cleaning a food processor and blender combo can be hazardous as they have sharp blades. You'll need to consider whether you'll need a dishwasher-safe model or if you're happy to clean it by hand.
Would you prefer the blade to be removable or not? Think ahead and consider how difficult the machine is going to be to clean.
Price
Nobody likes to spend more money than they need to. So, it's important to keep an eye out for deals and bargains so you can get a good machine without breaking the bank.
The best models with the most attachments and settings will typically cost you more money. However, you're going to save money regardless just by owning a combo device instead of a processor and blender separately.
Frequently Asked Questions
What's the difference between a blender and a food processor?
A food processor is a machine specifically designed to save you time. It can aid in numerous tasks such as chopping, slicing, grinding, and grating. Some high-end models can even knead dough for you.
The blades of a food processor are usually flat and spin at a slower rate. This allows them to prepare food by chopping it rather than pulverizing it.
A blender is used to liquefy ingredients to form a juice. This makes them perfect for smoothies, fruit juice, and even protein shakes. You can toss in yogurt, seeds, nuts, and oats.
Alternatively, you can use a blender to puree soups thanks to its short sharp blades.
Is a food processor worth it?
If you love cooking and often find yourself making food for a medium or large family, or party then a food processor is worth it. It helps you prepare the food quickly: chopping onions, grating cheese, kneading dough, mincing meat, and more.
You can either choose to go for full-sized food processors, suitable for preparing large batches of food, or go for a mini chopper, for personal use.
Can you use a food processor as a blender?
If the food processor you end up buying comes with a blender attachment like the ones we review in this article, then yes, you can use your food processor blender attachment for blending.
You can use it for making smoothies, baby food, sauces, soup, and more.