Winter is the time I break out the crock pot and make enough of my favorite crock pot soups to get me through the season. It's the only time I really want soup, so when the time comes around, I eat as much of it as I can.
Winter Soups
Why is soup so good in winter? There are a lot of reasons! The most obvious is that soup is delicious and warms you down to your toes. Another reason I prepare so much soup in the winter, is because it's dark. The day seems to end much earlier, and the prospect of cooking a big meal when there's so little of the day left to enjoy isn't that appealing.
Crockpot soups can cook all day while I'm at work, and be ready for me when I come home. If I have some in the freezer, all it takes is a little time over the stove or in the microwave to bring it back to life.
I could always go the canned soup route, but there is something about homemade soups and hearty stews in the winter that I crave. If you're looking for crock pot soup recipes to get you through the long, cold months, then take a look at this list of the top 10 best crock pot soups for winter.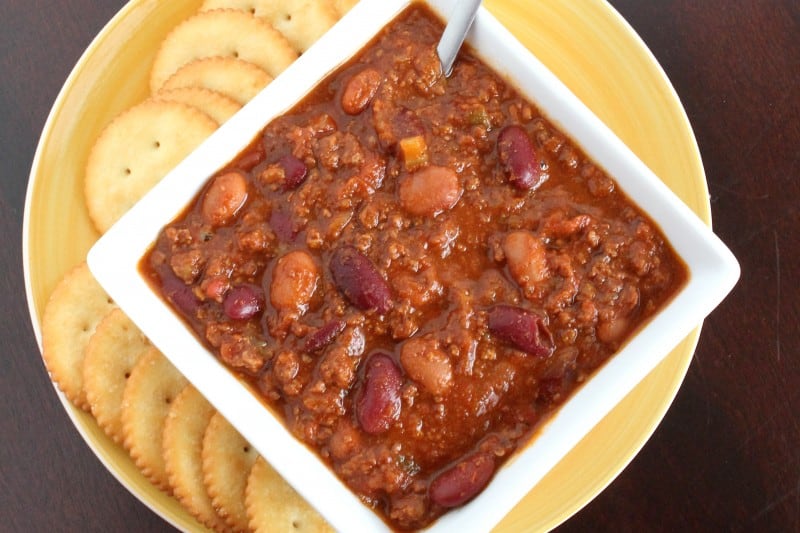 Pin
Types of Soup
There are several ways to make a soup, and several types of soups you can make. At times, I enjoy using my cast iron pot, but prefer the crock pot for busier days and bulk cooking. The instant pot is another option, but I like to let all the ingredients simmer together for the day to absorb all the flavors.
The crock pot isn't suitable for everything, but it's an excellent choice for soups. With the crockpot you can make:
Bone broth or soup stock: the base for many soups
Vegetable soups: a variety of vegetables mixed with broth, meat and/or pasta such as orzo
Chowder: a creamy soup generally made with seafood, such as clams, but sometimes made with veggies
Stew: meat and vegetables cooked slowly together in a closed pot
Chili: typically ground beef with beans, peppers, and onions
Bisque: a creamy soup, usually made with shellfish
Easy Crock Pot Soups
The variety of crockpot soups and stews makes it possible to enjoy them every day through the winter and never eat the same thing. Yet the greatest part of making soup is that there is typically enough for several days.
Here are our 10 best homemade soups in crockpot to get you through the winter:
Potatoes have been used in soups for centuries because they are a hardy crop that can last through the winter. They grow easily in most types of soil and can provide nutrition even when you have nothing else. Luckily, potatoes are also delicious and filling, making them one of the best ingredients to add to any soup.
Our Easy Crock Pot Potato Soup is incredibly easy to make, and absolutely delicious. Consisting of ingredients similar to a loaded baked potato, this soup features potatoes, onions, green onions, sour cream, cheese, and just a few other simple ingredients to give it the proper consistency.
Like every great chili, this recipe includes onion and garlic, ground beef, tomatoes, and several spices. This bean soup recipe calls for these ingredients to simmer in a dutch oven, but a crock pot works just as well.
Not only will this chili fill you up, this recipe mimics the iconic flavors of Wendy's chili and tastes even better the day after it's made.
Beef Stew is a winter favorite. It is both thick and brothy, healthy and indulgent. While the recipe commonly calls for potatoes, carrots, and beef, it's a very versatile soup with ingredients that can be easily swapped out.
To mix it up, choose peas instead of carrots, a fatty brisket instead of traditionally used chuck roast, or add in some of your favorite veggies. Alter the seasonings to your taste, and add a little gravy in there if you choose. No matter how you make it, beef stew should be a staple of your winter cooking.
French onion soup has a long history. In fact, it reaches all the way back to the height of the Roman empire. Despite their society being rich and powerful, there were many slaves and poor people that didn't have access to meat and harder to grow vegetables. Onions were easy, long-lasting, and abundant. The onions were caramelized over a long cooking period, usually simmered in water with alcohol added near the end.
While the recipe remains largely the same, the image of a poor man's food has changed. This is due to the soup's resurgence in France during the 18th century. At that time, it was refined under the heightened umbrella of French cuisine.
Lucky for us, we don't have to be French chefs to make a delicious French Onion Soup. It's a simple recipe, with the most prominent ingredients being onions, beef broth, and Guinness.
No one truly knows where potato leek soup came from since it's been made around the world throughout the ages. One story involves France's Louis XV, who was terribly afraid of being poisoned. The king would have his soup tasted several times by several people before he would eat, and by then it would be cold. Subsequently, one version of potato leek soup, Vichyssoise, is now intentionally served cold.
Potato leek soup is also popular in Romania, though the soup is most notoriously attributed to Welsh cuisine. No matter where your recipe comes from, this soup is extremely simple to make and should be on everyone's list. All you need is potatoes, leeks, and some cream, though I personally like to add onion and plenty of spices. This recipe from The Recipe Critic is a perfect variation of this simple and delicious winter soup.
Wild rice vegetable soup is one of those soups that don't require any preparation other than ensuring you have the ingredients and a crock pot. It's a "dump and go" soup as many like to call it.
There's often a stigma around dump and go recipes. People say they're lazy, or unhealthy, or any number of slanderous comments. In truth, we have busy lives and a dump and go soup such as wild rice vegetable soup is the best way to get a full, delicious, and healthy meal. This is one of our favorite healthy crock pot soups that we'll make again and again.
Clam chowder conjures up images of my childhood, when we'd beg for it to be served. I'm fairly certain there was a period of time I ate it every day. While it may be more of a summer/coastal soup, I always crave it in winter.
The best part about clam chowder is that it's simple to make. Potatoes, clams, clam juice, cream, and spices are all you need to make this delicious soup, though there are several hundred variations. Any recipe made by sailors while at sea is bound to experience a few alterations.
Like many other winter soups, butternut squash was chosen because it ripens late in the year and can last several weeks or even months in the right conditions. In older civilizations, it was one of the few vegetables available through the winter. I'm quite partial to this soup. I have several quarts of it in my freezer right now.
While I often make this soup on the stove, mixing it with carrots, onions, and celery, it's also a perfect crock pot soup. You'll still need to puree it at the end, but that's a small price to pay for a delicious and healthy soup. The addition of coconut milk at the end adds a bit of sweetness that is simply divine.
This is a new addition to my winter soup list, but it's a quick favorite. I always have sausage or kielbasa in my fridge (for the days I forget to defrost something), so I try to find as many recipes for it as possible.
Luckily, this soup is a healthy option that's great for winter, when breaking out the grill isn't feasible. You'll still have to sear the meat before adding it to the crock pot, but sausages fry up quickly and add a lot of flavor to this soup.
There are very few things better than grilled cheese and creamy tomato soup for lunch on a snowy day. It's one of the simplest recipes on my list, and one of the most delicious too.
There are a lot of variations of tomato soup, but this tomato soup recipe from The Salty Marshmallow is a real winner.
Freeze Your Winter Soup
Soup is probably the most versatile of all types of dishes, which is why it's such a great option in winter. Not only can you adjust these recipes to meet your tastes, you can keep them in the freezer much easier than most other meals and they'll likely taste better the second time around.
Interested in more delicious crock pot soups? Follow Teaspoon of Goodness for simple crock pot soups, warm breads, hearty entrees, and delicious treats.