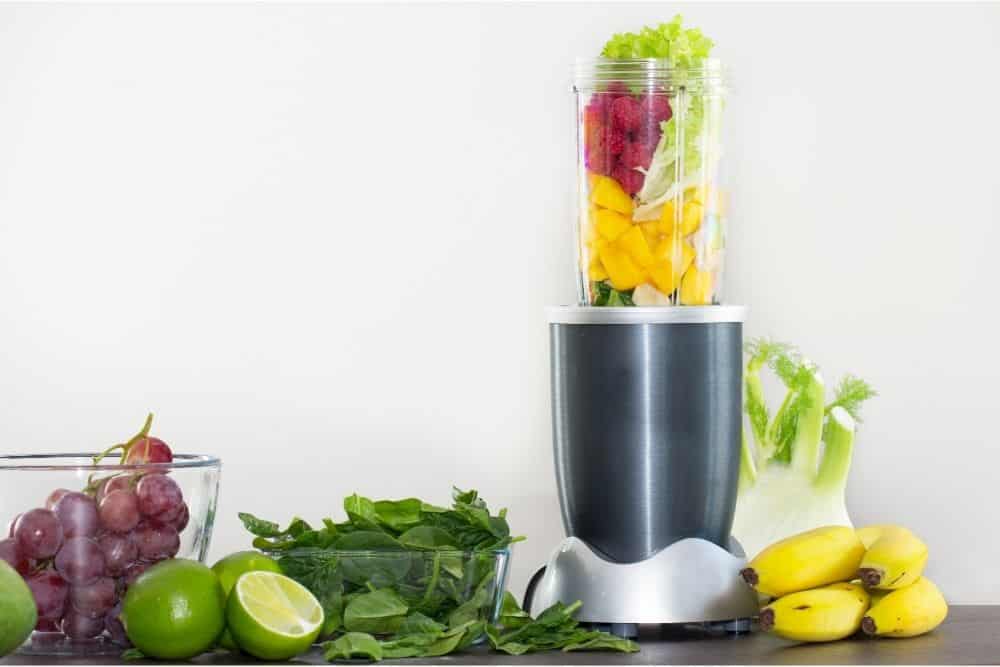 Pin
Ninja and Vitamix are hands down two of the most well known brands in the field of blenders, with Vitamix being the high-end brand, and Ninja being the everyman's more affordable alternative.
But in a showdown between the two, who would win?
Here we're going to look at some of their key features, how well they perform, how easy they are to clean and maintain, how long they last, and whether they offer good value for money. Then we'll wrap up with a brief conclusion at the end (feel free to scroll ahead if you wish).
Just a quick heads-up – this article is looking at both blender brands as a whole, and as such there's no direct comparison on two or more specific models.
Special Features
The Ninja brand has a super cool feature that you don't typically see in other budget brands. They refer to it as Auto-IQ. It's basically a pre-programmed set of instructions for the blender, depending on what it is you want to use it for. So you could select soup for example, or smoothie, or iced cocktails, and so on.
This is in contrast to more basic brands which may only have one speed setting, or speeds that you control via a dial, that will require you to know beforehand what speed setting you will need for your particular dish.
So, you'd imagine that Vitamix has a similar technology in their products. Vitamix blenders typically have 5 main pre-programmed settings, namely smoothie, frozen, soup, purée, and clean.
But Vitamix takes this a step further. The Vitamix Ascent Series of blenders feature Self-Detect technology, so the blender "knows" exactly which container is placed on the base and adjusts the blending settings accordingly.
Similarities
But before we go further into looking at how these brands are different, it makes sense to also cover some features they have in common.
Both brands offer self-cleaning in their blenders
Both brands offer pulse technology to help bring food down to the blades
Both brands feature containers that are dishwasher safe
Power
The ability of a blender to blast through whatever it is you want to put in it comes down to two main factors. The quality of the blade and the power behind the blade and motor, which is typically measured in watts.
You might imagine that Ninja being the more affordable option would typically feature a lower wattage. But it turns out that they are quite comparable in their motor power, with Ninja blenders starting at 700 or so watts, while Vitamix blenders start at 600.
However, Vitamix does hold the edge at the other end of the spectrum, but not by much. Most Vitamix blenders have a 1400 watt motor, whereas a typical ninja blender may have a motor of 1000 or so watts.
And what this means for the consumer is that you can do more with a typical Vitamix blender than you would with a Ninja one. The ability of a blender to crush ice, for example, or to grind nuts to make nut butter, requires a certain amount of power to the blade from the motor.
Customer Ratings
One of the best ways to judge products like blenders is to look at just how well they go down with customers.
But on this point, it's hard to pick out a clear winner between the two. On Amazon.com for example, you will find that both Ninja and Vitamix typically have an average customer rating of at least 4 and a half stars, and sometimes a full 5 stars out of 5.
Price Point
As we mentioned in our introduction, Vitamix is the high-end brand of blender. Their most affordable offering is their handheld blender, which costs about $150, which is almost as much as Ninja's most expensive countertop blenders.
But their countertop blenders typically start at a hefty $270 and go up to a staggering $600.
Whereas in stark contrast, Ninja blenders start from as little as about $55 and tend to only go up to about $170. And that's with accessories included too.
Product Lifespan
The Vitamix Ascent Series of blenders all come backed by a very lengthy 10-year full warranty.
Sadly, Ninja blenders typically have a far shorter warranty period of just 12 months.
We're not saying that the products will only remain in good condition for the approximate length of the warranty. How long a blender will last will depend on how much you use it and what you use it for. (For example using it to crush ice might cause the blade to blunt a little.)
But if the Ninja brand were of as good a quality as the Vitamix brand, they would surely have a comparable length of warranty. So, Vitamix is clearly the winner on that score.
Wrap Up
Both Ninja and Vitamix have a great product offering, and although Ninja blenders are of excellent quality, they're simply not as powerful as their pricier competitor Vitamix.
So, if you're looking for a blender that will blast through hard foods or that will crush ice, then Vitamix is hands down your best bet…
But, if like most people you're accustomed to living with a budget, then you may decide that Vitamix is simply not worth the expense. Especially given that in some circumstances, you could buy two Ninja blenders for the price of one Vitamix blender.
Besides, you don't really necessarily need a powerful Vitamix blender in order to crush ice or make a nut butter. Several Ninja blenders can also do all that for you. But if that's what you're looking for you need to ensure that the one buy is designed for that, because they're not all up to the job.
However, please remember that these two brands are hardly your only option. There are plenty of other great brands out there, and when this article was written, neither Ninja nor Vitamix held the number one spot on the bestseller lists with the online retailers in the category of household blenders.