Spend all day in the kitchen? For some, this may sound like fun, but for me, I just don't have time for that. While I do enjoy spending time in the kitchen with my two boys I also want to spend my time doing other things. Making memories at the park, doing laundry (not that I want to, but I must), or reading a good book.
When I am in the kitchen I want to be using that time making delicious entrees and desserts for my family, I don't want to waste time on the little things. These Time Management Tips In The Kitchen are huge savers for me in areas that most of us don't truly think about. My mom for instance never thought to put her raw meat in a pan to save time cleaning the fridge when it leaked. She had a dedicated shelf and nothing else went on that shelf. I would rather toss a pan in the dishwasher than worry about cleaning a shelf. How about you?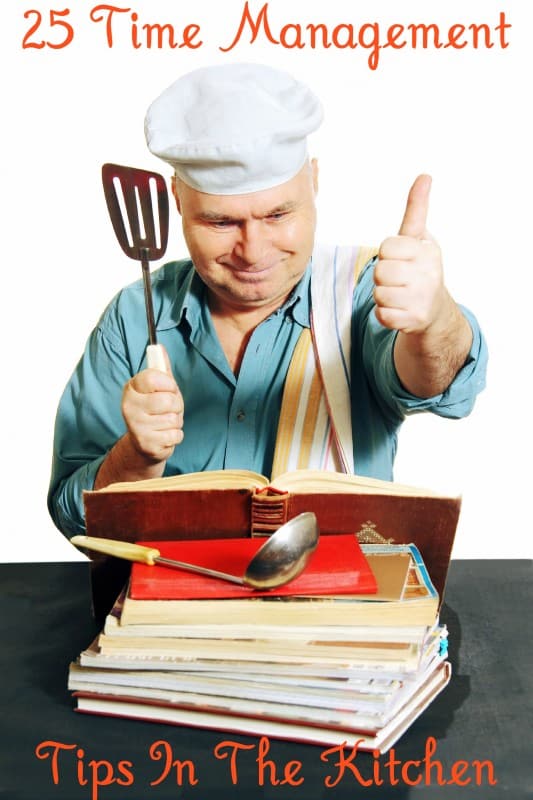 Pin
25 Time Management Tips In The Kitchen
Ready to peel the shells off eggs? Wet your fingers first—the peels won't stick.
When trying to remember which to use, keep this in mind: Baking powder adds acidity; baking soda is alkaline.
Save time by pre-prepping ingredients for recipes you often make and storing them, sealed, in your refrigerator or freezer.
Buy frozen Yorkshire Puddings to go with your roast. They heat easily in one pan for only 3 minutes—and there is no messy clean-up.
Flour your surfaces or flour your dough before rolling—and to make extra sure it doesn't stick, place between floured parchment paper.
Don't store meats in your refrigerator without first putting them on a dish, to catch the blood that might escape and contaminate your fridge.
When making holiday meals, first clear your counters. Remove unnecessary items to give yourself maximum workspace.
When buying your holiday squash, save time by choosing pre-cut, pre-peeled, packaged fresh squash.
If you plan to freeze a lot of fresh fruit and vegetables, invest in a vacuum sealer.
Make 3-4 days worth of carrot sticks in advance and store them in your refrigerator in a glass container of cold water, for maximum freshness.
Make up salads in a jar for lunch: Heavy items like carrot slices at the bottom; grains, fruit, and nuts in the middle, greens at the top.
Assemble all your blanching and freezing equipment ahead of time. Speed is everything when it comes to successful blanching.
When trying to soften butter more quickly, don't cut in a chunk…use a cheese grater to make fine pieces.
Keep all your cake decorating utensils and ingredients in one small plastic tub with a lid. You'll never lose a cake icing tip or spend time looking for it.
Are you someone who always uses a cookbook? Buy a cookbook holder from a kitchen store or online—it will make your life easier.
Try turning a metal magazine holder on its side and sliding it into your kitchen drawer to stop items from jamming up your drawer.
De-clutter your kitchen at least once every six months. Donate pots and pans you don't use. Throw out ingredients you've never touched.
Invest in a jar-opener. It is an inexpensive utensil—and you'll be surprised at how often you find yourself using it.
If you can't open a jar and have no jar opener, try slipping on a rubber kitchen glove first.
Place items or utensils you use all the time at waist height or in your first row of overhead shelves.
Clean your kitchen thoroughly before you cook, and clean as you go during cooking. You'll have minimal clean-up after.
Be sure to have fine steel wool on hand. You can use it to clean deep stains or burns from stainless steel pots in an instant.
Mix spices for recipes ahead of time in a small shot glass. Add after you've added sauce ingredients for the best flavor
Print cooking infographics or charts from Pinterest or cooking sites. Tape up inside your cupboard doors, for easy reference.
After making a recipe with bouillon or broth in a carton, pour the remaining broth into ice cube trays and freeze for later.
What are your favorite time management tips in the kitchen?