I love a great Alfredo Pasta Recipe, and this great 20-Minute Bow Tie Alfredo Pasta Recipe is a new favorite. It comes together in no time at all, and it is so delicious! You can serve this by itself or toss some grilled chicken or shrimp in the pasta for a complete meal.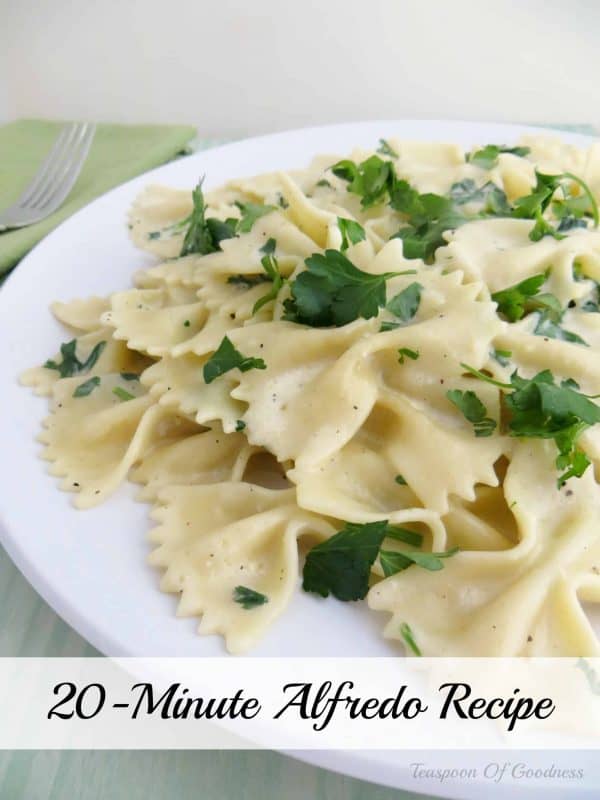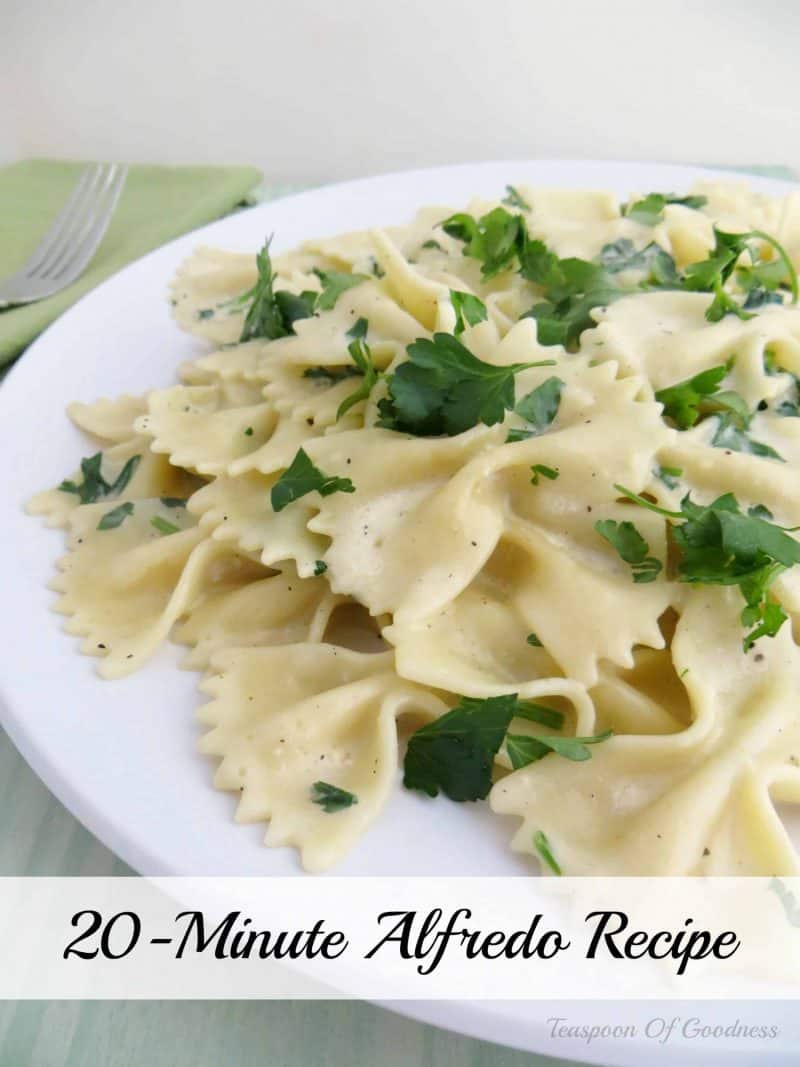 Pin
The secret behind this delicious recipe is that you use natural heavy cream. You can try all kinds of versions, but nothing duplicates that Alfredo pasta recipe flavor without the heavy cream.
I have often used the classic grated Parmesan cheese you find in a canister in the shelf stable section of the grocery store, but for an even richer flavor, you can grab fresh Parmesan from the deli and grate it into the sauce.
A simple 20-minute pasta dish is perfect for a fast weeknight meal. You can prep your proteins in batches ahead of time and keep them in the freezer to toss into dishes like this for a great easy, and hearty meal that comes together in minutes. Add a side salad or some fresh vegetables into the sauce, and you have a complete meal!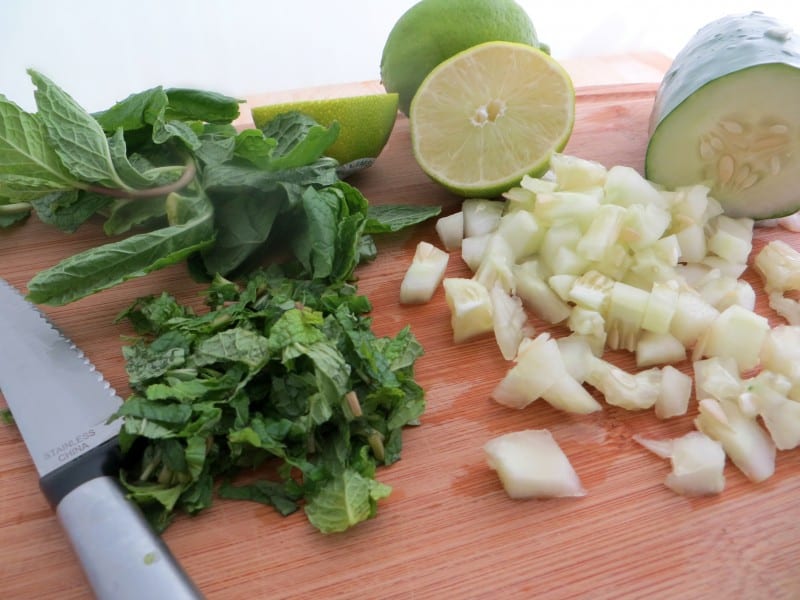 Pin
I'm always looking for easy one-pot meals like this to make for our family. Our 20-minute Cajun Sausage Pasta and 30-minute One Pot Pasta are some of my favorites already. Add this easy Alfredo Pasta Recipe into the mix, and I have half of our weekly menu plan ready in minutes!
20-Minute Bow Tie Alfredo Pasta Recipe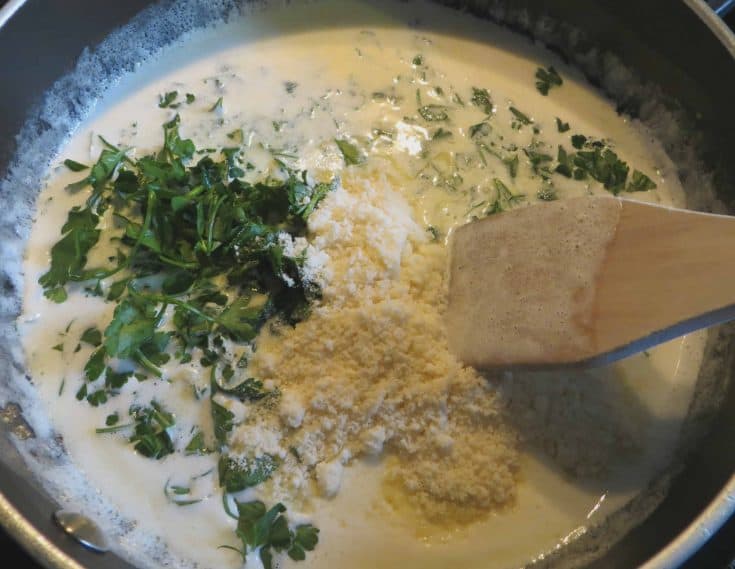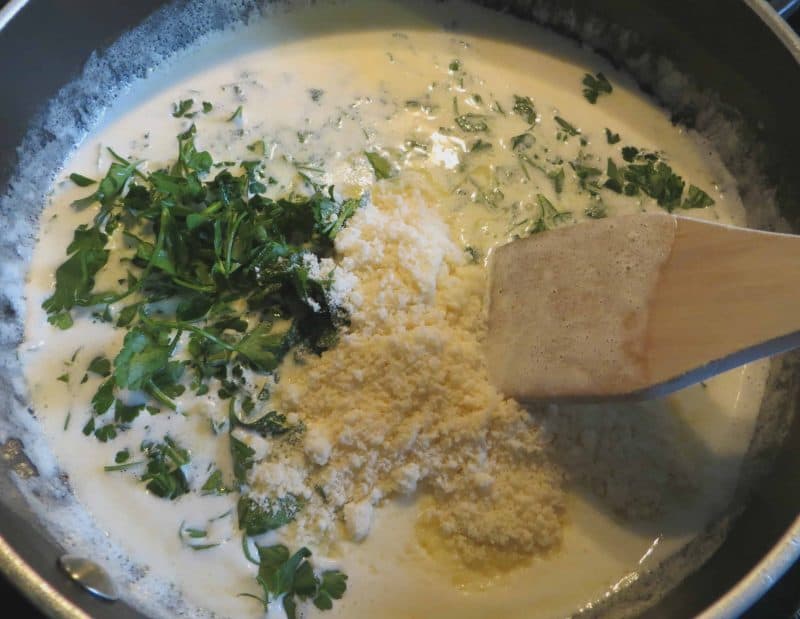 Yield: 8
20-Minute Bow Tie Alfredo Pasta Recipe
Cook Time: 20 minutes

Total Time: 20 minutes
Ingredients
1 16 oz package bow tie pasta
1 cup heavy cream
½ cup butter
½ cup grated Parmesan cheese
1 cup fresh parsley, chopped
1 teaspoon salt
¼ teaspoon ground black pepper
1/8 teaspoon garlic powder
Instructions
Bring a large pot of lightly salted water to a boil. Add pasta and cook for 12-14 minutes or until al dente, drain.
Combine heavy cream and butter in a Dutch oven or large, heavy saucepan over medium heat. Heat until butter melts, stirring occasionally; be careful not to bring mixture to a boil.
Stir in Parmesan cheese, parsley, salt, pepper and garlic powder. Toss with cooked pasta and serve immediately.
Notes
Notes: This Alfredo recipe is excellent with the addition of veggies (chopped asparagus or broccoli), chicken or shrimp. The sauce also works well as a base for white pizza.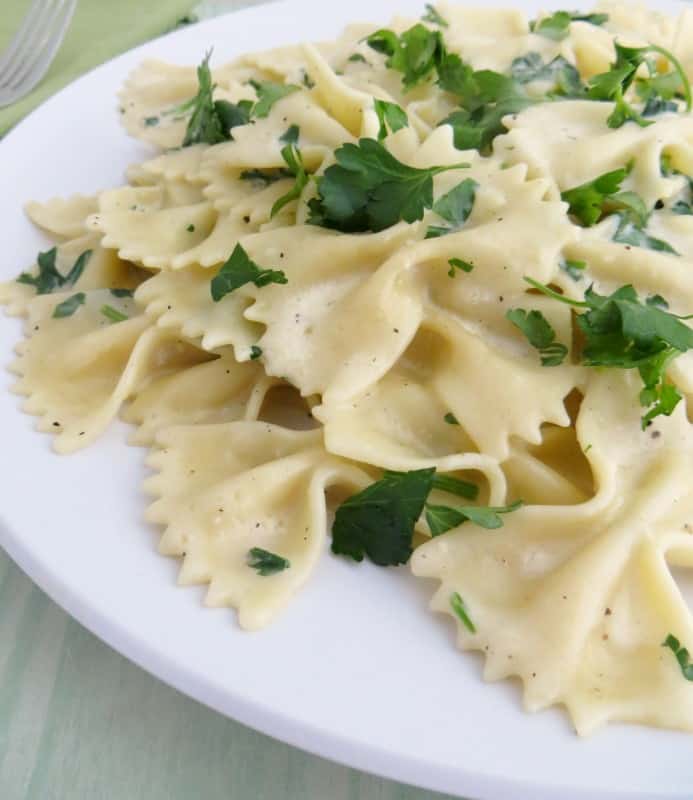 Pin
Visit Teaspoon Of Goodness's profile on Pinterest.
You might also enjoy these other pasta recipes!
Penne Pasta with Creamy Pasta Sauce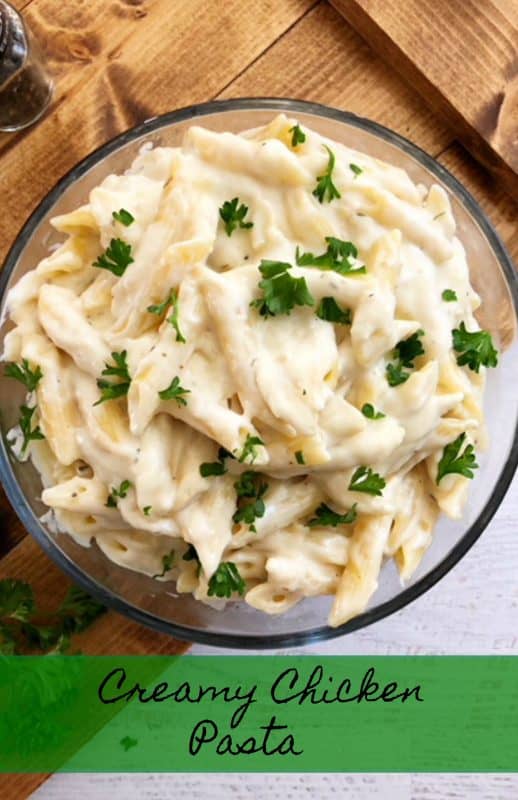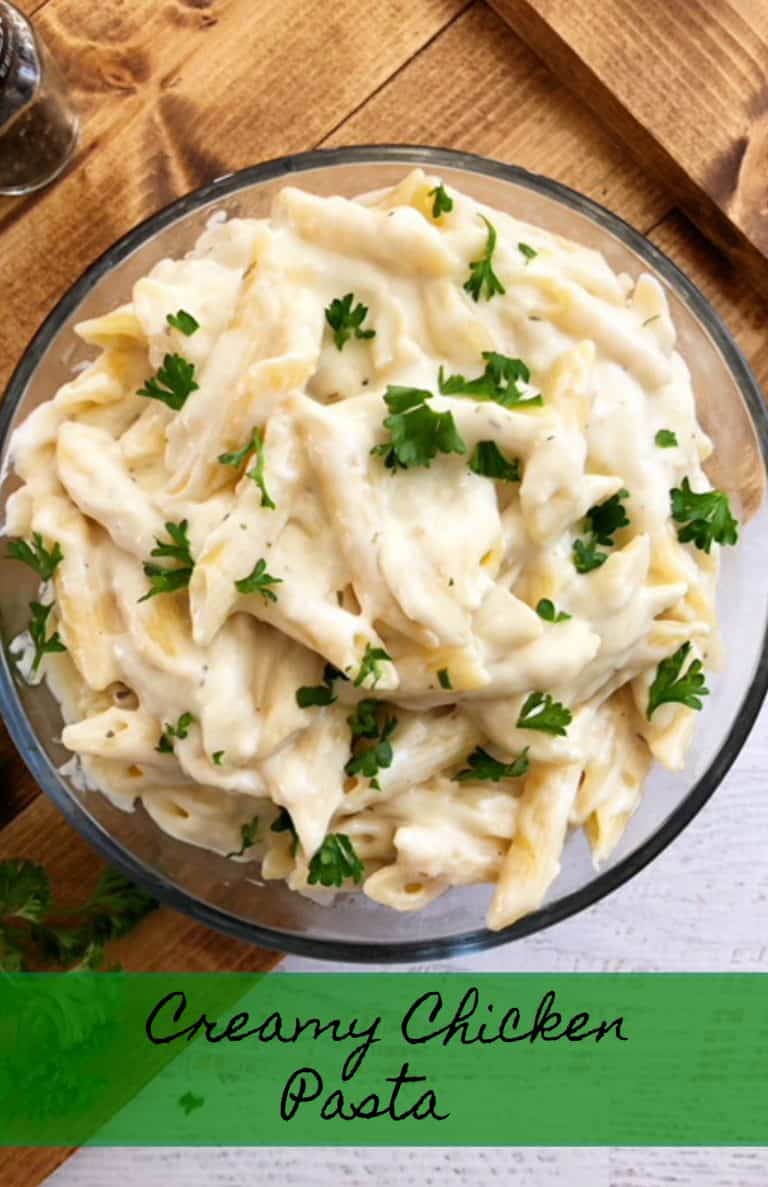 Pin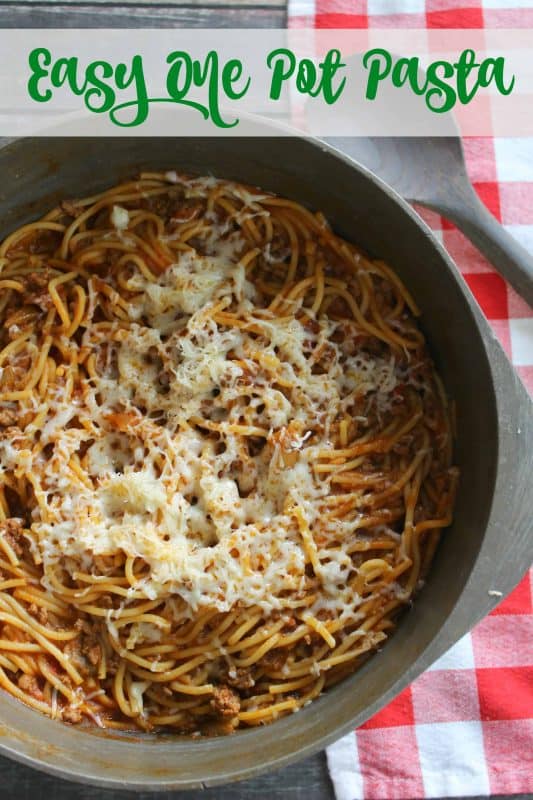 Pin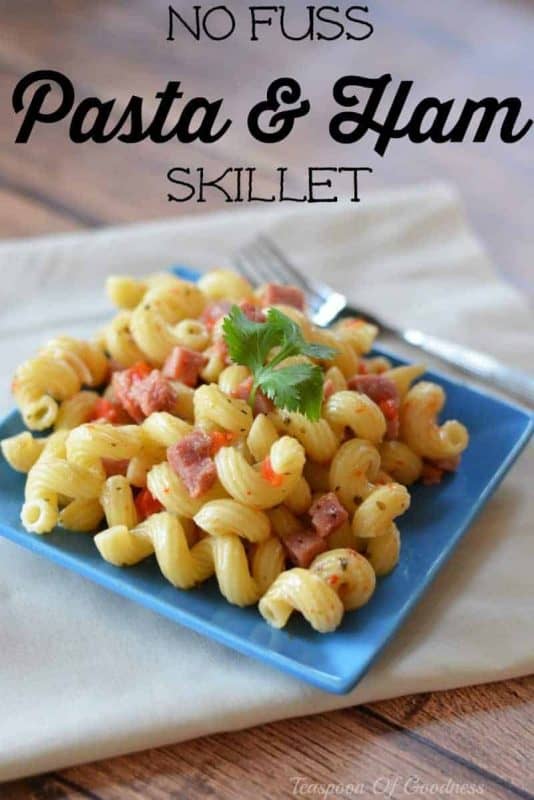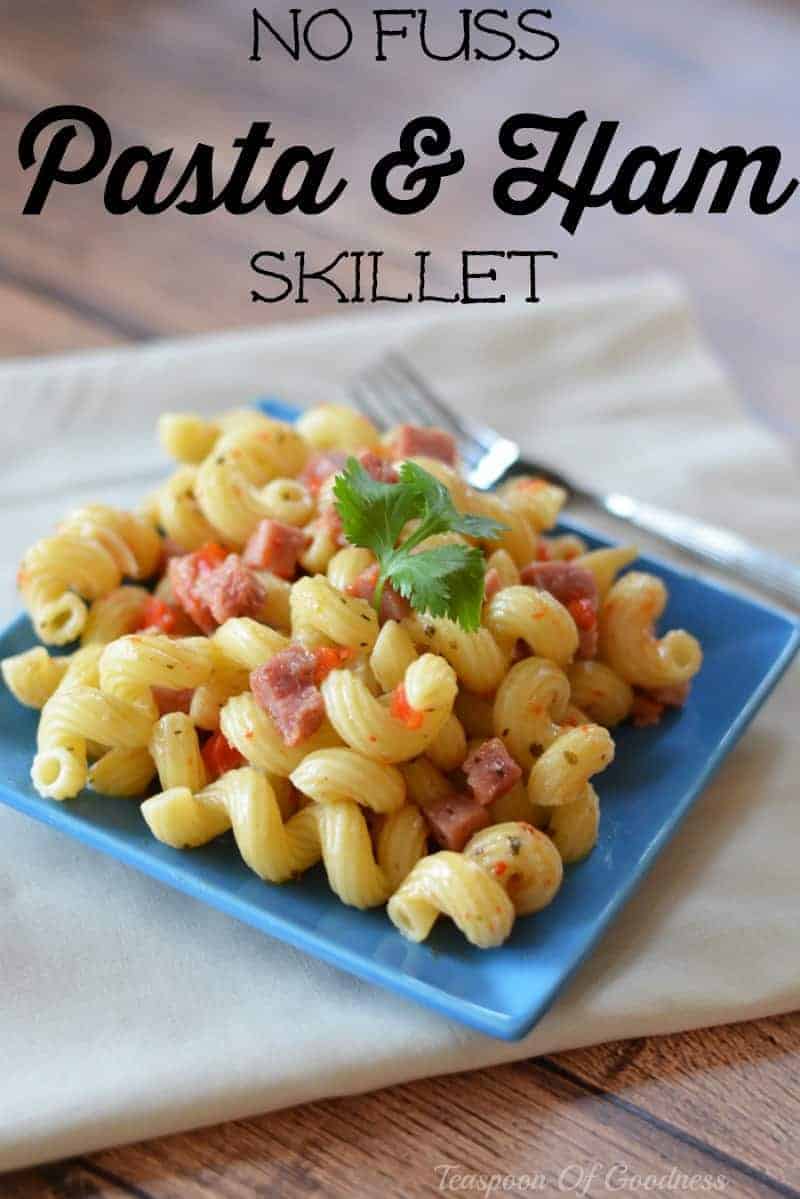 Pin
Grilled Chicken & Veggie Pasta Salad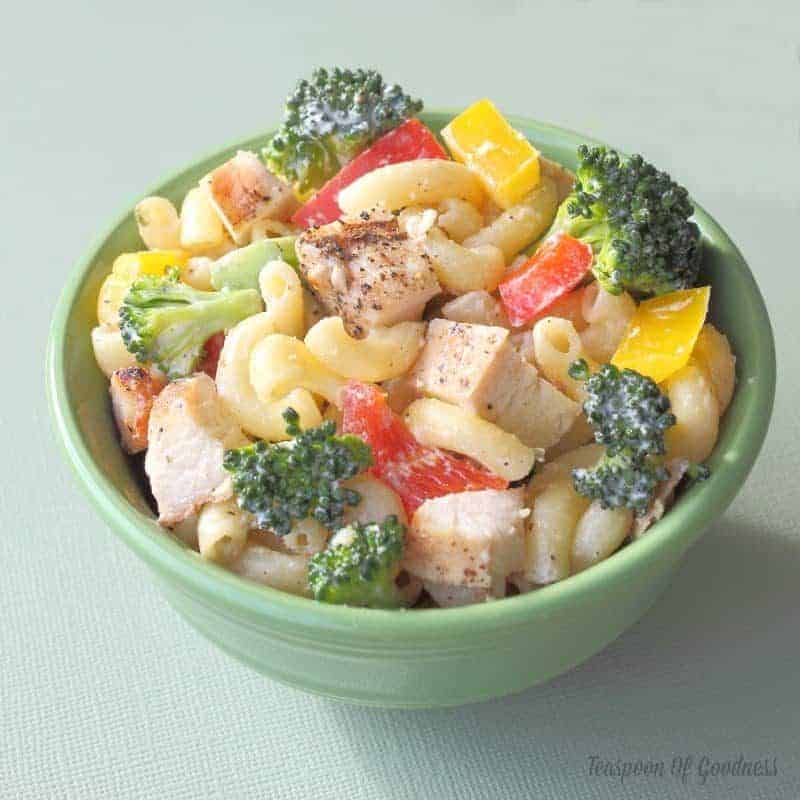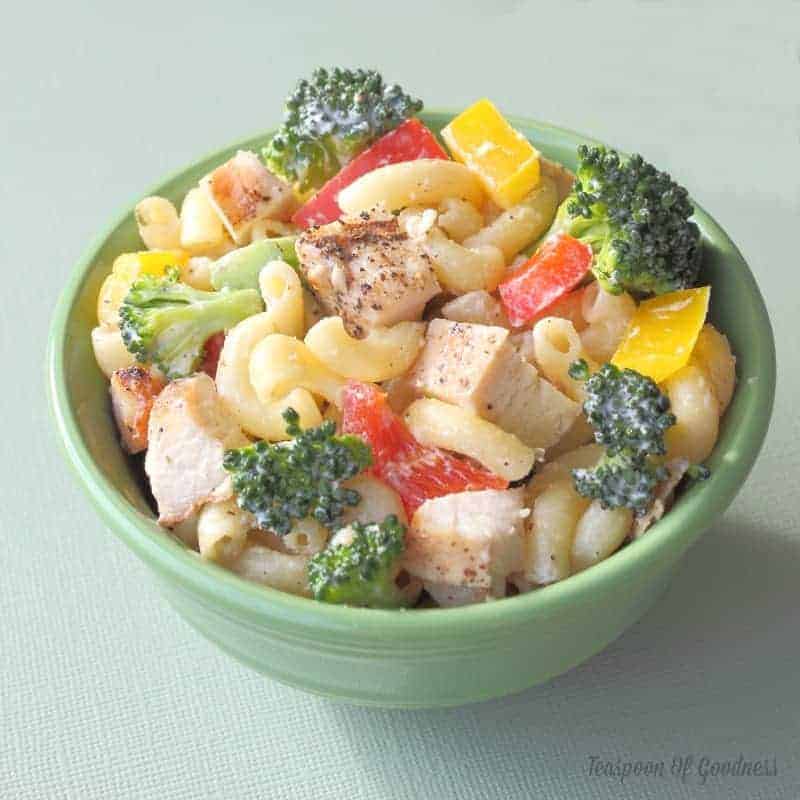 Pin