It is the season of pumpkin, and this Pumpkin Spice Syrup Recipe is an amazing addition to your Saturday morning pancake and waffle breakfasts. This simply spiced delicious syrup will be a perfect complement to your classic buttermilk pancakes.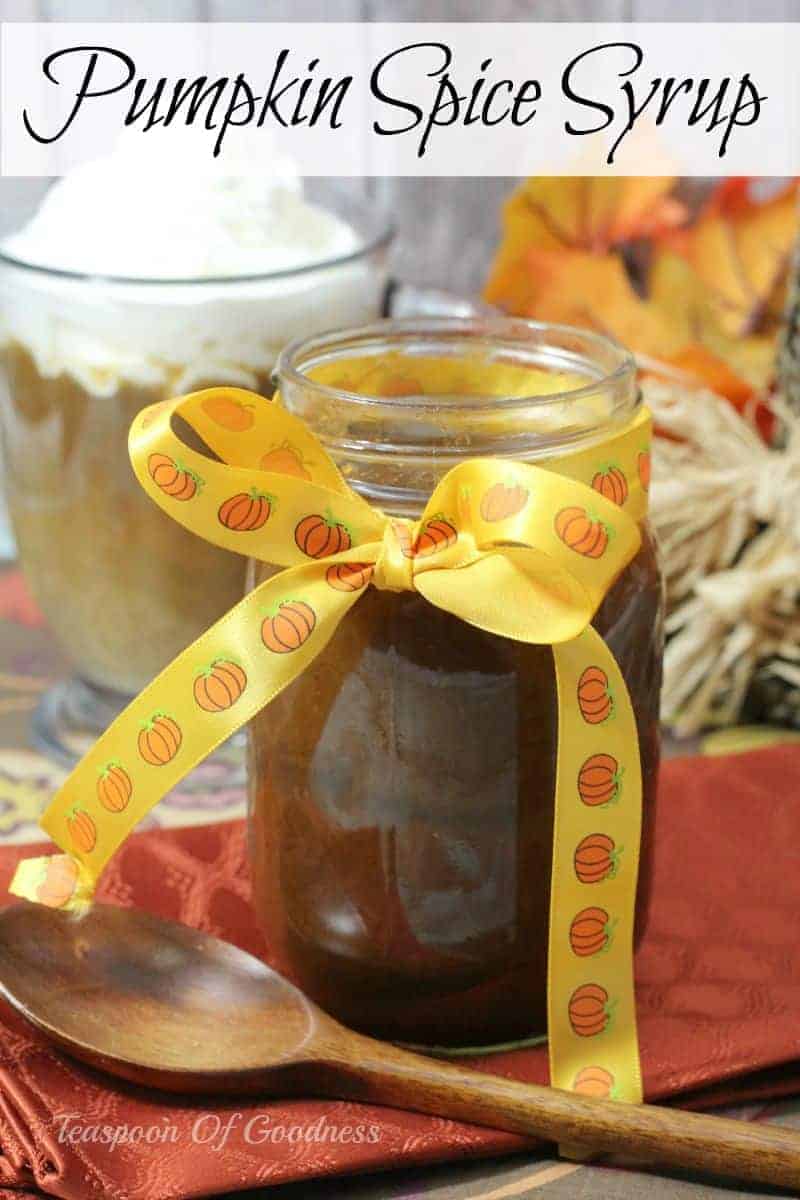 Pin
Since everyone loves pumpkin flavors, this pumpkin spice pancake syrup was a great choice to make and use for all kinds of recipes. While it is primarily made to go on your favorite pancakes, this syrup is perfect to add to your coffee, over waffles, over ice cream, or to drizzle on pound cake, angel food cake, or even dip a sugar cookie into for a snack.
This includes pumpkin puree, but when you are shopping, take note that there are two different canned pumpkin puree products to buy. There is the popular pumpkin pie filling that is already spiced or the 100% pumpkin puree, which is what you want. You want just the pumpkin to make this syrup. You could even cook down a pumpkin to create a homemade puree if you prefer.
Pumpkin Spice Syrup Recipe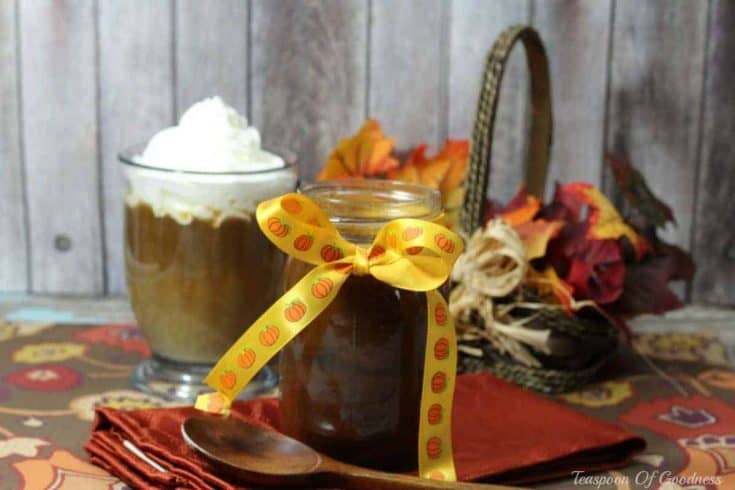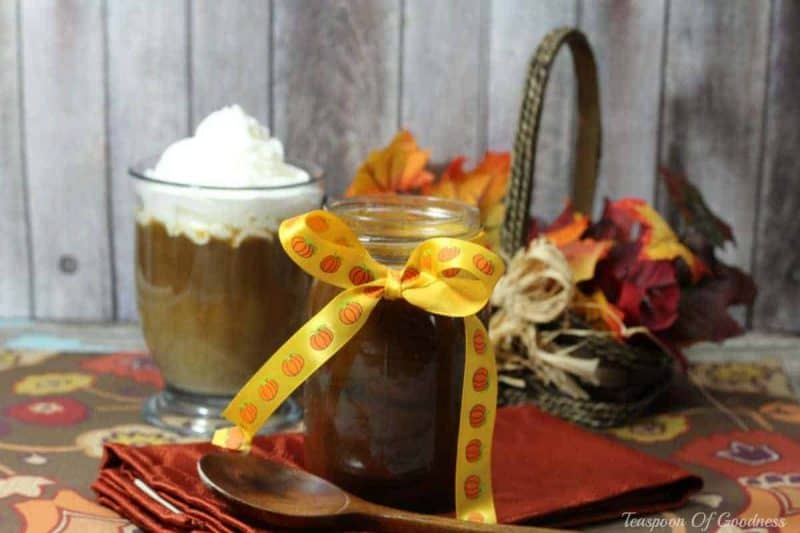 Pumpkin Spice Syrup Recipe
Prep Time: 15 minutes

Cook Time: 10 minutes

Total Time: 25 minutes
Ingredients
2 tablespoons pumpkin puree
½ cup sugar
1 cup water
½ teaspoon cinnamon
1 teaspoon pumpkin pie spice
Instructions
Add the pumpkin puree, sugar, water, cinnamon and pumpkin pie spice into a small saucepan.
Stir to mix all ingredients together.
Heat on low to medium heat until simmering. Stir frequently to prevent sticking.
Cook until sugar has dissolved and all ingredient are fully blended (2-3 minutes after reaches simmer)
Allow to cool in saucepan for at least 10 minutes.
Pour into airtight container
Store in refrigerator until ready to use.
Reheat for hot syrup, or use cold if desired.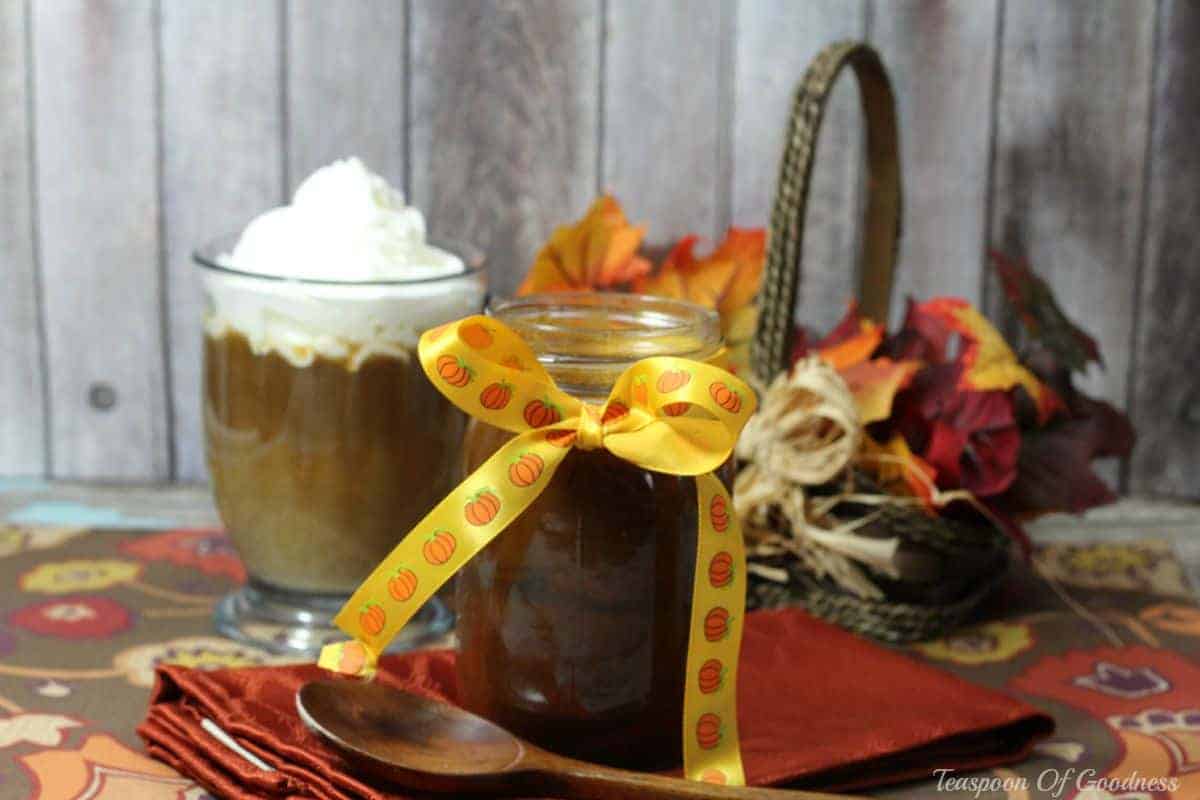 Pin
This delicious Pumpkin Spice Syrup Recipe will be something you make regularly during the fall season. It works wonderfully to give your simple basic pancake a delicious topping but also works perfectly in hot beverages, on cakes, and more.
What are your fall favorites?
Visit Teaspoon Of Goodness's profile on Pinterest.