Everyone loves a good Crockpot recipe, and these Crockpot Ham & Cheese Potatoes are an excellent side dish or meal in themselves. All of your favorite flavors in one simple meal that is so easy to make will become a regular on your menu plan.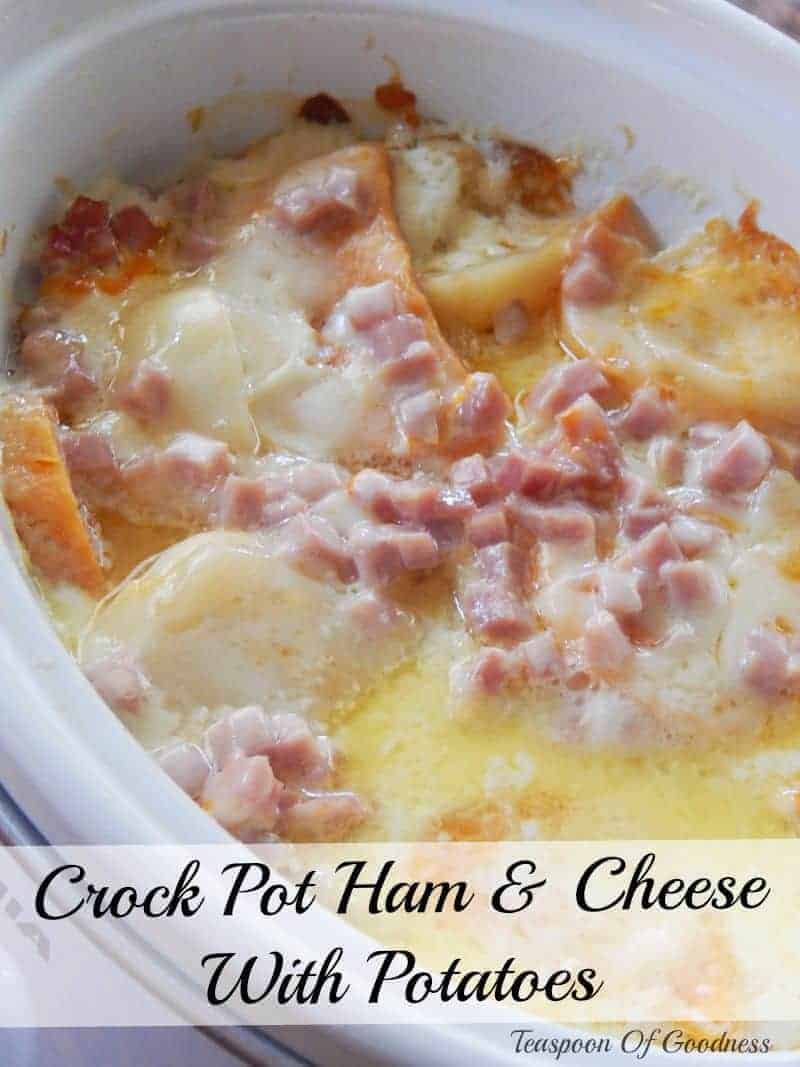 Pin
Prepare this simple Crockpot recipe to cook while you work, do chores or relax with your family. While this is a smaller portion, you can easily double this batch (you will need to extend the cooking time) to feed your family as an entire meal and not just a side dish.
Prep your potatoes and ham by cutting them into bite-sized chunks. You will want to put your potatoes in a separate bowl to toss with the flour and garlic powder. You may also add some salt and pepper if desired at this point.
Layer the potatoes, cheese, and ham in two layers. You'll want to begin with potatoes and end with the ham and cheese layer. Before covering and cooking, your final step is to pour the whipping cream over the top, so it drains down through the layers.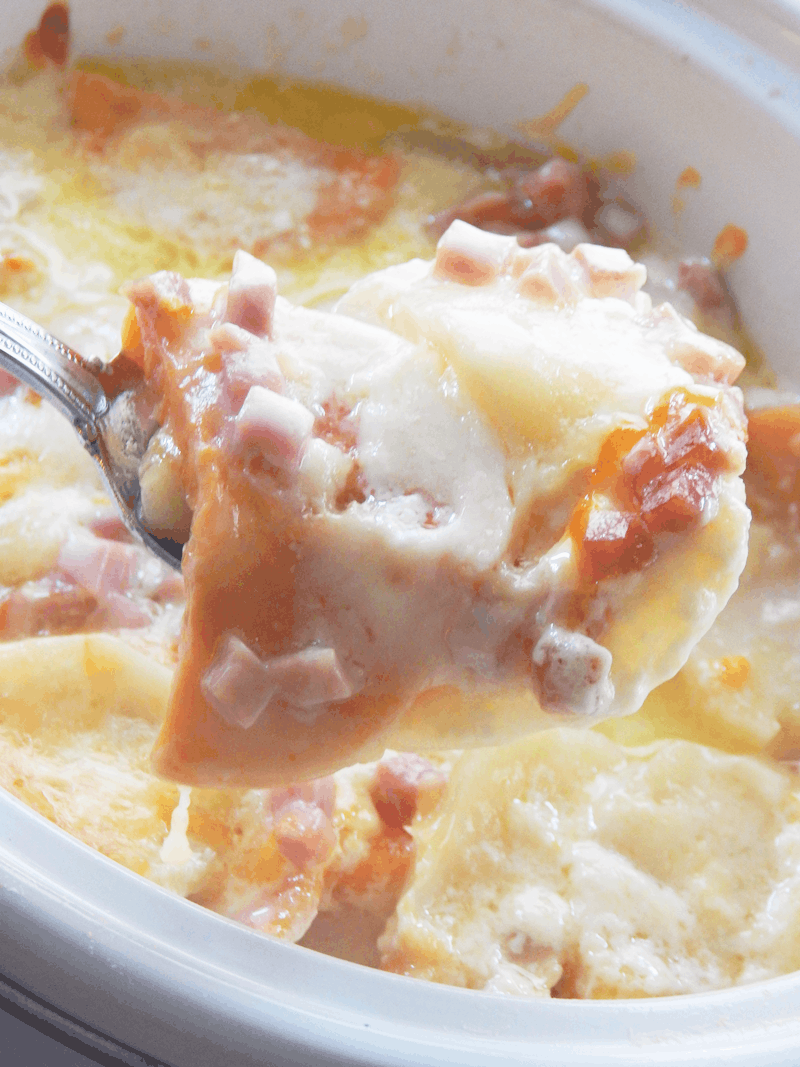 Pin
This Crockpot ham & cheese potato dish will easily cook in around 4.5 hours. Depending on the size of your Crockpot and temperature options, it may be ready in less time.
Crockpot Ham & Cheese With Potatoes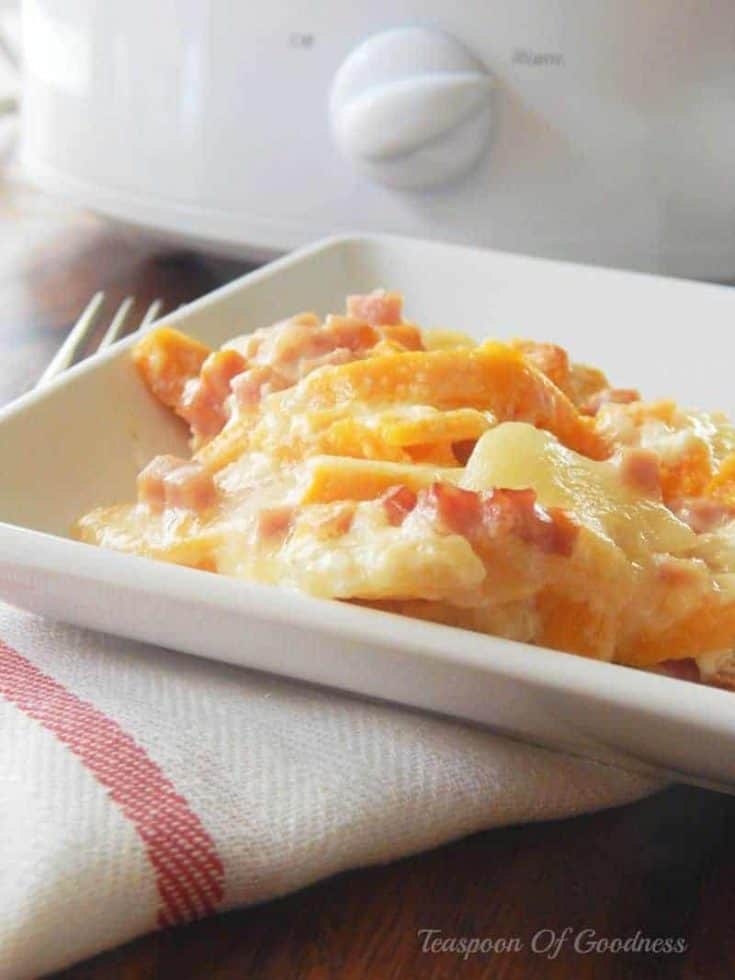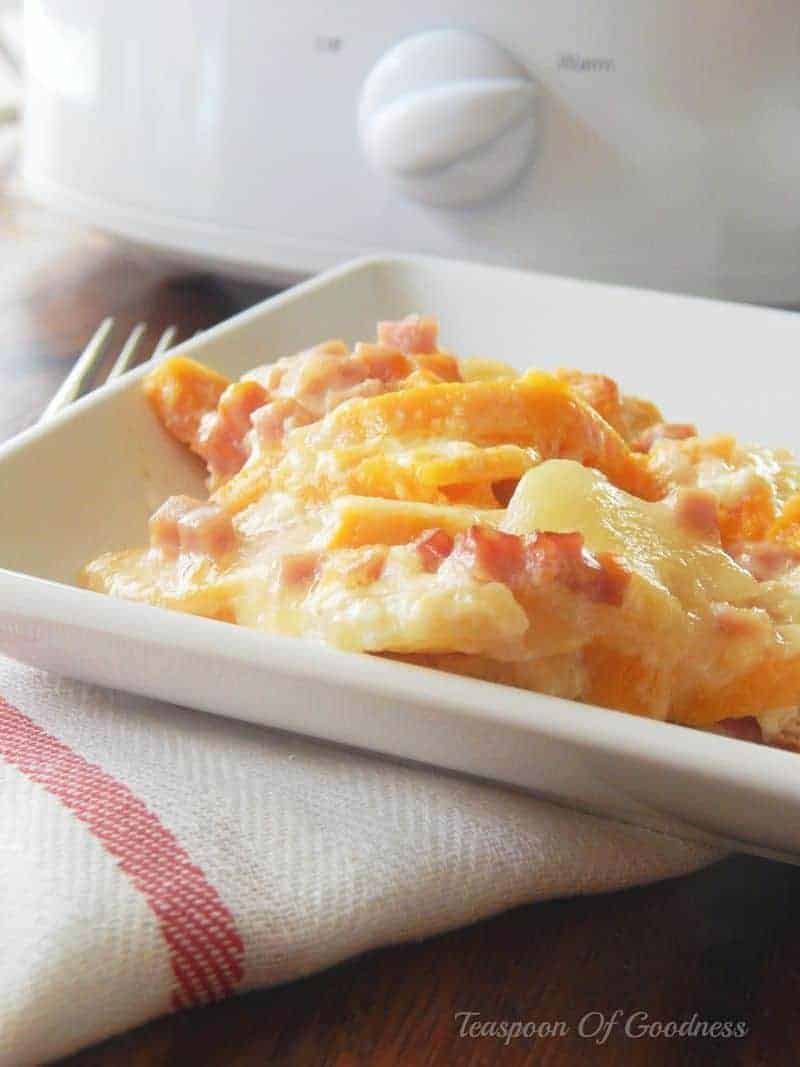 Yield: 2 .5 cups
Crock Pot Ham & Cheese With Potatoes
Prep Time: 15 minutes

Cook Time: 4 hours

Total Time: 4 hours 15 minutes
Ingredients
1 small sweet potato
1 small white potato
½ C cut up ham chunks
1 Tsp garlic powder
½ C shredded cheddar cheese
3 slices Muenster cheese
¼ C flour
¾ C heavy whipping cream
Instructions
*This recipe is for a small crock pot, though it will work for a large crock pot as well*
Begin by slicing the potatoes in half and then in thin slices.
Add the potatoes to a large bowl and add in flour and garlic powder and toss until all is covered.
Spray crock pot with olive oil and layer half of the sliced potatoes.
Sprinkle on half the cheeses and ham.
Continue by adding on the rest of the sliced potatoes and topping off with cheeses and ham.
Pour the heavy whipping cream over the top and cook on low heat for 4.5 hours.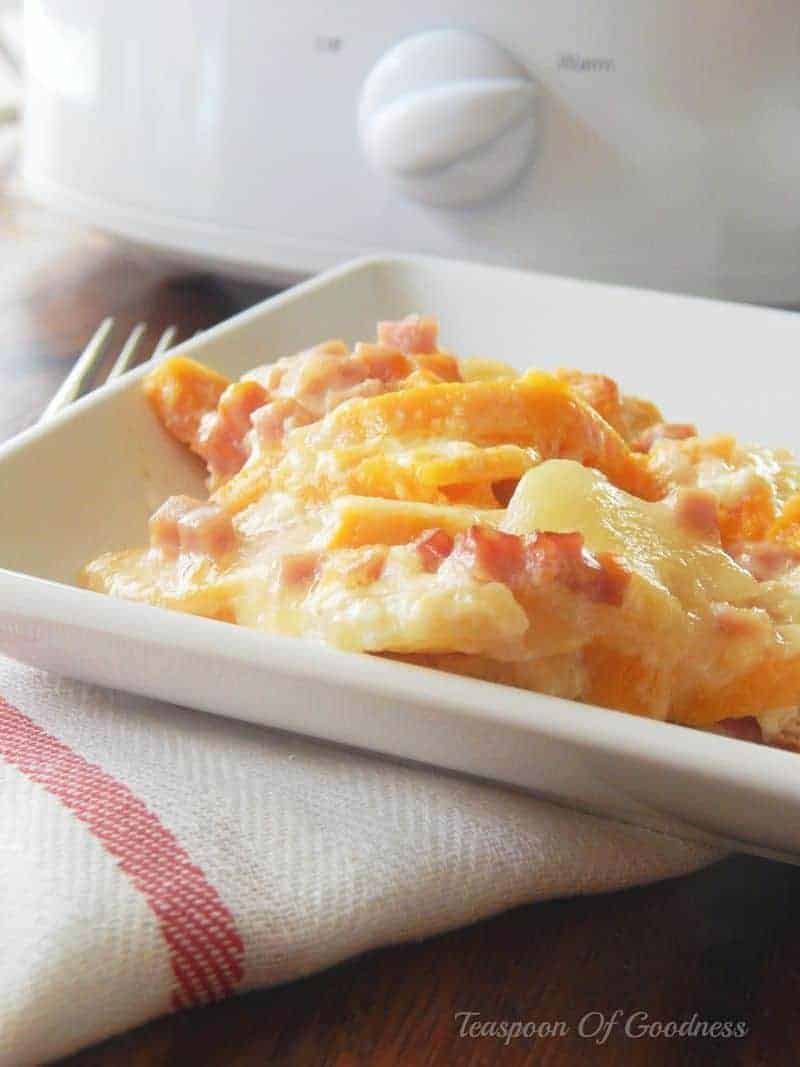 Pin
This dish is a great choice to go alongside your favorite chicken, pork chops, or steak. Keep in mind the ingredients and directions below are for a small Crockpot. If you want to turn this recipe into a meal, you can double the ingredients to make larger servings and add more ham and your favorite vegetables. Asparagus, broccoli, and green beans are great choices to pair with this dish.
Slow Cooker Sausage, Potatoes & Green Beans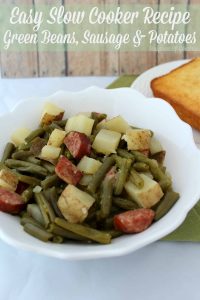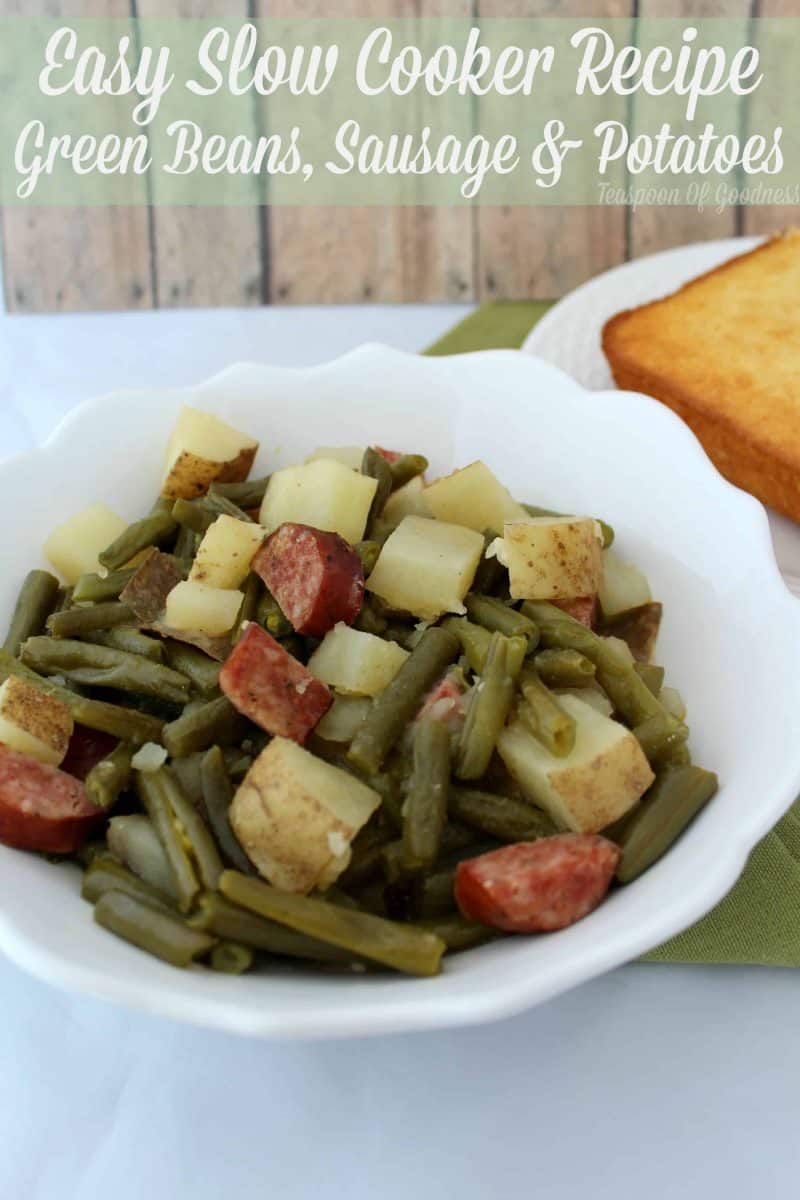 Pin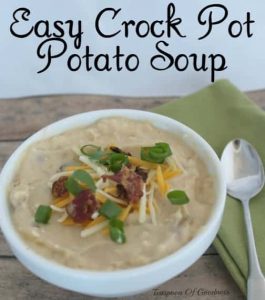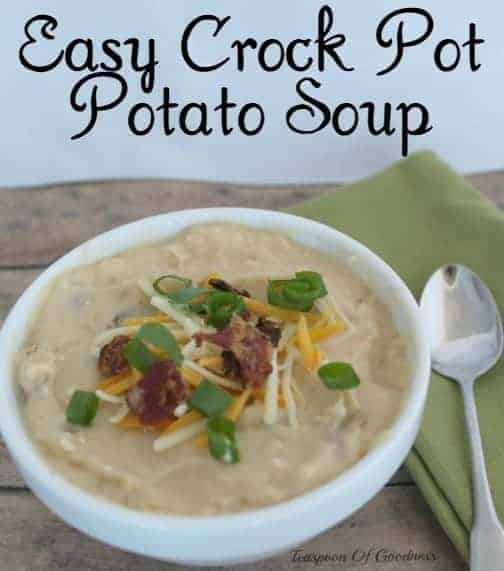 Pin
Visit Teaspoon Of Goodness's profile on Pinterest.