Everyone loves a good Homemade Rice Krispie Treats snack, and this Funfetti Rice Krispie Treats are a perfect choice to make for your next birthday party or special event. Everyone recognizes the colorful sprinkle additions to any delicious sweet treat that makes them a "Funfetti" theme.
Why not spruce up the basic rice cereal snack and make it a rainbow-themed treat that is even more special for a birthday party?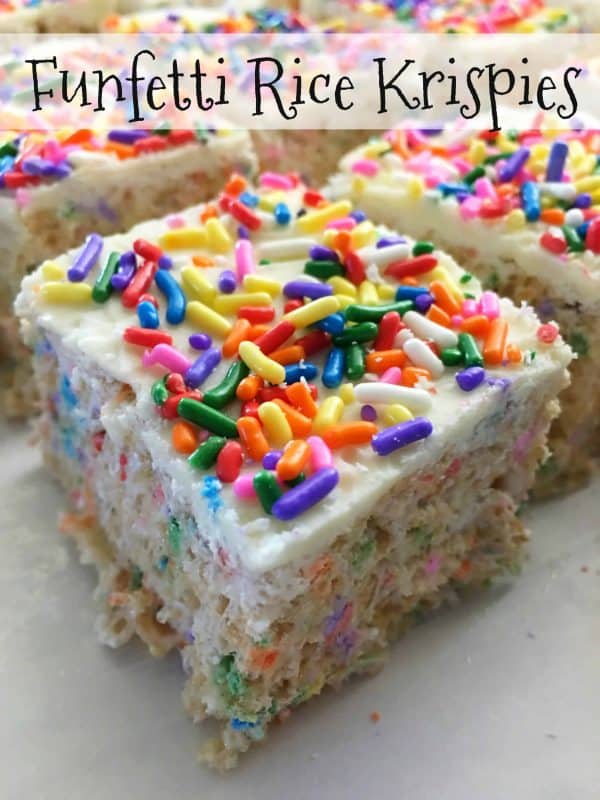 Pin
Funfetti Homemade Rice Krispie Treats
Making your Funfetti Homemade Rice Krispie Treats is just like any regular rice cereal snack recipe, but with two really special ingredients added to the mix.
A few colorful rainbow sprinkles give you the birthday theme you expect when you hear the term Funfetti.
White chocolate chips add a delicate but decadent richness that makes it feel rich enough for a birthday but not too rich that kids won't love them.
Pin
Make a batch of these homemade Rice Krispie treats with their Funfetti birthday theme for the kids for their next birthday party or event. If the adults want something unique, check out our extra yummy Cookie Butter Rice Krispie Treats recipe.
It's an amazing choice when making homemade Rice Krispie Treats for your friends and family!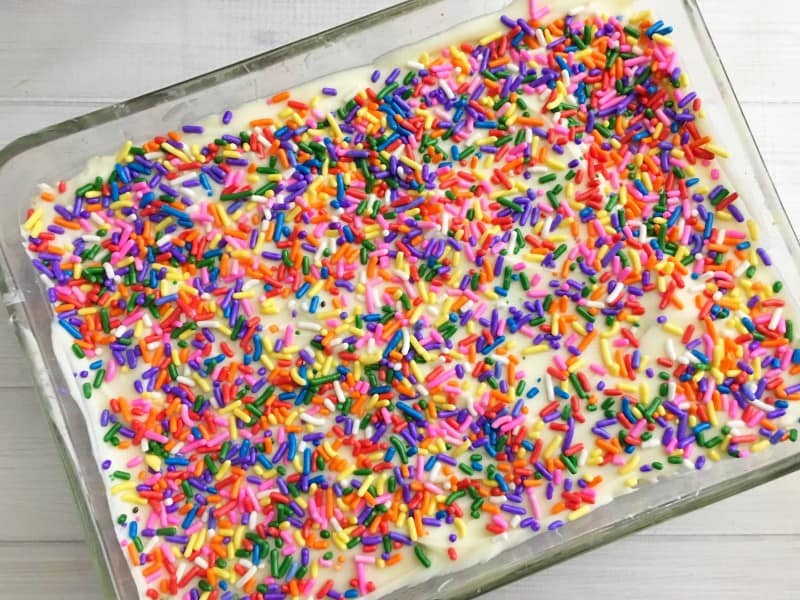 Pin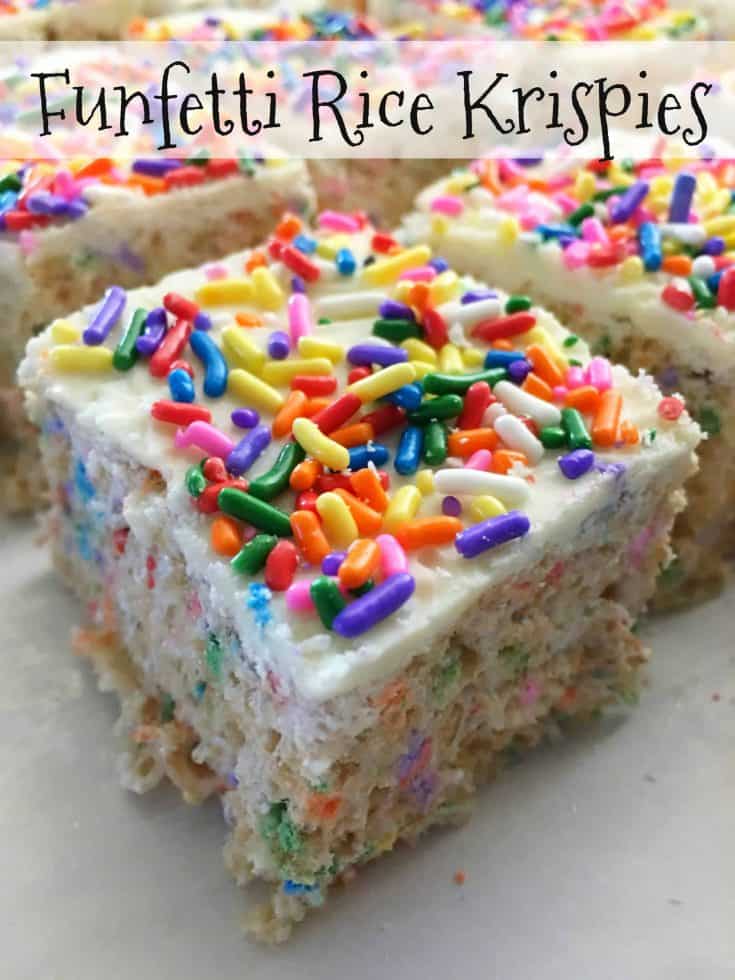 Yield:

9
Funfetti Homemade Rice Krispie Treats
Ingredients
6 cups Rice Krispies cereal
10.5 oz bag miniature marshmallows
3 tablespoons softened butter
1/2 cup rainbow sprinkles
1 1/2 cups white chocolate chips
Instructions
Grease a 8x8" baking pan with a non stick cooking spray
In a microwave safe mixing bowl, heat your marshmallows and butter in the microwave for 1-2 minutes, until marshmallows become puffy and butter is mostly melted
Now add 6 cups of Rice Krispies and mix well with a wooden or metal spoon
Now mix 1/4 cup of your rainbow sprinkles in with your Rice Krispies
Scoop your Rice Krispies into your greased baking pan and press your Rice Krispies firmly in your pan using a potato masher
Place in the freezer for 10 minutes to cool quickly
Now melt your white chocolate chips in the microwave in a microwaveable bowl for 2-3 minutes on 50% power, stirring every 30 seconds until melted
Pour your melted white chocolate over your Rice Krispies and spread evenly using a spatula
Top off with another 1/4 cup of your rainbow sprinkles
Cut into small squares and enjoy!

Visit Teaspoon Of Goodness's profile on Pinterest.