Living on a potato farm I'm sure you can imagine I have access to all the potatoes we can eat. That also means I need to have an arsenal of potato recipes on hand. Oven Roasted Potato recipes are some of my favorite because they are usually quick to mix up and then you can toss them in the oven and forget about them for the next 45 minutes to an hour. This recipe for Oven Roasted Potatoes & Mushrooms almost meets those guidelines. It really doesn't need any time to mix up, but you do have to stir it every 15-20 minutes to keep it from burning.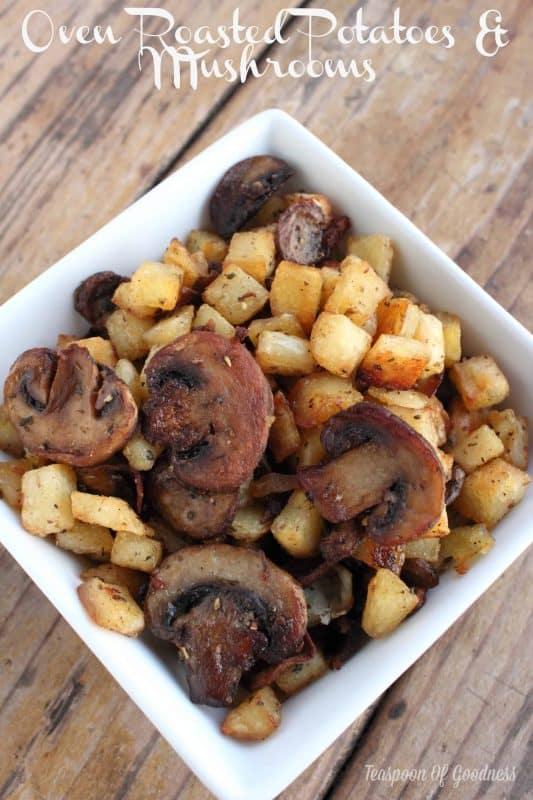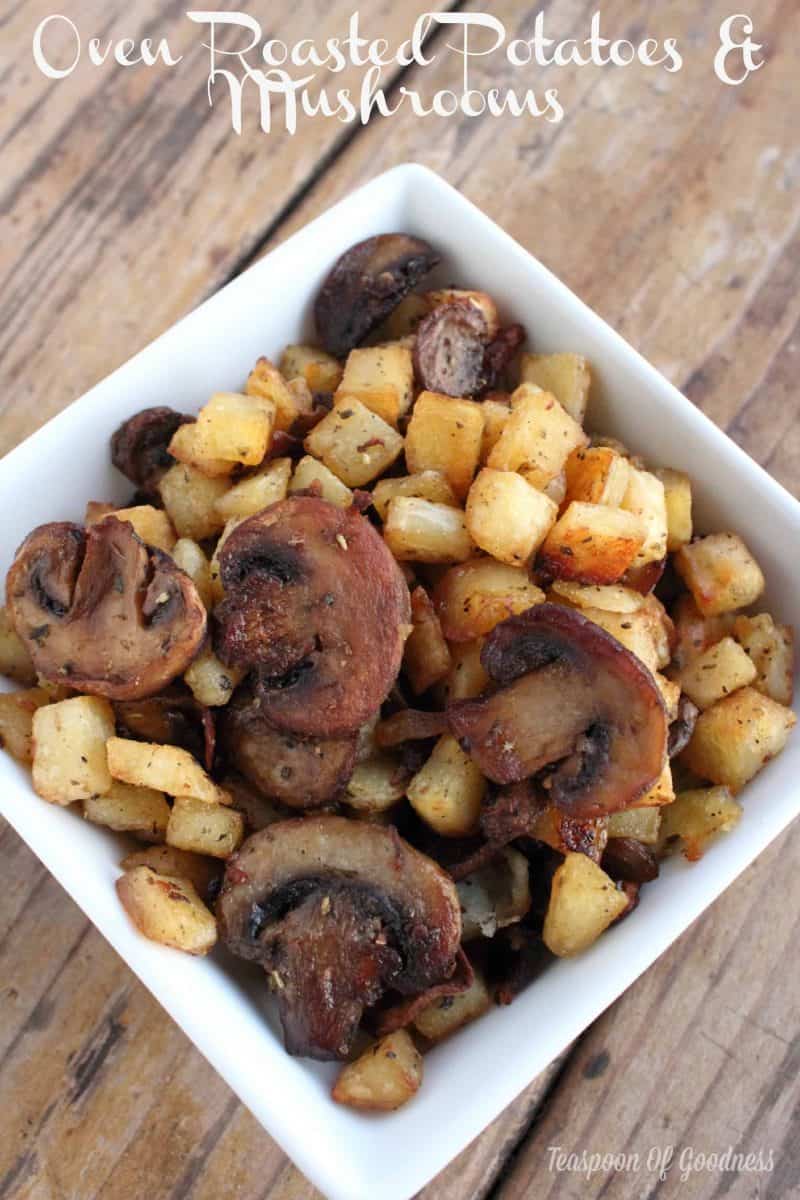 Pin
This oven roasted potato recipe works great for BBQ's or potlucks because it can be mixed up well in advance of your party and won't require a lot of babysitting, giving you time to focus on your other dishes. I also like serving this one for potlucks or BBQ's because it's unique. It looks stunning among a table full of pasta, potato and fruit salads. So if your looking for something unique for a frugal dinner side dish when you snag mushrooms on clearance or a show stopping potluck recipe this Oven Roasted Potatoes & Mushrooms recipe is for you.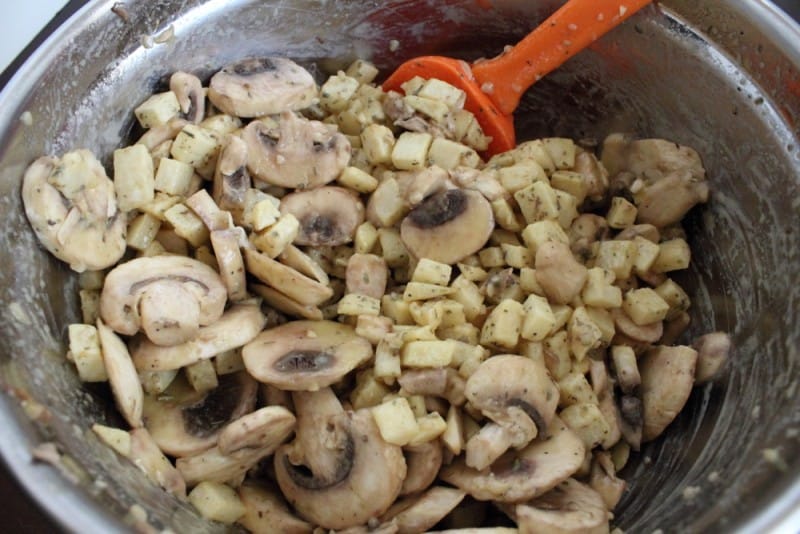 Pin
Oven Roasted Potatoes & Mushrooms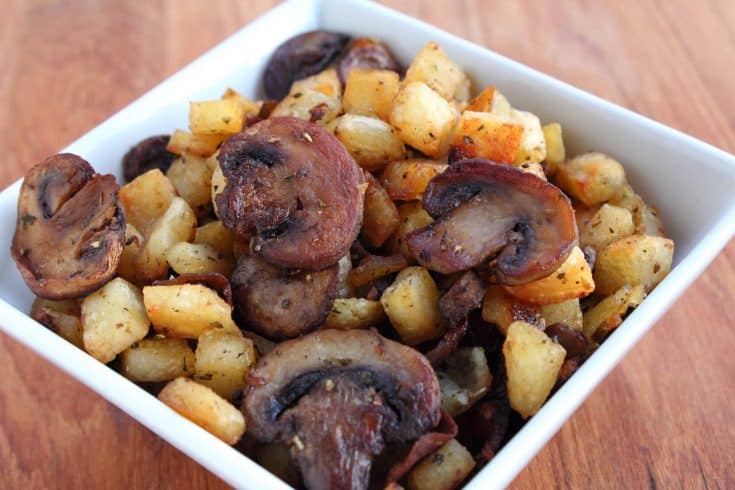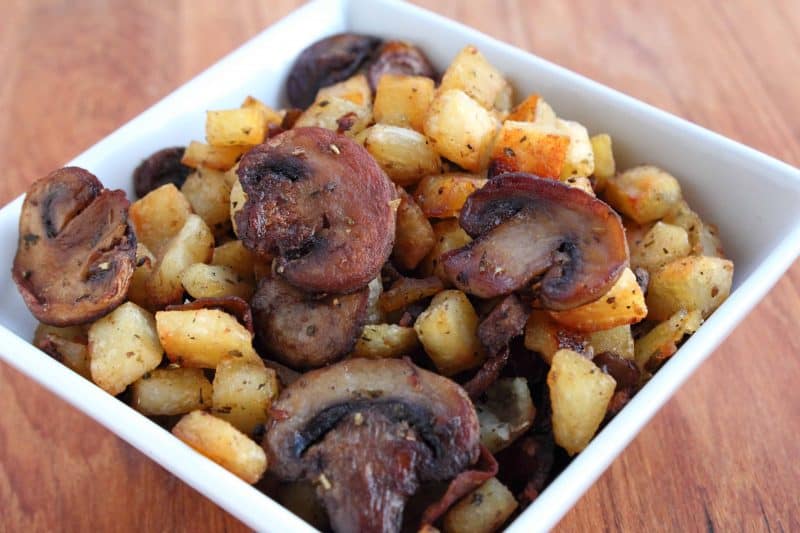 Yield:

4
Oven Roasted Potatoes & Mushrooms
Ingredients
¼ Cup Red Wine Vinegar
1 lemon, juiced
2 teas. Dijon Mustard
4 Garlic Cloves, minced
1 Tbsp. Herbes De Provence, or equal parts rosemary, savory, marjoram and thyme
½ teas. Salt
½ teas. Black Pepper
½ Cup Olive Oil
1 lb. White Mushrooms, sliced
1-1½ lbs. Russet potatoes, peeled and diced into ¼ inch cubes
Instructions
Preheat oven to 375˚.
In a large bowl add the Vinegar, Lemon juice, Mustard, Garlic, Herbes De Provence, Salt and Pepper.
Slowly whisk in the oil.
Add the Mushrooms and Potatoes and toss to coat.
Place on a greased baking sheet and bake at 375˚ flipping over for even roasting every 15 minutes until potatoes are golden brown and the mushrooms have darkened, about 45 minutes.
Serve hot.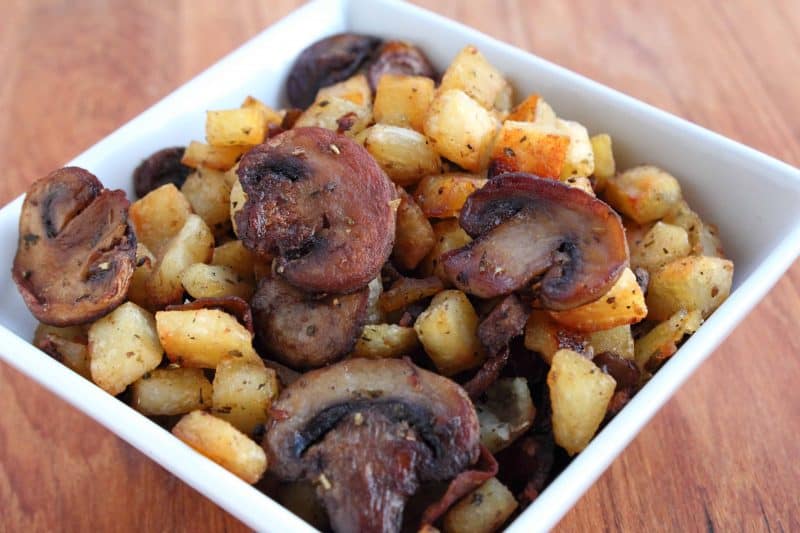 Pin
Could you see this Oven Roasted Potatoes & Mushrooms recipe making a regular appearance on your dinner table? What mix ins are your favorite for oven roasted potatoes?