The modern world moves at a fast pace. Fast food has become the source of many people's diets over the last few decades.
When you think of fast food, you probably think about burgers and fries or something that is very unhealthy. Fortunately, there are healthy alternatives that can be made just as quickly.
Blending vegetables and fruits have become a popular way of meeting daily requirements for a healthy and balanced diet.
However, some vegetables can be a nuisance to try and blend due to seeds contained within but with the right blender and some extra care, you can extract plenty of nutrients from within these veggies.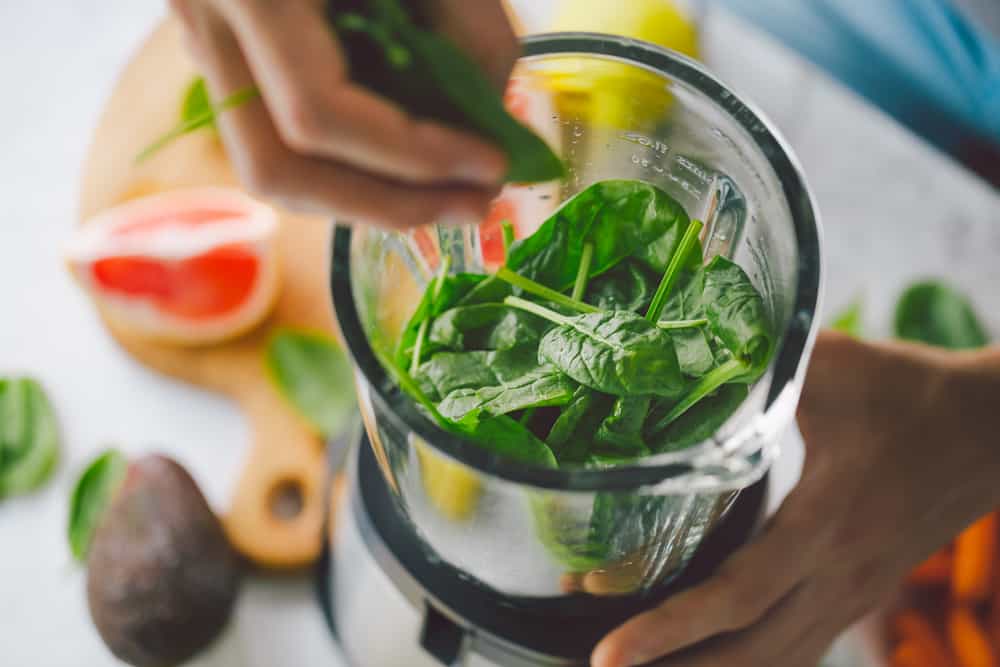 Pin
This may be surprising for some as there has been a rumor that blending vegetables can be as detrimental to your health as unhealthy, fatty fast foods.
An increase of health hazards, diseases, and various illnesses from poor dietary choices has become more prevalent over the past few years resulting in many more people becoming more focused on what they are eating.
Some believe that blending vegetables destroys all the nutrients inside but this isn't the case. The best blenders will ensure you extract the best nutrients efficiently every time.
Finding these blenders can be a difficult task, however. That is why we have done the research for you and compiled a list of the best 5 blenders for vegetables. Our helpful buyer's guide will point out the most critical factors of blending vegetables to help you understand what to look for in a top-quality product.
If you're still unsure, our FAQs will answer the most common queries so you can make that final decision and be on your way to making delicious green smoothies in no time.
In a hurry and need to start blending right away? Here is our top choice!
Best Blender for Vegetables
Pin
First up is an excellent blender that works as a top-quality nutrition extractor. If you are looking to get all of the nutrients from your vegetables into a tasty smoothie, then the NutriBullet Rx may be the best for you.
This blender features a highly powerful motor with SMART Technology to make the process quicker and easier.
A heated cycle is built-in to make hot soups and different sauces if you wanted to change things up a little now and again. You can fit a good amount of ingredients into the 30-ounce short cup and 1-liter pitcher for single servings and family-sized portions.
With its auto start/stop function, the NutriBullet is one of the easiest yet most efficient blenders on the market and could become your best friend in the kitchen for years to come.
Pros
SMART Technology with auto start/stop functionality for easy and quick blending
Includes a heated cycle to make different sauces and hot soups
Vegetables blend smoothly resulting in an ideal smoothie texture
Extracts a significant amount of nutrients from the vegetables
Perfect for single servings as well as family-sized portions
Cons
The appliance tends to vibrate when on full power making some noise
Sale
NutriBullet Rx N17-1001 Blender, Black
1700 watt motor. The short cup is 30 ounce and the pitcher is 1 liter
Hands-free SMART technology
Single servings and family-sized servings
Heating cycle for soups & sauces
This product is manufactured in compliance with US & Canadian Electrical Standards
Pin
Nutri Ninja is one of the most reliable and highly renowned brands of top-quality blenders on the market today. In terms of versatility, the Nutri Ninja Mega Watts Kitchen blender offers a whole host of features that will help make you the healthiest smoothies possible.
What we loved about this blender was how it blended the vegetables so powerfully, that the pulp was left without any juice in the end.
Whether you want to prepare a smoothie or some soup, the Nutri Ninja will give you consistent results each time. Its Auto-IQ technology allows for easy use so you just stand back and wait for the magic to happen.
This powerful 1200-watt blender is engineered with smart settings and sharp, durable blades to blend your food perfectly every time. The precision-timed blending of this machine will give you nutritious and delicious results whenever you want that burst of nutrients in your diet.
Pros
Its Auto-Q technology gives efficient and consistent blending results every time
Includes a nutrients lock feature to achieve a perfect blended consistency
Offers high speed blending with a convenient timer to monitor the progress of your ingredients inside
Acts as an impressive juice extractor to gather nutritional content easily
Very sharp and powerful blades that can cut through and pulverize chunks of ice and whole fruits and
vegetables
Cons
Quite a heavyweight appliance compared to its competitors
The electrical wire could be longer meaning the blender will have to be close to an electrical socket for every use
Pin
If you're looking for an easy-to-use blender that does it all, you should certainly consider the Magic Bullet blender. This is the perfect appliance for liquefying vegetables quickly and efficiently.
Its wide jar is easy to insert food into. All you have to do is load in your ingredients, twist the blade into position, and press the power tab Your nutritious dish will be on its way in no time!
We love the design of the Magic Bullet blender. It helps you save time on preparation as well as cleaning. It features a superb extraction method where it keeps around 10% more juice compared to other ingredients in the blender. This ensures you get the most nutrients and properties from your veggies all at once.
If you're looking for a reliable companion in the kitchen, the Magic Bullet blender could be just that. For all your chopping, mixing, blending, and grinding needs, this blender will have you covered.
It even comes with a handy recipe guide so you can make quick and easy dishes without any thought.
Pros
Requires much less of an effort to blend vegetables with its powerful blades and torque
Easy to clean large cups that are top-rack dishwasher safe
Includes a Flip Top-To-Go lid for you to use out and about if you have no time to use it at home
Extracts all of the nutrients from vegetables and fruits for healthy dishes
Cons
The wire is very long and can get in the way easily
Vibrates quite a lot but is very quiet when on full power
Sale
Magic Bullet Blender, Small, Silver, 11 Piece Set
Included: (1) 250W motor base, (1) cross-blade, (1) tall cup, (1) short cup, (1) party mug, (2) lip rings, (2) Stay-Fresh resealable lids, (1) to-go lid and 10-second recipe guide.
The magic bullet chops, mixes, blends, whips, grinds and more. Cups are made out of high-impact plastic.
Effortlessly create your favorite meals and snacks like smoothies, omelets, sauces and dips. 250 watts high-torque power base.
Included recipe book gets you started making quick, easy, and delicious dishes from appetizers to desserts. Add 1/2 cup water for smooth blend for vegetables.
Pin
Next on the list is the stylish and sleek Vitamix Ascent A2300 blender. Offering useful functionality, an array of features, and convenience at an affordable price, this appliance is not one to be ignored. Its hardened blades can crush frozen vegetables and fruits, grind down nuts, and chop tough raw vegetables.
The Vitamix Ascent blender truly is multifunctional. It can make the most delicious smoothies, milkshakes, soups, juices, and much more in a matter of seconds with its 2.2 horsepower motor.
You'll be able to blend and process just about any food you want. Some outstanding features include its speed controls and a built-in digital timer to ensure your personalized tailored results.
The pulse feature is another exciting addition. This helps you get the exact texture you want on the hardest vegetables and fruits transforming them into the softest pulp possible.
You won't have to put up with those irritating pieces of gritty residue from leafy green vegetables as the higher speeds on the A2300 will blend everything so finely, all that is left is smooth, easy-to-digest foods.
Pros
Very powerful 2.2 horsepower motor that easily blends, chops, and grinds even the toughest raw vegetables
A substantial 64 oz. container capacity to fit large amounts of veggies in
Features a digital timer for greater control over your food for tailored results
Includes 10 variable speed controls to give you complete control for a precise texture and consistency
Comes with built-in wireless technology to leave the surrounding areas free of cables and clutter
Cons
One of the most expensive pieces of equipment in the blender world
Sale
Vitamix A2300 Ascent Series Smart Blender, Professional-Grade, 64 oz. Low-Profile Container, 64 fl oz, Black
You're in Control: Variable Speed Control and Pulse feature let you manually fine-tune the texture of any recipe
Built-In Wireless Connectivity: The motor base will automatically adjust the maximum blending times for the container size you've chosen. Add a range of compatible container sizes, building a customized blending system designed to fit your needs.
Pair with the Vitamix Perfect Blend AppUnlock your blender's full potential with 17 programs and 500+ recipes with the iOS + Android app. Electrical Ratings: 120 Volts, 50-60 Hz, 12 Amps
A built-in digital timer removes the guesswork with recipes you process manually, helping you achieve the perfect texture every time. Cord- 4 feet
Low-Profile 64-ounce Container: Perfect for family meals and entertaining, while fitting comfortably under most kitchen cabinets.
Pin
This a much more budget-friendly option with all the features you could dream of in a high-quality blender. The Oster Pro 1200 is a versatile piece of kitchen equipment sporting wider blades and pre-programmed settings for quick and easy use.
If you're always on the go, this blender comes with a "to-go" smoothie cup so you can take your nutritious smoothie anywhere. There are two impressive technologies on display here.
One is its Smart Settings Technology which comprises three pre-programmed settings and seven different speeds for precise results. The other is its Dual Direction Blade Technology which has supremely wide blades measuring 3.5-inches that blend in two directions. This results in more efficient and faster blending overall.
If you have a budget in mind, then the Oster Blender Pro 1200 could be one of the most impressive vegetable blenders on the market today.
With its super stylish exterior and high functioning interior, you are guaranteed to get the best results every time you blend with so many possibilities in the kitchen.
Pros
Very affordable price offering excellent features for quality blending
Very versatile appliance combining blending and food processing in one
A very compact and sleek design to fit neatly in the kitchen but also look stylish with other appliances
Includes a BPA-free Tritan jar for when you are on the go regularly
Includes several pre-programmed cycles and speed settings to give you maximum control
Cons
Tends to be noisier than average compared to most blenders
Sale
Oster Blender | Pro 1200 with Glass Jar, 24-Ounce Smoothie Cup, Brushed Nickel
Smart settings technology and 7 speeds including 3 pre-programmed settings for the most common blender creations
Dual direction blade technology for extra blending power to chop and grind with precision extra wide 3.5" blade system allows ingredients to flow down into the blade easier for faster and smoother results
1200 power watts and 900 watts of ice crushing power
6 cup dishwasher safe Boroclass glass jar withstands thermal shock
Pulse feature for added control and precision; Featuring a 50% larger blade system (compared to previous Oster blender models) and patented dual direction blade technology that blends in forward and reverse motion
Buyer's Guide
Before you rush off and buy your next vegetable blender, there are various factors to consider.
Whether it's the toughness of the blender's blades or the levels of power settings they offer, it is important to discover what to look out for in top-quality blenders. This should help you make your final decision with confidence.
Here are the most important aspects to consider when buying your next blender.
The Power
Surprisingly, we don't all need the most powerful, feature-rich blender available on the market. Sometimes, simple machines can offer enough power to do everything we need from it. However, if you want your machine to grind, chop, and blend tough materials such as ice, you will need to opt for a powerful blender with strong blades.
One aspect of power that you should consider is the speed at which the machine can go. It is recommended you look for a blender with at least 3 to 10-speed settings for sufficient results.
Those with less than 3 typically offer less control while a blender with more than 10 settings can become too confusing and unnecessary. A pulse button is essential, however.
When using this, the blender works at medium speed and will stop when you release the button. This allows you to create finer textures for an easier blend with other ingredients.
500 watts is usually more than enough for a regular blender's workload. This includes making milkshakes or pureeing vegetables and fruits into tasty smoothies.
Space
Many blenders vary in size. Some have 3 cups while others can have up to 14 taking up a lot more space on your kitchen countertops and cupboards. If you have a small amount of storage space, you should look for a blender with a compact design such as a single-serve device.
If you intend to use your blender for larger groups of families and friends, it is advised you upgrade to a larger size so you can prepare your meals in advance. Larger blenders generally have larger sized cups too so you will be able to blend a larger amount of ingredients at one time.
Budget
There is no surprise that budget is an important factor. When isn't it? Like many electrical devices, the more functions a blender has, the more expensive it will be.
Even if a blender has different speed settings, other functions tend to affect the overall price. These include the versatility of the device such as blending, crushing, and grinding.
You should decide what kind of blender you require and then look at what features are important to you and your needs. It is worth considering other accessories that come with the blender too as this could save you money on purchasing other devices later on.
The Jar/Vase
This is one of the most important accessories with blenders. The jar or vase is where you place your ingredients. Most blender jars are graduated allowing you to insert the exact dose of ingredients you require.
Medium to low-end models tend to have plastic jars and these are generally very sturdy and easy to clean. On the other hand, more expensive models have glass vases that look and feel great.
Security
There is no getting away from it. Blenders include very sharp blades that can easily cause harm without proper care. These blades should always be sturdy and made of pure steel. This material means the blades should keep their sharpness over an extended period of time.
Some cheaper models have very poor blades that can become blunt after only a few uses. It is worth reading previous user's reviews to see the history of the blade's quality. Fortunately, most models include a safety button that blocks the machine and prevents it from being used by children.
Cleaning and Maintenance
It is vital you keep your blender clean and well maintained after each use. It is recommended you find a blender that is dishwasher safe for easy and quick cleaning. Lightweight models that are made from plastic are highly desired for their easy portability and easy to maintain nature.
Of course, not everyone has a dishwasher. You can clean blenders with warm soapy water to ensure all the ingredient's residue is removed. Always unplug the device before cleaning to prevent electric shocks.
What You Will Use the Blender For
You need to think of what you will be using the blender for most of the time. If you want to use it for chopping or pureeing vegetables for smoothies and frozen drinks, you should choose one with at least 500 watts of power with an ice-crushing blade. Ice-crushing blenders are very handy for cold drinks and breaking up the toughest materials.
If you plan on using your blender primarily for chopping and grinding, you'll need one with a chopping blade and different processing functions. Most of the time, a standard blender will suffice for pureeing, stirring, mixing, and blending.
Frequently Asked Questions
How do you juice vegetables in a blender?
If you wish to make a delicious drink out of your vegetables, you can do it in two easy ways. If your blender has no juice mode, you should chop and cut the veggies up and blend for around 30 seconds.
Then place a cotton cloth onto a bowl before pouring the remaining vegetable pieces through so the juice is extracted manually.
If your blender has a juice mode, simply place the veggies in and press the button. Shortly afterward, extract the juice out of the blender's jar and drink away! It doesn't get much easier than that!
Is it possible to chop vegetables in a blender?
The short answer is yes! However, this depends on the motor's power, the speed of the blender, and its blade's sharpness. Powerful blenders can easily chop and shred veggies like carrots.
Before you chop the vegetables into a blender, it is advised you leave them in water for around 5 minutes. This will make them softer and easy to chop inside.
Like this review? Pin it!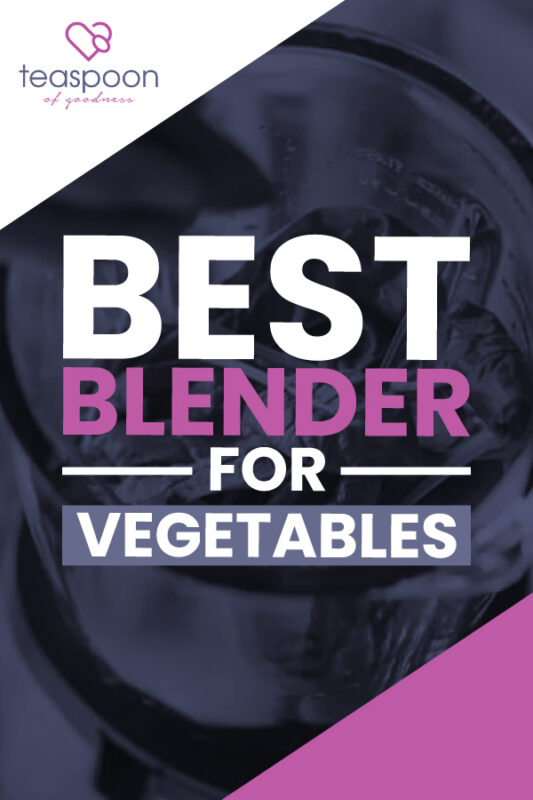 Pin