Who doesn't love some juice or a smoothie, even just every once in a while? Juicing can be a fantastic way to add some extra nutrients into your diet, or just so you can enjoy your fruits and vegetables a little bit more.
You don't need a fancy piece of equipment to make delicious and healthy juices at home either. There are plenty of options for you that will provide you with a means to create the best juices you can.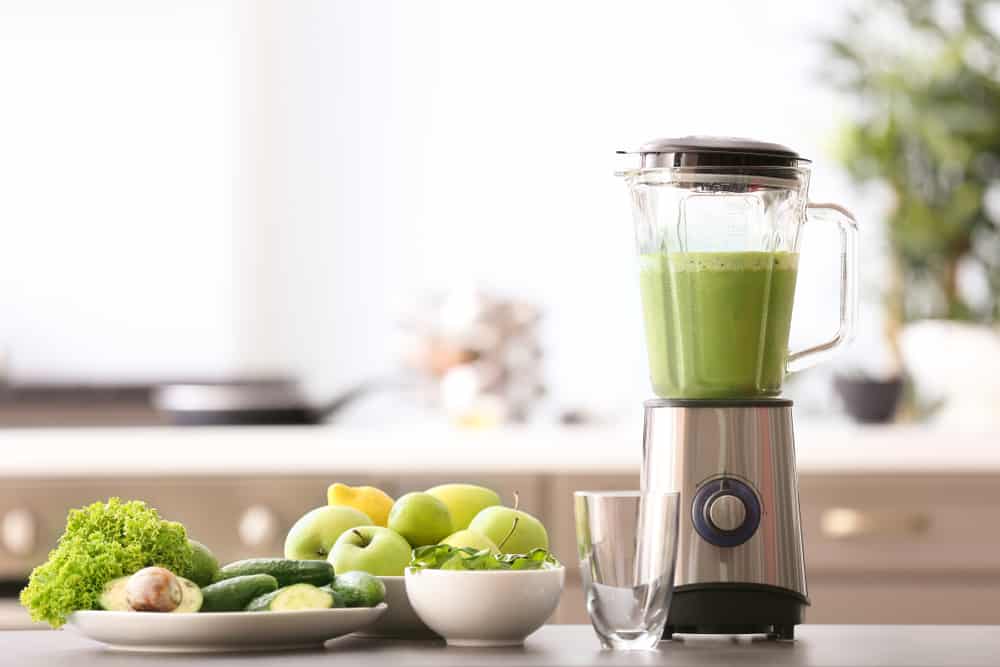 Pin
It is all about picking out the best blender for you, getting a model that is right for juicing and for what you want to juice.
We have got your back, don't worry. We have selected five of the best blenders you can get on the market today, these are all praised for their juicing abilities.
We are looking at their designs, capacities, efficiency, durability, and quality to help you find the absolute perfect juicing blender for your needs.
Let's get juicy.
Desperate for some Juicing?
Whether you are using a blender to juice yourself a tasteful fruit smoothie, make up some margaritas, make your salad into an on-the-go beverage, or just for a relaxing and tasty way to incorporate some healthier foods into your diet, you will want a good blender.
You may be in a bit of a hurry to get yourself a device that works for you, and we know that sometimes when you decide to start a new diet or get something that will improve your eating habits you want to get started right away.
That's why, right here we have narrowed down our best products so you can get going right away with our top, overall, best choice blender for juicing. We choose the Ninja BL770 mega kitchen blender.
This is our favorite for a multitude of reasons. It works at 1500 Watts, making it one powerful machine. It has a 72oz capacity and can turn ice into snow in mere seconds.
It also comes with an 8 cup food processor, 2 16oz Nutri Ninja cups with lids for on the go juice, and a dough blade for easy mixing too. It also comes with variable speeds, recipe inspiration, and easy cleaning.
This is a definite best buy, if you want the best of the best and fast, we certainly recommend this option, it will do you no wrong and you will find yourself juicing everything in no time!
Best Blender For Juicing
Pin
When looking for the perfect blender the Ninja BL770 Mega Kitchen Blender is a great choice. This blender is a reasonably-priced piece of kit that is powerful when it comes to blending, chopping, mixing, and single-serve abilities.
It has a whopping 1500-Watt motor that can make easy work of any fruit, vegetable, or anything else you may feel like throwing at it.
Not only are its capabilities outstanding but it comes in a great little package that you just can not turn down. It includes a 72-ounce plastic pitcher, with a 64-ounce food processing bowl, as well as two 16 ounce cups with travel lids to make drinks on the go a breeze.
If that isn't enough for you, it also has several blade assemblies, that include options for blending, chopping, and single-serve blends, if you so wished you could even mix up some dough in this blender, to save from hand-cramping dough mixing.
It has a five-button interface that is both modern and easy to use, it also has a handy single-serve button as well, for simplicity.
The 16-ounce juice cups are a fantastic addition, meaning you can juice right into the saving on unnecessary cleanup, hassle, and making the whole process a lot quicker if you are in a hurry to get going.
Do keep in mind, however, that the blades on this blender are very sharp so you should be cautious during cleaning. The containers are also plastic so you should monitor them for any signs of breakage as well.
You get a one-year warranty with this blender. That being said, this warranty only, really, covers the motor and you may be approached by shipping fees even under this warranty. So be mindful of these things before purchasing.
Pros
Easy to use with dedicated controls.
High wattage with a powerful motor and blades
Designed for multiple juices or single-serve juicing.
Versatile uses with a large pitcher.
Cons
Warranty may be an issue in specifics.
Plastic containers may be susceptible to cracking.
Sharp blades are hard to clean.
High-speed blending only, not suitable for low-speed blends.
Sale
Ninja BL770 Mega Kitchen System, 1500W, 4 Functions for Smoothies, Processing, Dough, Drinks & More, with 72-oz.* Blender Pitcher, 64-oz. Processor Bowl, (2) 16-oz. To-Go Cups & (2) Lids, Black
POWERFUL CRUSHING: The 72-oz. Total Crushing Pitcher pulverizes ice to snow in seconds for creamy frozen drinks and smoothies with a powerful 2-plus horsepower motor. (64-oz. max liquid capacity).
FOOD PROCESSING: 8-cup food processor bowl provides perfect, even chopping and makes up to 2 pounds of dough in just 30 seconds.
4 VERSATILE FUNCTIONS: All 4 functions – Blend, Mix, Crush and Single-Serve – utilize 1500 watts of performance power to truly customize your drink-making experience.
ON-THE-GO CONVENIENCE: Two 16-oz. Nutri Ninja Cups with To-Go Lids are perfect for creating personalized, nutrient-rich drinks to take on the go.
BLADES FOR ANY RECIPE: Stacked Blade Assembly for the pitcher, Dough Blade and Chopping Blade for the processor bowl, and Nutri Ninja Blades for single-serve cups.
Pin
If you are looking for something a little larger, that will serve nutritious drinks to you and your friends, then perhaps you may want to consider the Blendtech Classic 575 Blender.
This Blender is great for juicing with its huge 90-ounce pitcher. You can use it for making a quick smoothie from any ingredients you want.
Although the size of the pitcher may raise some questions about its stability, there is no need to fret, it is stable and will whip up your smoothies with no problem at all.
Much like the previous option, our top choice, this blender also has a pitcher that is made from plastic, so this has the same issues. Keeping an eye out for cracks and the like is an important focus with any plastic-based pitcher, especially one that works at high-speeds.
However, the design of the base of the blender quickly rids it of any issues that you may expect, issues that could be caused by its high volume capacity capabilities. It comes with a handy fifth side that allows for items within to be quickly and properly processed without issue.
It, much like our previous pick, lacks variable speed control. Nevertheless, you can still have a decent amount of control over how fast the blender will function. This blender does have an option for pulsing, which many others lack.
It performs the pulsing action well also. It also has one more feature that you will fall head over heels for, its admirable self-cleaning setting. Who doesn't want that? This setting is highly sought after and should you purchase this machine, you can be sure you will use this setting a lot.
Pros
Self-cleaning button.
Amazing eight-year warranty included!
Plenty of presents and moderate variation in speeds/actions, including 'pulsing'.
Large capacity pitcher, 90-ounces.
Cons
Higher price range than some others.
Can be excessively noisy.
Plastic parts are often more susceptible to breakages.
Lacks attractive aesthetics.
Blendtec Classic 575 Blender wtih WildSide+ Jar (96 oz) and Spoonula Spatula Bundle, Professional-Grade Power, Self-Cleaning, 4 Pre-Programmed Cycles, 5-Speeds, White
Elevate Your Blending Experience: High quality blender for smoothies, shakes, cocktail drinks, soups, crushed ice (snow cones, margaritas), juicer, ice cream maker, mixer, and self-cleaning. Our blenders are used in some of the largest smoothie shops around the world, and you can enjoy the same experience in the comfort of your own home. No tamper/plunger needed due to our patented technology which automatically pulls ingredients toward the blade, instead of spinning around in a circle.
No Chopping Prep: Save time and never need to chop, slice or dice in advance of blending. Blender jar has a vented latching lid.
Patented Blade/80% Thicker: Stainless-steel forged blade with wings for amazingly smooth blends (10x stronger than other blender blades) note Blade is not sharp blade is dull No more cuts and pokes.
Large Batches: BPA-free WildSide+ jar is a 90 ounce volume jar with 36 ounce blending capacity (wet or dry) ideal for blending beverages for 4-6 people. Self-Cleaning: Add a little soap and water your jar can clean itself in less than 1 minute.
2 Year Comprehensive Warranty: An American company, family-owned and driven to build the best quality products - without compromise. Engineered and assembled in the USA.
Pin
If you seek something that has all the good stuff but will make your dollars stretch a bit more, then look no further than the Oster Blender Pro 1200.
This blender is a lightweight 7lb blender, in comparison to some of the other blenders we have looked at so far it is lower in costs. It sports a well-designs body with many features.
It has a great interface that offers a trio of options for manual speed as well as a trio of smart technology presets. Two of these three smart presets are a green and a frozen smoothie button.
While it is not quite as hardcore as our top choice, it still has a fair wattage at 1200-Watts. A wattage at this rate still means that you won't struggle to juice your chosen fruits and vegetables. It will still decimate a carrot or an apple until it is a tasty and juicy, nutritious beverage.
Unlike our previous picks, this one has a small capacity, at just over half the size of the Blendtech blender, at 48-ounces. However, this is still more than enough, as long as you are not intending on juicing for the whole family in one go.
It also features a 24-ounce blend-in smoothie cup, which will be handy for quick blends when you need to get out of the house quickly with no time for dedicated cleans or pouring into takeaway cups.
This blender seems to work amazingly well on greens and seeds. Its blades are more fragile than some others but should be fine as long as you aren't feeding it whole products, perhaps chopping up some harder foods before processing.
It is also on the louder side of the scale and some replacements can be more difficult to source. However Oster does offer a 10-year warranty and a 3-year satisfaction guarantee, so this does make up for the sensitivity of the product and its less accessible replacements.
Pros
Speed variability and smart preset options for smoothies.
Glass pitcher that is dishwasher safe offering durability and ease of cleaning.
Decade-long warranty and a triple year satisfaction guarantee.
Great for greens, which means it's great for juicing!
Cons
Very loud in comparison to other products.
Blades are less durable than some other options available.
Replacements are less easily sourced.
Smaller capacity than other choices.
Sale
Oster Blender | Pro 1200 with Glass Jar, 24-Ounce Smoothie Cup and Food Processor Attachment, Brushed Nickel - BLSTMB-CBF-000
The Oster pro 1200 blender plus food processor starts with 1200 powerful watts, and lets you use the blender and food processor features interchangeably to make everything from smoothies to salsa to soup with ease
Blender and food chopper feature smart settings technology and 7 speeds, including 3 pre programmed settings for 1 touch salsas, milkshakes, and smoothies, plus pulse for added control and precision
Dual direction blade technology blends in forward and reverse, allowing ingredients to flow down into the blade easier for faster and smoother results; the powerful and precise blade system is 50 percent larger compared to previous oster blenders
Comes with an 6 cup boroclass glass jar; extra large, bpa free 5 cup food processing bowl; stainless steel slicing disk and chopping blade; and 24 ounce lidded smoothie to go cup
10 year duration last all metal drive limited warranty for longevity; 900 watts of ice crushing power
Pin
Here is where we give you the best budget option. Sometimes we want to get a good piece of kit without breaking our banks to get it.
In the modern age, a budget option is available for pretty much everything and this is one of our favorites. Want to save cash but still juice your days away? Take a look at the Ninja BL660WM Blender.
This blender is not just low-costing, it also has multiple speed options and plenty of single-serve features!
Sadly though, as we all know, the low cost will usually come with a few downfalls, in the case of this blender, it is rather loud. But it makes up for it with its exceptional 1200-Watt motor. This powerful motor can produce three speed options as well as having pulse settings and single-serve settings.
The pitcher on this blender is also 72-ounces, making it large enough to produce plenty of juicing products, as well as having two 16 ounce travel cups with lids for single-serve and easy juicing.
The Ninja BL660WM works very well on greens, so is perfect for juices and smoothies. It also comes with a year warranty, however, this warranty only covers the motor and there may be shipping fees faced.
Pros
Budget option.
Plenty of speed settings and other settings available.
Fantastic piece of kit for blending greens.
Sizable pitcher and smaller blend-in cups.
Cons
Very loud.
The warranty is only for a year and only covers the motor.
Not as durable as other options.
May be more subjected to faults than other options.
Ninja BL660WM Blender Silver (Renewed)
Ninja; total crushing; blades
2 speeds, pulse, and single-serve functions.
72 oz. Pitcher
2 16 oz. Single serve Nutri Ninja; cups
Includes single serve to-go lids
Pin
Finally, our favorite overall glass blender is the Cuisinart CPB-380. Not only is this blender a fantastic glass blender but it is also fairly compact, which is ideal if you are lacking in space, especially if you do not want to have to compromise good performance and options.
This blender has a rotary dial that controls the blender, for high speed, low speed, and pulse options. It also has an easy-grip so the pitcher is easy-peasy to get on and off its base.
It possesses a slightly smaller 32-ounce jar with two 16-ounce travel cups with lids, one of which is double-wall, which is perfect for keeping your juices cool on a hot summer's day.
This blender is great for margaritas and milkshakes and also produces great smoothies, however, they may still have flecks in them, so be mindful of this. Nonetheless, it is versatile, easy to use, and easy to clean.
Pros
Plenty of speed options.
A double-walled 16-ounce cup, to keep smoothies and milkshakes cool.
Compact for easy space-saving.
Glass pitcher for durability.
Cons
Smoothies may retain flecks of fruit/vegetables.
Blade removal for cleaning can be tricky.
The pitcher is not as large as other options.
It May be subject to faults, repairs may incur shipping fees.
Sale
Buyer's Guide
Wattage
Before you jump to conclusions that a high wattage blender will do you more justice than a lower wattage blender, take a step back. Higher wattage blenders do not always perform better, even though this is often the case, it is not always.
The overall design, features, and other aspects are of more importance to determining the performance of your blender than the wattage is. A blender with great features and design and a high wattage will do you well. But, consider all aspects before deciding.
Glass Vs Plastic
Glass or plastic, an age-old blender conundrum. Glas may be heavier and more cumbersome, but it will not retain odors or stains as easily as plastic models will. Higher power models will often reject glass pitchers as they cannot be guaranteed to be shatterproof.
If you were to seek out a glass model on a high powered blender then you should seek one that is thermal-shock tested and confirmed, this means that it would be able to blend ice immediately from the dishwasher.
A majority of high-performance blenders will have pitchers made from BPA-free plastic that is better resistant to high-speed blades than glass will be. It depends on what is more important to you in a blender.
Blades
Looking for a blender you may think 'I will need sharp blades for what I want to achieve'. If this is you, step back a second. The best performing blenders will often not come with sharp blades which are likely to dull over time.
They will often come with strong blades that can withstand time and will be able to decimate pretty much anything. These are also much safer to clean than sharp blades, so we recommend these more.
Size
The big question here is where are you keeping it? Do you seek a stable countertop model or something more portable? For portability seek a lightweight model.
If you want something hardy and to be set in place, seek out a weightier model. Consider height s well as you don't want to end up bashing it against cabinets as you move or use it.
Frequently Asked Questions
Does blended food digest faster?
The short answer is yes, it does. This is simply because blending your food means that part of the work done in digestion is already done for you.
Blending food is also a dieting technique for some, this is because blending food into a liquid makes the separation of liquid and solid in the stomach impossible which means that some of the liquid you pass would contain calories.
Why is juicing bad for you?
Juicing itself is not bad, so long as you don't use it as a 100% diet. A juice diet can lead to nutrient deficiencies in the long term. Juices often lack important nutrients as well as a severe calorie restriction which can be unsustainable and lead to a slow metabolism.
Juicing now and again or to help you get your five a day is fine, but doing it as a long term diet plan can be very bad for your health.