Enjoying a delicious fruit smoothie in the morning is a great way to kick start your day. Having a supply of frozen fruit on hand means that you can whip up your favorite smoothie within minutes.
Using frozen fruit removes the hassle of chopping and preparing fresh fruit, simply empty your desired amount from the packaging into the container and watch the blender break it down into a great tasting smoothie.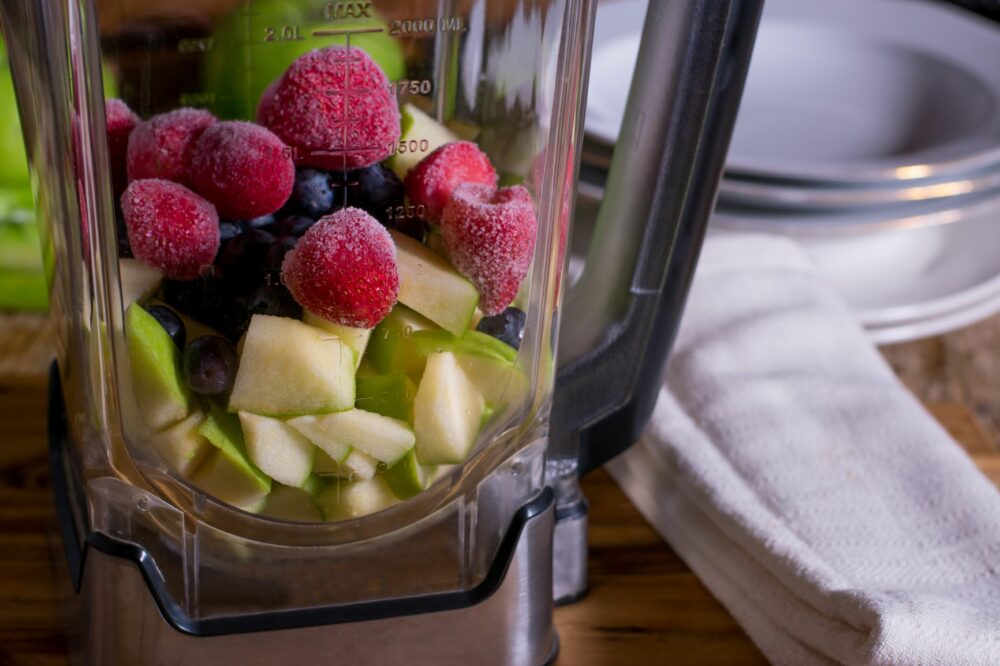 Pin
While many blenders are capable of breaking down the toughness of frozen fruits without leaving clumpy remnants along the interior of the container, others will struggle to do so.
Because of this, it is important to select the best product that is going to satisfy your blending needs. We have done the hard work for you and selected our top 5 picks of the best blenders for frozen fruit that the market has to offer.
Should you require some additional guidance before making your purchase, you will find our buyer's guide below that contains all of our top tips for selecting the best product.
Are you in a hurry? If so, we have selected our top pick for you below.
Best Blenders For Frozen Fruit
Pin
The Ninja Professional Countertop Blender delivers the power that is needed to break down frozen fruits thanks to the 1000 watt motor. The total crushing technology and high-quality blades crush ingredients like frozen fruits and ice within seconds.
Courtesy of the 72 Oz generously sized container, you can create smoothies for your whole family to enjoy. Also, great for those who wish to make their smoothies in bulk quantities.
It also features three speed settings; low, medium, and high along with a pulse function. As such, you can select the best speed setting for breaking down your frozen fruits.
In regards to cleaning, this blender is suitable for dishwashing so you aren't faced with the chore of having to clean it yourself. The base of the blender can simply be wiped over with a damp cloth in between uses.
This blender features a simple interface with all of the settings and functions displayed in one panel and this makes it an ideal choice for those who are new to using such appliance as the design isn't overly complex.
Pros:
This blender is capable of blending ice within seconds.

The larger container is ideal for catering to families.

The 1000 watt motor delivers powerful performance.

The use of high-quality professional grade materials creates a durable blender.

It is easy to disassemble for cleaning.
Cons:
This blender is rather tall so some may find it difficult to store when it isn't in use.
Sale
Pin
With 700 watts of power, the Hamilton Beach Power Elite Blender is bound to cater to all of your smoothie making needs. The tough blades are effective at breaking down frozen fruits without becoming damaged or warped.
This blender incorporates a wave action system that works by pulling the mixture down into the blades. As a result, the texture is going to be smoother rather than lumpy because the ingredients have endured consistent and direct contact with the blades throughout the process.
The base of the unit displays the 12 blending functions which can be activated via one of the designated 5 buttons.
Not only is this blender great for breaking down frozen fruits but it can also be used to create milkshakes, sauces and it can crush ice too. The control panel makes it easy to distinguish between each of the settings, ideal for those who are new to using a blender.
To clean the blender you can simply remove the blades and place them inside the dishwasher along with the jar and the lid. The unit can simply be wiped over using a damp cloth.
Designed with a unique pouring spout, the contents of the blender can easily be poured into a glass without creating any mess in the process.
Pros:
This blender is backed by a 3 year warranty should you experience any issues.

The container is made from BPA free materials.

It comes with 12 different settings for smoothies, milkshakes, sauces and ice crushing, etc.

Affordably priced, it is a great option for those on a budget.

The cord wraps around the base of the blender for compact storage.
Cons:
Removing the lid from the blender can be quite a challenge.
Hamilton Beach Power Elite Wave Action blender-for Shakes & Smoothies, Puree, Crush Ice, 40 Oz Glass Jar, 12 Functions, Stainless Steel Ice Sabre-Blades, Black (58148A)
POWERFUL BLENDING PERFORMANCE: With 700 watts of peak blending power and stainless steel Ice Sabre blades, this smoothie blender gives you all the power you need to make smoothies, protein shakes, frozen drinks and more
ULTRA-SMOOTH RESULTS WITH PATENTED WAVE ACTION SYSTEM: As you blend, ingredients are continuously forced down into the blades and circulated around the jar — thoroughly crushing the hardest foods with ease
SERVE WITH EASE: The spout on this electric blender lets you pour contents into your glass without spills or drips, so serving is easy and mess-free
EASY TO CLEAN WITH DISHWASHER SAFE GLASS JAR, LID AND BLADES: Blending multiple servings is easy with the glass jar that holds 40 ounces; The jar, lid and removable blades on the blender are all dishwasher safe
12 BLENDING FUNCTIONS FOR MAXIMUM VERSATILITY: This multi-function blender has 12 functions controlled by 5 simple buttons on the easy-to-read control panel; It blends and crushes ice for smoothies and milkshakes, purees, dices, chops and more
Pin
From a brand that is well-known for producing high-quality blenders, the Vitamix Professional Grade Blender isn't going to disappoint. The hardened blades are made from aircraft-grade stainless steel; a material that can break down the toughest of ingredients with ease.
The 64 Oz container can fit the volume of ingredients required to make medium to large batches and because of this, it is an ideal choice for families.
The unit of the blender displays all of the settings. There is a toggle that can be used to change the speed settings between high and variable.
By opting for the variable speed option you can alter the intensity of the speed from 1 to 10 using the dial. The toggle on the other side of the blender can be used to turn the unit on and off.
A feature we particularly like is the specially designed tamper which can be used to move any thick and stubborn ingredients without needing to continuously stop the machine to do so.
The shaping of the container also helps to achieve a smoother consistency by encouraging the ingredients to fold back towards the blades for improved results.
Cleaning the blender is a straightforward task and doesn't require a lot of effort on your behalf. Simply add water and soap to the container and then set it to the highest speed for around 60 seconds. The blender will then clean the inside of the container itself.
Pros:
The cord is 6ft long providing you with greater flexibility when using the blender.

This blender is covered by a 7 year warranty so there is help available if you are dissatisfied with your purchase.

The powerful motor breaks down tough ingredients with ease.

The tough stainless steel blades are resistant to damage and warping.

Along with the blender you are provided with an informative guide, DVD, and tamper.
Cons:
This blender can be quite loud when functioning at higher speeds.
Vitamix 64 oz. Container, 5200 Blender, Professional-Grade, Self-Cleaning, Red, DAA
Variable speed control: easily adjust speed to achieve a variety of textures. The dial can be rotated at any point during the blend, so you're in complete control
Large batches: The size and shape of the self-cleaning 64-ounce container is ideal for blending medium to large batches.
Hot soup: The blades in the Vitamin container reach speeds fast enough to create friction heat, bringing cold ingredients to steaming hot in about six minutes
Hardened stainless-steel blades: Our aircraft-grade stainless steel blades are designed to handle the toughest ingredients, so from the first blend to the last, you get the same quality results
Self-cleaning: with a drop of dish soap and Warm water, your Vitamin Machine can clean itself in 30 to 60 seconds.
Pin
The Cleanblend Commercial Blender is packed with an impressive 1800 watts of power. As a heavy-duty blender, it is going to perform well when tasked with breaking down frozen fruits into a smooth consistency.
Besides frozen fruit, it can also be used for pulverizing ice, chopping salsa and it can even process hot condiments like soap.
The variable speed settings can be altered using the dial giving you full control in adjusting the functioning of the unit to accommodate the ingredients inside the container.
It also features a pulse setting that will release a quick burst of power on the highest setting. The versatility of this blender is particularly impressive as it combines the role of multiple different appliances in one unit.
With a 64oz container, this blender can be used to make large portions that the whole family can enjoy. This blender has been made from food-grade stainless steel and the container is made from BPA plastic so it is safe to come into contact with food.
The quality of the materials also offers excellent strength and durability.
Thanks to the addition of the plug, blending tough ingredients inside the container is much easier. Instead of having to stop the machine to blend into tougher ingredients, you can use the plug as the blender is functioning.
Pros:
There are two colors available so you can select the option that compliments your kitchen aesthetic.

The blender is covered by a 5 year warranty and a 30 day refund policy.

The materials used are BPA free.

With 1800 watts of power, this blender performs very well.

The blender is easy to clean after use.
Cons:
This unit is prone to vibrating when in use so it is necessary to be cautious of this issue.
Cleanblend Commercial Blender - 64oz Countertop Blender 1800 Watts - High Performance, High Powered Professional Blender and Food Processor For Smoothies
CLEANBLEND HIGH POWERED BLENDER: The most powerful heavy duty countertop blenders we know of. Cleanblend's commercial blenders feature a 3 HP, 1800 watt motor. This power is key to the unrivaled commercial grade performance of our blenders. Whether you want to pulverize ice, chop some fresh salsa, or process hot soup, this 1800w blender's variable speed control is up to the task. It's remarkably strong and surprisingly quiet. Everything you want in a quiet blender
MULTI-USE BLENDER, ALL IN ONE DESIGN: Our Cleanblend Countertop Blenders could replace up to 9 appliances: crush, blend, chop, grind, heat, process, puree, or liquify. Create larger servings of ice blended coffee, dips, sauce, or margaritas! This large blender also makes soups, really what more can you ask for? Say goodbye to unblended bits, chewy chunks, and grainy lumps—for good and say hello to a better, healthier you!
BEST BLENDER FOR LARGE PORTIONS AND COMMERCIAL DEMANDS: When a single serve blender isn't enough, our Cleanblend high performance commercial blender can handle your commercial, or heavy duty cafe or restaurant needs. This bigger and better super blender serves up large batches of smoothies, fresh juice, ice cream, milkshakes, margaritas, cappuccinos, soups, batters, sauces, dressings, salad and more! No need to blend repeatedly, leave the large batches to us while you run your business!
BPA FREE & FOOD GRADE STAINLESS STEEL: Clean eating starts with safe appliances. ​​BPA-Free means you get all of the vitamins and nutrients from your food—and none of the chemicals found in other plastics. From soup to smoothies, you're always safe with Cleanblend. CleanBlend's high speed blender is made with an 8-blade sealed ball bearing for maximized performance, hardened stainless steel blades, and a BPA free pitcher that's basically unbreakable and easy to clean!
5 YEAR WARRANTY
Pin
The COSORI Blender is an excellent choice for frozen fruits. The high torque of the 800-watt motor effectively crushes frozen fruit and ice.
Aside from this, the blender can also be used for pureeing ingredients too. The overheat and overload features protect the blender from damage caused by such issues.
This blender incorporates 3 different blade edges all of which are made from stainless steel. The strength of this material and the sharpness of the edges will blend and liquify a selection of ingredients until they have a smooth and appealing consistency.
The blunt edges are going to be effective in crushing firmer ingredients.
The unit of the blender is simplistically designed with each of the functions clearly visible. If you want to blend the ingredients at a high speed you will need to apply constant pressure to the pulse button.
Alternatively, you can use the auto-blend setting which will pulse the ingredients at 3 second intervals with a very short break in between. Eventually, a smooth and lump free consistency will be achieved.
When you purchase this blender you will receive a range of additional accessories. This includes multiple containers of varying sizes so you can select the option that accommodates the number of people you are catering for. You will also receive a cleaning brush and recipe book for inspiration.
Pros:
The material used to make the cups is BPA free.

The parts are safe for dishwashing and the unit can be easily cleaned in between uses.

This blender is backed by a 2 year warranty should you encounter any issues.

Along with the blender you are provided with a selection of other useful accessories.

The tough stainless steel blades are going to be effective in breaking down frozen fruit and other tough ingredients.
Cons:
The lid of the blender is a little wide and can be difficult to remove.
COSORI Blender for Shakes and Smoothies 9-Piece 800W Auto-Blend High Speed/Mixer for Ice Crushing Frozen Fruit, 2x 24oz Cups, 1x 12oz Cup, ETL Listed
POWERFUL PERFORMANCE - COSORI Blender designed with High-torque base and 800W motor makes RPM peak at 23000, providing perfect ice crushing, blending, pureeing. Equipped with overheat & overload protection
HARDENED STAINLESS-STEEL BLADES - 3 different blade edges blend ingredients into most absorptive state. Sharp edges are easy to smash vegetables and fruits. Blunt edges are used to crush ice,seeds,nuts & etc.Hole blade is perfect for nutrient & vitamin extraction
AUTO-BLEND - With 3-button(start/stop, auto & pulse) for different applications and blends. Auto mode blends ingredients in 3 second intervals with 1 second breaks, shut off after working 10 times. Press and hold the pulse button to blend ingredients at the highest speed
FULLY EQUIPPED - Storage Lid, Travel Lid, 2 x 24oz Containers, 1 x 12oz Container, Cleaning Brush & Recipe Book, 100% BPA free Cups. Dishwasher safe parts and easy to clean
Buyer's Guide
With so many different blenders available on the market, there are several factors that you will need to consider before making your purchase. We have identified these factors below.
The Size of the Container
The size of the blender that you require depends on how many people it is going to be used by. If the blender is only going to be used by an individual, a smaller option is likely to be sufficient.
However, if you are creating some delicious smoothies for your family to enjoy, you will require the use of a larger blender. The size of the container will be measured in ounces. Some will be tall and narrow and others will be shorter but wider.
The latter option means that the ingredients will be in closer contact with the blade, however, narrower blenders are just as effective.
Investing in a blender that is too big for an individual person's requirements is likely to be a wasted purchase but a blender that is too small may require you to make multiple batches before everyone is catered to.
The Quality of the Blades
A blender that is going to be used with frozen fruits must have high quality, strong blades that are resistant to damage. Those that are poorly constructed are likely to become warped upon contact with the toughness of the frozen fruit.
Stainless steel is the preferred option as this is a tough material that can break down frozen fruits with ease. The number of blades inside a blender can vary. While some may only have two others may have around 6 blades.
The Motor
Your blender will need to have a powerful motor that can break down the frozen fruits. An inadequately powered motor is going to struggle to do so, instead of leaving you with a lumpy textured smoothie.
Ideally, your chosen blender should have between 1,000 and 1,500 watts of motor power to break these tougher ingredients down successfully.
The Speed Settings
Most blenders have variable speed settings that can be controlled by a button or a dial. This typically tends to be a low, medium, or high setting although some will be preprogrammed with as many as 10.
A blender with multiple speeds allows you to select the best setting for the ingredients that you are blending and the texture that you want to achieve.
Some will also have a pulse function that works when you apply pressure to the button. As such it will release a burst of power functioning at the fastest speed and will continue to do so until your fingers release from the button.
Food Grade Materials
Your blender should be made from food-grade materials i.e., those that are free of harmful materials. A BPA-free marking will indicate that the blender has been made from food-grade materials and it is, therefore, safe to come into contact with food.
Some will also have an FDA marking.
Cleaning the Blender
Cleaning a blender can be a frustrating task, particularly when there are small bits of fruit lodged in those hard to access areas. A blender that does not have an overly complex design is going to make cleaning it much easier.
Many blenders will be suitable for dishwashing and this will save you from having to clean the blender yourself.
The Cost
Blenders for frozen fruit retail within a relatively affordable price range, of course, there are some offerings from brands that are a little more pricey but do not be put off because there are plenty of budget-friendly options available.
Your blender must be made with high-quality components that are going to refrain from becoming damaged upon contact with the frozen fruits. The amount that you spend on the blender is also going to depend on the regularity in which it is going to be used.
If you intend to use your blender daily you may wish to invest in a more expensive offering. However, if this isn't the case a cheaper option is likely to suffice.
The Warranty
Some blenders are prone to breaking easily when subject to frequent use and on occasions you may also find that the blender struggles to function.
This is where a warranty comes in handy as there will be help available should you experience any of these issues as the brand may refund or replace your product.
The warranty can differ in length between brands. Some will also provide you with access to customer support which allows you to speak to a member of their team regarding any problems that you are experiencing when using the blender.
Frequently Asked Questions
What can be blended with frozen fruits?
The additional ingredients that you blend with frozen fruits are going to depend on the flavor of the smoothie that you are trying to create.
The most likely accompaniments will be juice and greek yogurt although the exact flavor of each can be decided by yourself.
Is blending frozen fruits bad for you?
When compared to fresh fruits, frozen fruits have a higher vitamin C content along with other nutritional value.
However, blending frozen fruits can reduce the presence of some properties such as beta-carotene.
Like this review? Pin it!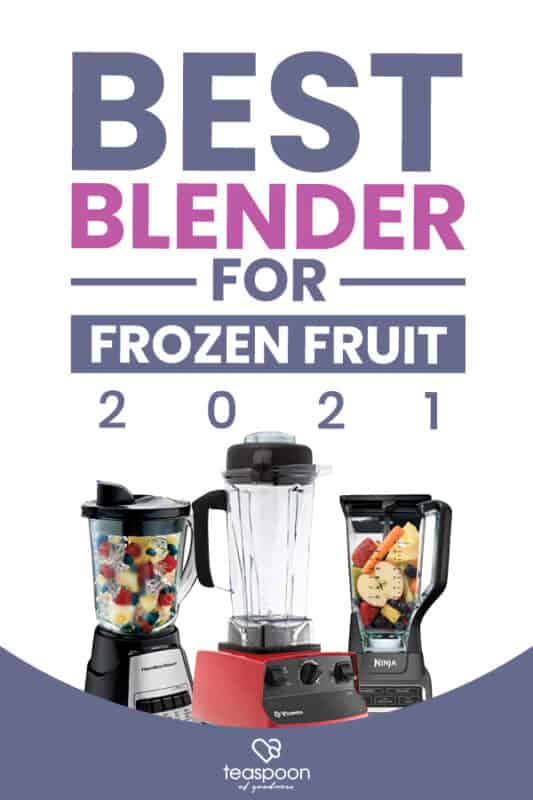 Pin