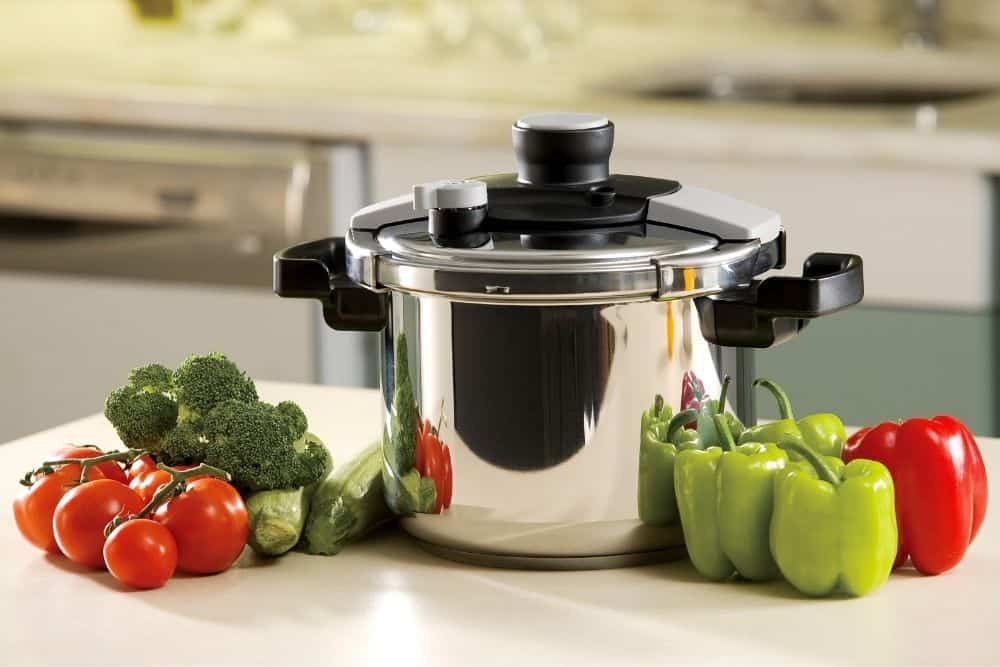 Pin
The pressure cooker is a long-standing staple kitchen appliance designed to churn out slow-cooker dishes in a fraction of the time.
Fun fact: the first pressure cooker was actually invented centuries ago, in 1679, when Denis Papan, a French physicist, invented a pot that could reach temperatures of 266 degrees Fahrenheit.
Since then, pressure cookers have come a long way. Two of the best pressure cookers on the market currently are the Power Quick Pot from Tristar and the Instant Pot by the brand of the same name.
Stay tuned for our reviews of the Power Quick Pot and the Instant Pot, complete with the advantages and drawbacks of each product and our overall verdict.
Main Features
Stainless Steel Construction
The high quality of the Power Quick Pot is immediately evident because of the pressure cooker's stainless steel construction.
Stainless steel is the ideal choice of material for a pressure cooker because it helps to retain heat, resists corrosion, and is highly durable. Given that a pressure cooker is hardly a cheap investment, durability and wear resistance are of the utmost importance.
Additionally, stainless steel is one of the easiest metals to wipe clean, which is perfect since you obviously can't clean your pressure cooker in a dishwasher.
Large LCD Display
Because pressure cookers reach such high temperatures, ease of monitoring is crucial.
The Power Quick Pot ticks this box through its inclusion of a large-scale LCD display screen.
This screen not only displays all the important information pertaining to your cooking times and temperatures, but it also changes color depending on what cooking program you have selected, so there will never be any confusion or difficulty interpreting the display.
37 Settings
Pressure cookers are known for being very versatile, but the Power Quick Pot surpasses all expectations with its incredible range of 37 different cooking settings.
The Power Quick Pot can function as a pressure cooker, slow cooker, steamer, warmer, oven, and even a yogurt maker! This appliance will work for pretty much any cooking endeavor you want to try.
Built-In Microprocessor
The microprocessor built into the Power Quick Pot not only monitors the temperature inside the cooker as well as cooking times, but it can also monitor the pressure inside the cooker and automatically adjust the settings as needed.
This means that even if you overlook something, your pressure cooker will be able to save the day through its microprocessor function.
Safety Features
In addition to all of the functionality-enhancing features built into the Power Quick Pot, this pressure cooker is built in a way that prioritizes safety.
Because pressure cookers can reach such high temperatures, it's crucial to have some built-in safety features to mitigate any risks.
One of the best safety features included with the Power Quick Pot is its safety-locking lid, which ensures that no boiling-water-related accidents will happen when using the cooker.
Moreover, the cooker features a pressure adjustor and blockage guard.
Overview
Pros
Stainless steel build – Durable, heat-retentive, and easy to clean
Color-changing LCD display – Easy to monitor
37 programs – Extremely versatile
Microprocessor function – Automated monitoring
Safety lock lid – Protects against accidents
Cons
Power Quick Pot (6 QUART) 37 in1 Multi- Use Programmable Pressure Cooker, Slow Cooker, Rice Cooker, Yogurt Maker, Cake Maker, Egg Cooker, Baking, Sauté/Sear, Steamer, Hot Pot, Sous Vide and Warmer
Power Quick Pot Electric Multi Cooker 37 Multi Functional Smart Settings – Electric Pressure Cooker & More is the newest generation technology in kitchen appliances - choose your setting in just one instant touch for fast, effortless home cooking up to 70% faster vs. traditional methods. Large LCD Digital Display changes color based on operation. PTFA & PFOA Free Stainless Steel. No Mess Splatter Guard. Dishwasher Safe parts.
Replaces Multiple Kitchen Appliances – Digital Pressure Cooker, Slow Cooker, Rice Cooker, Yogurt Maker, Cake Maker, Egg Cooker, Baking, Sauté, Steamer, Hot Pot, Sous Vide and Keep Warm
New Technology Cook IQ Microprocessor - Built-in, Advanced Microprocessor monitors pressure and temperature, keeps time, and adjusts heat intensity and duration. 1200 Watts - Power Supply Rating: Voltage: 120v/60Hz. Power Supply Cord Length: 36inches. Unit Weight: 11.6
Special Features & Built-in Safety – Appliance features Delay Cooking time up to 24 hours – manual setting up to 12 hours of cook time; 2 manual cooking modes (Pressure Cooking & Temperature). 12 Built In Safety Features Include Safety Lock Lid with Magnetic Switch, Lid Positioning Sensor, Anti-Blockage Guard, Pressure Controller, Cool to the Touch Handle.
Main Features
Smart Construction
Like the Power Quick Pot, the Instant Pot is made out of stainless steel. However, in addition to the regular benefits that come from a stainless steel construction (durability, heat resistance, and easy cleaning), the steel construction of the Instant Pot adheres to a Smart design.
This Smart, tri-ply design of the Instant Pot ensures that heat is distributed evenly for the most efficient and thorough cooking process possible.
However, despite the physical durability of the cooker, some customers have reported their units randomly ceasing to work. This is a problem that we hope Instant Pot will correct in the future because, as you'll see from the rest of our review, this is otherwise a very impressive pressure cooker.
7 Cooking Functions
The Instant Pot can serve 7 different cooking functions, including pressure cooking, rice cooking, slow cooking, steaming, warming, sautéing, and making yogurt.
13 Programs
There are 13 pre-set programs built into the Instant Pot. The programs allow you to set more specific instructions for your cooking depending on what kind of food you are preparing.
For example, there are settings for desserts, yogurt, poultry, beans, rice, and plenty more, all accessible through the Instant Pot's intuitive interface.
Smart-Touch Interface
Thanks to the Smart-Touch interface featured on the Instant Pot, monitoring your cooking has never been easier!
The layout of the buttons makes it easy to select your desired settings at a glance, while the display screen shows the cooking time.
Indicator lights will remind you which setting you have selected, and you can adjust the pressure level, delay your start time, or cancel at the touch of a button.
Safety Features
To help keep you safe while using this cooker, Instant Pot has included several safety features.
The safety locking lid will prevent potentially dangerous spillages, while the overheating protection system will minimize the risk of malfunctioning due to excess heat.
Overview
Pros
Smart steel construction – Durable and even-heating
7 functions – Versatile
13 programs – Caters to various food groups
Smart-Touch interface – Easy to navigate
Safety locking lid – No spillages
Overheating protection – Minimizes risk of internal damage
Cons
Some reports of random malfunctions – Not always a durable option
Instant Pot Duo 7-in-1 Electric Pressure Cooker, Slow Cooker, Rice Cooker, Steamer, Sauté, Yogurt Maker, Warmer & Sterilizer, Includes App With Over 800 Recipes, Stainless Steel, 6 Quart
7-IN-1 FUNCTIONALITY: Pressure cook, slow cook, rice cooker, yogurt maker, steamer, sauté pan and food warmer.
QUICK ONE-TOUCH COOKING: 13 customizable Smart Programs for pressure cooking ribs, soups, beans, rice, poultry, yogurt, desserts and more.
COOK FAST OR SLOW: Pressure cook delicious one-pot meals up to 70% faster than traditional cooking methods or slow cook your favorite traditional recipes – just like grandma used to make.
QUICK AND EASY CLEAN UP: Finger-print resistant, stainless-steel sides and dishwasher-safe lid, inner pot, and accessories.
SAFETY FEATURES: Includes over 10 safety features, plus overheat protection and safe-locking lid
Final Thoughts
If you're looking for the pressure cooker with the most programs and settings, the Power Quick Pot will be the best choice for you. However, the Instant Pot also has a very respectable range of settings.
Both cookers are constructed from stainless steel, although the Instant Pot has the edge with its tri-ply, even-heating design.
Moreover, both the Instant Pot and Power Quick Pot have intuitive user interfaces and built-in safety features.
The Power Quick Pot does seem to have better quality control, although both cookers have relatively short warranties.
Overall, there's not much to choose from between these two pressure cookers. For maximum versatility and quality control, choose the Power Quick Pot. For even heating and overheating protection, the Instant Pot is the best choice.