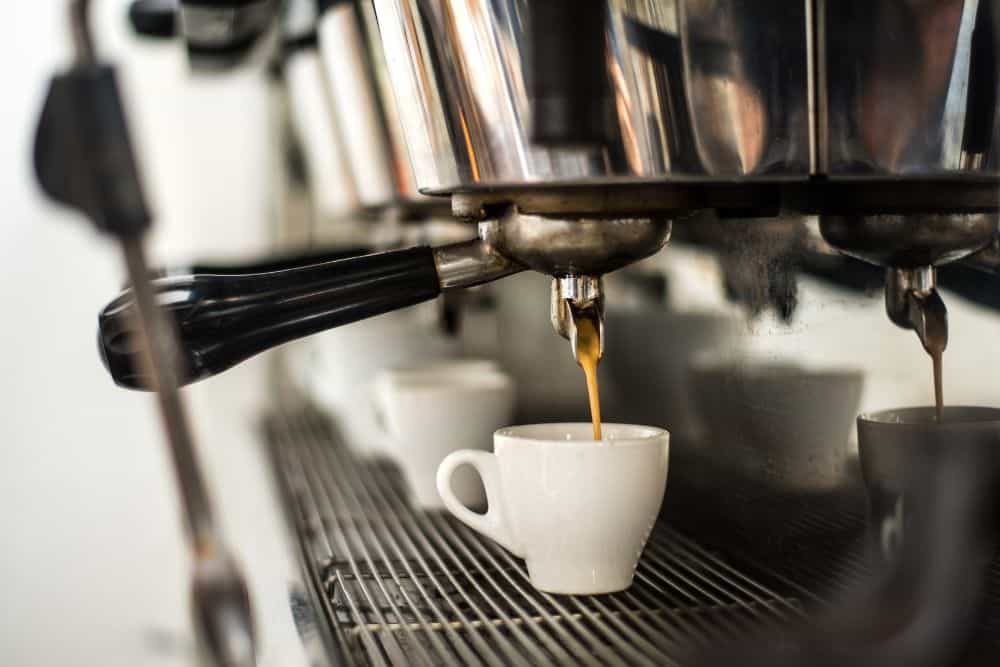 Pin
Which Brand Offers the Roast with the Most?
De'Longhi and Breville have been duking it out for the espresso machine throne for years now, with both brands bringing intelligent and useful features to the market.
The thing is, both companies' products seem, well…kind of similar, especially to those who are just getting into the sweet, sultry world of caffeine.
Not to worry, though, Joe-drinkers. We've got you covered with this concise comparison of both the brands and four of their flagship machines.
De'Long History of De'longhi
These guys have been in business since 1902, making them one of the oldest coffee-related businesses in the modern world, but they didn't have espresso machines in 1902, so what were they up to?
A family-owned, Italian business, De'Longhi was known for producing various household appliances. It wasn't until 2006 that they threw their Coppola caps into the espresso ring.
These days they're renowned for their sleek, accessible espresso machine designs and earned our adoration for their mission to bring professional-grade coffee machines from behind the bar, to our kitchen counters — thanks De'Longhi.
War and Beans – A Brief Breville History
Breville has existed as a business entity since the early 1930s and cut their teeth producing radios as part of the war effort during WWII — commendable!
Over the years, Breville's steadfast dedication to quality manufacturing led to ubiquity in its home nation of Australia. Now with production bases in Canada, Hong Kong, New Zealand, and the States, it's fair to say they've broken into the world market with aplomb.
Despite being the younger brand overall, having released their first machine in 2001, Breville has slightly more experience in the espresso game.
Espresso My Gosh – It's Time for the Showdown
Let's get down to business, friends. You don't have all day, and I'm willing to bet you're just as ready for a coffee as we are.
The Semi-Automatic Skirmish
Semi-automatic espresso machines allow you to start and stop the pouring of a steaming hot coffee with a simple push of a button — nice. But the grounds have to be tamped manually — that's fine. We like to get involved with the brewing process.
These machines are the perfect barometer of the versatility of the brand's design work. They need to be flexible, convenient, and make one heck of a coffee.
We couldn't start in any other way than putting the price tag of the EC155 15 on front street. It's miraculous, so if you're looking to bring some epic coffee-making potential to your home on a budget, it's a great place to start.
A single boiler system, this machine is compatible with both pre-ground and pods. The 35 fluid ounce reservoir could be bigger, but what you lose in capacity you make up in counter space.
It doesn't feature a built-in grinder, but that just means you can treat yourself to a superb standalone one like this Cuisinart DBM-8 Supreme Grind Automatic Burr Mill: Kitchen & Dining.
Despite the reasonable price point, the EC155 offers no shortage of advanced options such as a swivel-jet frother for crafting specialty treats, dual thermostats for independent monitoring of moisture and steam temps, and auto-priming operation to save you time in a bind.
Some drawbacks to this design include the running volume and the cup clearance. The EC155 accommodates receptacles up to 2.5 inches, so large brews can be tricky.
DeLonghi EC155 15 Bar Espresso and Cappuccino Machine, Black
EVERY CUP TO YOUR LIKING: 15-bar professional pressure assures quality results every time, and adjustable controls allow you to make modifications for your personal taste preferences.
BREW LIKE A PRO: Whatever your preference – single or double espresso, cappuccino or latte – the machine brews authentic barista-quality beverages just like you enjoy at your favorite coffeehouse.Input power (W): 1050
YOUR FOAM, YOUR WAY: A manual frother mixes steam and milk to create a rich, creamy froth for evenly textured drinks – just the way you like them.
ONE ESPRESSO SHOT OR TWO. The three-in-one filter holder, included with the unit, has filters for one espresso shot, two shots, and one for an easy-serve espresso pod – whatever your preference.
NO WAITING BETWEEN CUPS: The Advanced Cappuccino System maintains the optimal temperature so you can brew cup after cup instantly.
Sleek, user-friendly, flexible, this Breville Express is a dominant force in the market today, and admittedly, one of our collective favorites.
This thing is positively brimming with nifty features and gizmos all collated to give you the perfect cup of coffee as and when you need it. We're talking a 2-liter reservoir, a ½ lbs sealed bean hopper, and a baked-in conical burr grinder. This is all you'll ever need condensed into a standalone unit.
You'll also enjoy the 360° swivel steam wand, frothing pitcher, and 54mm tamper, yet despite all these features, Brevile keeps things nice and tight with overall dimensions measuring 13.25" x 12.5" x 15.75".
The downside? Well, arriving at just over four times the cost of the EC155 15, let's just say this sleek masterpiece will leave you a little light of pocket until payday.
Sale
Breville BES870XL Barista Express Espresso Machine, Brushed Stainless Steel
The Breville Barista Express delivers third wave specialty coffee at home using the 4 keys formula and is part of the Barista Series that offers all in one espresso machines with integrated grinder to go from beans to espresso in under one minute
DOSE CONTROL GRINDING: Integrated precision conical burr grinder grinds on demand to deliver the right amount of freshly ground coffee directly into the portafilter for your preferred taste with any roast of bean
OPTIMAL WATER PRESSURE: Low pressure pre-infusion gradually increases pressure at the start and helps ensure all the flavors are drawn out evenly during the extraction for a balanced tasting cup
PRECISE ESPRESSO EXTRACTION: Digital temperature control (PID) delivers water at precisely the right temperature, ensuring optimal espresso extraction
MANUAL MICROFOAM MILK TEXTURING: The powerful steam wand performance allows you to hand texture microfoam milk that enhances flavor and enables creation of latte art
Automatic Animosity
Automatic and super automatic espresso machines are the all-singing, all-dancing coffee robots that do everything for you. They're also a great measure of a brand's technology and ingenuity.
This machine is beloved by coffee nuts, and it's no surprise. With an integrated grinder and bean hopper, it offers bean-to-cup coffee at the push of a button.
It arrives with a 180° steam wand, a 60-ounce reservoir, and a proprietary frothing mechanism, which by the by, is to die for.
Despite it's full-automation, it offers pretty extensive programmability too, so you can choose how involved you want to be with the brewing process.
Our one caveat here is that it's still quite a loud machine, but considering it offers super automatic functionality at Breville's semi-auto price point, it's a whole lot of espresso machine.
De'Longhi ESAM3300 Magnifica Super Automatic Espresso & Coffee Machine, Silver
FRESH ESPRESSO FOR EVERY CUP: The professional burr grinder with 13 adjustable settings grinds fresh beans every time to ensure maximum freshness. You can also use pre-ground in the second chamber. Your choice of regular, specialty or decaf.
YOUR FOAM, YOUR WAY: A manual frother mixes steam and milk to create a rich, creamy froth for evenly textured drinks – just the way you like them.
CONSISTENT BREWING EVERY TIME: Each cup is automatically brewed to the perfect temperature, richness and density. And you can customize the settings to ensure its always just the way you like it.
EASY TO CLEAN AND HANDLE: The compact, extractable brew unit is not only easy to clean, it self-adjusts for one or two shots of espresso.
DELICIOUS CAPPUCCINO AND LATTE: The adjustable manual Cappuccino System mixes steam and milk to create the thickest, longest-lasting foam for your cappuccino. And it's easy to adjust the levels to prepare a creamy latte, macchiato or flat white.
The Oracle is essentially the Rolls Royce of coffee makers. Featuring a touch screen, you pick out your favorite brew, and this machine grinds, doses, and tamps the perfect amount of coffee.
Featuring digital temperature controls, a self-cleaning steam wand, a pro-grade dual boiler for simultaneous boiling and steaming, and an over-pressure valve that limits pump pressure to eliminate bitterness, the Oracle produces truly silken brews.
What's more, you can straight-up invent your own coffees and save 8 of them into the Oracle's built-in memory — pretty impressive if you ask us. The only issue is that you may have to remortgage your home to afford one of these.
Sale
Breville BES990BSS Oracle Touch Fully Automatic Espresso Machine, Brushed Stainless Steel
The Breville Oracle Touch espresso machine with touch screen delivers third wave specialty coffee at home using the 4 keys formula; It has a professional Dual Boiler construction that delivers unparalleled temperature control and simultaneous extraction and steaming
DOSE CONTROL GRINDING: The integrated precision conical burr grinder automatically grinds, doses and tamps 22 grams of freshly ground coffee, for maximum flavor
OPTIMAL WATER PRESSURE: The Over Pressure Valve limits the maximum pump pressure throughout extraction, helping prevent bitter flavors; Low pressure pre infusion gradually increases water pressure to gently expand grinds for an even extraction
PRECISE ESPRESSO EXTRACTION: Achieve balanced tasting espresso with the Breville Oracle Touch Espresso Machine complete with digital temperature control (PID), delivers water at precisely the right temperature ensuring optimal espresso extraction
AUTOMATIC MICROFOAM MILK TEXTURING: Self-cleaning steam wand, powered by a dedicated boiler, automatically textures milk to your liking and delivers barista quality microfoam that enhances flavor and is essential for creating latte art at home
The Verdict
When comparing these four exquisite machines, it quite quickly became apparent to us that De'Longi's products, while amazing, were slightly rough around the edges compared to Breville's. However, considering the vast difference in price between these brands; models, De'Longhi definitely offers you far more bang for your coffee-stained buck.
Ultimately, these machines are marketed towards different coffee drinkers. De'Longhi strives to appeal to those who love a good brew and want the convenience of shop-grade coffee in their own home.
Breville, on the other hand, targets the enthusiasts, the detail-oriented connoisseurs of the coffee-making craft. Their models are objectively more advanced and provide slightly better coffee overall, but these subtle improvements equate to not-so-subtle price spikes.