When you spend a lot of time running errands, visiting family, going out to eat, visiting doctors, etc… Your kids often wind up eating on the run. Older kids are easy- a pack of crackers, a granola bar, and you're ready to go. With crawling and walking (or nearly walking babies) it gets a little harder. They are not yet ready for solid table food but need something a bit more substantial than pureed foods.  Gerber Lil' Bits are a new 3rd food that gives your little movers something with a little more "bite" to it. Yummy Flavors like Sweet Potato Apple Carrot & Cinnamon. I turned them into On The Go Baby Parfaits by layering them with other ingredients and adding a spoon.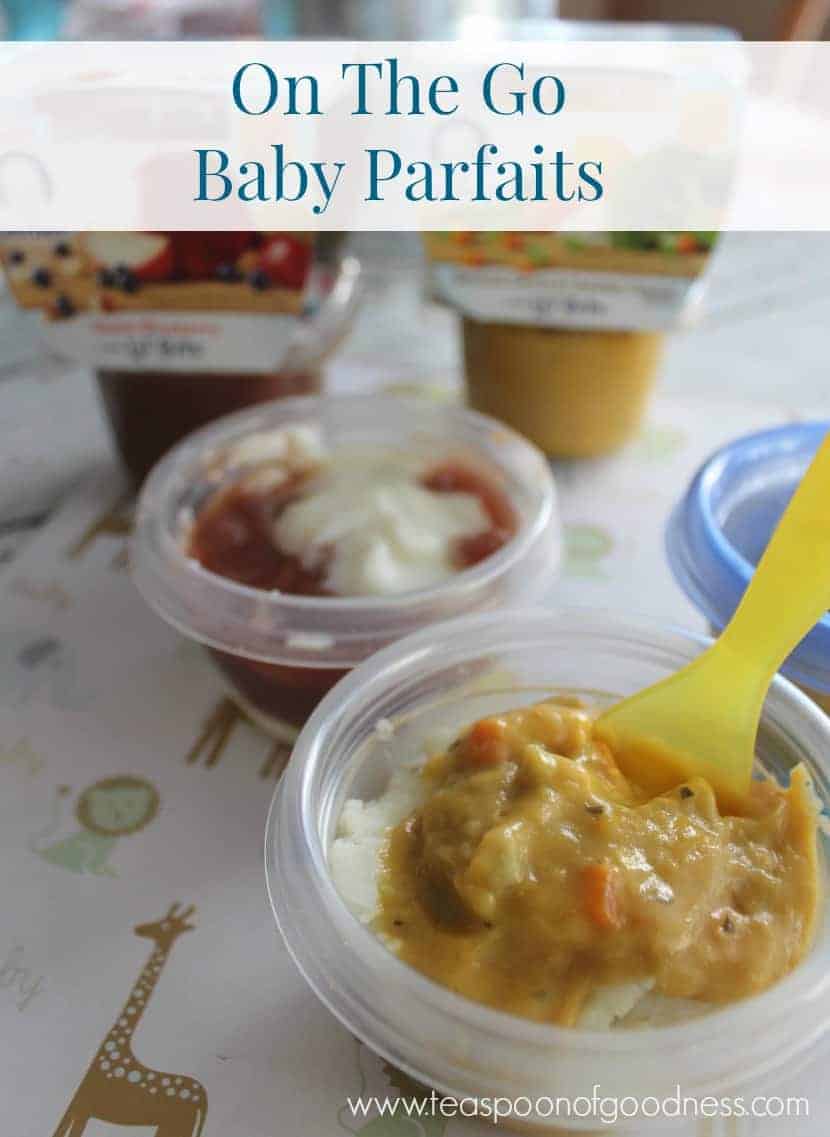 Pin
Gerber Lil' Bits contain small soft pieces of fruits and veggies to help transition your little one into chewing. I used a fruit and a veggie option to make up a couple variations for grab and go. These  are great to take to restaurants or to hand off to grandma when she is on babysitting duty!
Easy On The Go Baby Parfaits with Gerber Lil' Bits
To make sweet and savory on the go cups you will need:  
Gerber Lil Bits Apple Blueberry
Plain Yogurt
Gerber Lil Bits Broccoli Carrot & Cheddar Cheese Dinner
Leftover mashed potatoes
small plastic containers
baby spoons
rubber bands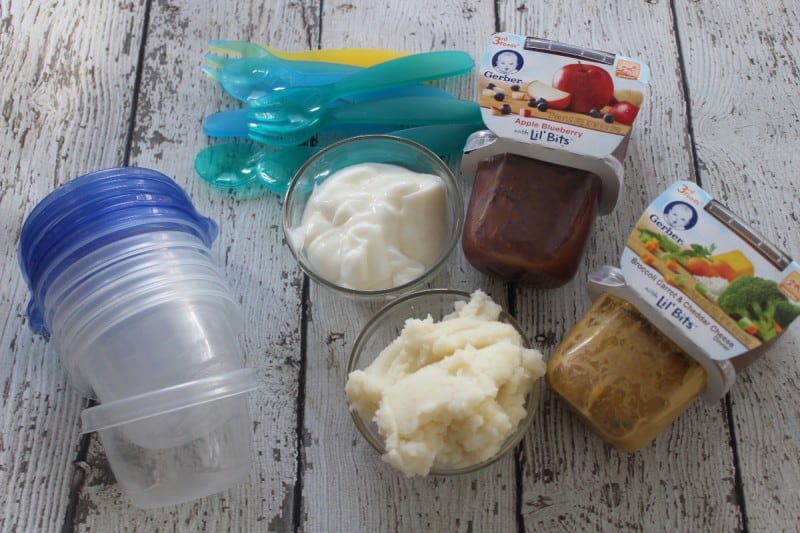 Pin
For a sweet treat alternate layers of  Gerber Lil' Bits Apple Blueberry and plain yogurt.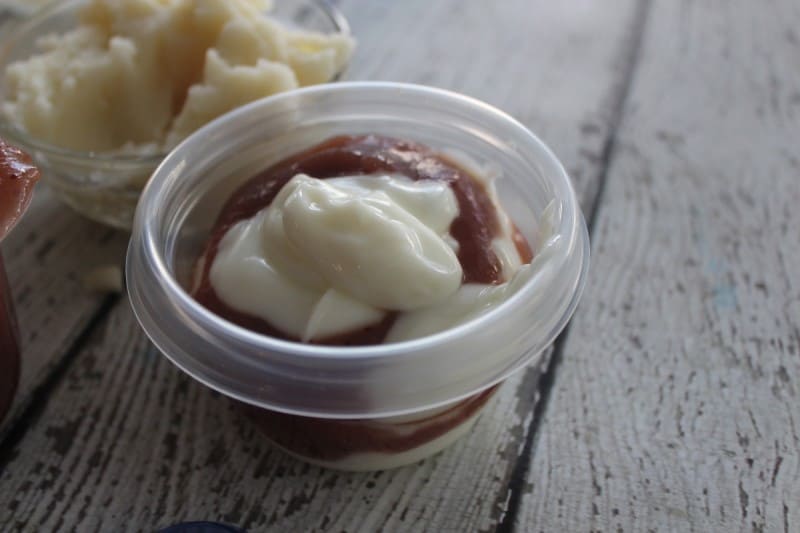 PinFor savory meals alternate leftover mashed potatoes and Gerber Lil Bits Broccoli Carrot & Cheddar Cheese. You can see the little bits and flavor in the Gerber Lil' Bits can't you?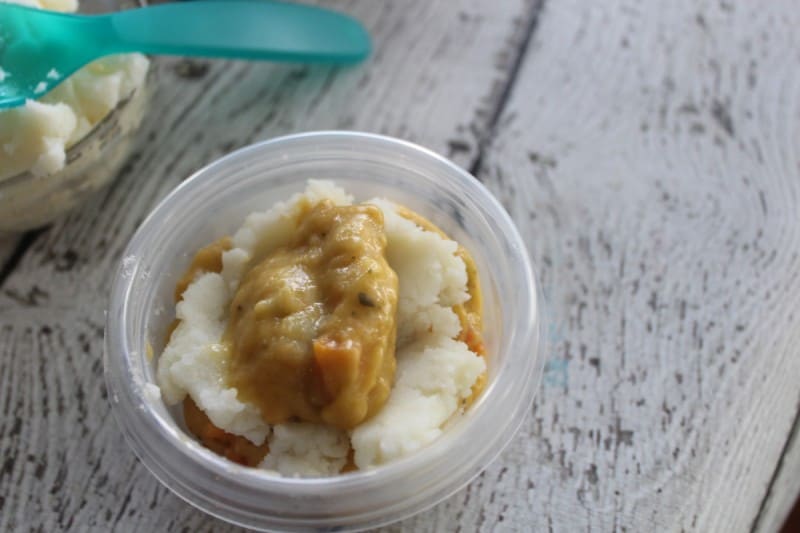 Pin
Attach a spoon or fork, I picked up a cheap multipack and attached one to each container so it was truly a grab and go.
Stack your creations in the fridge, and make new flavors every couple days.
Try out all the varieties Gerber Lil' Bits has to offer and make your little crawler a buffet of meals and snacks to try.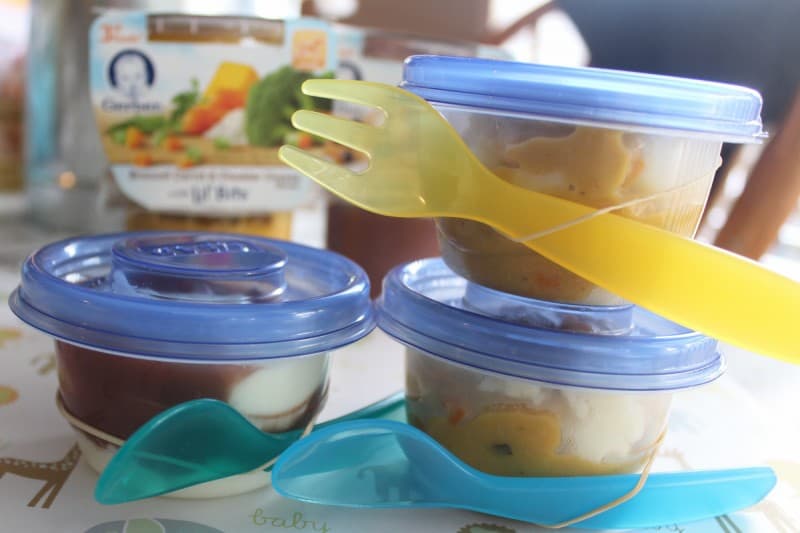 Pin