Two classic flavors come together to create this Chocolate Chocolate Chip Banana Bread Recipe that will leave you begging for more. Banana bread has long been a favorite sweet bread to prepare since it is both tasty and frugal, but the addition of chocolate and chocolate chips makes this one that even your pickiest eater will come back for time and again.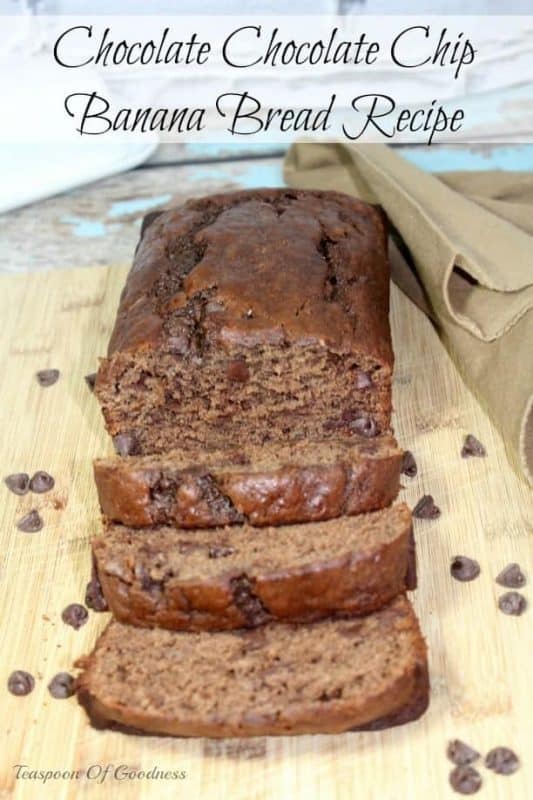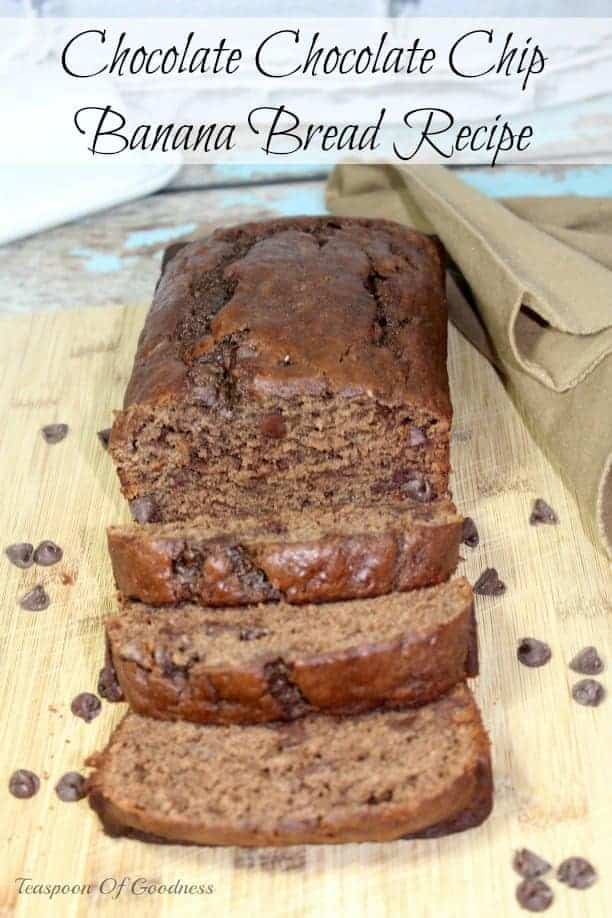 Pin
Overripe bananas are something we have often had on hand in our house. Especially when there is a great sale on bananas that makes them irresistible. We love adding bananas to breakfasts, desserts, smoothies, and especially this chocolate chip banana bread recipe. In fact, when bananas begin to get a bit past their optimum for basic snacks, I add them directly to a bag in my freezer to use for future recipes. This means I always have 2-3 bananas ready to add to this bread when needed.
Even with the addition of chocolate and chocolate chips, this recipe contains far less sugar than most sweet breads or cakes. That makes me happy to serve to my entire family. While this chocolate chocolate chip banana bread recipe is great for making in loaves, you can also make it in muffin tins or even in a donut pan for easy grab-and-go snacks, breakfasts, or desserts. You can also make double batches, wrap and label for great bulk freezer options.
Chocolate Chocolate Chip Banana Bread Recipe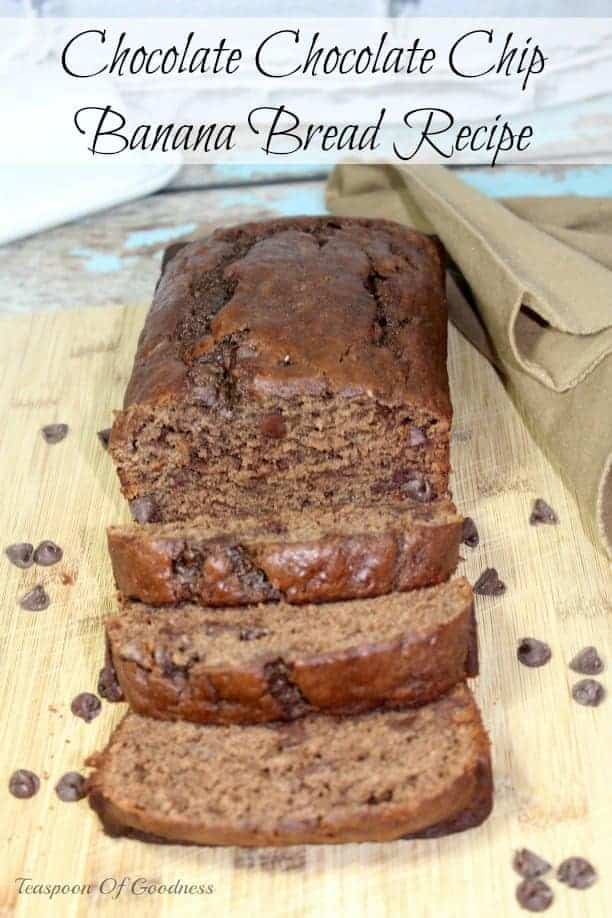 Chocolate Chocolate Chip Banana Bread Recipe
Prep Time: 15 minutes

Cook Time: 1 hour

Total Time: 1 hour 15 minutes
Ingredients
2 C flour
1/4 C unsweetened cocoa powder
1/2 tsp baking soda
1/2 tsp baking powder
1/2 tsp salt
1 C sugar
1/2 C soften butter
2 eggs, lightly beaten
2-3 medium very ripe bananas, mashed to equal 1 C
1 tsp vanilla extract
1/4 C milk
1/4 C milk chocolate chips
Instructions
Preheat oven to 350 degrees
Spray an 9"X5" bread pan with Pam, set aside
In a large bowl mix together the flour, cocoa powder, baking soda, baking powder, and salt
In another bowl beat together until creamy the butter and sugar.
Add in the lightly beaten 2 eggs...mix well.
Lastly add the mashed bananas, vanilla, and milk mixing well.
Slowly incorporate the wet ingredients with the dry ingredients until they are combined.
Stir in the chocolate chips throughly.
Pour into your prepared bread pan.
Bake in oven at 350 degrees for 55-65 minutes. Check at 55 minutes with a toothpick and if the toothpick doesn't come out clean return to oven for 5-10 minutes or until your inserted toothpick comes out clean.
Cool in pan for 30 minutes.
Remove from pan.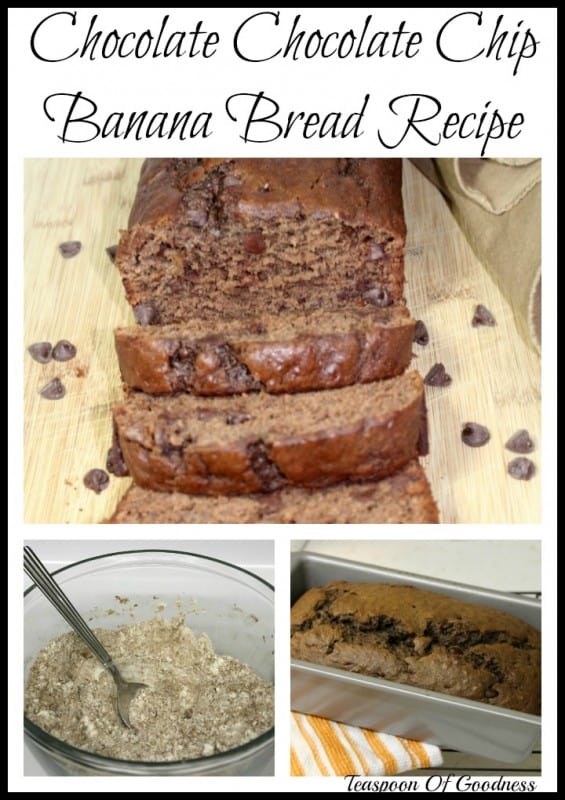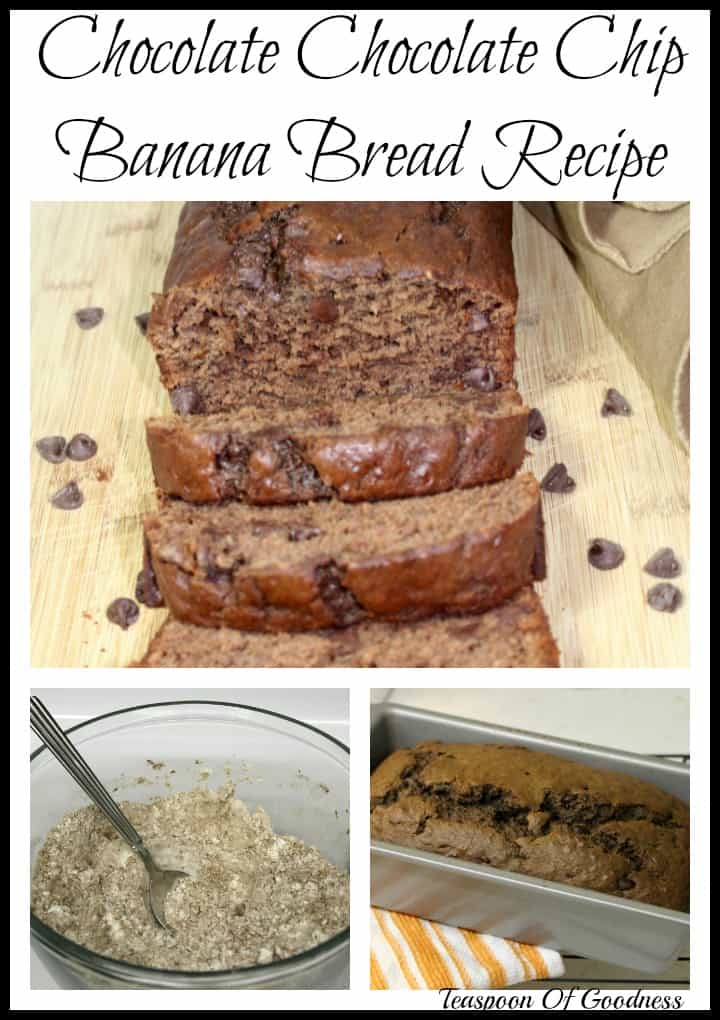 Pin
You might also enjoy these recipes for blueberry oat muffins, double chocolate strawberry muffins, and bananas foster bread.
Visit Teaspoon Of Goodness's profile on Pinterest.