There are many uses for citrus juice in the kitchen. It can be poured over a piece of delicately cooked fish, used as the base for a salad dressing, and even incorporated into delicious desserts.
It also stands on its own as a vitamin-packed drink that will help kickstart your morning.
However, getting the juice out of your chosen citrus fruit can be a difficult task. The skins can be tough and hard to squeeze by hand.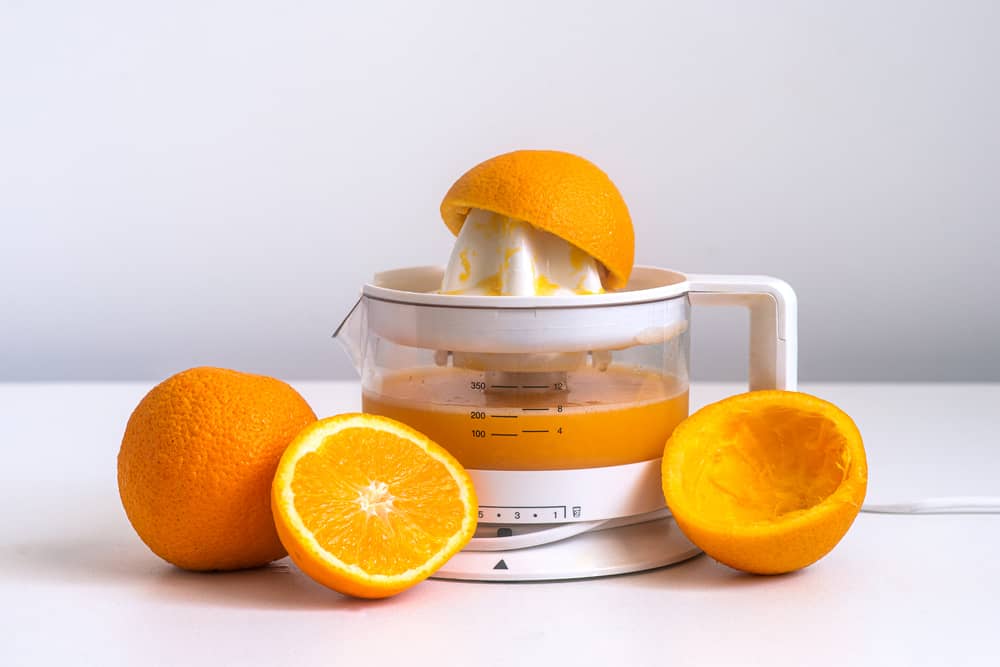 Pin
Even if you do manage to extract some juice, there's likely some still trapped inside your fruit that may just end up in the trash. This costs you money and increases your food waste levels.
So, what's the solution? You need a citrus juicer!
Designed to crush and pulverize citrus fruits and release every single drop of juice they contain, a citrus juicer will take all of the hard work out of juicing.
You don't need to spend hours researching them either. To help save you time and guide you in the right direction, you'll find five of the best citrus juicers listed below. You'll also find a buyer's guide that's packed with hints and tips on what to look out for when you're making your decision.
Best Citrus Juicers
Pin
Let's start with our top pick. The Black + Decker Citrus Juicer is compactly sized, making it a great choice for smaller kitchens. This doesn't mean it's not a powerful juicer, though.
To start with, it can hold up to 32 oz of citrus juice at any given time. This is ideal for anybody who likes to prepare food and drink for the week.
This electric juicer works hard to extract every ounce of citrus juice using its auto-reversing cone. This also takes all of the effort out of manual juicing. You can even create citrus juice that's better suited to your personal taste using the innovative adjustable pulp control function.
Any pulp that you don't want in your juice is collected in the removable basket and can be thrown away or used later. And, if you're juicing for a recipe and need a specific amount, the jug features measuring marks that give you a clear reading of how much juice you've got.
It also features an integrated pouring handle and drip-free spout. This allows you to pour your juice straight out of the juicer without making any mess. While we're on the subject of mess, cleaning this juicer is easy too as all the removable parts are dishwasher safe.
Pros:
Auto-reversing cone

– takes all the hard work out of manual juicing and extracts as much juice from a piece of citrus fruit as possible
Adjust pulp control

– allows you to create juice that has the perfect amount of pulp
Compact

– perfect for smaller kitchens and storing away when not in use
Pouring handle and drip-free spout

– makes it easy to serve juice directly from the juicer
Dishwasher safe

– all the removable parts can be cleaned in the dishwasher for ultimate convenience
Cons:
Noisy

– some people found that this juicer was quite loud when in use
BLACK+DECKER 32oz Electric Citrus Juicer, Adjustable Pulp Control with Pulp Basket
Clear-View Juice Container: The durable plastic container is clear so you can easily see the yield of each piece of citrus.
Easy-to-Read Measurements: Measurement markings on the juice container take the guesswork out of juicing for recipes.
Easy-Pour Spout: Don't lose a drop! The molded pour spout
Storage Cover: Keep your juicer dust-free and ready to use with the plastic storage cover.
Cord Storage: No-hassle storage in the cupboard or the countertop with the integrated cord wrap.
Pin
Featuring an auto-reversing cone, the Cuisinart Pulp Control Citrus Juicer squeezes loads of juice out of citrus fruit with minimal effort. It also features a 'final spin' function that extracts juice from the collected pulp, making sure that nothing goes to waste.
As its name suggests, this juicer gives you control over how much pulp your citrus juice contains. You can choose between low, medium, and high settings to create a range of textured juices. This makes it a great choice for large families with different taste preferences.
The snap-up spout located on the front of this juicer allows you to juice directly into a glass. This spout has also been cleverly designed to accommodate a range of glass sizes and it is drip-free. This means you won't have to worry about your countertops becoming wet and sticky while you collect your delicious juice!
When you've finished juicing, you can easily clean all the removable parts of this juicer by placing them straight in the dishwasher. You can also store it away neatly when it's not in use thanks to the convenient cord storage.
Available in two designs (Black & Stainless Steel or Polished Chrome), this juicer makes a stylish addition to any kitchen.
Pros:
Three pulp control options

– low, medium, and high settings allow you to create the perfect level of pulp in your juice
Auto-reverse cone & final spin

– extracts even more juice from your fruit by spinning the collected pulp
Snap-up spout

– can be adjusted to fit different sized glasses and is drip-free for clean decanting
Easy to clean

– all removable parts are dishwasher safe for a quick, easy clean
Available in two designs

– choose between Black & Stainless Steel or Polished Chrome
Cons:
May need rinsing before putting in the dishwasher

– some people found that, after collecting a large amount of pulp, the basket needed a quick rinse before being put in the dishwasher
Cuisinart CCJ-500P1 Pulp Control Citrus Juicer, 1, Black/Stainless
SUPERIOR FUNCTION: Our sleek brushed stainless steel Pulp Control Citrus Juicer gets out more juice more efficiently
MUST-HAVE FEATURES: Adjustable reamer with 3 pulp control settings-low, medium, high with auto-reversing universal juicer cone for more efficient juicing
ADDITIONAL FEATURES: Final-Spin feature extracts more juice from pulp and protects against dust including an extra-long snap-up spout that accommodates more glasses and prevents drippings
CONVENIENT: Juicing Cone accommodates small limes to large grapefruits, cord storage and easy-clean dishwasher safe parts
LIMITED 3-YEAR WARRANTY: Refer to user manual for troubleshooting steps and questions surrounding warranty policies – this product is BPA free
Pin
This Manual Citrus Juicer from Zulay is the perfect choice for anybody that prefers the traditional method of juicing over an electric appliance. And, since it doesn't need any electricity to work, you'll be saving a little extra money on your energy bill!
Constructed from cast iron which is renowned for its durability, this juicer features a heavy-duty lever arm that can be easily pulled down to crush the citrus fruit. This lever arm also features a firm-grip handle that ensures you're comfortable and have a secure grasp while you juice.
Another fantastic thing about this manual juicer is its 5-inch diameter cup. This makes it suitable for juicing a wide variety of citrus fruits including oranges, grapefruits, lemons, limes, and more.
It's also easy to clean simply by wiping with a cloth when you're done. The strainer cup can also be removed and is dishwasher safe for an even easier clean up.
You don't need to worry about this juicing tipping over while you're using it either, thanks to the integrated rubber feet. It's also available in a range of colors to suit any kitchen design scheme and it comes with a lifetime warranty.
Pros:
Manual juicer

– perfect for anybody that prefers the look and feel of manual juicing
Cast iron construction

– super durable, sturdy, and backed by a lifetime warranty
Lever arm with firm-grip handle

– provides a secure, comfortable grip while you're juicing
5-inch diameter cup

– perfectly sized for crushing a variety of citrus fruits
Removable strainer cup

– can be placed in the dishwasher for easy cleaning
Cons:
Only the strainer cup is dishwasher safe

– this means you'll need to clean the main body and all other parts of the dishwasher by hand
Zulay Kitchen Cast-Iron Orange Juice Squeezer - Easy-to-Clean, Heavy-Duty, Professional Citrus Juicer - Stainless Steel Lemon Squeezer - Manual Citrus Press & Orange Squeezer - Orange Juicer (Black)
SQUEEZE OUT EVERY DROP OF JUICE: Our lemon squeezer won't waste even a single drop from your favorite fruit and will also leave the seeds and pulp behind! The 5-inch diameter of the citrus press bowl makes it suitable for various types and sizes of fruit. Watch the juicy goodness of limes, lemons, oranges, grapefruit, apples, pineapples, pomegranates, and other citrus fruits come straight out of the citrus squeezer, ready to add flavor to your meals or drinks.
SAVE TIME AND EFFORT: Our citrus juicer makes juicing easy-peasy lemon squeezy. The comfortable grip handle of this lime squeezer allows you to squeeze all the juice from lemons, limes, or oranges in seconds for making delicious recipes like guacamole, lemonade, cocktails, and more. Unlike bulky electric juicers, you no longer have to worry about electricity or replacing batteries with this manual citrus press.
STURDY AND DURABLE MATERIAL: This manual juicer is made of heavy-duty cast iron that can easily withstand the pressure from continuous pressing for years to come. The leverage mechanism allows a one-time easy pull to get all the juice out. Our citrus press is designed with a heavy rubberized base to firmly keep it in place without the fear of falling, tipping, or sliding off the counter. This hand juicer is great for both professional and at-home use.
EASY TO CLEAN AND SAFE TO USE: Focus more on extracting fresh fruit juice than worrying about cleaning up. All parts of this juice press are detachable and dishwasher friendly, which makes cleaning super quick. The stainless steel bowl and filter cone are made using food-grade material, making the fruit squeezer safe and healthy to use.
HASSLE-FREE, ZULAY GUARANTEE: We love and take pride in our pomegranate juicer and back it up with a lifetime guarantee. Have the confidence that this product will last. If there are ever any issues, just contact us and we will make it right.
Pin
If you're looking for a juicer that can be used for a wide variety of citrus fruits, the Pohl + Schmitt Electric Juicer would make a fantastic choice. This is because it comes with two differently sized juicing cones.
The larger cone can be used to squeeze the juice out of larger fruits such as orange and grapefruit. Switch the smaller cone, and you'll get loads of juice out of lemons, limes, and smaller citrus fruits.
It's super easy to use as well. Simply place your citrus juice on the tip of the cone, apply pressure, and the cone will start spinning automatically. The cone also changes direction while it's spinning to extract as much juice as possible from each piece of fruit.
This juicer's collection jug has a 34 oz capacity and features measurement markings that show you exactly how much juice you've collected. It also features a built-in pouring handle that allows you to serve your juice directly from the juicer itself.
Cleaning this juicer is easy as all of the removable parts are dishwasher safe. It also has a super-stylish, modern design that would look great in any kitchen. And, when you're not using it, it's compact enough to store away neatly in a kitchen cabinet.
Pros:
Includes two differently-sized juicing cones

– makes it easier to extract juice from a wide variety of citrus fruits
Automatic on/off function

– simply place the fruit on the tip of the juicing cone and it will automatically start spinning
Auto-reverse function

– the cone changes direction at intervals to extract as much juice as possible
34 oz jug with handle and measurement markings

– gives you a precise reading on how much juice you've collected
Dishwasher safe

– all removable parts can be placed straight in the dishwasher for easy cleaning
Cons:
No pulp-control features

– unlike some other juicers, you're not given the option to adjust the amount of pulp in your collected juice
Pohl+Schmitt Deco-Line Electric Citrus Juicer Machine Extractor - Large Capacity 34oz (1L) Easy-Clean, Featuring Pulp Control Technology
Powerful Motor: This juicer is equipped with a powerful motor that ensures efficient extraction of juice from citrus fruits, maximizing the amount of juice you get from each fruit.
Large Capacity: With a 34oz (1L) container, this juicer can accommodate a significant amount of juice, allowing you to make multiple servings without the need for constant refills.
Easy to Use: Operating the juicer is simple and convenient. Just place your citrus fruit on the reamer and press down to activate the juicing process. No complicated setup or techniques are required.
Easy to Clean: The juicer's removable parts are dishwasher safe, making it effortless to clean after use. Additionally, the stainless-steel housing is easy to wipe clean, ensuring maintenance is hassle-free.
Sleek Design: The Pohl+Schmitt Deco-Line Electric Citrus Juicer Machine Extractor features a sleek and modern design, adding a touch of elegance to your kitchen countertop. Its compact size also makes it easy to store when not in use.
Pin
Having a smaller kitchen doesn't mean that you need to sacrifice having certain appliances, and this Electric Juicer from Eurolux is here to prove it!
Measuring in at just 12-inches high, it can be left on a countertop without taking up too much space or stored neatly inside a kitchen cabinet.
Don't be fooled by its compact size, though. This is a powerful little machine that is more than capable of meeting all of your juicing demands.
It operates with a 160-watt motor that spins the cone and extracts a huge amount of juice from each piece of fruit. It also features a traditional-style juicing arm with a soft rubber grip that starts the juicing cone spinning automatically.
You don't need to worry about pulp getting into your juice either, thanks to the removable pulp-collection basket. This basket, as well as all other removable parts, are dishwasher safe as well. This makes cleaning up when you're done juicing easier than ever.
Everything is kept clean while you're juicing too with the anti-drip lock spout. This works by creating a barrier between the spout and the reservoir.
In this position, the juice is held securely and can't leak out. When unlocked, you can release a steady flow of delicious juice.
Pros:
Perfectly sized for smaller kitchen

– measures just 12-inches high so won't take up a lot of countertop space and can be stored away neatly
160-watt motor with juicing cone

– effortlessly extracts juice from citrus fruits
Lever-arm design

– traditional style arm offers a secure, comfortable grip and activates the automatic on/off function
Removable pulp collection basket

– dishwasher safe basket stops pulp from getting into your juice
Anti-drip lock spout

– keeps everything clean and tidy while you decant your juice
Cons:
No pulp control

– while the basket collects pulp, there isn't an option to leave a certain amount of pulp in your juice when preferred
Sale
Eurolux Citrus Juicer | Powerful Electric Orange Juicer with New and Improved Easy Juicing Technology | Stainless Steel Orange Juice Squeezer with Soft Grip Handle and Lid for Oranges of any Size
POWERFUL JUICING TECHNOLOGY - Eurolux ELCJ-1600 Electric Citrus Juicer uses a new and improved motor gear that offers a quiet yet powerful juice extraction at only 120 Watts. It provides the same exact power as with 160W juicers but is made more energy-efficient and expected to last longer.
AUTOMATIC ONE-TOUCH OPERATION - Our Orange Juice Machine features a soft grip rubber handle press that only requires a minimal amount of pressure to start the automatic juicing process. Simply press the handle down to start, and release pressure to stop. It also features an auto-on/off function.
PURE AND HEALTHY JUICE ALL THE TIME - With its integrated filter, you will enjoy a seedless, fresh orange juice or lemonade all the time – hassle-free! The filter effectively captures pits and other unwanted residues. Thus, it gives you twice as much pure and healthy juice.
FITS MOST FRUIT SHAPES AND SIZES - Our Electric Citrus Juicer doesn't require you to change the cone lid for a specific fruit. The one-size-fits-all juicing cone is smartly designed to ensure matchless versatility. Plus, it secures the fruit in place and helps avoid messy squeezing.
STAINLESS STEEL CONSTRUCTION - This Electric Juicer for Oranges and Lemons boasts premium build and construction that offers both quality and aesthetics – perfect for any kitchen style. Its compact design will look great on your counter with its modern and updated finishing.
Buyer's Guide
It may seem like choosing a citrus juicer is a fairly straightforward task, but there are certain things that people commonly forget about.
Sure, it needs to be able to squeeze a good amount of juice out of your fruits. But how easy is it to clean? And how much juice can it hold?
Below, we'll take a look at some of the key points you need to keep in mind when you start shopping. Taking a little extra time to do this will help save you time, money, and, ultimately, help you find the best citrus juicer for your needs.
Electric Vs Manual
The first thing to consider is whether you'd prefer an electric or a manual juicer. Both styles are capable of extracting a large amount of juice, but both come with their own advantages and disadvantages.
Electric juicers are generally the most popular choice. These do all of the hard work for you and, in most cases, you only need to apply a small amount of pressure to the top of the juicing cone to operate them.
However, since they need electricity to work, they may add a few extra dollars to your energy bill each month.
Manual citrus juicers don't require any electricity to work and are operated by pulling on a lever arm. This crushes the juice out of the fruit, rather than spinning a cone into it.
However, unlike an electric citrus juicer, a manual juicer requires a lot more physical effort.
Capacity
The next thing you need to think about is how much juice you need your juicer to be able to store at once.
If you're a large family or you like meal-prepping, a juicer with a larger capacity would be the best option. A 32 oz – 34 oz capacity would be ideal.
If you're a single person or only juice occasionally, it would make more sense to purchase a citrus juicer with a smaller capacity of around 20oz.
Size comes into play here as well. A juicer with a larger capacity will take up more space on your countertops.
A smaller juicer will take up less space and can be stored away compactly when not in use, making it a better choice for a smaller kitchen.
Pulp Control
Another thing to consider is how much pulp you'd like your juice to contain. This is really important if you're buying a juicer for a large family as you'll be catering to different tastes.
Luckily, many juicers come with pulp control settings that give you ultimate control over how much pulp there is in your juice.
So, if you like pulp but your children don't, you'll be able to make juice that pleases everybody using just one machine.
This is also a good feature to look out for when you're juicing for a recipe. For example, a cake recipe may call for lemon juice that is totally pulp-free. By choosing a 'low' pulp setting, you'll be able to achieve this.
Cleaning
While juicing is fun, it can be a messy business to clean up. And, let's face it, nobody has the time or the inclination to spend hours scrubbing away at collected pulp!
For this reason, it's a good idea to look at how easy your chosen citrus juicer is to clean.
By far, the easiest way to clean the removable parts of a juicer is to put them in the dishwasher. However, if you want to do this you'll need to be sure that they are dishwasher safe. If not, they could end up melting or getting damaged.
Dishwasher safe removable parts are most commonly found on electric juicers. However, it's important to note that you must never try to clean the power base in the dishwasher. Instead, wipe it over with a slightly damp cloth.
Price & Warranty
Finally, it's a good idea to set yourself a budget and try to stick to it as much as possible when you're buying a citrus juicer as there can be quite a difference in pricing between brands.
You'll be surprised at what you can find at a fraction of the price when you look at what you're juicer can offer you instead of relying on just the name.
It's also worth looking at the warranty included with your juicer. This can range anywhere from 1-year to a lifetime. Generally speaking, however, the longer the warranty lasts the more faith you can have in the quality of your juicer.
Frequently Asked Questions
What is the difference between a citrus juicer and a regular juicer?
A regular juicer can be used to extract juice from multiple fruits and vegetables and liquidizes every part of them including the skin.
A citrus juicer is specifically designed to extract juice from citrus fruits only (such as oranges, lemons, and limes) and leaves the skin behind.